Phuket Gardening: Changing from red to amber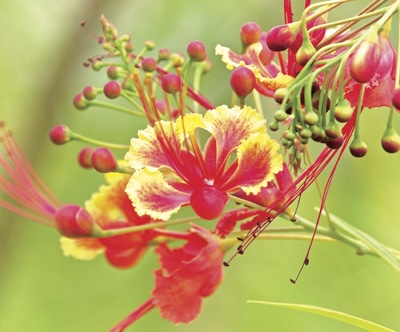 PHUKET: The light has changed to amber. Time to stop dawdling, to drive on, and seek shrubs of a different hue. But since there are red plants aplenty that have escaped our scrutiny, here are some we should have noticed on our travels.
The most stupendous scarlet bloomer of all is the flame tree (delonix regia). Right now, one is illuminating the main road at the end of my soi. Sadly, it's too big for the average garden.
A less prolific bloomer, the African tulip tree has, as you might expect, tulip-shaped red/orange flowers up to seven inches wide at the end of the upper branches.
The caesalpina (peacock flower) and the geiger tree are smaller – in reality, large shrubs rather than trees – but both bear clusters of orange flowers. The peacock tree blooms more prolifically; the geiger has the advantage of being immune to salt-laden winds.
The fire-bush (hamelia patens), seemingly unfazed by the recent rain, is displaying its tubular, orange florets near my gate. Not so the wax rose, a cactus which will wait for a prolonged dry spell before producing its single rose-like blooms.
Other ladies-in-waiting are potted plants such as the desert rose or adenium (available in vivid red), and crown of thorns (euphorbia millii). These are succulents that struggle to flower effectively without a daily dose of sunshine.
Among climbers, two tick the right red boxes: One, mucuna bennetti (the red jade vine or phang komen) is a spectacular and vigorous shrub with hanging tubular florets. I have only ever seen one specimen in Phuket.
Another, also rarely seen on the island, is ipomoea quamoclit, or cardinal climber. Normally considered an annual, it will grow here as a perennial.
As an unusual member of the morning glory family, it is worth considering on account of its vivid, red, star-shaped flowers and distinctive, ferny foliage.
A native of Mexico and popular in southern USA, it is extremely easy to grow from seed, germinates in only four days, and will speedily cover a trellis without taking up all the available space and light.
Some plants have a wide spectrum of colors, but do include distinctive red varieties. The canna lily is one such plant: its pink, yellow or white bracts are now supplemented in local gardens by a brilliant vermilion variety.
Our old friend the bougainvillea, traditionally pink, purple or magenta, is available in vivid orange or blazing red.
Heliconias, which used to be principally employed in clumps as bedding plants, replete with huge sword-shaped leaves and relatively insignificant, upright orange or red/yellow bracts, are now – with cultivars such as rostrata –joining the ranks of genuinely exotic plants.
Huge pendulous red and yellow bracts up to a foot long make this an ornamental plant to be cherished. Moreover, it is thriving in the present watery environment.
I have dwelt at the red traffic light longer than I anticipated. Only now do yellow – yes,
yellow – flowers come into my field of vision and there is time only to mention one – the allamanda. Why? Because it still heads my list of top twenty shrubs.
Right now, despite its predilection for tropical sunshine, it is still igniting my front wall. True, it needs some support, because all parts of this vine are substantial and lack tendrils – branches, shoots, leaves and flowers. But it is a golden marvel of huge, trumpet-shaped blooms and glossy green foliage.
Allamanda flowers all year round and is impervious to disease of any kind. My kind of shrub? Certainly. If you don't possess it, drive through the green light and get one.
Tip of the week – plant migration

While many of the plants in your Phuket garden will be indigenous to South-East Asia, or even to Thailand, many will have arrived here from other parts of the world. Take the chili.
This pungent spice was unknown outside tropical America before Columbus made his voyage to the New World near the end of the 15th century.
Ironically, he was searching for the source of black pepper, then a commodity as valuable as gold dust. Chilies and peppers probably came to Thailand much later. One wonders how Thais managed without nam prik (chilli paste) for so long.
Evidence of this great botanical migration is all around us. Cannas, bougainvilleas, heliconias, flame trees, acacias and allamandas are just a few of the shrubs and trees visible from my window – all of them imports from other parts of the globe.
Foreign plants, some as yet without local names, continue to appear in garden centers.
Phuket Gardening is Patrick Campbell's regular column on all things flora.
If you have a question or a garden that you would like featured, you can email the author here.
Keep checking our online Phuket Lifestyle pages or join our Facebook fan page for regular gardening features and tips.
— Patrick Campbell
Thai Life

Join the conversation and have your say on Thailand news published on The Thaiger.
Thaiger Talk is our new Thaiger Community where you can join the discussion on everything happening in Thailand right now.
Please note that articles are not posted to the forum instantly and can take up to 20 min before being visible. Click for more information and the Thaiger Talk Guidelines.