Phuket Environment: The rime of the ancient mariner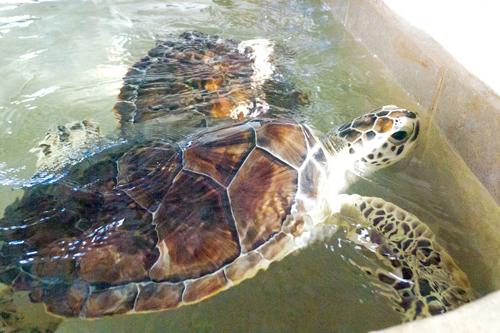 PHUKET: At the end of the 18th Century, and just after the bloodbath of the French Revolution, Coleridge wrote a narrative poem called "The Rime of the Ancient Mariner." A wonderful poem in its own right, it contains a pertinent lesson for our time. It chronicles how a sailor shot an albatross, a pervasive harbinger of good luck, thereby shattering the sacred bond between man and nature, and thus incurring the fury of the elemental spirits. Forced to wear the dead bird around his neck, the mariner endures several terrifying ordeals including the loss of his entire crew.
At length, he blesses some water snakes in an "acte gratuit", thereby showing he has intuitively reestablished a sense of kinship with even the lowliest of natural creatures. He is "shrived" (forgiven) by a holy man, and returns to civilization. The poem concludes: "A sadder and a wiser man / He rose the morrow morn."
The 21st century albatross is fortunately still alive, but alas not so well. This magnificent bird with a maximum wing span of over ten feet and a capacity to circumnavigate the globe, is still suffering at the hand of man, from man's exponential misuse of the planet.
Every year more than 100,000 die, many from ingesting hooks from baited long lines. You could add that overfishing, loss of habitat, plus the introduction of rats and feral cats to many far flung islands, have also been major factors in this decline. Whatever the reason, of twenty-one species of albatross, nineteen are now endangered.
Consider this. There is a small atoll, only 2.4 miles square, in the North Pacific Ocean, midway between America and China, which the globe-winging albatross regards as a haven, a staging post remote enough to rear its single chick. A good choice? It once was. But now twenty tons of debris is deposited on Midway Atoll's beaches every year. It comes, as it does on Phuket's shoreline, from ships' refuse, from offshore dumping, from litter discarded on beaches, from waste carried down rivers or simply allowed to seep into the ocean. Of this squalid gift, five tons is plastic.
The albatross, which feeds at night and principally on squid and krill which swim close to the surface, frequently mistakes the bobbing, brightly colored bits of plastic for food, and ingests them. Many of these items are, needless to say, plastic lighters.
And here's the rub. The adult albatross, and 70 per cent of the world's entire population of Layan albatross breed on Midway, regurgitates these objects and feeds them to its chick. But this fledgling cannot regurgitate such alien things until it is nearly five months old.
The indigestible and often toxic objects stay in the gut and the young bird dies with the inevitability of a tragic heroine. Unlike the ancient mariner, it has no prospect of salvation.
Thus this majestic creature, like so many species of bird, mammal, reptile, or plant, is a bellwether of the world's ecological health.
If the seas are polluted, then the whole food chain, and everything – including the high-flying albatross and low-lying man – is affected.
Take Racha Island. On a visit to this sparsely inhabited island south of Phuket, the NRE (Dept of Natural Resources and Environment ) recently checked water quality, at the point where rivulets enter the sea. Three tests found that the levels of coliform bacteria were around 300 times – yes 300 times – the maximum for good quality water.
The island is a microcosm of what has already happened in Phuket. On Racha, and remember that Racha is a newly "developed island", a recent survey found that a resort was spewing out untreated sewage onto the beach area and thence to the sea. No septic tanks, no nothing. Plastic for sure, and lots more unmentionables. The impact on fragile marine ecosystems can be imagined."
The albatross gives us a global perspective, but sea-turtles are a key indicator of the health of our own Andaman Sea. Egg poaching has become such a problem that they have to be removed and incubated in safe surroundings. But indestructible trash further affects the turtle's capacity to dig nests and lay its eggs, while resort encroachment and consequent pollution has meant extensive loss of breeding grounds.
Almost every week, we hear of dead turtles strangled by nylon nets, rendered flipper-less by propeller blades, or laid low by guts full of – you guessed it – indigestible plastic.
The problem is most acute with the leatherback, the largest and rarest of turtles. This majestic, 500 kilogram creature, has been, like the albatross, patrolling these seas for hundreds of millions of years.
For aeons, the long open beaches of north east Phuket and Phang-Nga have been a sanctuary to which leatherbacks have returned to breed. Fewer and fewer now return. In the blink of an eye, the leatherback's numbers worldwide are estimated to have dropped to 2,300.
And plastic is one of the main villains of the piece. Leatherbacks feed mainly on jellyfish, easily confused with a submerged plastic bag. A bellyful of this rubbish is just as lethal to a massive turtle as it is to a defenseless albatross chick.
On Nai Harn Beach, I have encountered used syringes and needles, plastic lighters, flip-flops, tar-laden plastic engine parts, as well as the ubiquitous bags, water bottles and cigarette butts. All more-or-less indestructible, all with the potential to give off toxins such as DEHP or BPA.
The problem is not just the "Pacific Garbage Patch", a mass of granulated plastic the size of Texas, or even the fluorescent lighters of Mid-Way Atoll, it is right here. And right now, action at all levels from classroom to cabinet is urgently needed. We may, like the Mariner, be sadder, but are we becoming any the wiser?
— Patrick Campbell
Keep in contact with The Thaiger by following our
Facebook page
.
Out of 37 countries, Thailand has the worst pension system, says Bloomberg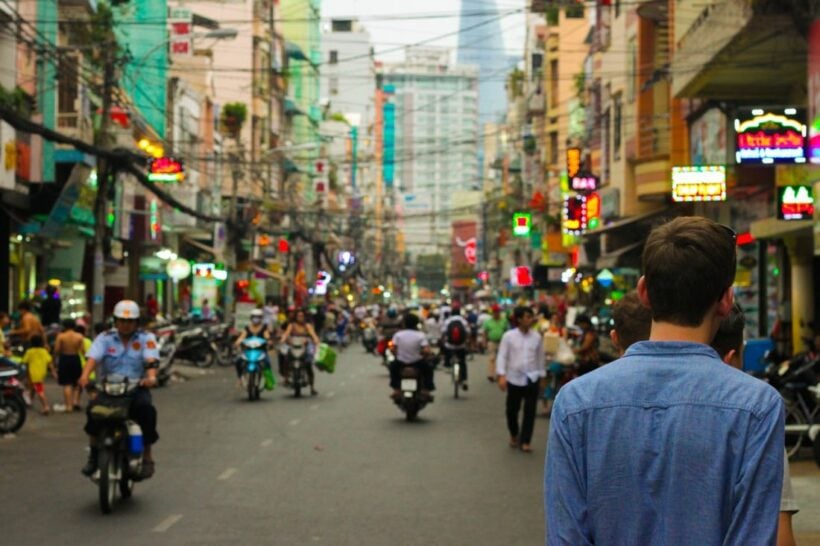 Thai Residents reports that on Sunday, Bloomberg published an article on the world's best pension systems, using information gathered from the 2019 Melbourne Mercer Global Pensions Index.
The survey looked at the pension systems of 37 countries with metrics including employee rights, savings, the number of homeowners, growth of assets, and growth of the economy. The purpose of the analysis was to determine what was needed to improve state pension systems and to gauge the level of confidence citizens had in their state pension system.
The Netherlands and Denmark were found to have the world's best state pensions, with Australia, Finland, Sweden, Norway, Singapore, New Zealand, Canada, and Chile next. Out of all 37 countries, Thailand finished last, with what the report described as an extremely ineffective and ambiguous system.
"Thailand was in the bottom slot and should introduce a minimum level of mandatory retirement savings and increase support for the poorest."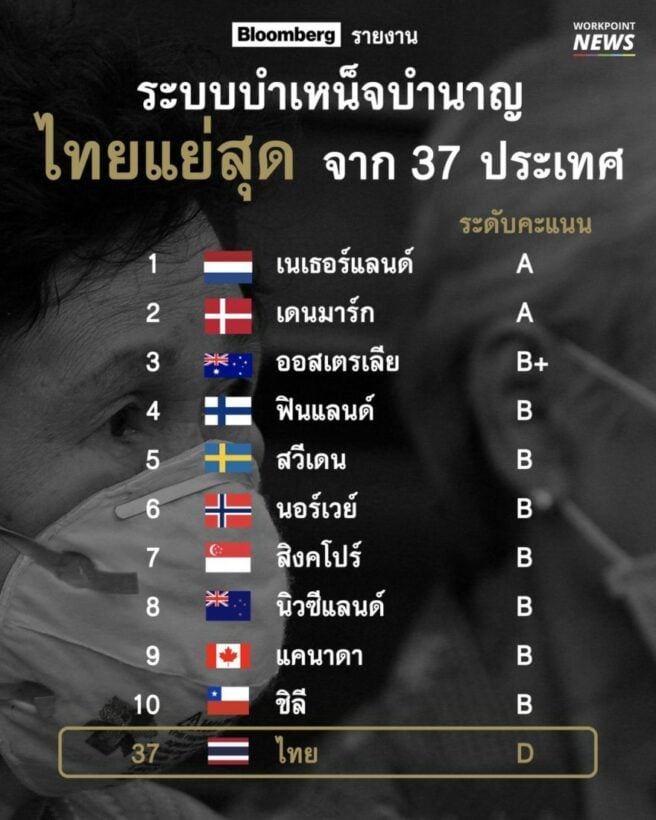 Photo: WorkpointNews
Thai Residents states that only those employed within the government system in Thailand are eligible for a pension based on salary. For most Thai citizens, pension amounts vary from 600 baht to 1,000 baht a month, depending on the recipient's age.
A report carried out by The Securities and Exchange Commission (SEC) advises Thai citizens to have at least 4 million baht saved by the time they retire, but Thai Residents reports that 60% of Thai retirees have less than 1 million baht in savings, with one in three citizens who have reached retirement age are forced to continue working in order to survive.
SOURCE: thairesidents.com
Keep in contact with The Thaiger by following our
Facebook page
.
Tax on salt content being considered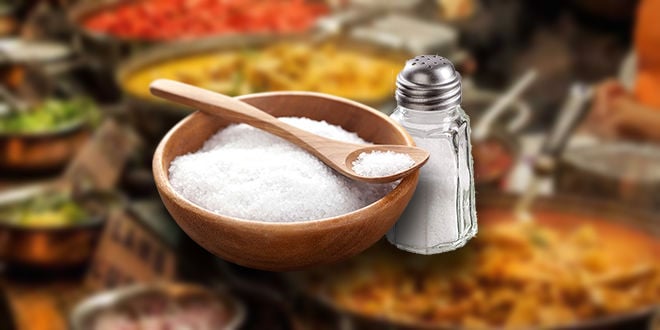 The Excise Department is considering imposing a tax on the salt content of food to encourage food producers to reduce the sodium content of snacks, instant noodles and seasoning cubes.
The director of the Office of Tax Planning said that the department is discussing a limit on the amount of sodium food can contain, in line with the standard set by the World Health Organization (WHO), which is 2,000 milligrams of salt per day.
In reality, Thai people consume an average of 1,000 milligrams per meal, making their daily intake well above WHO guidelines, according to the director.
He said any tax imposed would be at a level which would encourage food producers to reduce the sodium in their processed food without being punitive, adding that the proposal isn't intended to generate more tax revenue, but to help protect the health of consumers. Excessive sodium in the diet can lead to high blood pressure and kidney disease.
Fish sauce, soy sauce and salt would not be taxed.
SOURCE: thaipbsworld.com
Keep in contact with The Thaiger by following our
Facebook page
.
Water shortage warnings in 22 provinces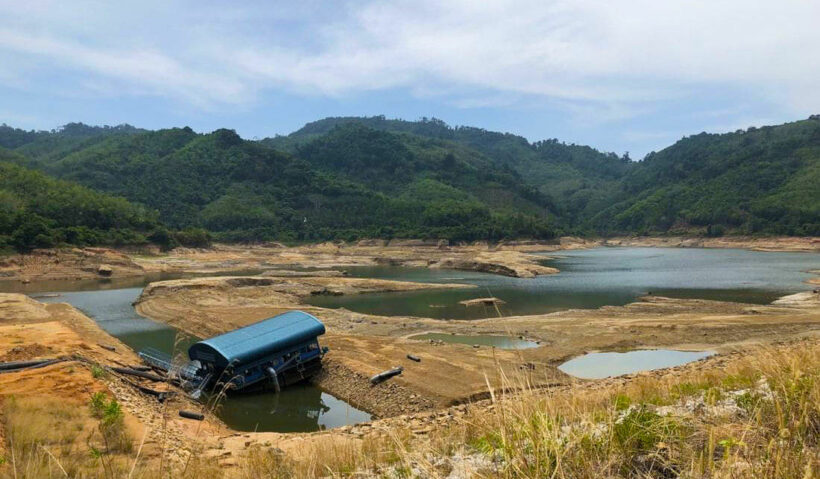 People living in 22 Thai provinces are being warned to prepare for shortages of drinking water during the upcoming dry season, due to start on November 1st.
The warning was issued by the National Water Resources Office, citing low levels in reservoirs, which are the main sources for tap water production waterworks in 22 provinces.
Areas at risk identified by the office are in northern, north-eastern, eastern and southern provinces.
Measures have been adopted by agencies charged with dealing with water shortages. including dredging water channels to allow greater volumes of water to flow into reservoirs, drilling underground wells, enlarging storage ponds and the purchase of water to supply to those in urgent need.
The Royal Irrigation Department has announced that people should use water sparingly.
There are currently about 6 billion cubic metres of usable water in reservoirs in the affected provinces, with 5 billion cubic metres reserved for consumption and ecological preservation, leaving only 1 billion cubic metres for use in agriculture.
This means farmers in the Chao Phraya river basin may not be able to grow a second crop of rice this year.
SOURCE: thaipbsworld.com
Keep in contact with The Thaiger by following our
Facebook page
.