Phuket Education: On a Mission to sail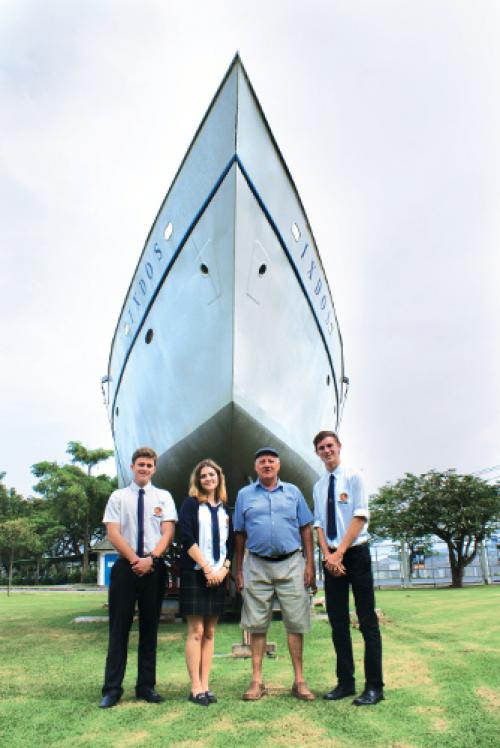 PHUKET: If you have been past the British International School Phuket (BISP) campus in recent weeks, chances are you've spotted the giant steel ship, Ixdos, that first appeared on December 4 and now occupies a prominent position on the school's grounds.
The arrival of the ship is a result of the collaboration between former BISP teacher and self-described "boat-person" Patrick Vickers and a group of student council members who share his dream of launching a "mission ship".
Patrick Vickers is indeed a man on a mission – his decade-long driving passion has been to build a ship and sail it to remote island communities to provide desperately needed medical services to the people who live there. Now, with the combined efforts of BISP students and the whole school community, Pat's dream is drawing ever closer to fruition.
It was back in 2003 when Pat first acted on his lifelong dream to build and sail a medical ship to remote Pacific islands. The idea was spawned during his work as a health systems analyst in Papua New Guinea, where he witnessed first hand the dreadful condition of people living without access to modern medical care. These dire circumstances are far from being unique to Papua New Guinea – according to UNICEF "about 29,000 children under the age of five (21 every minute) die every day, mainly from preventable causes."
"As I was moving around in this amazing country, I found so much sickness, and [especially on] all these islands," Pat recalls.
Inspired to do something to help, Pat combined his boat building skills and historical knowledge and hatched a plan to create a modern day "mission ship" to bring healthcare to these long-suffering islanders.
"I was in the navy for five years and I was always a nutter for the sailing boats, not the motor boats. So I've had a sailing background and I've had several boats before.
"What they used to have were mission ships, with pastors and doctors going around [and] doing everything, but they don't have them anymore, as they can't afford them. So I thought why not turn back the clock and get a new mission ship to do this job?"
So it was, that Pat embarked on his own mission. Starting from scratch with plans supplied by renowned Australian naval architect Bruce Roberts, he sourced steel and materials and began building the sturdy hull of Ixdos. It has been a slow process though, with Pat relying on sporadic donations and his pension to fund the build. Pat has also had much help over the years from BISP students, who donate their labor to the project as part of the school's IB Community Action Service (CAS) volunteer program.
Now, ten years after the first plate of steel for Ixdos arrived in Phuket, a group of BISP student councilors have initiated a plan to complete the ship in one year – an ambitious and daunting goal. The ship was initially housed (at no cost) at the yard of Khun Luk, and later at Thai Marine, next door to the Phuket Gazette office. Recently, with the generous help of the parents of a student, the ship-in-progress has been moved from a nearby shipbuilding yard to the BISP campus. The members of the student council say that getting the ship on the school grounds was a key step toward building the momentum and enthusiasm needed to complete the ship in such an ambitious timeline.
Now, sitting on the lawn of the school, students, staff, parents and visitors alike have a daily reminder of the project and its worthy goals. The student councilors, many of them former students of Pat's, are also excited about the practical skills and experience they and their fellow students can gain while working on the boat – and as some of them are keen sailors already, they hope they will get their chance to sail on Ixdos when she is completed.
"I think because we've worked with Mr Vickers for so long, he's part of the school and the community here, so we felt we would like to step up and help him," says BISP Head Boy Luke Phillips.
"It has been estimated to finish this boat we will need at least five million baht. It will be a big effort, so our motto is to 'push the boat out'," he added.
There is still much to do however, even when the boat is completed it will need to be crewed and stocked with medical supplies before setting off on its maiden voyage. Pat said he has received in principle support from UNICEF, to help supply vital vaccines and medical equipment, but the logistics of this will need to be organized when the ship is seaworthy.
"In the meantime though, the main objective is to get the boat done – right now we're about 60 per cent finished but we have yet to get a generator, the sails… a lot of biggies," says Pat.
With the arrival of the ship on campus, generous offers of assistance by the school community have been forthcoming, including one parent who has offered to supply a teak deck. It is hoped that every member of the school community, having learned about the mission ship, will do their small part to help it succeed.
Pat said he hopes former students, who have helped build the ship, will one day be able to live aboard and take part in its mission to bring aid to remote communities.
To monitor the progress of the Ixdos or make a donation to the project, visit the website which is currently under construction at: missionship.com or email info@bisphuket.ac.th
— Mark Knowles
Thai Life

Join the conversation and have your say on Thailand news published on The Thaiger.
Thaiger Talk is our new Thaiger Community where you can join the discussion on everything happening in Thailand right now.
Please note that articles are not posted to the forum instantly and can take up to 20 min before being visible. Click for more information and the Thaiger Talk Guidelines.