Phuket Diving: Out of the shadows ye self-reliant scuba diver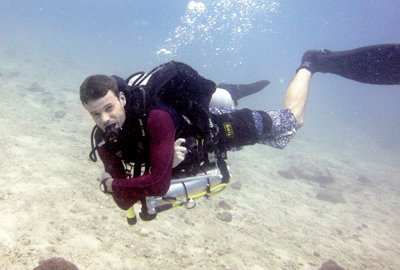 PHUKET: Ten years, five years, even two years ago, any conversations approaching the idea of "solo" diving were held in hushed voices in the back of small bars between experienced divers, or in the depths of online cave-diving forums. 'Buddy diving' was a philosophy heralded by Jacques Cousteau and the crew of the Calypso as early as the writing of The Silent World. It was established as a fundamental pillar to safe recreational diving – at the time it was an absolute.
But, divers did and do dive alone, either by choice, as photographers, spear-fishermen or tech-divers; or effectively alone as dive masters or instructors leading a group of Discover Scuba students. Others find themselves alone after buddy separation. Most have never trained to be alone or have merely put together their own safety protocol from the bits and pieces gathered by sifting through backroom advice and forums.
In the eyes of PADI "solo-diving" is still not on the table, but the conversation has changed. The hushed whispers have become audible voices and the voices have been heard.
In broad daylight, aboard Kamala Dive Center's Similan Queen, I listen to Kevin Black from Kiwidiver brief two students for the new PADI "Self-reliance Diver" course. This course represents a fundamental shift in the way recreational divers and professionals perceive the way they dive.
PADI Worldwide's position has changed. It now states that: "responsible independent scuba diving is not for everybody; however, it does have a place." This acceptance takes that "place" out of the shadows and caves and puts it back into the public forum – a safer space.
Dive instructors Matt O'Connor and Spencer Felton are geared up and on deck. They do a self-buddy check. An extra mask is tucked into a pocket, an extra cutting tool is clipped to a BCD, an extra torch is properly stowed away and they double-check that their redundant air supply is ready to go.
"There are many, many problems where we rely on our buddy to sort them out for us. So, if our torch fails, it's okay because our buddy's got one… I've got an air-supply problem? No problem. I've got a buddy; we can share that air supply, not to continue the dive but to safely abort the dive.
"When it comes to having a problem, you can abort a dive using your buddy's resources to get you safely to the surface. If you don't have a buddy, you must have a spare set of resources," says Kevin, who is just one of a handful of instructors in Thailand currently qualified to teach the course.
Though currently a student, Spencer has now completed the extra work needed to become a certified instructor in the course.
"A large percentage of the people taking the course with me right now are instructors of all levels, who see not only the benefit of being a self-reliant diver, but also see it as something their customers, the average diver, will be interested in doing," Kevin added.
Under water, Spencer and Matt seem to be comfortable with the extra gear. The side-slung pony bottle, one of the many ways of establishing a redundant air supply, hangs under their arm and everything else is tucked away neatly.
Down to 20 meters and they start taking notes on their air consumption – something that will later be calculated to allow them to plan future dives on sites they are less familiar with .
Despite both of them being comfortable without their masks while underwater, their air consumption jumps during the 18-meter no-mask swim.
After closing our third dive, and diving into a third plate of Kamala Dive Center's pancakes, Spencer and Matt admit that so much of the value of the course is that it asks you to think about things differently. In some ways, the course is a 'what-to-do-if…' list. Knowing the answer to these questions before facing them under water could make all the difference when under pressure.
"This course is for the people who are like the backpacker who decided to drive 100 miles in a direction and spend a week in a small village to get to know the locals, because that's Thailand; that's the Thailand no one else gets to see," Kevin says.
Though the course offers a new level of freedom for experienced divers, both professional and recreational, (course requirements include a minimum certification level of a PADI Advanced Open Water Diver and 100 logged dives) PADI doesn't absolve participants of the increased amount of risk.
"A self-reliant diver not only has to accept the increased risk that comes with choosing to dive alone, but also the responsibility to ensure that family and loved ones understand this choice," PADI establishes in the course material.
However, understanding that risk and having a place to openly discuss and plan dives where you are separated from your buddy, instead of quietly disappearing into the shadows, can only make the diving world a safer place for us.
— Isaac Stone Simonelli
Thai Life

Join the conversation and have your say on Thailand news published on The Thaiger.
Thaiger Talk is our new Thaiger Community where you can join the discussion on everything happening in Thailand right now.
Please note that articles are not posted to the forum instantly and can take up to 20 min before being visible. Click for more information and the Thaiger Talk Guidelines.