Phuket Books – Through the gun smoke of Wyatt Earp's wild life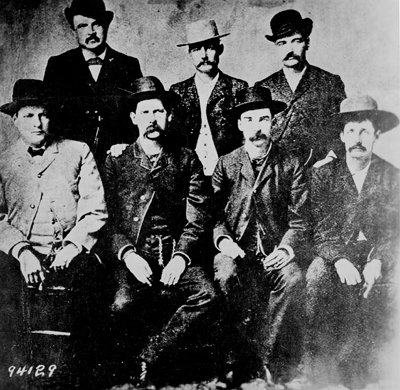 PHUKET: Resident bookworm for the Phuket Gazette, James Eckardt reviews Jeff Guinn's The Last Gunfight (Simon & Schuster, New York, 2011, 392 pp), the latest in a long line of books and articles about October 26, 1881, the day when Wyatt, Virgil and Morgan Earp along with Doc Holliday squared off against the four cowboys of the Clanton and McLaury clans, leaving three dead. The book's subtitle promises "The Real Story of the Shootout at the O.K. Corral".
To us youngsters of the American Baby Boom, Wyatt Earp appeared an unlikely Wild West hero.
The Life and Legend of Wyatt Earp debuted on TV in 1955 and featured a dandy in a frock coat, florid silk vest and foppish flat-brimmed hat.
The life of the frontier marshal had already been filmed in John Ford's great My Darling Clementine starring Henry Fonda and The Gunfight at the O.K. Corral with Burt Lancaster and Kirk Douglas. More recent incarnations of the Tombstone lawman have been played by Kevin Kostner and Kurt Russell.
For one thing, the shootout happened a half block away from the O.K. Corral in a vacant lot off Tombstone's main drag, Fremont Street. For another, though the Earps were lawmen and the cowboys petty rustlers, the fight was not fueled by personal and political conflicts that went back for months as previous accounts have suggested. The cowboys were actually on their way out of town, but tempers were frayed. Ike and Tom Clanton had been pistol-whipped for carrying firearms that morning by Wyatt Earp, and nearly everyone was badly hungover.
The focus, of course, is on Wyatt Earp. While his two brothers were wounded in the gunfight and Morgan was later killed and Virgil crippled for life, Wyatt emerged unscathed and even rounded up a posse to kill three of the gang that had shot his brothers.
He escaped into a life of wandering that took him throughout the West, to Alaska and finally Los Angeles where he befriended such early cowboy movie stars as William S. Hart and Tom Mix. He died in 1928 at the age of 80, too soon to cash in on his fame.
The big question raised is: did he deserve all the hype?
He certainly had a checkered youth. He was arrested for being a horse thief in Oklahoma and a pimp in a floating bordello in Peoria, Illinois. He descended into alcoholism after the death of his first wife. But he stopped drinking and picked himself up as a buffalo hunter. He was tall and strong and utterly fearless when he stumbled into his first lawman's job in Wichita, Kansas.
These were the days of the long cattle drives from Texas to rail heads in Kansas. He achieved his first measure of dime novel fame further along the train line in Dodge City along with his brothers and Bat Masterson.
The Earp family were in a constant search for wealth and social respectability. It didn't help that all the brothers lived with common law wives who were former prostitutes, nor that saloons and gambling were their economic mainstays.
"None of the Earps were flawless saints, but they also were not shady characters who lucked into heroic places in Western history," the author notes.
"What they did do, Wyatt especially, was exaggerate their accomplishments and completely ignore anything in their past that reflected badly on them. In this, they were typical of men of their time and men today."
The Earps moved to the silver mining town of Tombstone, Arizona, in 1881 and took up jobs in law enforcement and saloon operations. The town elite were Republicans; the surrounding ranchers were Democrats, many former Confederates. The "cowboys", as they were called, rustled cattle in nearby Mexico and occasionally robbed stagecoaches. In Tombstone they came up against the Earps.
"The cowboys might not mind living rough most of the time, but they also wanted to indulge their hedonistic tendencies.
What was the use of having ill-gotten gains if they couldn't be spent having riotous fun?" The fun ended badly: death for the cowboys, exile for the Earps and Doc Holliday.
— James Eckardt

Join the conversation and have your say on Thailand news published on The Thaiger.
Thaiger Talk is our new Thaiger Community where you can join the discussion on everything happening in Thailand right now.
Please note that articles are not posted to the forum instantly and can take up to 20 min before being visible. Click for more information and the Thaiger Talk Guidelines.