Looking Back: Elephants' role in Thailand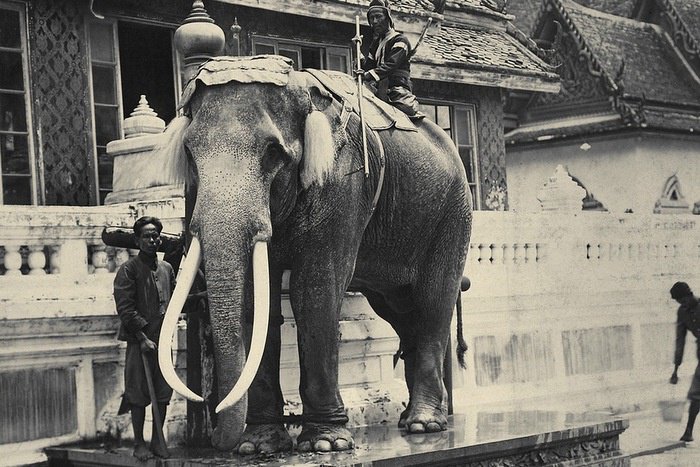 PHUKET: Elephants have always held an important place in Thai history and culture. In an age that predated bulldozers and cranes, Siamese builders and loggers tamed mighty elephants and used their incredible strength to clear forests, transport heavy loads and even build cities.
In war, Siamese kings and generals rode elephants into battle. Sitting atop elephants not only gave Siamese lords a formidable pose, it also offered them a position of safety, high above the carnage of battle.
For all of these reasons, Thais revere the common elephant even to this day. However, there is a class of elephants, commonly referred to as chang phueak, or white elephants, which are exceptionally rare and have been highly sought after by monarchs of Burma, Thailand, Laos and Cambodia for centuries, in the belief that they are sacred animals.
White elephants are sometimes confused with being albinos, but they are not. In fact, they are not white at all. They look very much like normal gray elephants, however, patches of their skin are dotted with a pinkish-white tone.
Elephants were regarded as celestial creatures. When a monarch ascends the throne, the spotting of a white elephant could provide legitimacy to his new reign. If a white elephant was found with the physical characteristics that are considered auspicious, it had to be brought to the palace with pomp and ceremonial rejoicing.
Physical characteristics that qualified an elephant as 'white' included light pink spots on the skin, large eyes rimmed with white, jet-black irises, two pronounced bumps on the forehead, a tail that hangs straight away from the body and a long trunk.
Besides these physical characteristics, a white elephant must also possess a superior personality to the common elephant. Traditionally, specialists from the elephant division of the royal court will assess the animal's personality. An intelligent elephant, for example, will run ahead of its pack at bathing time, getting into the water before the rest of the herd can follow and churning the mud from the river bed. An intelligent elephant will also learn to swish food it catches with its trunk in order to get rid of insects before eating.
The reason Thais revere the white elephant is also because of the story of Lord Buddha's birth. It is believed that on the eve of the Buddha's birth, his mother, Queen Maya, dreamt that she was presented with a lotus flower by a large white elephant with six tusks.
The lotus flower is a symbol of purity and knowledge. The white elephant is also a symbol of fertility and success. It was believed that if a king kept several white elephants in his stables, he would have a long and prosperous reign. These elephants were treated like royalty. They were not used for heavy labor, war or any kind of work. They had to be cared for by a royal veterinarian and fed only the best food. The death of a white elephant was a dire omen and signaled disaster for the kingdom.
The English dictionary, however, found a new meaning to the term 'white elephant', which was less 'sacred' and more 'burdensome'. Early Europeans reported that white elephants were costly to maintain, despite the fact that they could not be put to any use. The term 'white elephant' even entered the English language in the year 1607 to figuratively describe a burdensome or costly possession, which presented little or no value to the owner.
Perhaps the term is derived from the practice of earlier kings of Siam to give rare, auspicious elephants to ambitious or boastful courtiers. In the old days, this was perceived to be such a great honor that the courtiers would have no choice but to look after the animal. It had to be given the best food, and a lot of it, despite the fact that it could not be put to work. In the end, many unwilling owners were often ruined by the enormous cost of looking after a white elephant.
Several European visitors to Siam during the 17th century mentioned white elephants in their writings. Of these, Jereminas Van Vliet, a Dutch merchant who wrote one of the most detailed accounts of 17th century Siam, mentioned that the white elephant was regarded as the 'prince of the elephants'.
The Dutch merchant wrote that the king's white elephants lived in royal quarters, had their own retinue of attendants and were fed on plates of gold. Van Vliet also suggested that the elephants were not only valued for their color, but also because of their superior intelligence and sensitivity.
According to Van Vliet, there were between 400 to 500 elephants around the capital city of Ayutthaya during the reign of King Prasat Thong, during the 17th century.
During his stay in Ayutthaya, Van Vliet mentioned a short account of the death of a white elephant. In the year 1633, a young white elephant was caught and brought it the palace. It died shortly afterwards.
King Prasat Thong was so upset that all the slaves who had guarded and assisted the animal were executed. Later, the king himself paid homage to the dead elephant and gave it a splendid cremation. All remains that had not been consumed by the fire were collected in a box and
buried at a royal temple.

— Anand Singh
Keep in contact with The Thaiger by following our
Facebook page
.
Out of 37 countries, Thailand has the worst pension system, says Bloomberg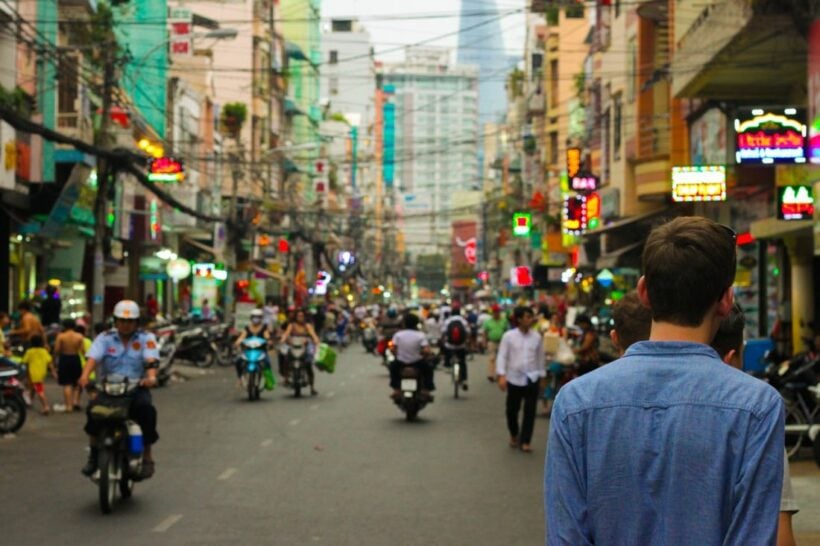 Thai Residents reports that on Sunday, Bloomberg published an article on the world's best pension systems, using information gathered from the 2019 Melbourne Mercer Global Pensions Index.
The survey looked at the pension systems of 37 countries with metrics including employee rights, savings, the number of homeowners, growth of assets, and growth of the economy. The purpose of the analysis was to determine what was needed to improve state pension systems and to gauge the level of confidence citizens had in their state pension system.
The Netherlands and Denmark were found to have the world's best state pensions, with Australia, Finland, Sweden, Norway, Singapore, New Zealand, Canada, and Chile next. Out of all 37 countries, Thailand finished last, with what the report described as an extremely ineffective and ambiguous system.
"Thailand was in the bottom slot and should introduce a minimum level of mandatory retirement savings and increase support for the poorest."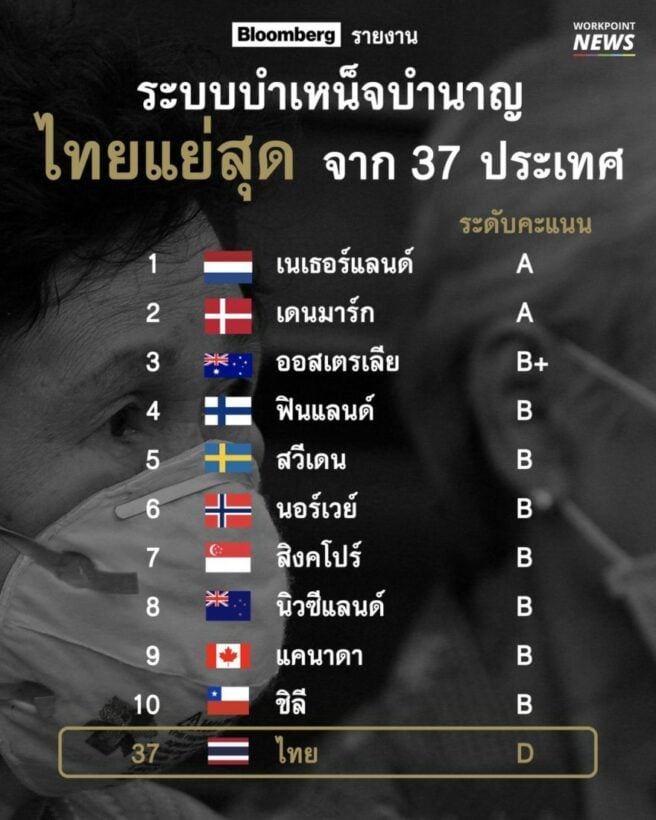 Photo: WorkpointNews
Thai Residents states that only those employed within the government system in Thailand are eligible for a pension based on salary. For most Thai citizens, pension amounts vary from 600 baht to 1,000 baht a month, depending on the recipient's age.
A report carried out by The Securities and Exchange Commission (SEC) advises Thai citizens to have at least 4 million baht saved by the time they retire, but Thai Residents reports that 60% of Thai retirees have less than 1 million baht in savings, with one in three citizens who have reached retirement age are forced to continue working in order to survive.
SOURCE: thairesidents.com
Keep in contact with The Thaiger by following our
Facebook page
.
Tax on salt content being considered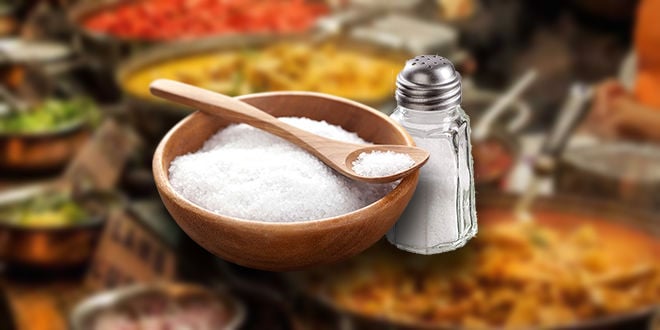 The Excise Department is considering imposing a tax on the salt content of food to encourage food producers to reduce the sodium content of snacks, instant noodles and seasoning cubes.
The director of the Office of Tax Planning said that the department is discussing a limit on the amount of sodium food can contain, in line with the standard set by the World Health Organization (WHO), which is 2,000 milligrams of salt per day.
In reality, Thai people consume an average of 1,000 milligrams per meal, making their daily intake well above WHO guidelines, according to the director.
He said any tax imposed would be at a level which would encourage food producers to reduce the sodium in their processed food without being punitive, adding that the proposal isn't intended to generate more tax revenue, but to help protect the health of consumers. Excessive sodium in the diet can lead to high blood pressure and kidney disease.
Fish sauce, soy sauce and salt would not be taxed.
SOURCE: thaipbsworld.com
Keep in contact with The Thaiger by following our
Facebook page
.
Water shortage warnings in 22 provinces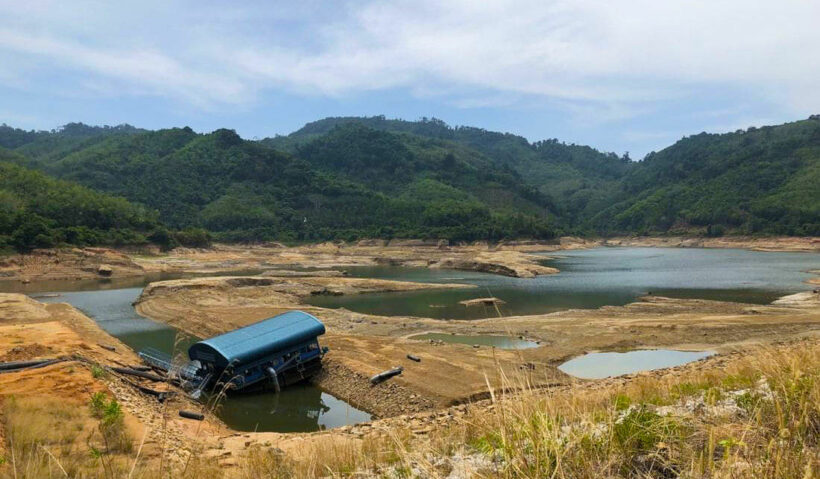 People living in 22 Thai provinces are being warned to prepare for shortages of drinking water during the upcoming dry season, due to start on November 1st.
The warning was issued by the National Water Resources Office, citing low levels in reservoirs, which are the main sources for tap water production waterworks in 22 provinces.
Areas at risk identified by the office are in northern, north-eastern, eastern and southern provinces.
Measures have been adopted by agencies charged with dealing with water shortages. including dredging water channels to allow greater volumes of water to flow into reservoirs, drilling underground wells, enlarging storage ponds and the purchase of water to supply to those in urgent need.
The Royal Irrigation Department has announced that people should use water sparingly.
There are currently about 6 billion cubic metres of usable water in reservoirs in the affected provinces, with 5 billion cubic metres reserved for consumption and ecological preservation, leaving only 1 billion cubic metres for use in agriculture.
This means farmers in the Chao Phraya river basin may not be able to grow a second crop of rice this year.
SOURCE: thaipbsworld.com
Keep in contact with The Thaiger by following our
Facebook page
.