Hands-on schooling setting an example in Chiang Mai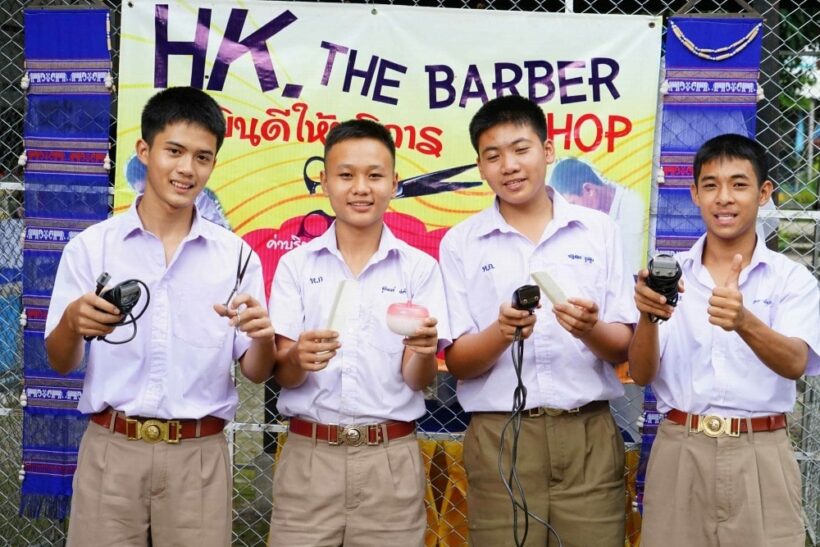 by Chularat Saengpassa
PHOTO: Padungkiat Jaiwong, far left, and fellow barbers of the "HK Barber" salon at Wat Huai Kaew School in Chiang Mai's Mae On district show off their haircutting equipment.
"Take me to your heart, Take me to your soul. Give me your hand before I'm old, Show me what love is, haven't got a clue, Show me that wonders can be true."
15 year old Padungkiat Jaiwong is proud of his rendition of the Michael Learns to Rock hit, and said he was inspired to study the English language after his teacher encouraged him to start singing Western hits. In fact, he has even won a contest singing in English.
Apart from showing off his language skills to the visitors from the Equitable Education Fund, Padungkiat also displayed his talents in hairstyling.
"He is a living proof of what impact teachers and a good school can have on children," EEF president Prasarn Trairatvorakul said.
Padungkiat, like many other children across the country, was at the risk of dropping out of school due to his family's dire financial status. Previously, Padunkiat used to sneak out of his Wat Huai Kaew School in Chiang Mai's Mae On district to play at a waterfall nearby with his friends. Truants, if ignored, usually drop out of school and miss out on a bright future.
Luckily, the Wat Huai Kaew School never took its 254 students for granted, and all 40 members of the teaching staff took it upon themselves to ensure these children have a good future. So, every year, the teachers make time to visit the home of every student, so they can learn more about the child and come up with a specific solution for the problems he or she faces.
"We learned that some students simply skip class because they cannot follow what is being taught. For them, I think vocational skills would be more useful, so I encourage them to take haircutting classes," teacher Phimrada Songchueb explained.

Padungkiat and his friends have now been successfully running the HK Barber salon, offering students haircuts for 5 to 10 baht each. The earnings are split between the young barbers and the school, which provides the equipment.
"Our young barbers spend their earnings on educational trips," Phimrada said.
Despite being a teacher, Phimrada usually treats her students like friends, so she can learn about their problems and perspectives.
"You will get a different answer if you ask questions like a teacher," she said.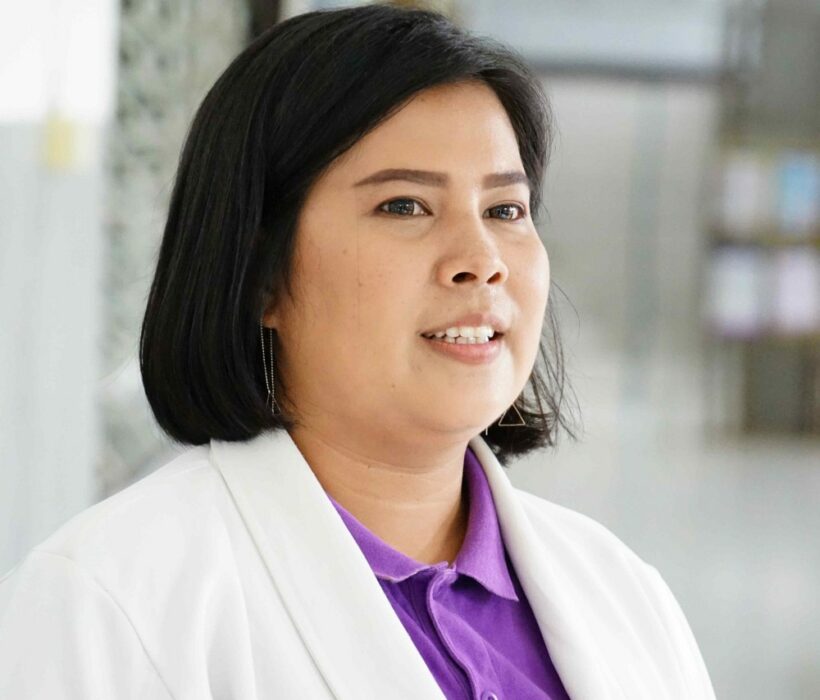 Teacher Phimrada Songchueb
According to her, children in the provinces usually fall silent when asked about their dreams because they don't really know what they should want. Most of them are from poor families and for them the most common form of making a living is by working in farms or taking odd jobs. That's why Phimrada has been trying to expose her students to different vocations, and also helps look for scholarships so they can further their studies at vocational colleges. Also, thanks to Phimrada, students like Padungkiat are allowed to spend nights in school from Monday to Friday as part of a special deal for children who need extra help and live quite far away.
Phimrada said after Padungkiat started living in school he was no longer absent during the rainy season.
"I don't think he is at risk of becoming a dropout anymore," she said.
Padungkiat has earned the nickname of "Sodsai" (bright and cheerful) in school because this term describes his character and life now. He now enjoys studying, working at the HK Barber and singing songs in English. Though he cannot understand every word he sings, he says it is fun and it is encouraging him to try harder in English class. His new found talent is also giving him hope that maybe he could earn some extra cash as a singer, while furthering his studies at a vocational college in the near future.
EEF chief Prasarn said this school has proved that having the right teachers was more important than money when it comes to child development.
"Wat Huai Kaew School pays attention to all aspects of the children," he said.
Principal Opart Intasan said teachers have been visiting their students' homes for more than two decades already.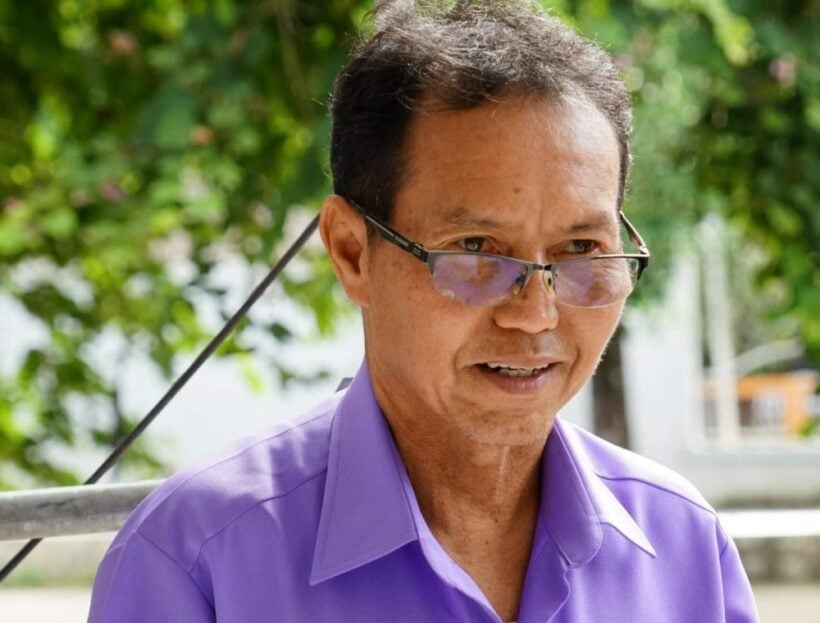 Principal Opart Intasan
"These visits are important, as it allows the teachers to see their students' living conditions and also to know more about them," Opart said.
For instance, he said, the teachers once visited a child at home to find out why he could not understand what was on the blackboard.
"In the visit, the teachers learned that the child had some eye problems. So, the teacher had the child moved to the front row and started using new techniques in the classroom," Opart said.
Opart Under his leadership, the Wat Huai Kaew School tries to help the students as much as it can. For instance, if a teacher finds out that a student doesn't have a mosquito net at home, the school will look for donors on Facebook.
"That way, we can get mosquito nets for our student," the headmaster said.

STORY: The Nation
Thai Life

Join the conversation and have your say on Thailand news published on The Thaiger.
Thaiger Talk is our new Thaiger Community where you can join the discussion on everything happening in Thailand right now.
Please note that articles are not posted to the forum instantly and can take up to 20 min before being visible. Click for more information and the Thaiger Talk Guidelines.