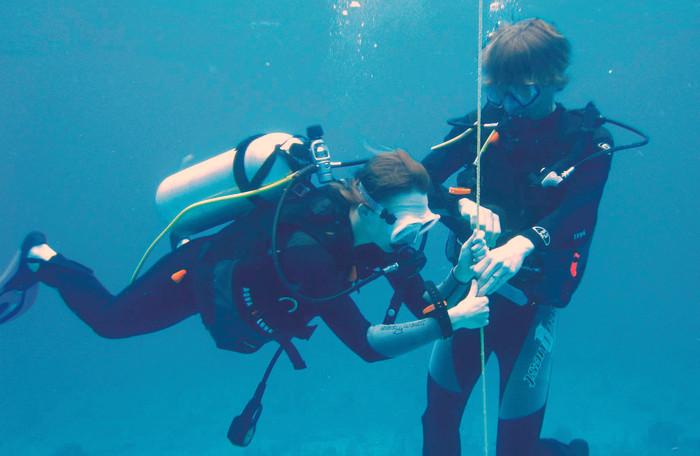 PHUKET: Countless instructors have posted stunning images of the ocean with a phrase similar to: 'Welcome to my office'. Such romantic, well-promoted images on social media, of course, resonate with us restless office junkies, drawing us out of our cubicles to the wonders of the open waters.
However, a series of small neglectful actions and breaches in standards will not result in a death or serious injury at our workplace – staple punctures and paper cuts are as bad as it get at the Phuket Gazette. That is not the case for a dive professional.
The foremost job of a dive professional is to ensure the safety of those under their care, and no diver is more vulnerable or important to the industry as a whole than a discover scuba diver (DSD).
A DSD course is not a certifying diving experience. However, it is the most common way someone is introduced to diving. These divers are brought into a truly alien world – yet, most DSD students usually get handed over to junior instructors who, though qualified, have limited experience and probably less confidence than an instructor with a decade of professional diving experience. Additionally, a student's first experience with their DSD instructor is most likely the defining factor in whether or not they go on to get their licence, or book a diving holiday for their next vacation.
Unfortunately, the only place that there is probably more tea bagging of students than in a DSD experience is in an American fraternity. It is, of course, a slightly different experience but both are usually undesirable. In diving, 'tea bagging' means holding students by the tank, dunking them underwater and dragging them around before taking them back to the surface, where, given the quality of the experience, they will probably never return to diving. How often do you reuse a tea bag?
There are plenty of damaging dive-industry videos of divers – especially Chinese nationals – being dragged around underwater by their 'instructor'. Many well-known and once-respected instructors are doing this, often relying on the excuse that they are experienced, so it's okay for them to violate regulations and manage multiple students at a time. For a few thousand more baht a month, they are risking the lives of others and damaging the reputation of the industry as a whole.
"The PADI Discover Scuba Diving program introduces people to scuba diving in a highly supervised, controlled and relaxed manner. It dispels common misconceptions about scuba by letting individuals try it for themselves," states PADI's Guide to Teaching. "These participants need and deserve a high-level of patience, attention and sensitivity, both for their safety and for their enjoyment of the program. The real reward for the PADI Professional offering the Discover Scuba Diving program is the day-to-day opportunity to guide people through, and share with them, a truly remarkable experience in discovering diving."
This, of course, sounds like an entirely different experience than tea-bagging services offered by a number of agencies on the island.
To help combat violations in regulations and to provide positive reinforcement to those with good practices within the Phuket diving industry, PADI held a seminar on March 8. About 50 dive professionals, representing a strong cross section of certification levels and nationalities, were in attendance. Of course, those that truly needed to be guided back onto the tracks of complying with safety regulations weren't there.
It hardly seems coincidental that the seminar comes after a series of diving deaths and injuries in the Andaman.
In November last year, Zhang Lin, 23, was found floating unresponsive at a depth of about 11.9 meters by divers from another dive company. She was later pronounced dead. Then, on February 3, two Russian divers were maimed by a speedboat in Phi Phi. Later that month, a first-time Chinese diver was recovered unconscious near Koh Poda while diving with Ao Nang-based company Scuba Addicts. Those incidents provide perfect case studies for discussions on regulations, but because the cases are still in court, we won't dig into what regulations may have been violated.
However, during the PADI discussion, two major issues with regards to how to 'bend' regulations surfaced: the use of cameras while teaching DSD courses and 'confined water environments' for DSD courses. Though the bottom line is simple, the discussion will be picked apart in our next dive column.
So what is that quick and dirty bottom line: did the instructor act as a prudent instructor would? If something terrible did happen because you escorted one DSD to the surface because they were throwing up through their regulator, leaving another alone below you, what would appear in the ensuing police report?
It is easy to justify stretching or bending regulations to fit our needs. However, a police report that may back criminal negligence charges will not be colored by the intricate fluctuations of life. A police report is in black and white.
When an expert witness takes the stand for the prosecution, they will pull apart an instructor's performance brick by brick. They may note that clearly a part of the medical waiver was erased and re-marked to prevent a simple trip to the doctor. They will note regulation infractions – the student failed to perform skills necessary for certifying requirements; the instructor was taking photos, and so on. They won't weigh in the fact that the night before was when your Dive Master candidates completed their course, so you took them out for some drinks to celebrate. They will note, however, that you were drinking the night before.
Ask yourself this when a person who was under your care is brought to the surface unconscious and is later pronounced dead: will your reasoning for making the decisions and compromises you did hold water with the deceased's loved ones, with the courts or with your conscience, if you get a 'free' stay in Thailand, as an inmate?
— Isaac Stone Simonelli


Join the conversation and have your say on Thailand news published on The Thaiger.
Thaiger Talk is our new Thaiger Community where you can join the discussion on everything happening in Thailand right now.
Please note that articles are not posted to the forum instantly and can take up to 20 min before being visible. Click for more information and the Thaiger Talk Guidelines.