Brand Andara and investing in Phuket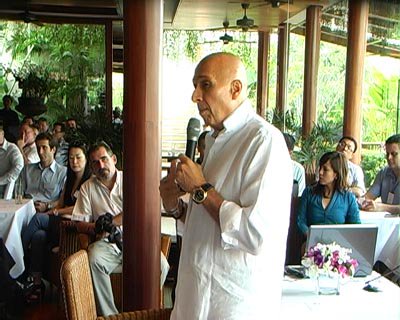 PHUKET: The American Chamber of Commerce (AMCHAM) Greater Phuket chapter held an event last week where record crowds turned out to hear Hong Kong billionaire Dr Allan Zeman give his thoughts on what it takes to make a business venture successful.
Hundreds of Phuket developers, resort industry professionals and business people packed into the chic Silk restaurant at Andara Resort and Villas in Kamala to hear what the "Father of Lan Kwai Fong" had to say.
Mr Zeman came to fame in Hong Kong when he purchased an entire block in the city's Central district in 1984, transforming it into the world-renowned restaurant and nightlife area that it is today.
Twenty years later he was invited to become Chairman of Hong Kong's Ocean Park and managed to increase profits there despite the opening of Disneyland in Hong Kong.
"When you do business in a foreign country, the most important thing to learn is to first understand the culture of your customer. Where does your customer come from? What are they used to doing?" Mr Zeman said.
"Culture takes many, many centuries to change, so if you want to be successful, the most important thing you can do is adapt the way you do business to fit into the culture.
"Those of us that are living out here in Asia are very lucky. There is a tremendous shift from west to east, a paradigm shift. Europe as we know it, is in many ways a basket case, the same with North America. China is slowly starting to lead the world and has US$3.25 trillion in reserves. America is bankrupt and Europe is not much better off. So, the wealth is really coming out here." he added.
After building his dream holiday home, Chandara, in Phuket, Allan Zeman realized the potential of the high-end resort market here and built Andara Resort & Villas and the Plaza Surin boutique shopping center. He believes Phuket has a great future.
"I've always been enchanted with this island. There's a magic here: there's the Thai culture, the food, the beaches, the weather, the natural environment. I'd say this place is blessed. I've always said that it's one of the best places in the world," said Mr Zeman
Given the success of Andara, which is now nearly sold out, the Phuket Gazette asked if there will ever be an Andara 2.
"You want to keep some exclusivity for current owners, so Andara will not expand. But we will be doing a sister project, Suandara, which is down the road and we're getting the land registered and [taking care of] all the [other] necessary requirements.
"We are also building a new, bigger plaza across the road from Surin Plaza, with 54 shops, a restaurant on top, glass lift, escalators – a special landmark.
"Another lesson I have learned is that there is only 'first class'. Whatever business it is that you're in, always aim to be the best. If you aim for first class, you may end up in business class. If you aim for business class you may end up in economy. If you aim for economy, you'll go broke," Mr Zeman warned.
Click here to view PGTV of the event.
— Marc Mulloy
Keep in contact with The Thaiger by following our
Facebook page
.
BTS is Thailand's most-streamed act on Spotify for 2019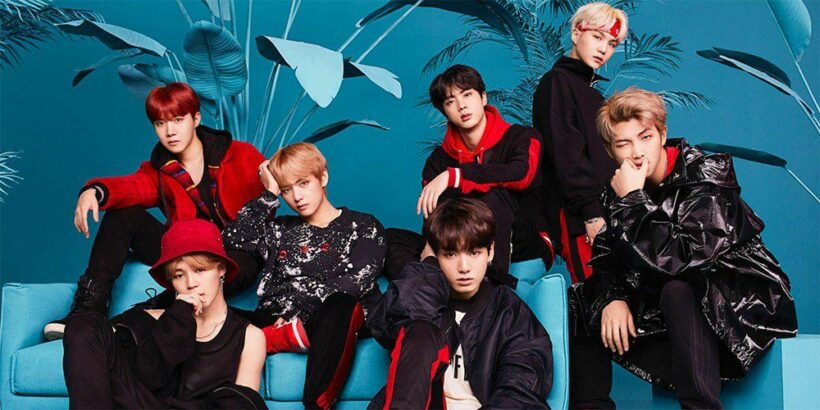 …and the most streamed K-Pop act in the world.
Another year of music is about to play its final chords. Streaming services, a mere curiosity a decade ago, are now the main source of revenue for many artists. In 2019, Streaming music will account for 80% of industry revenues, nearly US$9 billion this year.
Bangtan Sonyeondan, better known around the world as BTS, were the most streamed artist in Thailand, and the the most streamed K-Pop artist in the world this year. The South Korean septet also topped the global streaming table on Spotify. BTS had more than 3 billion streams among global audiences this year.
In Thailand, the top five places were all K-Pop artists, despite the groups singing, mostly in Korean. Blackpink were second, followed by GOT7, NCT 127 and EXO.
More than 14 million listeners in Thailand follow BTS each month and the Korean girl group Blackpink has 8 million followers a month. Blackpink's 'Kill This Love' was the most streamed song in Thailand, followed by the BTS hit 'Boy with Luv' (feat. Halsey). Globally, the two songs switched positions, with 'Boy with Luv' coming first, followed by 'Kill This Love'.
'Boy with Luv' was streamed more than 300 million times so far this year.
Blackpink has a huge Thai following because one of its members is a Thai national. Lalisa "Lisa" Manoban was one of three people from Thailand chosen to be on Time magazine's Time 100 Next 2019 list.
BTS are the only act, local or international, to sell out two stadium concerts at the Rajamangala Stadium in Bangkok. In another of its 2019 record-breaking streaks, BTS landed the Guinness World Record for the fastest time to reach 1 million followers on the video-sharing platform TikTok.
SOURCE: Bangkok Post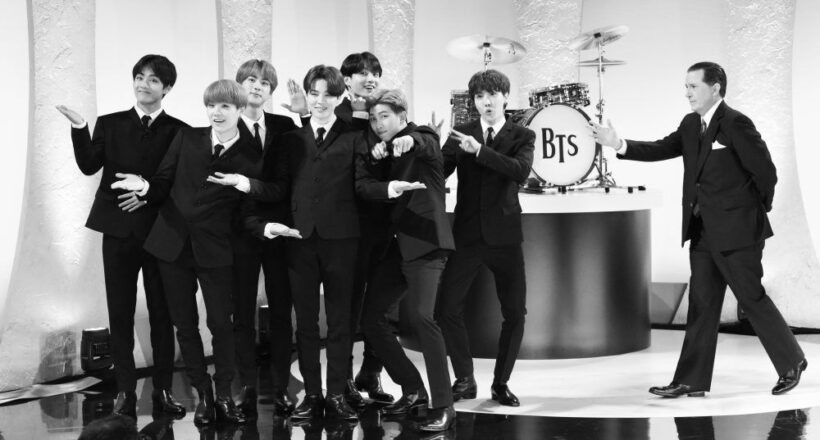 PHOTO: It looked like The Beatles performing in the same Ed Sullivan Theatre in 1964, but in May this year BTS performed on the The Late Show with Stephen Colbert. The producers recreated the same look and feel as the earlier Fab Four performance. Only The Beatles and BTS have had three number ones on the Billboard music charts in the same year.
Keep in contact with The Thaiger by following our
Facebook page
.
Tesla's Elon Musk wins defamation trial over 'pedo guy' tweet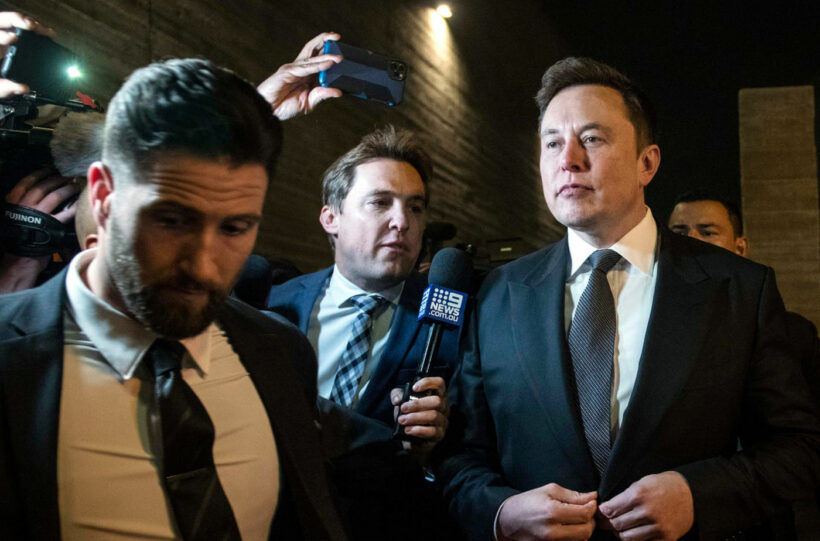 PHOTO: Christian Monterrosa/EPA
"My client went toe to toe with a billionaire bully."
Tesla's mercurial Elon Musk has emerged victorious after a defamation trial as a federal court jury swiftly rejected the US$190 million claim brought against him by a British cave explorer, Vernon Unsworth, who Musk branded a "pedo guy" on Twitter. The incident happened during the attempts to rescue the 13 young football players from the Tham Luang cave in Chiang Rai in July 2018.
The unanimous verdict by a jury of five women and three men was returned after roughly 45 minutes of deliberation on the fourth day of Musk's trial. The case has been closely watched by legal experts because it is believed to be the first major defamation lawsuit by a private individual to go to trial over statements made on the Twitter platform.
Musk shook hands with his lawyer after the four-day trial in LA. He didn't address Mr. Unsworth, whose team had told the court earlier on Friday the Tesla CEO should pay at least US$190 million in damages for his tweets about the diver.
Meanwhile, 64 year old Vernon Unsworth spoke outside the courthouse saying that he was resigned to his defeat.
"I accept the jury's verdict, take it on the chin and get on with my life."
L. Lin Wood, a high-profile trial lawyer, leading the legal team for the plaintiff Vernon Unsworth, says the jury's decision signals a higher legal threshold for challenging libelous material on social media.
"The challenge that was thrown down by Elon Musk was that if you don't sue it's true. We sued because it's false."
"This verdict puts everyone's reputation at risk."
The outcome was a triumph for Musk, whose fickle behaviour in a number of instances last year came under close scrutiny from federal regulators and shareholders of Tesla, his Silicon Valley-based electric car manufacturer.
48 year old Musk, who had testified during the first two days of the trial in his own defence and returned to court on Friday to hear closing arguments, exited the courtroom after the verdict."
"My faith in humanity is restored."
Unsworth's lawyer says he nevertheless saw the lawsuit as meaningful in helping erase the stain he said his client's reputation suffered.
SOURCE: Thai PBS World | The Guardian
Keep in contact with The Thaiger by following our
Facebook page
.
Thai beauty takes Miss Supranational crown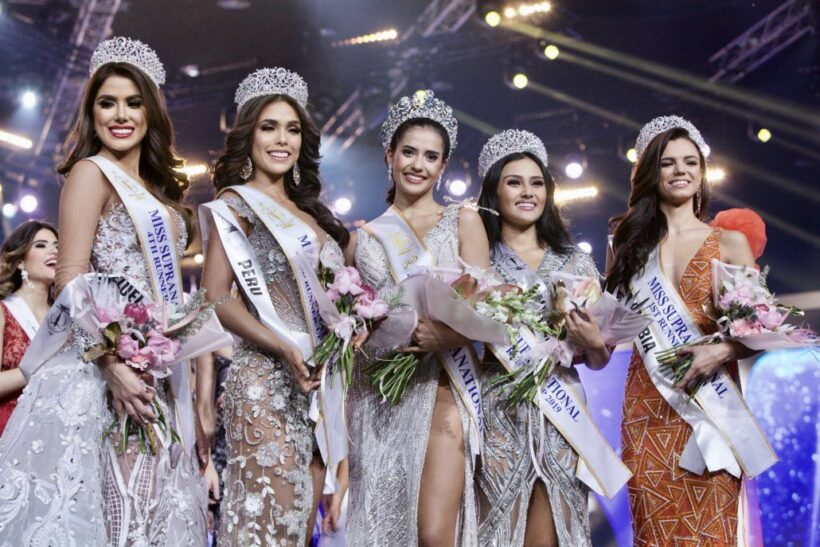 PHOTO: PAGEANTCircle
A Thai contestant, Anntonia Porsild, has been crowned Miss Supranational 2019, beating out contestants from 77 countries. She is the first Thai to receive the honour. Miss Supranational is a privately organised beauty pageant organised by a Polish TV network.
Yana Haenisch from Namibia, Jesica Fitriana from Indonesia, Janick Maceta del Castillo from Peru, and Gabriela De La Cruz from Venezuela were named runners-up.
Anntonia, who is half Danish and half Thai, was a contestant on the first season of "The Face Thailand" in 2014-15. She's currently studying advertising and public relations at Stamford International University in Thailand.
Miss Supranational is one of five international beauty contests at the "grand slam" level, dating back to 2009.
Other Thai contestants who have done well in the contest are Nanthawan Wannachutha and Parapadsorn Vorrasirinda, first runners up in 2012 and 2014 respectively.
SOURCE: The Nation
Keep in contact with The Thaiger by following our
Facebook page
.