Air Asia flight arrives in Hua Hin. Hey, it's a really big deal!!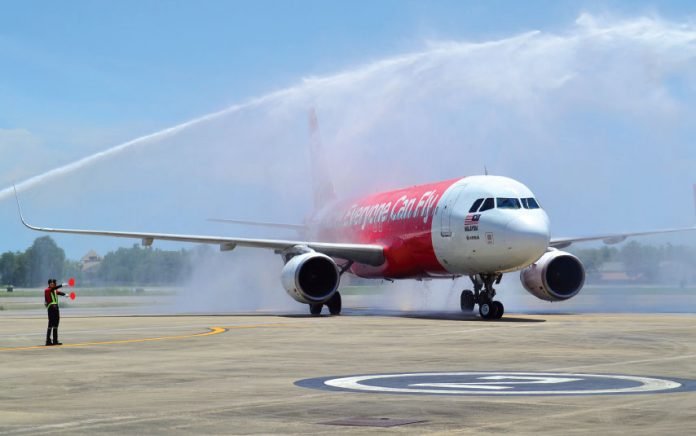 One flight a day, four times a week. Hua Hin Today goes grand with its headlines about the inaugural Air Asia flight. It's straight out of the 1930s…
"Hua Hin Realises the Age of International Flight"
"In what may prove to be a game-changing event for the local tourism industry, Hua Hin airport has welcomed the inaugural Air Asia direct flight from Kuala Lumpur."
And there it was, the Airbus A320 arriving at Hua Hin International Airport to great fanfare. You'd think no one in Hua Hin had ever seen a plane before. Sure, it's a great opportunity for Malaysians to head north for a weekend and have a few rounds of golf, maybe enjoy the strip's beaches and a spot of shopping. Probably the question needs to be asked why it's taken until 2018 for an airline company to pluck up the courage to commit energy and equipment on the seaside town (we look forward to Hua Hin-ians to provide some answers to that question).
"AirAsia has… projections of over 55,000 passengers in the first year of operations and over 2 million annually by 2022."
That's a massive growth projection. 2 million annual passengers would be making a big impact on the town's tourism industry if it eventuates. Let's hope the promised additional routes to Chiang Mai and Phuket eventuate which would truly open up Hua Hin to the large Chinese tourist contingent already spending time and money in the other two Thai tourist magnets.
Here's the rest of the story of Hua Hin's first international flight HERE.
And a report about the expanded Hua Hin to Chiang Mai and Phuket flight routes HERE.
Keep in contact with The Thaiger by following our
Facebook page
.


Looking to jettison some items before jetsetting away or chartering a yacht? Look no further than Thaiger Classifieds where you can find and post items, work, property and more for free. Be sure to check out YonderTours for things to do in Thailand and tours across the country.

Read more headlines, reports & breaking news in Hua Hin. Or catch up on your Thailand news.

Scrap metal merchant arrested over stolen rail track pins causing train derailment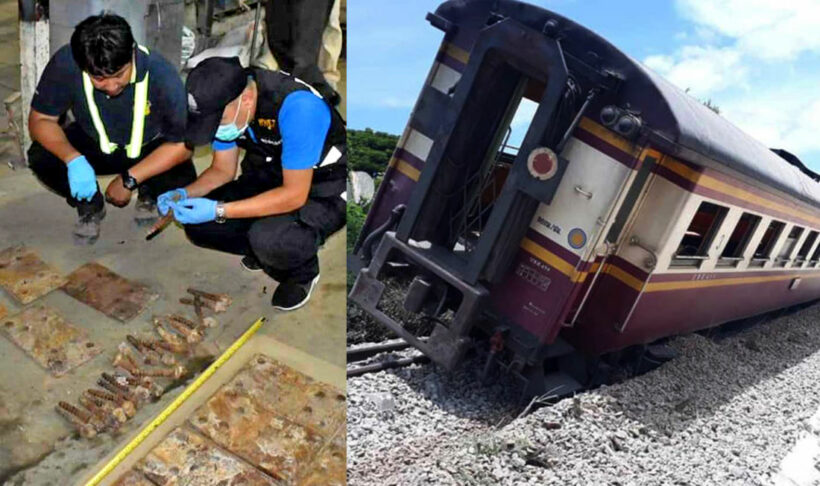 PHOTOS: Twitter@pr.railway 
A scrap metal shop owner has been arrested for stealing rail track 'pins' that were responsible for the derailment of a railway carriages heading south from Bangkok to Chumpon province yesterday. The derailment happened in the Phetchaburi province.
The incident happened yesterday (Monday) just after midday and took the rest of the day and evening to lift the carriage back onto the tracks, and inspect the railways lines and missing pins (that hold the railway tracks onto the timber sleepers).
Read the story HERE.
The State Railway of Thailand reports that train #255 from Thonburi to Lang Suan station in Chumphon province became derailed at 12.04pm after departing the Huay Sai Tai station in Cha-am.
They confirmed that six carriages had jumped off the rails. They believed that the theft of steel nails used to fix the tracks to the sleepers had been stolen. Railway teams and cranes went to the scene to lift the carriages back on the tracks and assess the damage.
The acting State Railway governor says inspectors found 168 rail fastening screws and 40 track base plates were missing, along with 340 wooden sleepers damaged over a distance of 350 metres.
Police and railway officials raided the Rungcharoen scrap metal shop in Cha-am district last night. They found 25 rail base plates and 66 rail track pins on the premises.
Keep in contact with The Thaiger by following our
Facebook page
.
The owner, Supachai Padsri, was arrested for theft and receiving stolen items. He is denying the charges claiming that a person had deposited the items at his shop a few days ago.
Where are the CCTV cameras? Hua Hin locals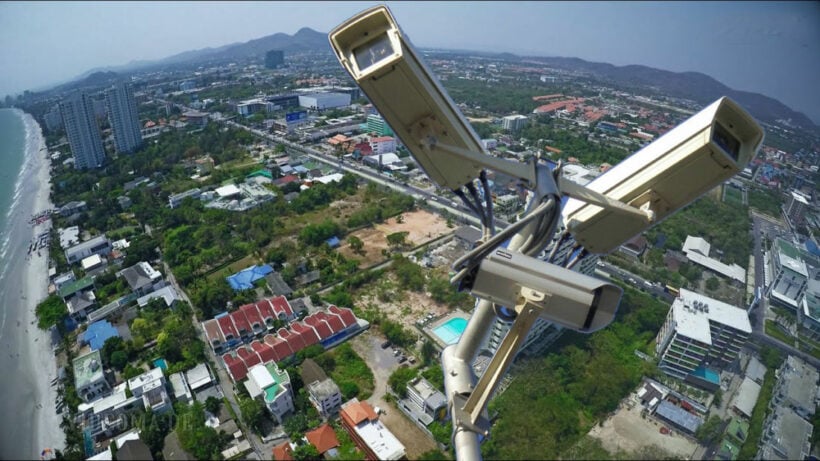 A motorcycle-bombs scare on Sunday has put the spotlight back on the planned CCTV cameras that were promised after a series of bombings in Hua Hin back in 2016.
Officials at the Hua Hin provincial hall Hua are now being pushed to speed up the planned installation of hundreds of public-area security cameras in the wake of the weekend's bombs scare.
Provincial governor Panlop Singhaseni has advised municipal authorities in the resort town to complete procurement conditions for 400 high-definition CCTV cameras, as promised three years ago.
The 50 million baht purchase was proposed after Hua Hin was targeted by a series of bomb blasts in 2016 that killed one person and wounded 20 others, seven of them foreigners.
The plan stalled when the Provincial Electricity Authority refused to allow use of its poles for the cameras and cables, for fear they could disrupt the power supply.
The bomb scare on Sunday focussed on three parked motorcycles with southern licence plates parked near the train station and reignited concerns over the need for improved safety in the seaside town.
Hua Hin municipality currently has 150 surveillance cameras – 90 looked after by the Tourist Police and another 60 operated by the provincial offices.
Keep in contact with The Thaiger by following our
Facebook page
.
Potential for retirement properties in Thailand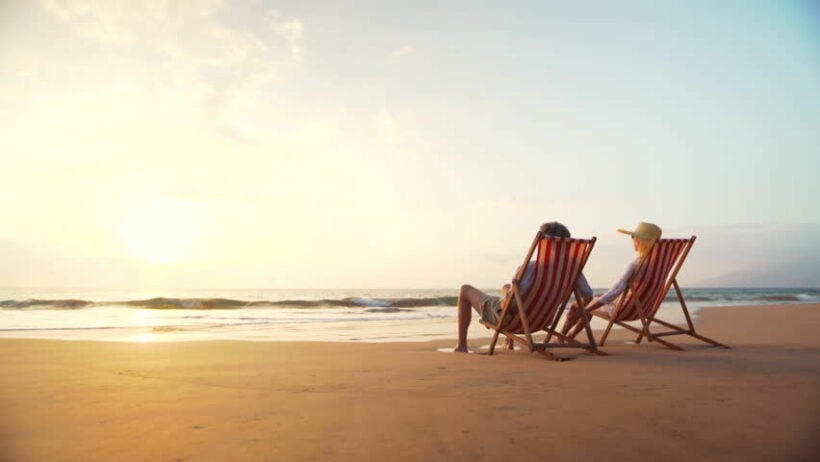 by Bill Barnett of c9hotelworks.com
While a number of property offerings in Phuket, Hua Hin, Pattaya, Chiang Mai and more recently in Bangkok have promoted themselves as retirement-centric offerings, the jury is still out on the broad success of the sector.
Despite retirement communities and assisted living being mainstays in Western countries like the US, UK and Australia, these are for the most highly domestic offerings.
Some of the key market challenges are the absence of a secondary sales market, disconnect with national healthcare schemes, difficulties in financing offerings and the sheer distance from relatives or family units.  Additionally, intrinsic differences in nationalities of prospective end-users has created a somewhat confusing potential geographic source of business.
Thailand does have a widely promoted retirement visa program but it has not been linked to the real estate market. Malaysia's 'My Second Home' initiative has been a leader in Asia and has effectively tapped these two issues.
Two developments that are being watched in the property world in the Kingdom, the first is Nye Estate's Otium Living which is working closely with the UK retirement specialist group Audley Villages, with its initial offering coming to Phuket's MontAzure in Kamala and plans to expand in Bangkok.
Second is MQDC's The Forestias in Bangkok which is aimed at multi-generational living. A number of iconic groups are involved in this undertaking including the Foster + Partners, Six Senses and Harvard T H Chan School of Public Health on wellness. What's unique about this project is the inclusion of older generational housing into a larger green, eco and family- oriented community.
At C9 Hotelworks we have advised on a number of retirement projects in Thailand, Philippines, Mainland China and Japan. One of the key issues for the sector has been developers who are looking to simply brand real estate and not do the hard yards on programming a working community.
One clear idea that is emerging, that we feel has strong broader potential is a shift from a property offering into shorter-term lease options, membership or rentals. This becomes a recurring cash flow play versus the typical blow and go real estate structure.
A strong indicator of the upside potential is Australia's property group Lendlease's estimated USD1.4 billion investment into Mainland China's senior living marketplace. On offer are transferable long-term memberships with a value of approximately USD250,000. Wellness and hospitality offerings are key components of the end-product.
The reality of lower, more rationale pricing points with an understanding that senior living is transitory in nature and the long-term prospects will be a transfer into assisted-living or family care.
We continue to see real estate developers go blindly into creating offerings which do not recognise the need to build a secondary resale mechanism as well and trying to price offerings on legacy real estate models. For the most part these are going to be highly stressed financial models and not sustainable.
Senior and/or retirement living is a reality for a "greying Asia", but for now, the lack of fundamental models and reality has yet to take hold. It will be interesting to see how Lendlease's China outing goes, but they certainly look to be set on the right path ahead.
As for the prospects of the Kingdom, one astonishing data point on Thailand's potential for senior living is that by 2030, according to the United Nations a quarter of the population will be over 60 years of age. Falling birth rates and an aging population have created a first world situation in the making. There is a growing long-term market, if someone can just create the right product.
If you're looking for new or pre-loved homes and condos in Thailand click HERE.
Keep in contact with The Thaiger by following our
Facebook page
.