Looking Back: History of the Emerald Buddha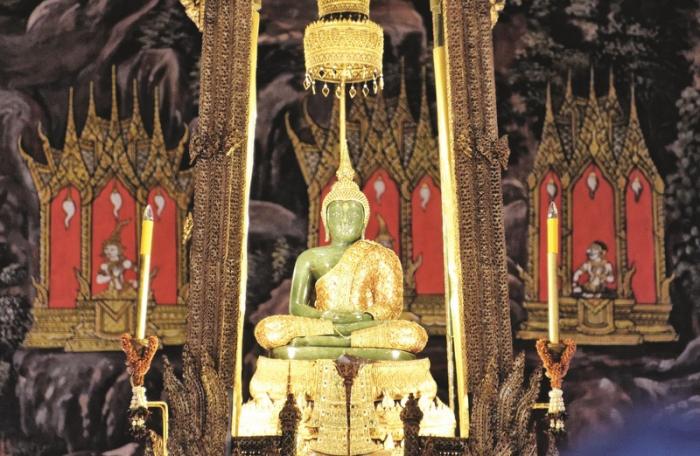 PHUKET: The Emerald Buddha is one of Thailand's most revered artifacts. Contrary to its name, it is actually carved out of jade. It is a figurine of the seated meditating Buddha. A beautiful and ancient piece of art, it draws tens of thousands of visitors to the Grand Palace and Wat Phra Kaew every year.
No one really knows who carved it or where it originated. Some speculate that it was carved in the north of Thailand, more than five centuries ago. Others believe that the style is more closely related to Sri Lanka.
An interesting legend takes us back to the early 15th century in Chiang Rai. Amid a violent storm, an old chedi was struck by lightning and ripped open. After the storm passed, the abbot of the temple walked up to the chedi and noticed an old Buddha statue with an emerald green nose.
He took the image out of the chedi, began peeling off the stucco it was covered with, and found a beautiful emerald green Buddha statue.
When news spread of the abbot's discovery, people flocked to pay their respects. King Sam Fang Kaen of Lanna heard about it and insisted on bringing the Emerald Buddha to Chiang Mai, his capital city.
The King sent his elephant to transport it to Chiang Mai. However his elephant kept going to the city of Lampang instead, which he saw as a sign that the guardian spirits wanted it to stay in Lampang. He ordered a temple to be built where the Emerald Buddha was installed with great veneration.
In 1468, King Tiloka of Lanna brought the statue to Chiang Mai, where it remained for almost a hundred years, until the mid 16th century. At that time, Prince Chetthathirath, Crown Prince of Lan Xang, (modern day Laos), was invited to occupy the throne of Chiang Mai.
After being crowned, the young king decided to return home to Luang Phrabang in 1552. He took the Emerald Buddha with him. A few years later, the Burmese attacked Luang Phrabang and forced King Chetthathirath to flee to Vientiane. He took the Emerald Buddha with him, where it remained for the next 200 years.
In 1779, during the reign of King Taksin, a rebellion was brewing in the Laotian territories, which King Taksin ordered to be stopped. In the war that followed, Vientiane was captured and brought back under Siam's hegemony. On his way back to Thonburi, Chao Phraya Chakri, leader of the King's forces, brought the Emerald Buddha with him. King Taksin ordered the statue to be installed in Wat Arun.
When King Taksin was deposed in 1784, Chao Phraya Chakri was crowned King Rama I. One of his first acts as king was to move the capital from Thon Buri, on the western banks of the Chao Phraya River, to the eastern side. There he built a magnificent capital, at the center of which was the Grand Palace, with a temple built to house the Emerald Buddha. This temple became known as 'Wat Phra Kaew', or the Temple of the Emerald Buddha.
The statue is a symbol of great veneration among Thais. During the early days when Bangkok was first established as a city, it was often paraded in the streets to ward off evil and mitigate the spread of disease and other calamities.
The attire of the Emerald Buddha, intricately carved out of gold, is changed three times a year, during the start of the hot, rainy and cool seasons. The changing of the attire must be carried out either by the King or the Crown Prince in a solemn ceremony.
— Anand Singh

The art of Thai massage – Chann Wellness Spa, Kamala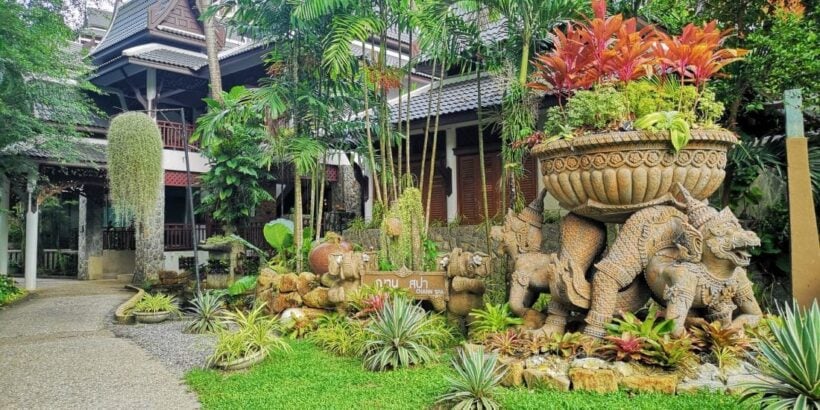 Time to relax, time to be pampered. You deserve some 'me' time to get refreshed and be indulged at the Chann Wellness Spa at Thavorn Beach Village Resort & Spa, Phuket in Kamala. Tim Newton headed to Kamala for an hour of well-deserved pampering.
Chann Wellness Spa is one of the island's most established spas combining experienced staff, the right 'mood' and a perfect location on the shores of Phuket's west coast.
Chann Wellness Spa has their own Signature Massage which is a full body traditional Thai massage using essential 'energising' oils containing lemongrass, ginger and verbena.
Find out more about the art of the Chann Spa massage HERE.

The spa is visited mostly by guests of the Thavorn Beach Village Resort & Spa but is becoming increasingly busy with locals who know about Chann's quality and experience. Many guests from the Thavorn Palm Beach Resort also visit the Kamala property to enjoy some relaxing therapy.
Massages come in many varieties as well as 'soft, medium of strong'. I like a 'medium' which I can dial up to 'strong' when needed. My masseuse was Khun Natty who did her training with official Chiang Mai Government masseuse training. Lots of experience makes all the difference.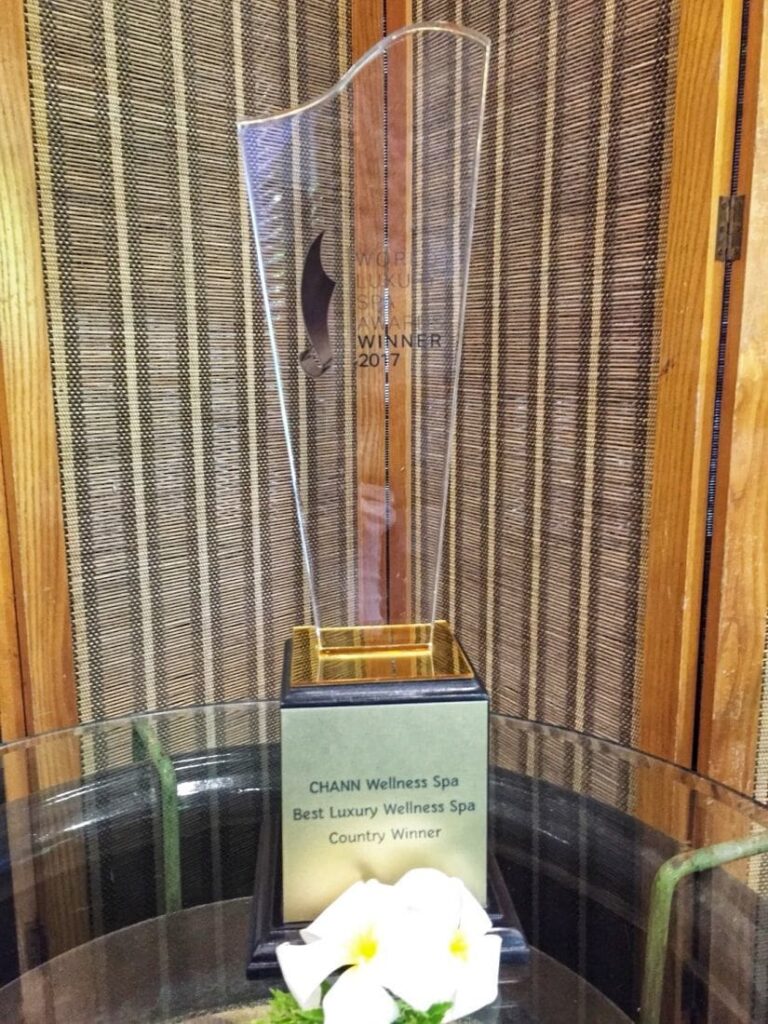 Chann Wellness Spa operates from its own building amidst the sprawling Thavorn Beach Village Resort & Spa facility, just moments away from the beach. The spa has been operating for over 10 years, bringing pleasure, comfort and relaxation to its customers.
Chann Spa features 10 individual treatment rooms and a Relaxation Sala. All of the treatments use bespoke signature spa products, with ingredients to soothe, rejuvenate and invigorate your body leaving you feeling totally relaxed. And in today's hurly burly world sometimes it's exactly what we need.
The spa was a deserved winner of the "Best Luxury Wellness Spa" from the World Luxury Spa Awards in 2017 – a culmination of the decade perfecting the craft of relaxing and rejuvenating tired, sore and stressed bodies. 

I had the Signature massage, a traditional Thai massage where Khun Natty perfectly tuned the pressures and techniques to my requests. An hour of total relaxation where I turned off and just let Chann Spa take care of me.
But how trying their Mango Sticky Rice skin treatment package? It blends a Thai favourite with the known benefits of antioxidants, vitamins and energy.
Getting a Thai massage is almost ubiquitous in Thailand. There are many options but few that can boast a decade developing a reputation and experience that Chann Spa can offer.
Finishing my treatment with Natty, I was floating on air and quite happy just to 'chill' with the sounds of nature and the music maintaining me in the 'relax' zone for a just a little longer.
Find out more about the Thavorn Beach Village Resort & Spa experience HERE.

Tim and Masseuse 'Natty'
Tim Newton was a guest of the Chann Spa and the Thavorn Beach Village Resort & Spa, Kamala.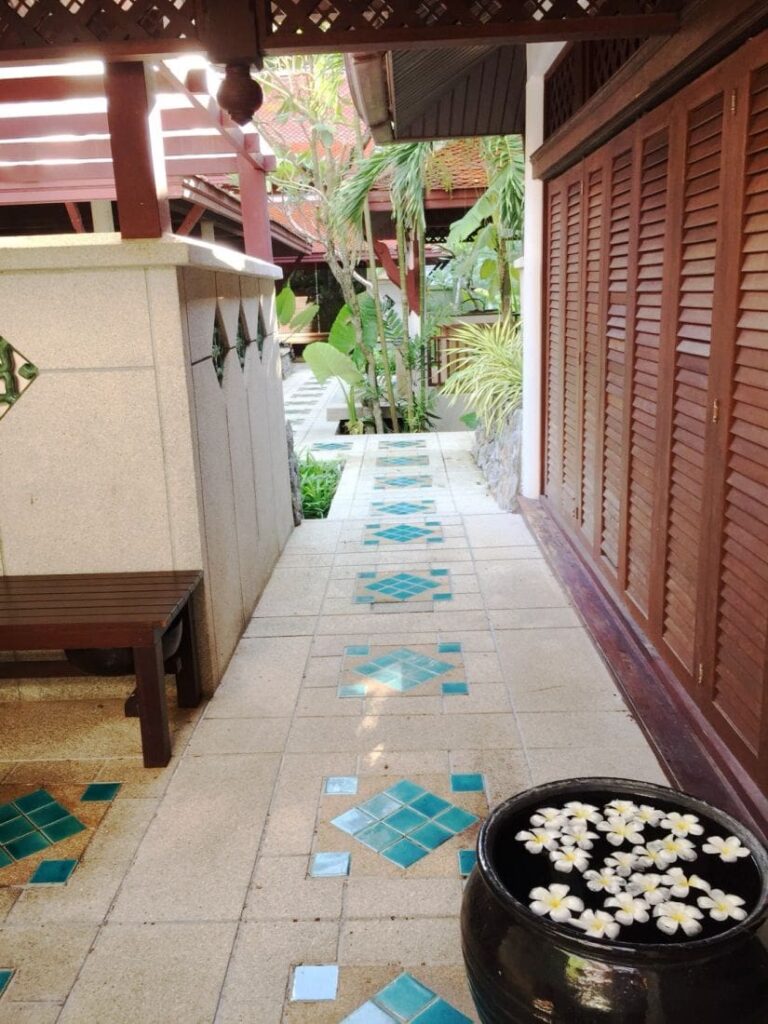 Calls to restrict foreign property purchases in Bangkok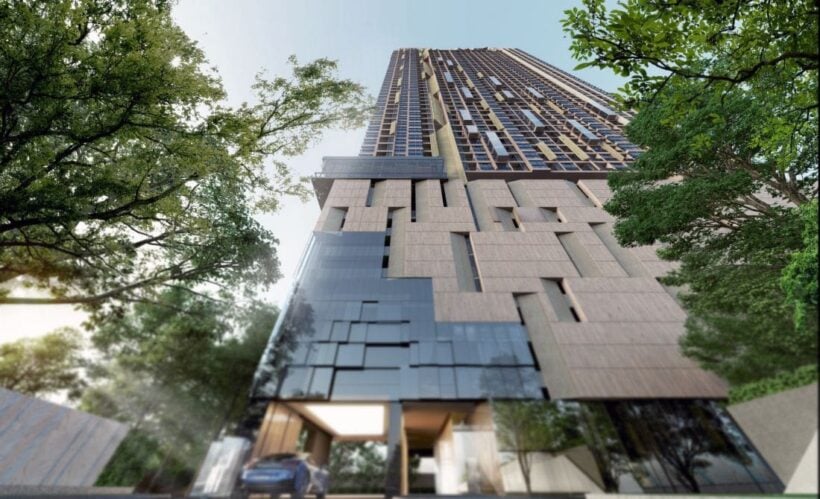 Dr. Sopon Pornchockchai, the President of the Thailand Agency for Real Estate Affairs, is calling for controls to restrict foreign property buyers.
Thailandproperty.news is reporting than he is justifying his comments saying the growth in income of Thais is slower than the property price rises being pushed up by high foreign demand.
"Some measures should be adopted, such as higher stamp duty for foreigners," he said.
The article says that this is the first time an industry figure has spoken out about the need to restrict or reduce the amount of foreign investment in the Bangkok property market. Dr. Sopom says he believes that foreign buyers account for around 20 percent of all Bangkok property purchases.
He noted that Chinese purchases account for about 80 percent of foreign buyers.
Read the original story HERE.
Savoury staples with a touch of the finest Swiss chocolate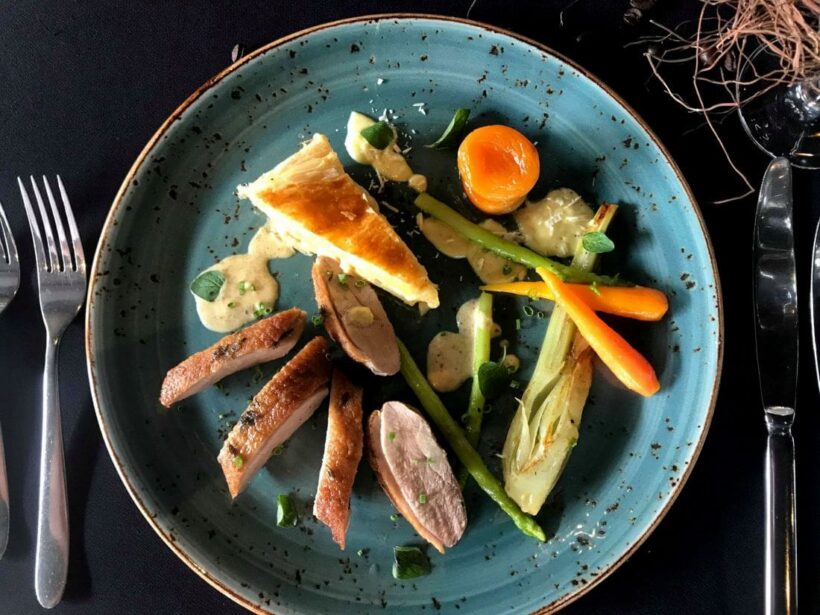 Chocolate… mmmmm. But did you consider it as part of a broader savory menu? I enjoyed an evening of chocolate-infused cuisine and, well, it really works!
Mövenpick Resort & Spa Karon Beach Phuket is treating guests to a new menu of savoury dishes with a sweet twist as Mövenpick Hotels & Resorts launches its 'Chocolate on the Salty Side' promotion.
In celebration of Swiss cuisine and the wonderful versatility of chocolate, the brand's talented 'food artisans' have made Mövenpick chocolate the hero of seven dishes in its latest global campaign, which runs to 20 November, 2018.
From salmon fillets enlivened with dark chocolate to a savoury tarte tartin with a white chocolate flourish, each new creation offers up something distinctively flavourful and showcases chocolate in new exciting ways to guests dining at Movenpick Karon Beach El Gaucho Restaurant.


The seven chocolate-inspired creations include: marinated 'beetroot salmon' with root vegetables and 72% dark chocolate to enhance the meal's rich earthiness; 'tomato tarte tartin' where 'white lemon' chocolate complements the goat's cheese, pine nuts and coffee beans; 'sea bass and green tea' – a light foam of green tea, almonds, nuts and Mövenpick 'Maple Walnut' is the star; 'minute beef goulash', with a traditionally-made Hungarian goulash sauce, enriched with dark chocolate; 'lamb shank and pesto', slow-roasted and then refined with pistachio and hazelnut chocolate pesto; and 'duck breast and potato pie', with white chocolate, lime and pepper giving the pink-roasted meat a delicate yet spicy freshness.
Whilst the dishes have been infused with chocolate, it's barely noticeable in most cases but makes for some subtle new tastes on European classics.
Less subtle are the exquisite desserts which are a blatant celebration of all things chocolate. Guests can finish their meal with a tempting 'chocolate pavés au chocolat', combining milk chocolate, crispy cocoa bean fragments, sizzling pecan nuts and slightly bitter matcha powder, all with a hint of green tea and paired with an espresso.
The quality of Swiss craftsmanship is world-famous and even the country's chocolate is produced with legendary precision. Mövenpick chocolate is made in keeping with the tradition, as well as its own culinary values that date back 70 years, and is produced in Switzerland using 100% cocoa butter.
Make a booking HERE or find out more about the El Gaucho Restaurant HERE.



Tim Newton was a guest of the management of Mövenpick Resort & Spa Karon Beach Phuket