Looking Back: History of the Emerald Buddha

PHUKET: The Emerald Buddha is one of Thailand's most revered artifacts. Contrary to its name, it is actually carved out of jade. It is a figurine of the seated meditating Buddha. A beautiful and ancient piece of art, it draws tens of thousands of visitors to the Grand Palace and Wat Phra Kaew every year.
No one really knows who carved it or where it originated. Some speculate that it was carved in the north of Thailand, more than five centuries ago. Others believe that the style is more closely related to Sri Lanka.
An interesting legend takes us back to the early 15th century in Chiang Rai. Amid a violent storm, an old chedi was struck by lightning and ripped open. After the storm passed, the abbot of the temple walked up to the chedi and noticed an old Buddha statue with an emerald green nose.
He took the image out of the chedi, began peeling off the stucco it was covered with, and found a beautiful emerald green Buddha statue.
When news spread of the abbot's discovery, people flocked to pay their respects. King Sam Fang Kaen of Lanna heard about it and insisted on bringing the Emerald Buddha to Chiang Mai, his capital city.
The King sent his elephant to transport it to Chiang Mai. However his elephant kept going to the city of Lampang instead, which he saw as a sign that the guardian spirits wanted it to stay in Lampang. He ordered a temple to be built where the Emerald Buddha was installed with great veneration.
In 1468, King Tiloka of Lanna brought the statue to Chiang Mai, where it remained for almost a hundred years, until the mid 16th century. At that time, Prince Chetthathirath, Crown Prince of Lan Xang, (modern day Laos), was invited to occupy the throne of Chiang Mai.
After being crowned, the young king decided to return home to Luang Phrabang in 1552. He took the Emerald Buddha with him. A few years later, the Burmese attacked Luang Phrabang and forced King Chetthathirath to flee to Vientiane. He took the Emerald Buddha with him, where it remained for the next 200 years.
In 1779, during the reign of King Taksin, a rebellion was brewing in the Laotian territories, which King Taksin ordered to be stopped. In the war that followed, Vientiane was captured and brought back under Siam's hegemony. On his way back to Thonburi, Chao Phraya Chakri, leader of the King's forces, brought the Emerald Buddha with him. King Taksin ordered the statue to be installed in Wat Arun.
When King Taksin was deposed in 1784, Chao Phraya Chakri was crowned King Rama I. One of his first acts as king was to move the capital from Thon Buri, on the western banks of the Chao Phraya River, to the eastern side. There he built a magnificent capital, at the center of which was the Grand Palace, with a temple built to house the Emerald Buddha. This temple became known as 'Wat Phra Kaew', or the Temple of the Emerald Buddha.
The statue is a symbol of great veneration among Thais. During the early days when Bangkok was first established as a city, it was often paraded in the streets to ward off evil and mitigate the spread of disease and other calamities.
The attire of the Emerald Buddha, intricately carved out of gold, is changed three times a year, during the start of the hot, rainy and cool seasons. The changing of the attire must be carried out either by the King or the Crown Prince in a solemn ceremony.
— Anand Singh

CoolSculpting: What is it and why is it so popular in Thailand?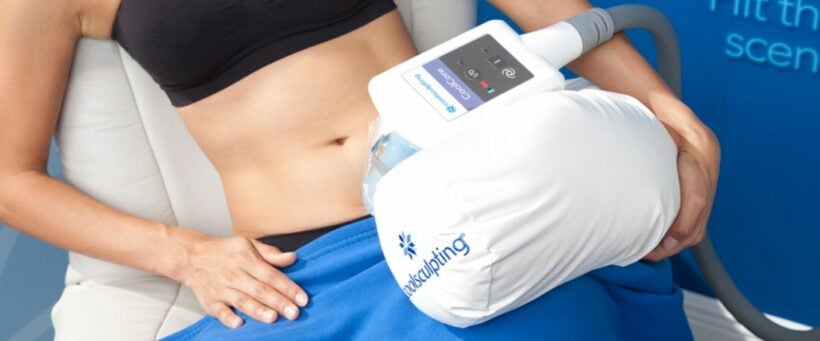 "There is a growing trend for alternative body contouring treatments. Consequently, many medical tourists turn to CoolSculpting with some incredible before and after results, as well as reduced recovery time without the need for anaesthetic or incisions."
Darren Lyons from medical.thethaiger.com has noticed the upward curve in alternative non-invasive liposuction and vaser liposuction treatments in Thailand. Known as Coolsculpting or Zeltiq, this type of cryolipolysis or fat freezing seems to be very popular for a host of reasons. 
Firstly, unlike CoolSculpting, liposuction tends to leave scarring where the cannula is placed directly into the skin opening. Moreover, local or general anesthetic is necessary with recovery taking up to a month, whilst CoolSculpting requires hardly any recovery time. 
So, how does it work? A medical surgeon will apply cooling targeted deposits between 5 degrees and minus 11 Celsius in order to reshape the body contours. This particular cooling technique leads to fatty tissue cells dying out with no harm to the skin. 
"Popular areas for CoolSculpting include places where there is excess fat buildup such as the hips and stomach. Medical tourists prefer to visit so they can eradicate their love handles or muffin tops around these specific areas. This in turn boosts patient confidence and provides an enhanced appearance," adds Darren.
Taking just three hours in total, results are noticeable in less than three months. Despite CoolSculpting's growing success and rave reviews, this surgical procedure carries a few short-term risks and side effects. These include aches in the specific treatment area, numbness, soreness and tingling.
Currently, Thailand is at the forefront of medical tourism with convenient air travel and access to a variety of invasive and non-invasive treatments including CoolSculpting. It is now welcoming medical tourists across the globe who are seeking cost-effective treatment and an unforgettable vacation. 
Boasting 60-plus modern JCI accredited facilities, cross-border and overseas patients are attracted to Thailand's blend of pristine golden sands, pioneering cityscapes, rich heritage and ancient monuments. From Bangkok to Chiang Mai and glorious Phuket, medical tourists are flocking to enjoy first-class healthcare, affordable rates, impeccable service, extensive facilities and highly qualified specialists.
Take for example the impressive Thanyapura Health & Sports Resort. Featuring 23 hectares, it offers bespoke treatment plans, laundry, an on-site pharmacy and a 50 metre swimming pool (enquire at medical.thethaiger.com today for discounted rates). 
Meanwhile, the JCI-accredited Yahnee International Hospital in the Thai capital treats more than 10,000 patients every year. With more than 400 beds across 15 floors, this renowned building is a comprehensive facility with nearly 200 doctors, 800 nurses and more than 100 dedicated staff. Performing breast augmentations, tummy tucks, facelifts and a range of cosmetic and plastic surgery, medical tourists receive exactly the same levels of care than they would experience back home. 
It is no surprise that Thailand now finds itself among the top three medical tourism destinations. With a global medical visitor's map stretching from Europe to South East Asia and even China, this Land of Smiles is proving to be irresistible for so many medical tourists.
Check out other procedures, locations and price guides at medical.thethaiger.com
Toxic free school lunches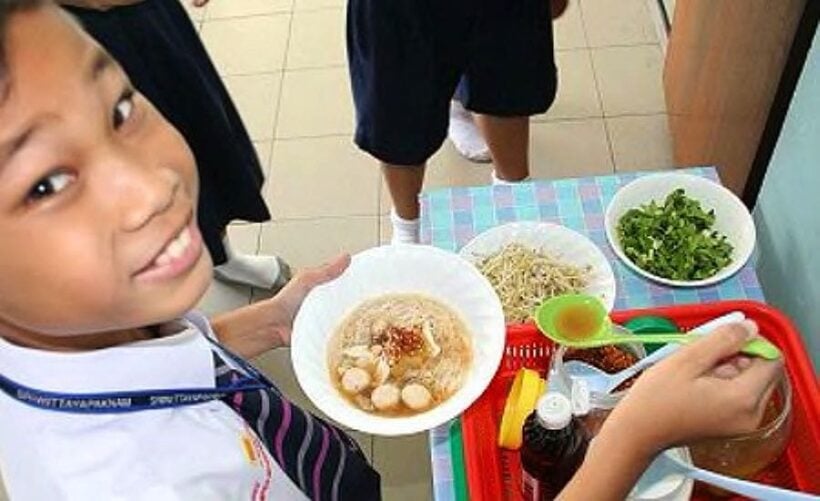 "Meat balls and sausages used in student lunches were also found to be contaminated with borax and formalin."
A major study has been released researching contaminants in vegetables used in the state-sponsored school lunch program. You'd hope that the lunches were fresh and nutritious, right?
Instead, they were dangerous.
Vegetables and fruits found in lunches for students under the government's free lunch program are almost 100 percent contaminated with pesticides and 99 percent of the urine samples from students and teachers in four provinces were tested with organophosphate, a deadly toxic pesticide that can attack the nervous system.
The alarming findings were the result of a research jointly conducted by Thai Education Foundation, Thai Health Promotion Foundation, Field Alliance of Chiangmai University and Greenpeace Thailand between July 2017-October 2018 on student lunches in 55 schools in Chiang Mai, Pathum Thani, Sakon Nakhon and Phang-nga provinces.
Vegetables, widely used in student lunches which were tested, include carrot, cabbage, Chinese cabbage, kale, long bean and tomato.  However, only two types of chemicals were tested – organophosphate and pyrethrum because organophosphate are widely used in insecticides for fruits and vegetables.
Thai PBS reports the the Thai Education Foundation secretary-general Marut Jatikate said that the most alarming findings appear to be the organophosphate residue found in 99 percent of the 436 urine samples from students and teachers in the four provinces.
Organophosphate poisoning symptoms include increased saliva and tear production, diarrhea, vomiting, small pupils, sweating, muscle tremors and confusion.
He said that the tests this time focused on two chemicals – organophosphate and pyrethrum – but they should have covered more toxic chemicals.
Nevertheless, he said findings from this research would be sent to the schools and parents of students in order that they would change the menu of student lunches but switching from mass-produced vegetables and fruits to organic vegetables and fruits which should be safer.
Besides the unsafe fruits and vegetables, Mr Marut said meat, meat balls and sausages used in student lunches were also found to be contaminated with borax and formalin.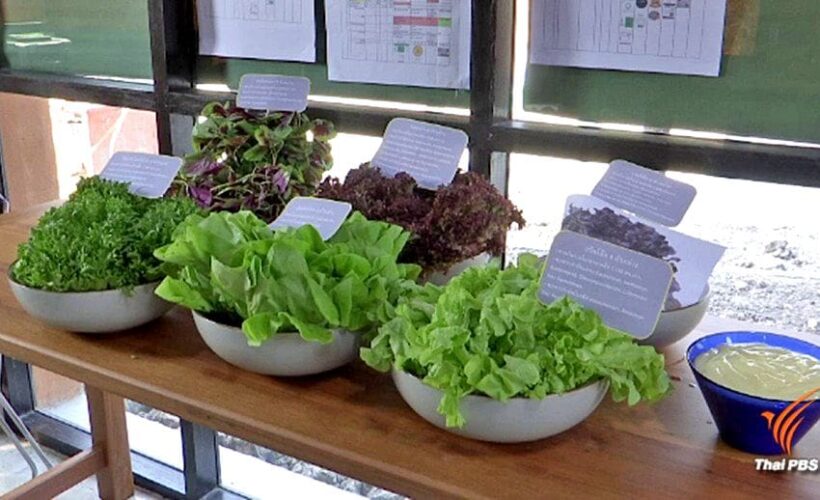 ORIGINAL STORY: Thai PBS
No tickets. No travel agents. Back in 2001 the new Air Asia was a gamble.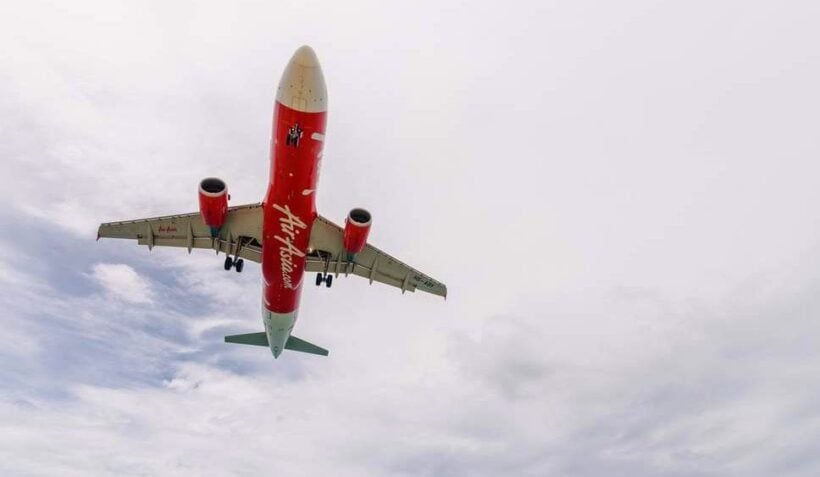 Stepping onto an Air Asia plane these days, or one of its regional affiliates, it's hard to imagine that back in 2001, ex-music business executive had to mortgage his house and raise venture capital to buy a failed airline. That new airline would revolutionize the aviation business.
Re-lanching it as Air Asia, the airline has re-shaped the Asian aviation industry and spawned a generation of copy-cat budget wannabes that are trying to emulate the Air Asia success story.
Tony Fernandez said there would be no tickets and no travel agents. Bookings would all be handled 'online'. Most pundits thought he was insane. But that was only the start his ideas to re-shape the airline business.
TechWireAsia reports on the rise and rise of the Air Asia model and how it has changed the way we fly around the region…
"In the age of digital transformation, companies either hop onto the latest technology bandwagon willingly or are forced to adopt modern approaches because of customer demands and competitive market forces.
But Malaysia's low-cost airline AirAsia was born with a desire to be digital-first — even though it wasn't a digital native to begin with.
AirAsia's coming of age story is a well-documented one and a real-life case of having champagne tastes on a beer-bottle budget.
In 2001, former Warner Music executive Tony Fernandes – now AirAsia Group CEO – made the ultimate business leap. He mortgaged his house, convinced a group of investors to buy an ailing airline for a quarter of a million US dollar and set out to relaunch it as Asia's first budget carrier.
Backed by a childhood dream to own an airline and zero experience in the aviation world, Fernandes proved his naysayers wrong. Today, AirAsia has smashed numerous firsts to hold the crown as the world's best low-cost airline, winning the prestigious Skytrax title every single year in the past decade."
Read the rest of the story from TechWireAsia HERE.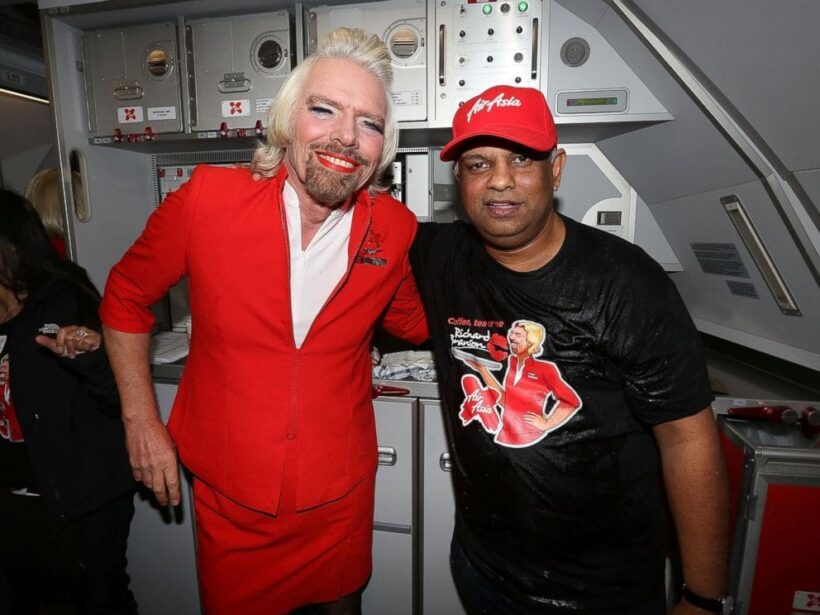 Virgin's Richard Branson (the pretty one on the left) after losing a bet with Air Asia's Tony Fernandez