South Korean President Moon Jae-in is the Time Magazine Person of the Year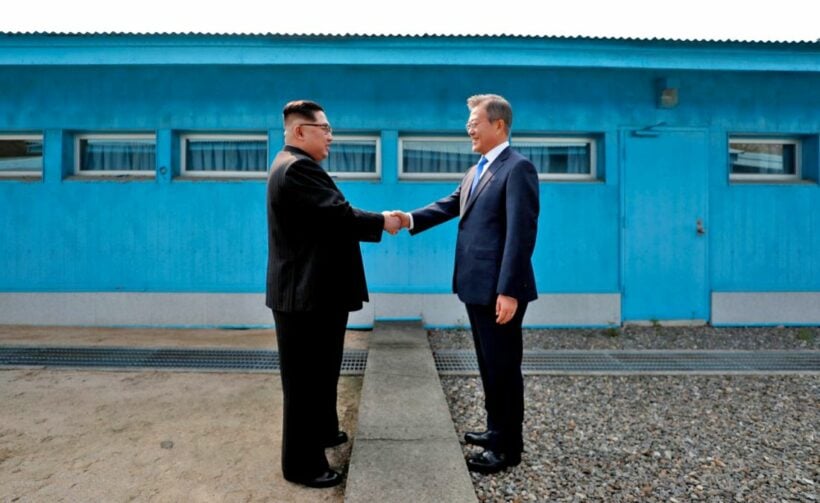 by Cod Satrusayang – Asia News Network
In a few decades, when people look back on 2018, perhaps they will only remember one or two major headlines. In the field of diplomacy, they may remember the meeting between President Donald Trump and Chairman Kim Jong-un.
If this were to happen it would be one of the biggest injustices of selective history and memory.

Because without South Korean President Moon Jae-in's insistence, persistence and patience, the Trump-Kim summit would never have happened. No Moon – Kim summit, no Trump – Kim summit.

A period of tension

If we think back to the tail end of 2017, the headlines that was taking place in and around the Korean Peninsula highlighted a region that was on edge.

Trump had antagonised Pyongyang with a series of tweets including comparing his rocket size to Kim, calling the chairman a 'little rocket man' and threatening nuclear destruction of North Korea.Pyongyang responded by calling Trump a "dotard" and questioning his mental stability.

The world watched with anxiety as it moved a little closer to a nuclear conflict, the doomsday clock inched towards midnight.

Remember how much panic there was in January in Hawaii when nuclear raid sirens went off accidentally. The world seemed to teeter on the brink.

Rapid de-escalation 

The reason that Moon Jae-in is our person of the year is because he single-handedly disarmed the powder keg that had been primed.

Moon reached across the border when it was not popular or politically prudent to do so.

His insistence on inviting and meeting with the North Korean delegation at the Olympic Games slowed down tensions and opened room for negotiations.

His administration, at his insistence, worked tirelessly to assuage any paranoia the North had. It finally culminated in a historic meeting between the leaders of the two Koreas at the demilitarized zone.

When they did meet on the DMZ Moon did not hesitate to accept Kim's invitation to 'step over the line' into North Korean territory knowing full well that there were symbolic repercussions.

The good will between the two leaders seem genuine too with Moon later returning the favour by becoming the first South Korean president to visit Pyongyang since Roh Moo-hyun a decade prior.

The Time Reader's Poll was also a win for another South Korean. This time a mega pop sensation that dominated headlines and charts in 2018.
South Korean boy group BTS topped the poll in the Time Magazine's 2018 Person of The Year reader poll. The poll was an online vote and had no bearing on the choice made by Time editors.
Time has named a person or group of people as its Person of the Year annually since 1927. Those who have been given the title come from various backgrounds and are picked for having the greatest influence in the events of the year in which they are picked.
While the magazine's editors will ultimately decide the Person of the Year, Time stated that it looked to provide valuable insight into public opinion and give its readers a chance to weigh in through the reader poll.
BTS' fellow nominees in this year's reader poll include directors Jon Chu and Ryan Coogler, Amazon CEO Jeff Bezos, undocumented children, politicians including Donald Trump, Moon Jae-in and Nancy Pelosi, artists including Beyoncé and Lady Gaga and the Thai cave divers.
In October, BTS was honored by the magazine as one of the "Next Generation Leaders", along with US actress Amandla Stenberg, France soccer star Kylian Mbappé and British model Adwoa Aboah. In July, the K-pop group was included on Time's list of the 25 most influential people on the internet for the second straight year.
Thai-owned Dusit D2 Hotel under fire in Nairobi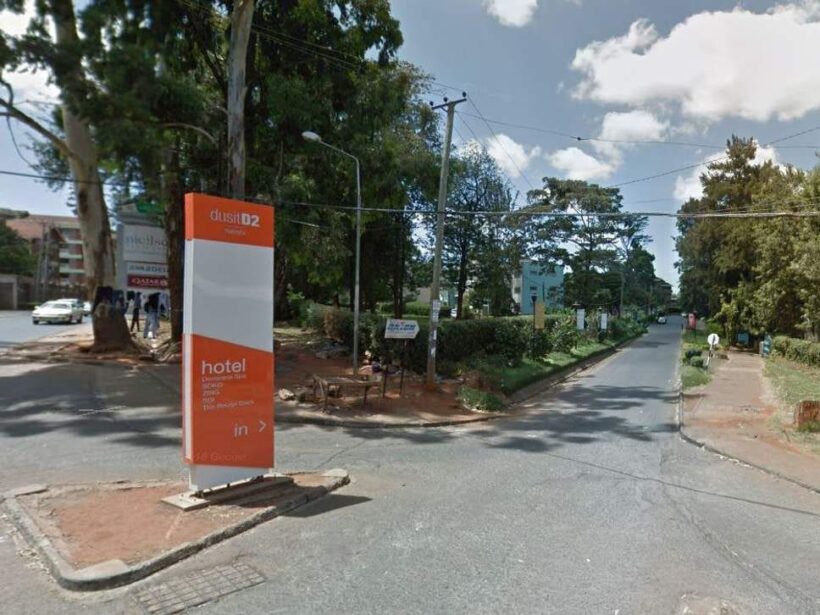 PHOTO: Google Maps
Two explosions and gunfire have been heard amid an apparent attack at an upscale hotel and office complex in Kenyan capital Nairobi. News just in from independent.co.uk
"We are under attack," another person in an office inside a complex in the DusitD2 hotel told Reuters, then hung up. Local television showed smoke rising from the area.
"I just started hearing gunshots, and then started seeing people running away raising their hands up and some were entering the bank to hide for their lives," a woman working in a neighbouring building told the news agency. She also heard two explosions, she said.
Nairobi police commander Philip Ndolo said officers had cordoned off the area around Riverside Drive due to a suspected robbery.
However, police spokesman Charles Owino told local media officials were not ruling out an attack by militants.
Read the rest of the Reuters report HERE.
Paralyzed from rare disease, Caroline returns home from Thailand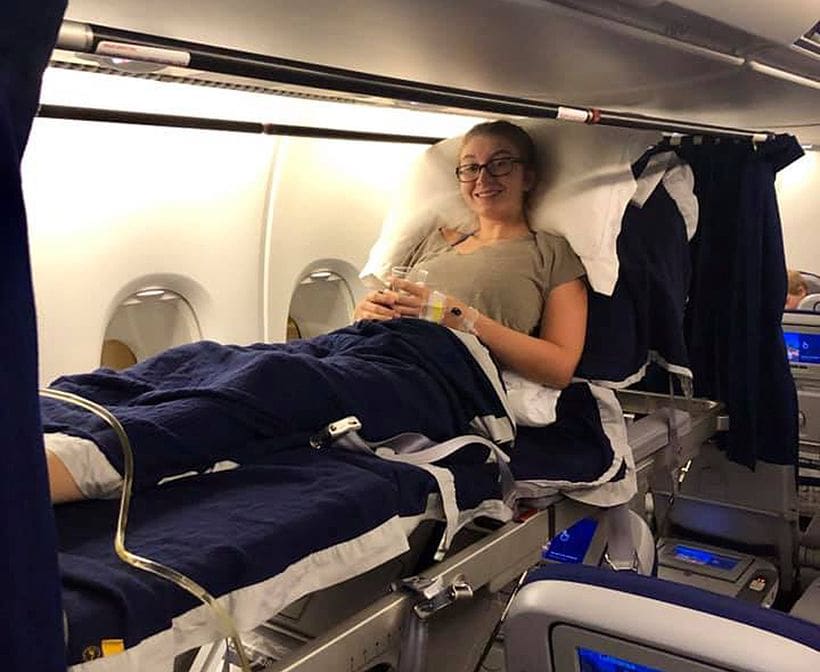 Original report by Karina Bolster and David Hylton. PHOTOS: Facebook/Jim Brader
A 22 year old woman from Virginia, US, who was paralyzed after her diagnosis of a rare auto-immune disease while teaching in Thailand, has arrived back home in the US.
Caroline Bradner was hospitalised in Thailand ever since.
A travel insurance company had agreed earlier this month to help Bradner get home. Caroline had originally travelled to Surat Thani in southern Thailand for a marketing internship but soon fell in love with teaching English to young children.
"She thought that would help broaden herself and also give back to other people," said her father Jim Bradner.
But two months in to her six month stay the unexpected happened.
On December 22 Caroline woke up in her apartment in Thailand unable to move, according to her sister.
"It's a punch in the gut," Bradner said.
Read more about Caroline's condition and the challenge to get her home HERE.

A friend, also from Virginia, took Caroline to the hospital after she started exhibiting symptoms of weakness, abdominal pain and paralysis.
Doctors in Thailand diagnosed her with Guillain Barre Syndrome, a rare auto-immune disease that causes your body's immune system to attack your nerves.
The family found out about Caroline's situation when they were picking her sister up at the airport.
Caroline's mother flew out Christmas Eve to help with her daughter's recovery while the rest of the family focused on finding a way to get her home.
Last night (Saturday), her father posted photos to Facebook as Caroline arrived home.
Friends, family and strangers donated to a GoFundMe page, originally created to help pay for transportation.
"Any additional funds will be donated to GBS/CIDP Foundation International," the fundraising page said.
Original article HERE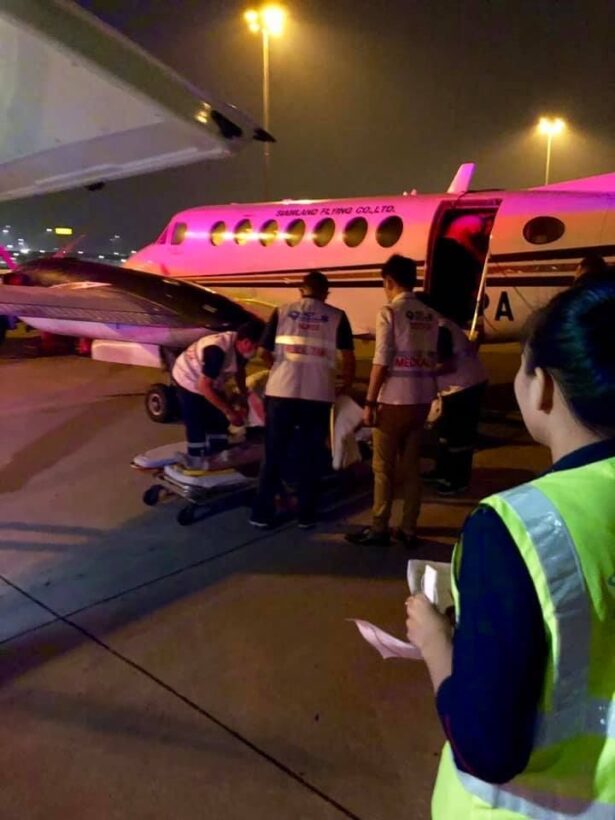 Rahaf al-Qunun arrives in Canada – no mention in Saudi media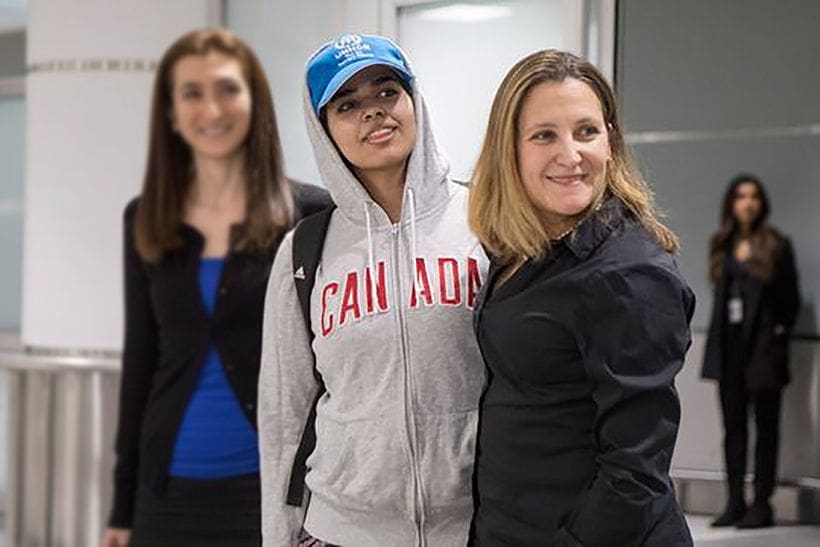 The 18 year old Saudi runaway who says she feared her family and possible death if she was deported back to Saudi Arabia, has arrived in Canada. Canadian officials offered her asylum in a case that became global news after the plucky woman mounted a Twitter storm, barricaded in her airport hotel room last weekend.
The Canadian Foreign Minister Chrystia Freeland met Rahaf Mohammed al-Qunun at Toronto's airport after arriving on a Korean flight from Bangkok, via Seoul.
"This is Rahaf al-Qunun, a very brave new Canadian." 
Al-Qunun smiled as she exited an airport arrival door wearing a Canada zipper hoodie and a UN High Commissioner for Refugees cap.
Her arrival in Canada ended a dramatic seven days that started with her fleeing her family while visiting Kuwait and flying to Bangkok. 
After a week of diplomatic 'push and pull' between the Thai, Saudi, then Australian and Canadian governments, the UN High Commissioner for Refugees was allowed to step in and assess the woman's request for refugee status.
On Friday, Prime Minister Justin Trudeau announced that Canada would accept Al-Qunun as a refugee. The Canadian PM said the situation has highlighted the cause of women's rights in Saudi Arabia.
Upon her arrival yesterday the Canadian FM said Qunun preferred not to take questions.
"It was a pleasure for me this morning to welcome her to her new home."
"She is obviously very tired after a long journey and she preferred to go and get settled. But it was Rahaf's choice to come out and say hello to Canadians. She wanted Canadians to see that she's here, that she's well and that she's very happy to be in her new home."
Freeland said Qunun commented about the cold weather and she responded that it gets warmer in Canada.
Qunun Tweeted two pictures from her flight. One with what appears to be a glass of wine and her passport and another holding her passport while on the plane #I did it and emojis showing plane, hearts and wine glass.
There was no immediate Saudi government reaction, nor any mention of her arrival in state media.