Phuket Gazette World News: Uruguay legalizes marijuana; Ukraine riot police advance; US nowhere near Afghan troop exit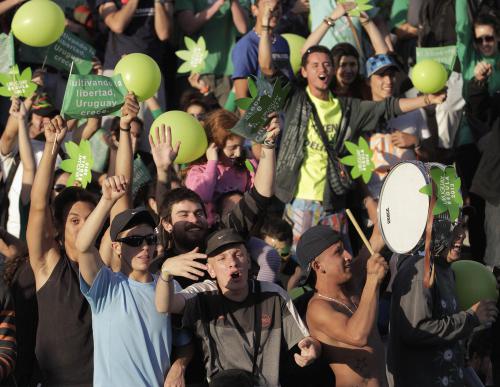 PHUKET MEDIA WATCH
– World news compiled by Gazette editors for Phuket's international community
Uruguay becomes first nation to legalise marijuana trade
Reuters / Phuket Gazette
PHUKET: Uruguay became the first country to legalise the growing, sale and smoking of marijuana on Tuesday, a pioneering social experiment that will be closely watched by other nations debating drug liberalisation.
A
government
-sponsored bill approved by 16-13 votes in the Senate provides for regulation of the cultivation, distribution and consumption of marijuana and is aimed at wresting the
business
from criminals in the small South American nation.
Backers of the law, some smoking joints, gathered near Congress holding green balloons, Jamaican flags in homage to Bob Marley and a sign saying: "Cultivating freedom, Uruguay grows."
Cannabis consumers will be able to buy a maximum of 40 grams (1.4 ounces) each month from licensed pharmacies as long as they are Uruguayan residents over the age of 18 and registered on a government database that will monitor their monthly purchases.
When the law is implemented in 120 days, Uruguayans will be able to grow six marijuana plants in their homes a year, or as much as 480 grams (about 17 ounces), and form smoking clubs of 15 to 45 members that can grow up to 99 plants per year.
Registered drug users should be able to start buying marijuana over the counter from licensed pharmacies in April.
"We begin a new experience in April. It involves a big cultural change that focuses on public health and the fight against drug trafficking," Uruguay's first lady, Senator Lucía Topolansky, told Reuters.
Uruguay's attempt to quell drug trafficking is being followed closely in Latin America where the legalization of some narcotics is being increasingly seen by regional leaders as a possible way to end the violence spawned by the cocaine trade.
Rich countries debating legalisation of pot are also watching the bill, which philanthropist George Soros has supported as an "experiment" that could provide an alternative to the failed U.S.-led policies of the long "war on
drugs
."
The bill gives authorities 120 days to set up a drug control board that will regulate cultivation standards, fix the price and monitor consumption.
The use of marijuana is legal in Uruguay, a country of 3.3 million that is one of the most liberal in Latin America, but cultivation and sale of the drug are not.
Other countries have decriminalised marijuana possession and the Netherlands allows its sale in coffee shops, but Uruguay will be the first nation to legalise the whole chain from growing the plant to buying and selling its leaves.
Several countries such as Canada, the Netherlands and Israel have legal programs for growing medical cannabis but do not allow cultivation of marijuana for recreational use.
Last year, the U.S. states of Colorado and Washington passed ballot initiatives that legalize and regulate the recreational use of marijuana.
Uruguay's leftist president, Jose Mujica, defends his initiative as a bid to regulate and tax a market that already exists but is run by criminals.
"We've given this market as a gift to the drug traffickers and that is more destructive socially than the drug itself, because it rots the whole of society," the 78-year-old former guerrilla fighter told Argentine news agency Telam.
Not all convinced
Uruguay is one of the safest Latin American countries with little of the drug violence or other violence seen in countries such as Colombia and Mexico.
Yet one-third of Uruguay's prison inmates are serving time on charges related to narcotics trafficking that has turned Uruguay into a transit route for Paraguayan marijuana and Bolivian cocaine.
Even though it is set to clear the Senate, the legislation faces fierce opposition from conservatives and Mujica has yet to convince a majority of Uruguayans that it is a good idea.
According to a recent opinion poll by Equipos Consultores, 58 percent of Uruguayans oppose legalizing pot, although that is down from 68 percent in a previous survey in June.
Critics say legalization will not only increase consumption but open the door to the use of harder drugs than marijuana, which according to government statistics is used by 8 percent of Uruguayans on a regular basis.
"Competing with drug traffickers by offering marijuana at a lower price will just increase the market for a drug that has negative effects on public health," said Senator Alfredo Solari of the conservative Colorado Party.
If it works, the legislation is expected to fuel momentum for wider legalization of marijuana elsewhere, including the United States and in Europe. Decriminalization of all drug possession by Portugal in 2001 is held up as a success for reducing drug violence while not increasing drug use.
"This development in Uruguay is of historic significance," said Ethan Nadelmann, founder of the Drug Policy Alliance, a leading sponsor of drug policy reform partially funded by Soros through his Open Society Foundation.
"Uruguay is presenting an innovative model for cannabis that will better protect public health and public safety than does the prohibitionist approach," Nadelmann said.
Ukrainian police enter square occupied by protesters
Reuters / Phuket Gazette
PHUKET: Ukrainian riot police reoccupied part of the square in central Kiev on Wednesday where protesters have been demonstrating against the government's decision to pull out of negotiations on a trade pact with the European Union and rebuild economic ties with Russia.
Reuters witnesses said a singer on a stage in the centre of Independence Square urged police not to carry out their orders and not to harm the protesters.
Some of the protesters held their mobile phones in the air like candles and sang the
national
anthem.
U.S. 'nowhere near' decision to pull all troops out of Afghanistan
Reuters / Phuket Gazette
PHUKET: The Obama administration is 'nowhere near' deciding to pull out all troops from Afghanistan at the end of 2014, a top U.S. official said on Tuesday, despite mounting frustration President Hamid Karzai has not signed a security deal allowing the military to remain there after next year.
"I have no doubt that the (bilateral security agreement with Afghanistan) ultimately will be concluded," Ambassador James Dobbins, U.S. Special Representative for Afghanistan and Pakistan, told the U.S. Senate Foreign Relations Committee.
While Dobbins said that an ongoing delay to finalising the deal – which U.S. officials had hoped Karzai would sign weeks ago – would impose "damages and costs" on Afghans, he said the Obama administration was not on the verge of abandoning its effort to extend its troop presence.
"We're nowhere near a decision that would involve our departing Afghanistan altogether," he said.
The administration has been urging Karzai to sign the bilateral security agreement (BSA) it negotiated with Karzai's government, which would permit it to keep troops in Afghanistan beyond the end of 2014 to support Afghan forces and conduct limited counterterrorism activities.
After Afghan elders and politicians endorsed the pact last month, Karzai surprised Washington by introducing new
— Phuket Gazette Editors
Cannabis News
World News

Join the conversation and have your say on Thailand news published on The Thaiger.
Thaiger Talk is our new Thaiger Community where you can join the discussion on everything happening in Thailand right now.
Please note that articles are not posted to the forum instantly and can take up to 20 min before being visible. Click for more information and the Thaiger Talk Guidelines.