Phuket Gazette World News: Uruguay legalizes marijuana; Ukraine riot police advance; US nowhere near Afghan troop exit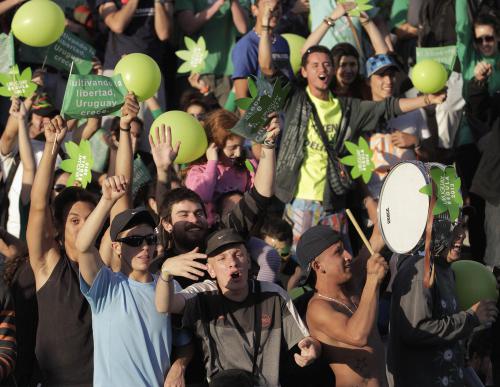 PHUKET MEDIA WATCH
– World news compiled by Gazette editors for Phuket's international community
Uruguay becomes first nation to legalise marijuana trade
Reuters / Phuket Gazette
PHUKET: Uruguay became the first country to legalise the growing, sale and smoking of marijuana on Tuesday, a pioneering social experiment that will be closely watched by other nations debating drug liberalisation.
A government-sponsored bill approved by 16-13 votes in the Senate provides for regulation of the cultivation, distribution and consumption of marijuana and is aimed at wresting the business from criminals in the small South American nation.
Backers of the law, some smoking joints, gathered near Congress holding green balloons, Jamaican flags in homage to Bob Marley and a sign saying: "Cultivating freedom, Uruguay grows."
Cannabis consumers will be able to buy a maximum of 40 grams (1.4 ounces) each month from licensed pharmacies as long as they are Uruguayan residents over the age of 18 and registered on a government database that will monitor their monthly purchases.
When the law is implemented in 120 days, Uruguayans will be able to grow six marijuana plants in their homes a year, or as much as 480 grams (about 17 ounces), and form smoking clubs of 15 to 45 members that can grow up to 99 plants per year.
Registered drug users should be able to start buying marijuana over the counter from licensed pharmacies in April.
"We begin a new experience in April. It involves a big cultural change that focuses on public health and the fight against drug trafficking," Uruguay's first lady, Senator Lucía Topolansky, told Reuters.
Uruguay's attempt to quell drug trafficking is being followed closely in Latin America where the legalization of some narcotics is being increasingly seen by regional leaders as a possible way to end the violence spawned by the cocaine trade.
Rich countries debating legalisation of pot are also watching the bill, which philanthropist George Soros has supported as an "experiment" that could provide an alternative to the failed U.S.-led policies of the long "war on drugs."
The bill gives authorities 120 days to set up a drug control board that will regulate cultivation standards, fix the price and monitor consumption.
The use of marijuana is legal in Uruguay, a country of 3.3 million that is one of the most liberal in Latin America, but cultivation and sale of the drug are not.
Other countries have decriminalised marijuana possession and the Netherlands allows its sale in coffee shops, but Uruguay will be the first nation to legalise the whole chain from growing the plant to buying and selling its leaves.
Several countries such as Canada, the Netherlands and Israel have legal programs for growing medical cannabis but do not allow cultivation of marijuana for recreational use.
Last year, the U.S. states of Colorado and Washington passed ballot initiatives that legalize and regulate the recreational use of marijuana.
Uruguay's leftist president, Jose Mujica, defends his initiative as a bid to regulate and tax a market that already exists but is run by criminals.
"We've given this market as a gift to the drug traffickers and that is more destructive socially than the drug itself, because it rots the whole of society," the 78-year-old former guerrilla fighter told Argentine news agency Telam.
Not all convinced
Uruguay is one of the safest Latin American countries with little of the drug violence or other violence seen in countries such as Colombia and Mexico.
Yet one-third of Uruguay's prison inmates are serving time on charges related to narcotics trafficking that has turned Uruguay into a transit route for Paraguayan marijuana and Bolivian cocaine.
Even though it is set to clear the Senate, the legislation faces fierce opposition from conservatives and Mujica has yet to convince a majority of Uruguayans that it is a good idea.
According to a recent opinion poll by Equipos Consultores, 58 percent of Uruguayans oppose legalizing pot, although that is down from 68 percent in a previous survey in June.
Critics say legalization will not only increase consumption but open the door to the use of harder drugs than marijuana, which according to government statistics is used by 8 percent of Uruguayans on a regular basis.
"Competing with drug traffickers by offering marijuana at a lower price will just increase the market for a drug that has negative effects on public health," said Senator Alfredo Solari of the conservative Colorado Party.
If it works, the legislation is expected to fuel momentum for wider legalization of marijuana elsewhere, including the United States and in Europe. Decriminalization of all drug possession by Portugal in 2001 is held up as a success for reducing drug violence while not increasing drug use.
"This development in Uruguay is of historic significance," said Ethan Nadelmann, founder of the Drug Policy Alliance, a leading sponsor of drug policy reform partially funded by Soros through his Open Society Foundation.
"Uruguay is presenting an innovative model for cannabis that will better protect public health and public safety than does the prohibitionist approach," Nadelmann said.
Ukrainian police enter square occupied by protesters
Reuters / Phuket Gazette
PHUKET: Ukrainian riot police reoccupied part of the square in central Kiev on Wednesday where protesters have been demonstrating against the government's decision to pull out of negotiations on a trade pact with the European Union and rebuild economic ties with Russia.
Reuters witnesses said a singer on a stage in the centre of Independence Square urged police not to carry out their orders and not to harm the protesters.
Some of the protesters held their mobile phones in the air like candles and sang the national anthem.
U.S. 'nowhere near' decision to pull all troops out of Afghanistan
Reuters / Phuket Gazette
PHUKET: The Obama administration is 'nowhere near' deciding to pull out all troops from Afghanistan at the end of 2014, a top U.S. official said on Tuesday, despite mounting frustration President Hamid Karzai has not signed a security deal allowing the military to remain there after next year.
"I have no doubt that the (bilateral security agreement with Afghanistan) ultimately will be concluded," Ambassador James Dobbins, U.S. Special Representative for Afghanistan and Pakistan, told the U.S. Senate Foreign Relations Committee.
While Dobbins said that an ongoing delay to finalising the deal – which U.S. officials had hoped Karzai would sign weeks ago – would impose "damages and costs" on Afghans, he said the Obama administration was not on the verge of abandoning its effort to extend its troop presence.
"We're nowhere near a decision that would involve our departing Afghanistan altogether," he said.
The administration has been urging Karzai to sign the bilateral security agreement (BSA) it negotiated with Karzai's government, which would permit it to keep troops in Afghanistan beyond the end of 2014 to support Afghan forces and conduct limited counterterrorism activities.
After Afghan elders and politicians endorsed the pact last month, Karzai surprised Washington by introducing new
— Phuket Gazette Editors
Keep in contact with The Thaiger by following our Facebook page.
Never miss out on future posts by following The Thaiger.


Find more SE Asian News courtesy of The Thaiger.

Broke? Find employment in Southeast Asia with JobCute Thailand. Rich? Invest in real estate across Asia with FazWaz Property Group. Even book medical procedures worldwide with MyMediTravel, all powered by DB Ventures.

Cannabis could generate 8 billion baht for Thai pharmaceutical industry by 2025, expert says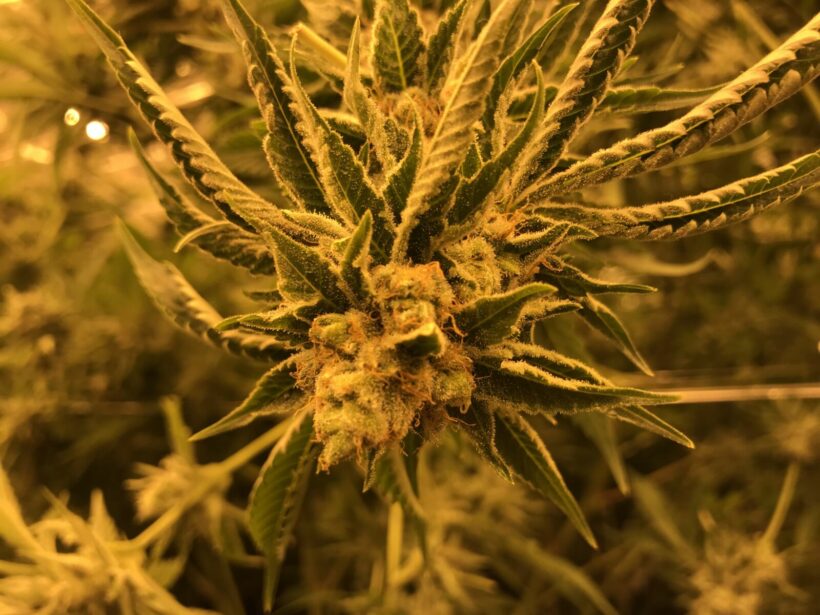 Cannabis could become a major cash crop in Thailand. An expert says the cannabis-based medicinal products could generate up to 8 billion baht for the Thai pharmaceutical industry by 2025. Medical cannabis has been legal in Thailand for the past couple years, but recently the government agreed to allow parts of the plant with very, low traces of the "high-inducing" component tetrahydrocannabinol, or THC, to be in medicinal products and food.
Cannabis-based medicines have been used as palliative treatment for some cancer patients in Thailand. Last year, nearly 1 million patients used cannabis-based medicines, according to an economist at Kasetsart University's Agricultural and Resource Economics Department, Ravissa Suchato.
Around 1.2 billion baht worth of medical cannabis was consumed last year, according to Ravissa, who led a recent study on the economic impact of commercial cannabis cultivation in Thailand. If the average consumption rises as expected, medical cannabis could generate 8 billion baht within the next 5 years.
"We believe marijuana has great potential as a cash crop because more patients will start using marijuana-based drugs soon."
In the past, Thai officials have discussed the opportunity to tap into the global cannabis market by exporting medical cannabis, but Ravissa says Thailand still has a way to go.
"Globally, the recreational use of marijuana has risen a lot faster than pharmaceutical use, so the prospect of exporting marijuana-based medicines from Thailand is still a long way off."
Parts of the cannabis plant that are rich in THC, like the buds, are still illegal and classified as a Category 5 narcotic. Trafficking the plant is still heavily criminalised. Just over the past few days, border patrol police in the Northeastern province Nakhon Pathom seized hundreds of kilograms of dried, compressed cannabis believed to have been trafficked across the Mekong River from Laos and destined for the South, possibly to Malaysia.
SOURCE: Thai PBS
Keep in contact with The Thaiger by following our Facebook page.
Never miss out on future posts by following The Thaiger.
Another drug bust near the Mekong River, 500 kilograms of cannabis seized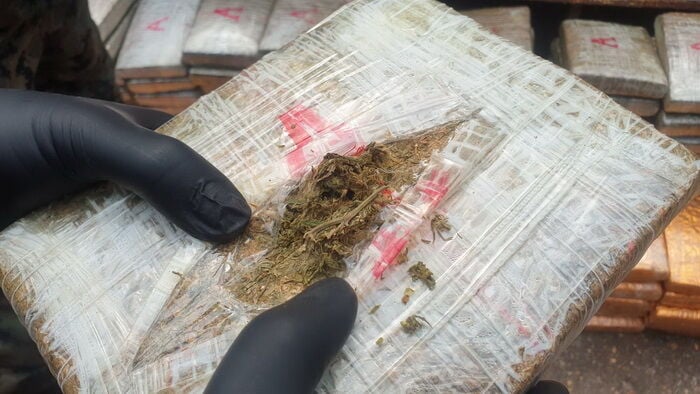 In another drug bust in Northeastern province Nakhon Phanom, police arrested a man and seized 500 kilograms of compressed cannabis. Just yesterday, border patrol police in the province seized 920 kilograms of compressed cannabis from a boat on the Mekong River. In both cases, police suspect the cannabis came from Laos, just across the river.
Police say they searched a black Nissan Navara pickup around 1am in the province's Na Kae district. Police opened the truck's bed cover and found 12 sacks with 500 packages of dried, compacted cannabis. Each package of cannabis weighed 1 kilogram, similar to the previous bust on the river.
28 year old Saravut Butngam was arrested. Saravut previously worked in construction, but has recently been unemployed. He allegedly told police that a man called him with an opportunity to make 50,000 baht. He was told to drive the pickup truck from a petrol station in the Na Kae district to a specified location in the neighbouring province Sakon Nakhon, police say. From there, another driver would take over.
Border police commander Sippanan Sornkhunkaew says he suspects the cannabis seized in the province was trafficked from Laos across the Mekong River. He says he believes the cannabis was planned to be trafficked to Southern Thailand and then smuggled across the border, possibly to Malaysia.
On Sunday morning, police confiscated 920 kilograms of cannabis from a boat on the Mekong River. When police approached the boat, men jumped off onto a smaller boat and fled the scene. The dried, compacted cannabis was wrapped in 1 kilogram packages.
SOURCE: Bangkok Post
Keep in contact with The Thaiger by following our Facebook page.
Never miss out on future posts by following The Thaiger.
Police seize 920 kilograms of cannabis smuggled across the Mekong River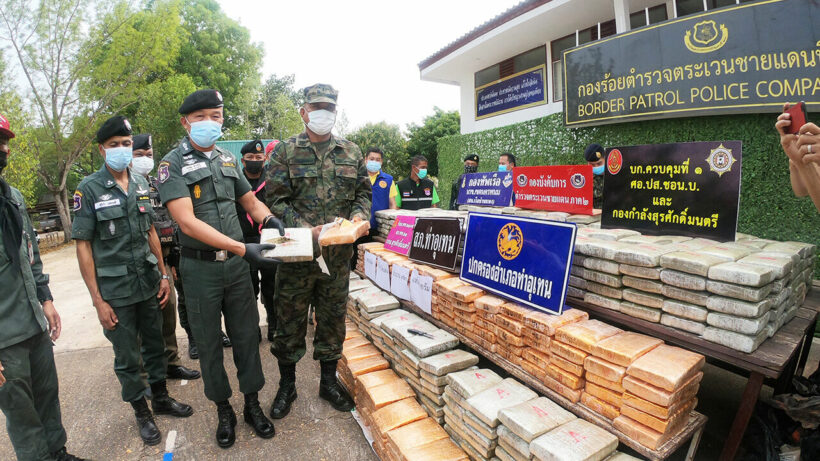 In a major bust on the Mekong River, notorious for drug smuggling, border patrol police seized 920 kilograms of dried, compacted cannabis from a boat along the Nakhon Pathom riverbank, bordering Laos.
Police were tipped off about a large shipment of drugs being trafficked across the Thai-Laos border. Police spotted a boat around 4am yesterday. When police moved in, men onboard the boat jumped onto a smaller boat and sped off. Police found 23 sacks filled with 1-kilogram packages of compressed cannabis.
In the recent months, police have seized more than 5 tonnes of cannabis. While the Thai government has been loosening measures on cannabis, allowing parts of the plant with low traces of the psychoactive component tetrahydrocannabinol, or THC, to be used in food and medicinal products, trafficking cannabis is still illegal. Cannabis with high amounts of THC is still classified as a Category 5 narcotic.
SOURCE: Bangkok Post
Keep in contact with The Thaiger by following our Facebook page.
Never miss out on future posts by following The Thaiger.