World News: Another mass shooting in US; Jets intercept plane; Suspected serial killer identified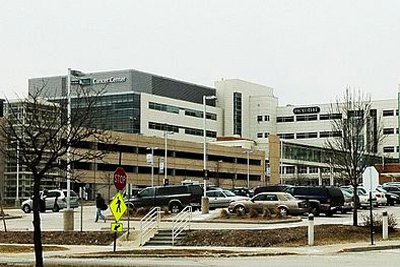 PHUKET MEDIA WATCH
– World news compiled by Gazette editors for Phuket's international community
Insurgents attack security forces in Afghanistan, killing 2 Kiwi soldiers
Phuket Gazette / News Wires
PHUKET: Another mass shooting has taken place in the U.S., this time at the Sikh Temple of Wisconsin, a 'gurdwara' located in the township of Oak Creek.
A lone gunman opened fire yesterday morning, killing six people and wounding at least three others. He was killed by responding police officers. Seven people, including the gunman, died at the scene; others were transported to a local hospital.
Following emergency calls at around 10:25am, two policemen responded. Upon arrival, they engaged and killed a single gunman.
Four people were dead inside the temple, and three, including the gunman, died outside it. Three adult males were transported to Froedtert Hospital, including one of the responding officers. Law enforcement initially recovered two handguns from the scene. The deceased suspect's neighbors described him as a young, white male, who had just moved to the neighborhood.
The temple had been preparing for a meal that was scheduled to take place later in the day. Witnesses suggested that women and children would have been at the temple preparing for it. Children's classes had been scheduled to begin at 11:30am.
The eyewitnesses offered conflicting stories of the attack as several of them initially said that there was more than one gunman involved. Bradley Wendtlandt, the police chief of nearby Greenfield, said that despite these reports, police had "not identified any other gunmen". Temple officials reported seeing suspicious individuals in the days prior to the incident.
The Joint Terrorism Task Force investigated the site, and police are treating the incident as an act of domestic terrorism. The FBI have taken charge of the investigation. Police evacuated neighbors of a suspect from the area of Cudahy, a city in Milwaukee County, with the FBI on-scene, due to possible explosives.
U.S. President Barack Obama issued a statement, in which he offered his condolences to the families of the victims, and promised his administration's support to responding officials, and re-affirmed support for the Sikh community in the U.S., "who are a part of our broader American family".
Wisconsin Governor Scott Walker also issued a statement expressing deep sympathy for the victims and a request that people join him in prayer for the victims, their families, law enforcement, and first responders.
The
Brady Campaign
, the largest U.S. citizens' lobby to prevent gun violence, released a statement from President Dan Gross calling on elected officials and presidential candidates to step up gun-control regulations.
Fighter jets intercept small plane near Washington, D.C.
Phuket Gazette / News Wires
PHUKET: Two F-16 fighter jets intercepted a small airplane near Washington, D.C. on Saturday after the pilot failed to respond to radio communications, military officials said yesterday. The aircraft was later allowed to proceed when contact was established.
The North American Aerospace Defense Command (NORAD) said the incident happened at around 7pm Eastern Daylight Time (EDT) when a Beechcraft King Air approached the Washington Metropolitan Area and failed to respond to repeated radio communications.
Two F-16 fighter jets, under the direction of the North American Aerospace Defense Command, immediately responded and intercepted the small plane. "Following the intercept the aircraft re-established radio communications with air traffic control and was allowed to proceed to its destination," NORAD said in a brief statement, giving no other details.
NORAD is tasked to prevent air attacks against North America and safeguard the sovereign airspaces of both the United States and Canada by responding to unauthorized air activity in or near these spaces. The organization is allowed to monitor, shadow, divert from flight path, direct to land and even destroy targets which are deemed to be a security threat to North America.
Last month, two Canadian CF-18 fighter jets intercepted a Sunwing Airlines Boeing 767-300 near Quebec City after the plane failed to respond to radio communications. The fighter jets were able to assist the aircraft in re-establishing radio communications with air traffic control, and the airliner proceeded without incident to its destination. It was on a flight from Paris to Toronto.
Police in Southern California identify suspected serial killer
Phuket Gazette / News Wires
PHUKET: Police in Southern California believe they have identified a serial killer who may have killed at least four women, and possibly more, between 1980 and 2000, investigators announced on Friday. The suspect died in police custody in January 2008.
The first known killing happened on August 19, 1980, when 25-year-old Sonia Smith was bound, raped, strangled with a cord and her body dumped in an abandoned field in Los Angeles. Another 25-year-old woman, Phyllis McClinton, was killed on November 4, 1980, in an almost identical case, with her body also dumped in an abandoned field in Los Angeles.
Two decades later, on August 11, 2000, 45-year-old Vanessa Williams was found naked and strangled to death in a vacant field in Pomona, about 28 miles (45 kilometers) east of Los Angeles. Two months later, 27-year-old Christine Fields was found strangled to death in a field in Riverside County, although she lived in Pomona and investigators believe she was not killed in the field.
In July 2007, investigators linked the murders of Smith, Williams, and Fields based on DNA evidence. They also found a person of interest when they discovered the case of a woman who was assaulted and bound in a similar manner as Smith and McClinton. The woman survived the November 1980 attack and identified Los Angeles resident Larry D. Hubbard as the attacker. He was arrested at the time and charged with false imprisonment.
Just two months before the new developments in 2007, Hubbard was arrested by police in Ontario, California, for an outstanding Florida escape warrant, stemming from a 1974 robbery conviction. Hubbard had escaped the Florida prison in 1977 and then moved to California, where he lived in Los Angeles and Pomona until he was arrested while at work in San Bernardino.
But before investigators identified Hubbard as a person of interest in the serial murders, he attempted to hang himself on June 23, 2007, while being extradited to Florida. He initially survived the suicide attempt but died of complications from his self-inflicted injuries on January 13, 2008.
Before he died, detectives requested and used a biological sample from Hubbard to compare it to evidence from the Smith case. Detectives were notified on June 22, 2012, that Hubbard's DNA profile matched a partial DNA profile which was developed from a sexual assault kit in Smith's case.
Investigators believe Hubbard may be responsible for more murders that have gone undetected over the three decades and are asking the public for help.
— Phuket Gazette Editors
Keep in contact with The Thaiger by following our
Facebook page
.
Never miss out on future posts by
following The Thaiger
.


Find more SE Asian News courtesy of The Thaiger.

Broke? Find employment in Southeast Asia with JobCute Thailand. Rich? Invest in real estate across Asia with FazWaz Property Group. Even book medical procedures worldwide with MyMediTravel, all powered by DB Ventures.

From plandemics to sheeple – unravelling the Covid conspiracy-speak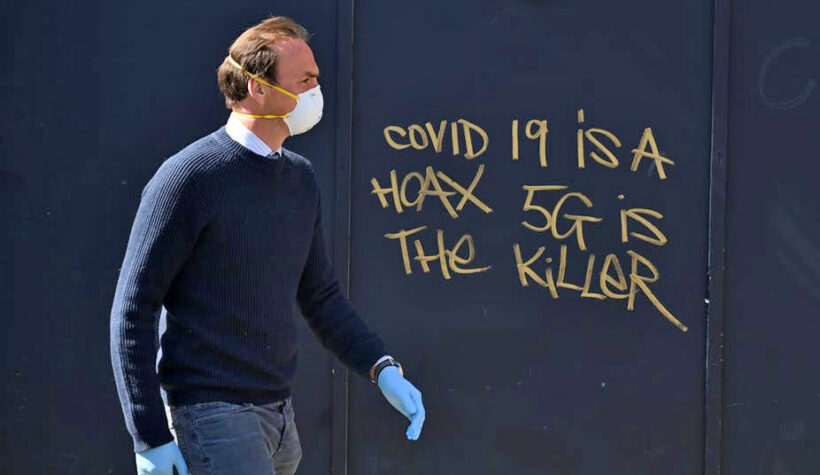 Whilst most of us have either been holed up in local lockdowns or forgetting our face mask when we head to 7-11 for a snack, some have used their spare time to create an elaborate alternate universe of plandemics, sheeple and evil 5G, and finding ways to paint Bill Gates as the devil in human form.
A Pew Research Centre survey asked people in the US if they had heard the theory that Covid-19 was "intentionally planned" by people in power. 71% of US adults said they had. A third of the respondents said it was "definitely" or "probably" true.
As the pandemic has become a reality, so has the infodemic. Whilst the scientists have been at war with a virus and the development of a vaccine, news and social media platforms have been in a battle of facts. Normally intelligent people are denouncing the wearing of masks, refuse to consider getting vaccinated and believe 5G networks 'infect' people with Covid-19. Elaborate videos have been produced, at great expense, full of unsubstantiated nonsense, alternate statistics, claims that the coronavirus is "just a flu" and that the impact of the virus has been vastly exaggerated.
There's also a whole new language where terms of derision are used to replace facts and reasoned argument. Almost all of the conspiracy theories, and the people promoting them, come out of the US, a topic for another article.
In the meantime, let's enjoy some of the new words and the hijacking of other terms and people.
Plandemic
aka. 'Scamdemic'.
Plandemic refers to two conspiracy theory documentaries produced this year by Mikki Willis. Until May, Mikki Willis was best known for posting 'nice' viral videos of his family online. The first was hugely popular, the second sunk without a trace.
The much-viewed first documentary has since been thoroughly debunked. They both feature Judy Mikovits, a discredited scientist who is worshipped in the anti-vaccine movement, despite her denials. In the documentary she maintains that a malevolent global "elite" (even 'elite' has taken on a whole new meaning) caused the pandemic in order to seize power, money and control the wider population – sort of a conference of Bond villains.
Among her other claims, face masks can activate the virus. In all, she rambles on for 26 minutes with a convoluted web of intrigue, all completely dismantled by just about every scientist and medical practitioner. Unfortunately the documentaries came at a time when the US was in the midst of its first quasi-lockdown and clocked up a credible 7 million views on YouTube before it was removed. You can still see it if you really want to in a few dark corners of the internet.
In her book, 'Plague of Corruption', Mikovits compares herself to Galileo and Martin Luther King jnr.
5G
Once a term referring to the fifth generation of mobile technology, the worldwide role out 5G somehow got wound into any number of conspiracy theories involving Covid-19 and the plandemic, sorry pandemic. Whilst most of us eagerly looked forward to the introduction of 2G,3G and 4G, 5G came along at the same time as Covid-19. So OF COURSE they have something to do with each other.
No longer just a technology, 5G is now front and centre of any self respecting conspiracy theorist. Exposure to 5G antennas would give you Covid-19, apparently "altering your cells" in a way that was never quite explained, and WHAMMO, you had the coronavirus. That Huawei, a Chinese telecommunications giant, was behind some of the leading 5G technology, just added fuel to the story – they are a Chinese company so they MUST be spreading evil… and Covid-19.
Sheeple
If you've had the wool pulled over your eyes regarding the "truth" of Covid-19, or are easily led astray, you're one of the Sheeple (alternate spelling – 'sheople').
Unless you're wallowing in your own self-righteous, unprovable alternate reality, YOU are sheeple, or, presumably, a sheep-person. Unless you're one of the few who has the clarity of vision and intellect to understand the "truth", you are labelled a sheeple. Luckily, for the rest of us, they also have the time and commitment to bring us up to speed with their facts, and can usually reel them off at pace. And then repeat them over and over to MAKE SURE the sheeple understand.
YOU sheeple just follow the main stream media (which is any media that reports news they don't like)… you are just part of the uninformed flock.
So if you just believe stuff because other people keep saying it, you're a 'sheeple'. Oh…
Bill Gates
Just throw his name into any Covid-19 conversation and stand back.
Wikipedia lists Bill Gates as 'William Henry Gates III', an American business magnate, software developer, and philanthropist. He is best known as the co-founder of Microsoft Corporation. Our generation has seen the young geek, sometimes competitor and sometimes collaborator with Apple's Steve Jobs, grow into the cardigan-wearing philanthropist who, along with his wife, have formed one of the largest private foundations in the world.
They get their foundation involved in all sorts of public health projects but, according to conspiracy theorists, are spreading evil around the world.
Now Bill Gates, earlier seen as a geek-version of Mr Rogers, is now the voodoo doll for Covid-19.
Back in 2015, an unassuming-looking Bill Gates came on stage at a TED conference in Vancouver to issue a dire warning.
"If anything kills over 10 million people over the next few decades, it is likely to be a highly infectious virus rather than war."So, he knew all about it! Aha!Now Bill Gates is leading a class of global "elites" and leading efforts to depopulate the world, apparently. His 'vaccine' has some tracking device that will be able to track us once we've been vaccinated. All this is a surprise to Bill Gates."I'm very surprised by the course of these conspiracy theories and of course the ones involving me are completely incorrect. I hadn't been a part of conspiracy theories up until this and it's ironic because I talked about the risk of a pandemic in 2015."But he WOULD say that, wouldn't he!"It is novel that you have a pandemic and you have social media, and somehow the true messages aren't as titillating or as exciting as the conspiracy-type message."
Follow the breadcrumbs
Originally used as a means of navigation in the Grimm's penned "Hansel and Gretel' tale, where the children drop breadcrumbs along the way into the forest so they can then find their way back home, the breadcrumbs are now tidbits of knowledge you must follow to learn the truth – that is the truth according to American conspiracy theorists QAnon. Summarising, QAnon claim that US President Donald Trump has been spearheading a secret war, between golf games, against "well known" Satan-worshippers and paedophiles – the President elect Joe Biden being one of them according to QAnon.
It all comes from the month of an unknown "Q" who posts the stories on encrypted message services and then shared around social media. Not to be confused with Q from James Bond who was responsible for ejector seats in Aston Martins, poison pens and guns fitted to license plates.
These messages from Q – "drops" or "crumbs"explain facts about a "cabal" within the "elite", or the secret war , referred to as the "cbts", or "calm before the storm". The series of "breadcrumbs are then shared and spread online by people that have the time to understand facts from an unknown person sprouting outrageous nonsense.
It would be laughable except that the QAnon theories (a poor use of the word 'theories') have been circulated in the White House by a number of staffers that subscribe to the trail of breadcrumbs, dragging other down the Q-inspired rabbit hole.
Elites
1. a select group that is superior in terms of ability or qualities to the rest of a group or society.
Not any more. Once the so-called elite drove around, or were driven around, in their black Mercedes Benz, shopped at those stores on the first floors of fancy shopping centres and puffed cigars whilst counting their millions. Now the "Elite" are a secret society of people who are complicit in planning and carrying out the biggest hoax in history – the Covid-19 pandemic.
The "elite" have conspired with governments to keep us sheeple in compliant control. Most governments find it difficult to role out stimulus payments and pick up the rubbish on time, let alone conspire to do anything in a secret, controlled manner. Any self-respecting elite usually does everything they can NOT to be involved in governments, anywhere.
The Great Reset
Not what we do to our computers after tearing our hair out for an hour. This baseless conspiracy theory, known as the 'Great Reset', claims a group of world leaders "orchestrated" and planned the pandemic to take control of the global economy.
The conspiracy theory has its origins in a genuine plan entitled 'The Great Reset', drawn up by the World Economic Forum – now used as somewhat thin 'evidence' that The Great Reset is true. The WEF is an annual conference for high-profile figures from politics and business. The plan explores how countries might recover from the economic damage caused by the coronavirus pandemic but has never mentioned any control or broader policy covering world populations.
The recovery plan has now been interpreted as a sinister plan, first by fringes of the conspiracy theory networks and then taken up by conservative commentators and then shared around social media.
Do you have any other favourite theories that keep popping up, or new words to add to the list? Tell us below…
Keep in contact with The Thaiger by following our
Facebook page
.
Never miss out on future posts by
following The Thaiger
.
Argentine football legend Diego Maradona dies at age 60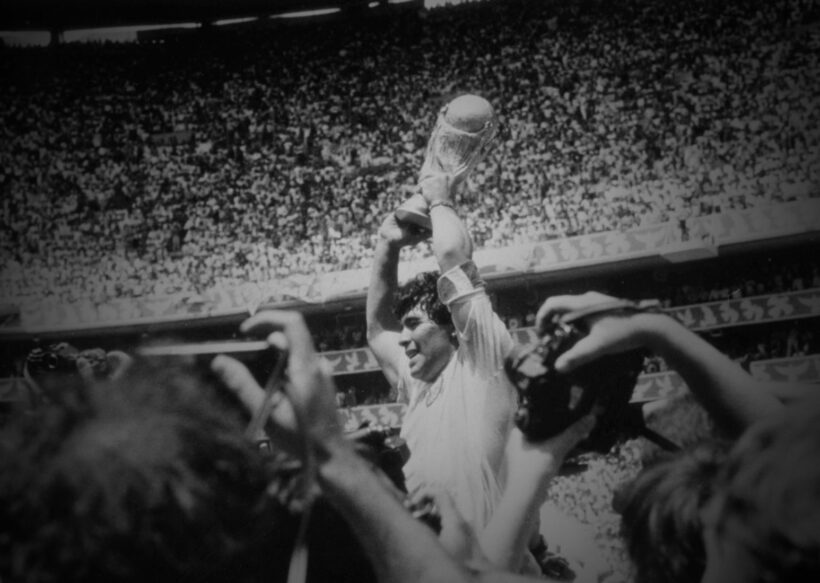 Argentine football legend Diego Maradona died yesterday at 60 years old. Maradona, known as one of the greatest football players of all time, suffered from a heart attack.
Maradona scored the famous "Hand of God" goal and the "Goal of the Century" in the World Cup 1986 quarter-finals, defeating England 2-1. Maradona, then captain, was known for inspiring to win the World Cup in 1986. He represented Argentina in 4 World Cups, scoring 34 goals in 91 appearances.
President of Argentina Alberto Fernandez declared 3 days of national mourning following Maradona's death.
"You took us to the top of the world. You made us immensely happy. You were the greatest of them all… Thank you for having existed, Diego. We're going to miss you all our lives."
Many in the football community across the world posted photos and statements on social media following Maradona's death. The Argentina national football team posted a photo on Twitter of Maradona holding the World Cup and said "You are eternal in every heart in world football."
Argentine football player Lionel Messi posted a photo of himself and Maradona on Instagram.
"A very sad day for all Argentines and football… He leaves us, but does not leave, because Diego is eternal… I keep all the beautiful moments lived with him and I send my condolences to all his family and friends."
Former football player Gary Lineker, who scored a goal for England in the World Cup 1986 quarter-finals game against Argentina, said Maradona is the greatest player of all time.
"By some distance the best player of my generation and arguably the greatest of all time… After a blessed, but troubled life, hopefully he'll finally find some comfort in the hands of God."
Facebook page
.
Never miss out on future posts by
following The Thaiger
.
BBC names Thai protest leader Panusaya in global list of 100 most inspiring women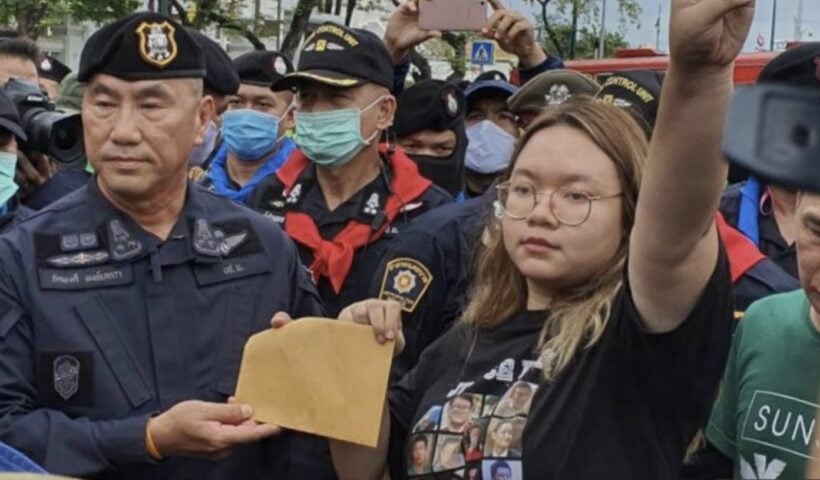 The BBC has named prominent Thai pro-democracy activist, Panusaya Sithijirawattanakul, aka, "Rung", as one of the world's 100 most inspiring and influential women of 2020. The BBC's "100 Women of 2020" list singles out women around the world who are driving change in challenging times. Panusaya is one of 3 Thai women to be listed.
As the leader of protest group, the United Front of Thammasat and Demonstration, she came to international attention at a Bangkok rally in August, when she read out the group's controversial 10 point manifesto calling for reform of the Monarchy – a taboo topic never publicly discussed. Her nomination follows the news that a Grammy Music executive has filed a charge of lèse-majesté against her.
The other 2 Thai women to make the list are Kotchakorn Voraakhom and Cindy Sirinya Bishop. Kotchakorn is an urban landscape architect, who promotes the importance of green and public spaces in urban environments. Her aim is to transform vast, sprawling cities into more liveable spaces, while protecting them from the impact of climate change. The BBC describes her as someone who started by prising apart the "cracked pavement" of Bangkok's cityscape to let new ideas come through.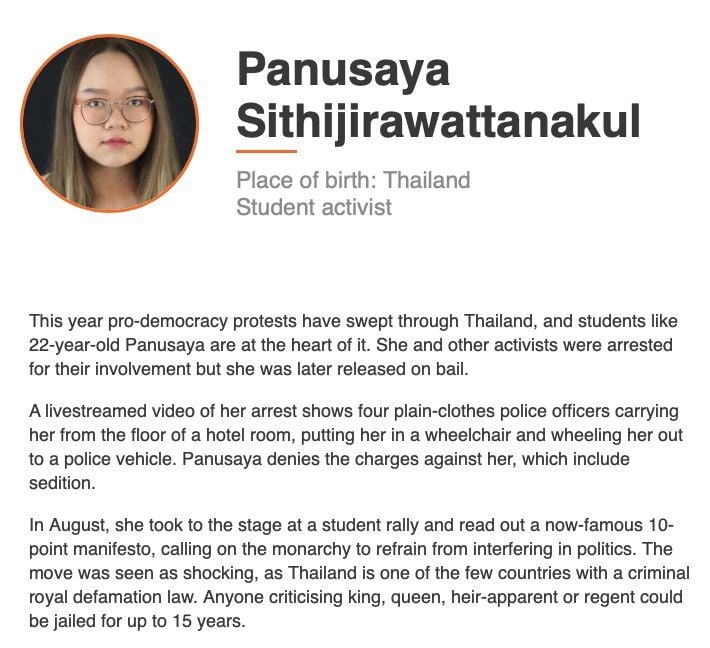 Cindy Sirinya Bishop is the UN Women Regional Goodwill Ambassador for Gender Equality through Education, Communities and Governments. She is a TV host, actress, and model, known for her campaigns to end violence against women. She came to prominence in 2018, when she created the movement #DontTellMeHowToDress. The campaign was a response to authorities in Thailand telling women they shouldn't dress provocatively during the Songkran period if they wanted to avoid being sexually assaulted.
Other women shortlisted by the BBC for the 2020 list include Sarah Gilbert, who is leading the research into the Covid-19 vaccine at Oxford University, Sanna Marin, the leader of Finland's all-female coalition government, and Michelle Yeoh, a Malaysian actress, who the BBC notes is one of very few Asian actresses to enjoy a successful career in the US.
SOURCE: Nation Thailand
Keep in contact with The Thaiger by following our
Facebook page
.
Never miss out on future posts by
following The Thaiger
.