Phuket Gazette World News: US-Korea standoff deepens; Cuban ballet defectors, China bird flu death toll rises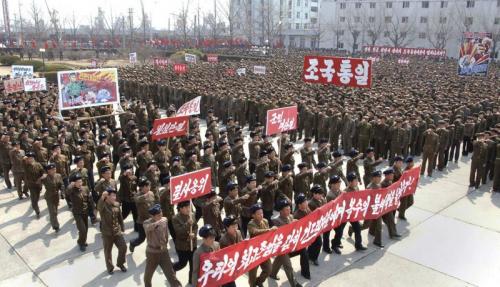 PHUKET MEDIA WATCH
– World news compiled by Gazette editors for Phuket's international community
U.S. to send missile defenses to Guam over North Korea threat
Reuters / Phuket Gazette
PHUKET: The United States said on Wednesday it would soon send a missile defence system to Guam to defend it from North Korea, as the U.S. military adjusts to what Defence Secretary Chuck Hagel has called a "real and clear danger" from Pyongyang.
At the same time, North Korea repeated its threat to launch a nuclear attack on the United States. Pyongyang said it had ratified a potential strike because of U.S. military deployments around the Korean peninsula that it claimed were a prelude to a possible nuclear attack on the North.
Washington had been informed of the potential attack by North Korea, a spokesman for its army said in a statement carried by the English language service of state news agency KCNA. It was unclear how such a warning was given since North Korea does not have diplomatic ties with Washington.
Experts say North Korea is years away from being able to hit the continental United States with a nuclear weapon, despite having worked for decades to achieve nuclear-arms capability.
North Korea has previously threatened a nuclear strike on the United States and missile attacks on its Pacific bases, including in Guam, a U.S. territory in the Pacific. Those threats followed new U.N. sanctions imposed on the North after it carried out its third nuclear test in February.
"Some of the actions they've taken over the last few weeks present a real and clear danger," Hagel told an audience at the National Defence University in Washington.
U.S. stocks sank to their lows of the day after Hagel's comments and the Guam deployment news.
The yield on the benchmark 10-year U.S. Treasury note briefly dropped below 1.8 percent for the first time since January as investors sought safety in government bonds, driving their prices higher. The dollar strengthened modestly against the euro and yen.
The South Korean won hit a six-month low on Wednesday.
"I would say that people are taking it a lot more seriously than they used to," said Steve Van Order, a fixed income strategist at Calvert Investments in Maryland, referring to the tensions with North Korea.
Despite the rhetoric, Pyongyang has not taken any military action and has shown no sign of preparing its 1.2 million strong armed forces for war, the White House said on Monday.
That would indicate that its threats are partly intended for domestic consumption to bolster young leader Kim Jong-un ahead of celebrations marking the anniversary of the birthday of Kim Il-sung, the state's founder and the younger Kim's grandfather, on April 15.
Caitlin Hayden, spokeswoman for the White House National Security Council, criticised the latest North Korean statement.
"It is yet another offering in a long line of provocative statements that only serve to further isolate North Korea from the rest of the international community and undermine its goal of economic development," Hayden said.
North Korea had "ratified" a merciless attack against the United States, potentially involving a "diversified nuclear strike", the KCNA statement concluded after railing against annual war games between South Korea and the United States that run throughout April.
"The moment of explosion is approaching fast. No one can say a war will break out in Korea or not and whether it will break out today or tomorrow," the KCNA statement said.
Defence Secretary Chuck Hagel said he had to take the threats seriously, language he has used in recent weeks as the United States has revamped its missile defence plans and positioned two guided-missile destroyers in the western Pacific to bolster missile defence.
The United States has also flexed its muscle during the military drills with South Korea, flying two radar-evading stealth bombers on a first-of-its-kind practice bombing run over South Korea.
In the latest move, the Pentagon said it was deploying a Terminal High Altitude Area Defence system to Guam in the coming weeks. The THAAD system includes a truck-mounted launcher, interceptor missiles and an AN/TPY-2 tracking radar.
Last month, Hagel said the Pentagon would add 14 new anti-missile interceptors in Alaska and move ahead with the deployment of a second missile-defence radar in Japan.
Adding to tensions, North Korea on Wednesday closed access to a joint factory zone with South Korea, putting at risk $2 billion a year in trade that is vital to the impoverished state.
It said on Tuesday it would revive a mothballed nuclear reactor able to produce bomb-grade plutonium.
Hagel called America's responses so far "measured, responsible, serious" and also said the United States was working with allies to lower tensions.
"We are doing everything we can, working with the Chinese, others to defuse that situation on the peninsula," he said.
In Beijing, China's deputy foreign minister met ambassadors from the United States and both Koreas to express "serious concern" about the Korean peninsula, China's Foreign Ministry said on Wednesday.
North Korea can likely revive reactor in six months, needs years for more bombs
Reuters / Phuket Gazette
PHUKET: North Korea can probably restart a mothballed plutonium-producing reactor in six months if it is determined to do so and the site has suffered no major structural damage, but it may take years to produce significant new atom bomb material.
Pyongyang announced on Tuesday that it would revive the aged Yongbyon five-megawatt research reactor that yields bomb-grade plutonium, but stressed it was seeking a deterrent capacity.
Several nuclear experts familiar with North Korea's program said it would probably take the North Koreans about half a year to get the Yongbyon research reactor up and running, provided it has not suffered significant damage from neglect.
The decision to restart the reactor was the latest chapter in an escalating crisis that erupted after Pyongyang was hit with U.N. sanctions for conducting a third nuclear test in February, and the United States and South Korea staged military drills that North Korea viewed as "hostile."
The Yongbyon reactor has been technically out of operation for years. But Siegfried Hecker – a Stanford University nuclear scientist who is believed to have been the last Westerner to visit the Yongbyon nuclear complex – said the Yongbyon research reactor has been on standby since July 2007.
"If they restart the reactor, which I estimate will take them at least six months, they can produce about six kilograms of plutonium (roughly one bomb's worth) per year," Hecker said in an interview published on Tuesday on a Stanford website.
He said that it would take the North approximately three to four years before it could get another 12kg of plutonium, which would suffice for two more weapons.
Satellite images published by 38North, a specialist North Korea website (click here), showed new construction activity at the reactor site from early February until the end of March. It said the imagery indicated that construction had begun along a roadway and toward the back of the reactor building.
No foreign help needed, experts say
Isolated North Korea occasionally lets nuclear experts like Hecker into the country,
— Phuket Gazette Editors

Join the conversation and have your say on Thailand news published on The Thaiger.
Thaiger Talk is our new Thaiger Community where you can join the discussion on everything happening in Thailand right now.
Please note that articles are not posted to the forum instantly and can take up to 20 min before being visible. Click for more information and the Thaiger Talk Guidelines.