World
Phuket Gazette World News: Syria war crimes toll mounts; Myanmar bans anti-Muslim sect; N Korea restarts reactor; Obama observes 9/11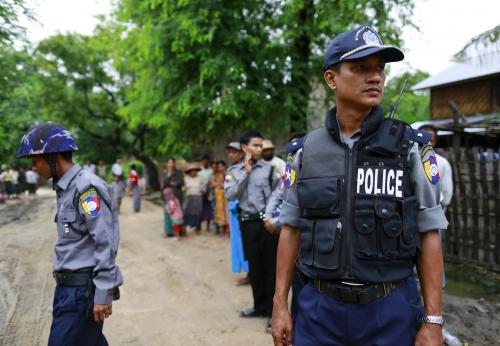 PHUKET MEDIA WATCH
– World news compiled by Gazette editors for Phuket's international community
UN tallies Syrian war crimes massacres
Reuters / Phuket Gazette
PHUKET: U.N. rights investigators have established that Syrian government forces were almost certainly responsible for two massacres last May in which up to 450 civilians were killed, a report published on Wednesday said.
The report documented eight mass killings in all, attributing all but one to government forces, but said both government and rebel fighters had committed war crimes including murder, hostage-taking and shelling of civilians.
With more than 100,000 dead in the Syrian war, there was little sign that reports of atrocities would spur international action until last month, when allegations that President Bashar al-Assad's forces had gassed hundreds of civilians sparked a threat of U.S. strikes, and furious international diplomacy.
The killings in Baida and Ras al-Nabaa, two pockets of rebel sympathisers surrounded by villages loyal to Assad on the outskirts of the town of Banias, did not involve fighting with rebels and appeared designed to send a message of deterrence.
The U.N. commission of inquiry has not been allowed into Syria, but its 20 investigators carried out 258 interviews with refugees, defectors and others, in the region and in Geneva, including via Skype, for their 11th report in two years.
In Baida, it said between 150 and 250 civilians had allegedly been killed, including 30 women, apparently executed, who were found in one house. It said armed rebels were not active in the area at the time.
"Testimonies were consistent that members of the National Defence Forces were actively involved in the raids and in many cases leading them," the 42-page report said.
"Accordingly, there are reasonable grounds to believe that government forces and affiliated militias including the National Defence Forces are the perpetrators of the al-Bayda (Baida) massacre.
The next day, as word spread that militia fighters were advancing with army support, hundreds of civilians tried to flee the neighbouring village of Ras al-Nabaa, but were pushed back at checkpoints. Government forces proceeded to shell the village and then militia fighters moved in.
"As they raided the village, civilians were captured and executed," the report said, adding: "The operation did not occur in the context of a military confrontation. Government forces were in full control of the area.
It gave a figure of 150-200 dead in Ras al-Nabaa.
Government silence
The Syrian government kept silent about the killings at the time but a Syrian intelligence officer, speaking to Reuters anonymously, acknowledged that the perpetrators were government loyalists, including some from the surrounding Alawite villages.
The conflict began in March 2011 as an uprising against Assad and descended into a civil war where mostly Sunni Muslim rebels are pitted against Assad's forces, who are backed by Shi'ite Muslim Iran and Hezbollah.
The only deliberate slaughter of civilians attributed to rebel forces in the period of investigation was in June, when rebels captured Hatla in the eastern province of Deir al-Zor.
"Anti-government armed group fighters conducted home invasions, killing and summarily executing (by shooting at close range) many Shia including at least 30 civilians, among them children, women and elderly," the report said.
The Syrian Observatory for Human Rights, a pro-opposition monitoring group that has reported abuses on both sides of the conflict, said at the time that 60 people had died in the attack, mostly pro-Assad Shi'ite militiamen.
The U.N. report, which largely covered incidents between May and July, accused forces loyal to Assad of bombing schools and hospitals, and rebels of carrying out summary executions after sentencing by Islamic Sharia courts lacking due process.
The commission, led by Paulo Pinheiro of Brazil, urged the U.N. Security Council to hold perpetrators accountable for war crimes and crimes against humanity.
The investigators, who include former U.N. war crimes prosecutor Carla del Ponte, analysed photographs, video and satellite imagery, as well as forensic and medical records, to draw up their report.
The team also verified the killing of 450 people during an offensive by Syrian government forces and Lebanese Hezbollah fighters to retake the strategic town of Qusair. Food and water were cut off during a siege, and the town was heavily shelled.
"Approximately half were civilian casualties, killed primarily in the shelling and aerial bombardment of the town in the early days of the offensive," the report said.
U.S. President Barack Obama asked Congress on Tuesday to delay a vote on authorising a military strike against Syria in retaliation for its use of chemical weapons, to give time to a Russian plan to take away Syria's chemical weapons.
The U.N. experts said they had received allegations of chemical weapons use, "predominantly by government forces", but could not give details of the incidents, some of which have been investigated by U.N. weapons inspectors in the last few weeks.
Myanmar Buddhist council bans anti-Muslim organizations
Reuters / Phuket Gazette
PHUKET: A government-appointed body that oversees Myanmar's Buddhist monkhood has issued a directive intended to check the influence of a monk-led movement accused of stoking violence against minority Muslims.
At least 237 people have died in sectarian violence since June last year and more than 150,000 have been displaced. The vast majority of the victims were Muslim.
The bloodshed, mirrored by increasing attacks on Muslims in Buddhist-majority Sri Lanka, has threatened to undermine political and economic reforms the government initiated two years ago after half a century of military rule.
In an order dated September 2, the State Sangha Maha Nayaka Committee of monks responsible for regulating the Buddhist clergy prohibited the creation of formal organisations based around the 969 movement.
"They didn't receive any permission, yet they want to form an organisation and make nationality-protection laws," Ashin Baddanda Guna Linkara, the committee's vice-chairman for Yangon, told Reuters.
The committee did not object to monks promoting the 969 ideology, which urges Buddhists to protect their faith against a perceived threat from Islam, he said, but the movement's leaders had gone too far by drafting proposed laws, including one that would stop Buddhist women marrying outside their religion.
The numerals 969, which refer to the attributes of the Buddha, his teachings and the monkhood, have come to symbolise a movement aimed at isolating Muslims, who make up 5 percent of Myanmar's 60 million people.
Monks who lead the movement make speeches urging Buddhists to boycott Muslim-owned businesses, the message spread through CDs and DVDs sold widely in shops and on street stalls. Stickers bearing the movement's logo are plastered on businesses across the country, letting customers know they are Buddhist-owned.
The movement's leaders say they do not condone violence against Muslims but its rise has accompanied the communal unrest since last year.
In a September 10 statement, the movement's most visible leader, a monk named Wirathu, said he was "heartbroken" by the violence and pledged to help make peace between the commu
— Phuket Gazette Editors

Join the conversation and have your say on Thailand news published on The Thaiger.
Thaiger Talk is our new Thaiger Community where you can join the discussion on everything happening in Thailand right now.
Please note that articles are not posted to the forum instantly and can take up to 20 min before being visible. Click for more information and the Thaiger Talk Guidelines.