Woman rescued from lagoon in Srisoonthorn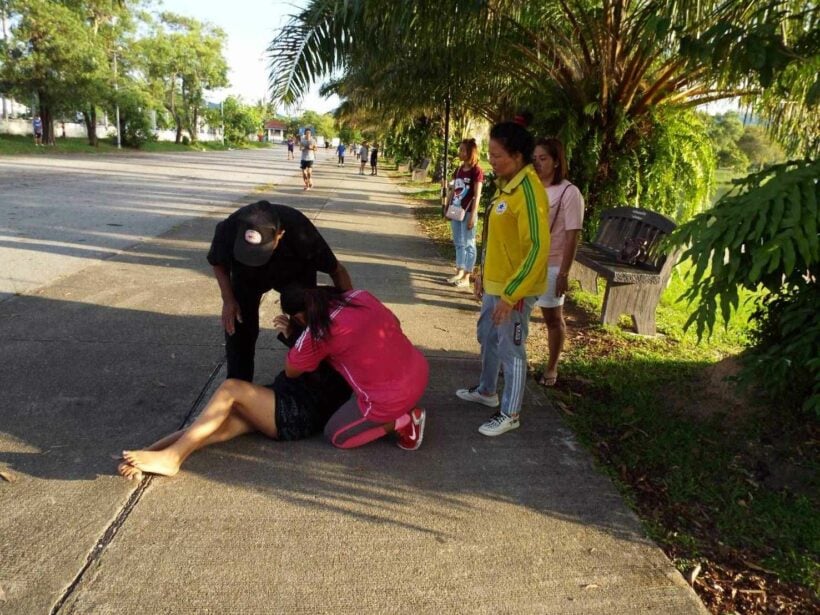 Thalang Police were notified of an incident at Bang Maruan Lagoon in Srisoonthorn by 61 year old Amnuay Imurai, who is a local security man, yesterday afternoon (May 15).
Police and rescue workers arrived at the scene to find a woman age around 35, apparently drunk. Mr Amnouy and people who were exercising at the lagoon were trying to stop the woman from another attempt to jump into the lagoon. The woman was taken to Thalang Hospital.
The distressed woman kept repeating… "Why did my life end up like this?"
Mr Amnouy told police that "I was strolling around the park. The woman, carrying a bag on a motorbike stopped here at the park. She was wearing different shoes and heading toward the lagoon."
"The woman just walked to the edge and jumped into the water. I immediately jumped in as well and rescued her from the water. People who saw the incident also helped to pull her out. The woman kept crying and repeating herself. She insisted that she wanted to jump into the water again. So I called the police whilst trying to console her.
After taking the woman to hospital police have alerted local mental health services.
There are mental health services available in Phuket. Samaritans of Thailand 24 hour hotline 02 713 6791 (English) or 02 713 6793 (Thai). Mental Health Hotline at 1323 (Thai).
Keep in contact with The Thaiger by following our
Facebook page
.
Never miss out on future posts by
following The Thaiger
.
Similan Islands to reopen on October 15 with 'new normal' policy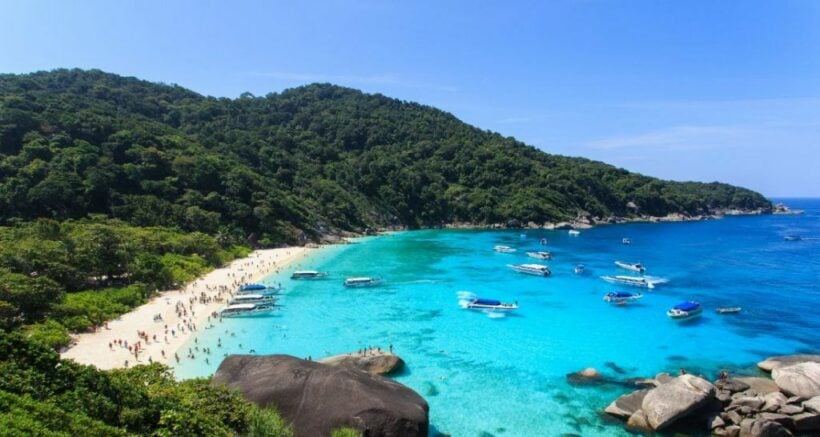 After being closed for the season, the Similan Islands National Park is opening back up on October 15, but this time with a "new normal" policy like social distancing, temperature checks and requiring staff and visitors to wear face masks. The national park in the Phang Nga province closes every year from mid-May to mid-October due to unsafe weather conditions.
The province's deputy governor Boonterm Ranumas says he expects the park's opening bring in domestic tourists, boosting revenues for vendors and tourism operators in the area.
The islands have a limit on the number of visitors to prevent ongoing environmental damage. Since the island is just opening under the new normal policy, visitors need to register before arriving to the island. Scuba diving excursions and overnight boat tours will be available.
"Some areas on the island are still closed during the re-opening but every national park officers are ready to assist and monitor travelers throughout their visit. A group of local volunteers would also gather to collect garbage around the island and to encourage visitors to protect the island environment."
SOURCE: Pattaya News
Keep in contact with The Thaiger by following our
Facebook page
.
Never miss out on future posts by
following The Thaiger
.
'Bad Student' group plan protest after alleged abuse at Sarasas school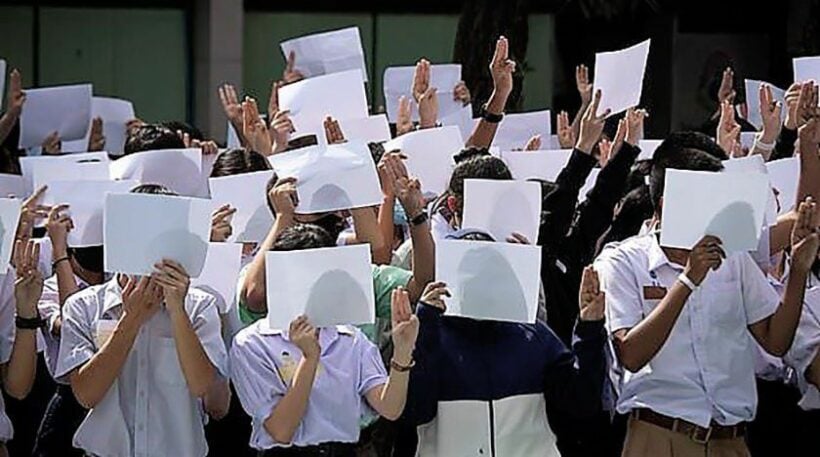 After reports of a kindergarten teacher allegedly abusing and mistreating students, a group of Bangkok high school students known as "Bad Students" will rally in front of the Ministry of Education office tomorrow, calling on the Education Minister to step up.
A teacher at the Sarasas Witaed Ratchaphruek School in Nonthaburi, a suburb in Bangkok, was caught on classroom surveillance camera video pushing a kindergarten student to the floor, dragging another across the classroom and hitting others. That teacher was fired and faces charges of physical assault and violating the Child Protection Act.
The Bad Students say Education Minister Nuttapol Teepuwan did nothing to solve the problems of alleged abuse at the school. The same group of students rallied in front of the office last month, calling on the minister to allow free expression of political views at the schools.
The student activists are planning to rally around 5pm. They plan to have trucks stop by various schools on the way. It's unclear how many students will turn up, but a Thai actress posted on Twitter that she will bring food and 700 bottles of water to support the protesters.
SOURCE: Thai PBS
Keep in contact with The Thaiger by following our
Facebook page
.
Never miss out on future posts by
following The Thaiger
.
Thailand News Today | Waiting for vaccine, new face of Thailand expats, teacher complaints | Oct 1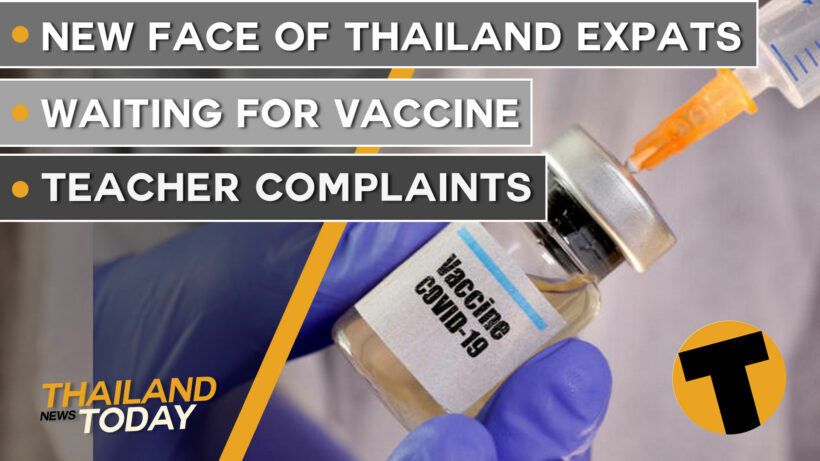 Daily Thai news on The Thaiger. All the latest information about Thailand, Monday to Friday on Thaiger News Today.
Thailand beaches may limit visitors until Covid-19 vaccine is available
Beaches and national parks might not fully open to international tourists until a Covid-19 vaccine is available. The claim comes from the Tourism Council of Thailand president. Around 120 to 150 tourists departing from China are set to arrive in Phuket on October 8 after a 6 month ban on international tourists. They'll have to go through a 14 day state quarantine, but after that, they may not be able to enjoy some of the island's beaches. A report from Bloomberg says it's "unlikely" beaches and parks will fully open to overseas travellers until a vaccine becomes available. At this stage there are still many questions about a successful vaccine either becoming available or the efficacy of such a vaccine even when it is. Then there are questions about whether getting a vaccine will become a condition of travel to Thailand or internationally. For the time being, only tourists on select charter flights with a 90 day Special Tourist Visa can enter the country. "It's good for the country to reopen even if it's just for trial … Once we've tested our reopening plan for a month, we can assess how to go forward and allow more visitors to come in."
Changing face of Thailand's expats
Thailand's dominant working expat nationality in past decades has been Japanese, currently making up 18% of expatriates in the country. But that dominance is about to be overtaken. While Japanese expatriate numbers are decreasing, a CBRE report notes that Chinese and Filipino expats are on the rise in Thailand. There were 28,560 Japanese expats in Thailand as of Q3 2020, just ahead of the Chinese expat contingent at 25,811. As China's manufacturing has shifted overseas and Filipino expatriates have increased in line with local demand for teachers fluent in English, there's been a continuing de-centralisation of the expat communities living in Thailand. You can read more about that report, and the effects on the Thai property market at thethaiger.com
More reports of alleged student abuse, parents file complaint against teacher
More reports of teachers allegedly abusing their students have come to light after a Nonthaburi teacher was caught on video pushing a kindergarten student to the floor, pulling a student across the floor and repeatedly hitting other students. Now more classroom videos of teachers allegedly abusing their students are being widely shared online as well as photos of children's marks and injuries from the alleged abuse. Meanwhile, the main Thonburi school, at the centre of the current allegations, has agreed to pay compensation, including refunding school fees, paying medical costs, and better screening and scrutiny of teaching staff.
Contestant eliminated from Miss Universe Thailand after manager infiltrates organising committee
One of the favourites to take the Miss Universe Thailand title when the contest is held on Saturday, October 10, has just been kicked out for breaking the rules. Chayathanus Saradat, also known as "Cheraim", is accused of allowing her manager and chaperone to infiltrate the organising committee. It's understood he manager, aka "Ken", attended numerous committee meetings, potentially getting the inside scoop on what questions contestants might be asked, and giving his client an advantage. Thailand still has a fascination for the 'beauty contestant' format and there are hundreds of such contests conducted around the country each year.
Police confiscate 300 kilos of marijuana in central Thailand drugs bust
A drugs bust in the central province of Nonthaburi, just north of central Bangkok, has netted 300 kilos of marijuana, valued at around 2 million baht. Anti-narcotics officers confiscated the haul yesterday when they apprehended 3 men in a department store car park. Thai Residents reports that dried marijuana usually fetches around 6,500 baht per kilo on the black market. It's understood this consignment was on its way to a Bangkok-based dealer when it was intercepted.
Keep in contact with The Thaiger by following our
Facebook page
.
Never miss out on future posts by
following The Thaiger
.