Whoops. Billboard faux pas in The Philippines.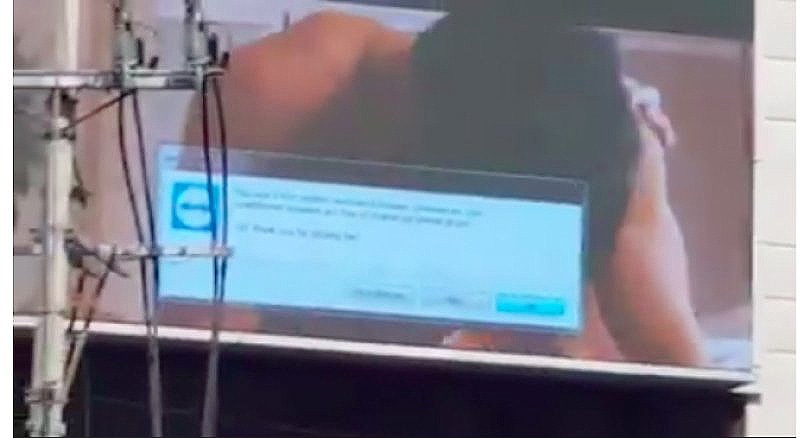 It was bound to happen sooner or later. This time someone snapped the OMG moment so we can all share the embarrassment of the Executive Building Centre in The Philippines.
A pornographic video was aired on one of the digital billboards flagging the Executive Building Centre in Makati Avenue, Makati City yesterday, around 2 p.m.
The spectacle was captured by a bewildered netizen named Mulong Sermonia who was inside a vehicle when he saw the video playing on the digital billboard. When Sermonia realised what was happening, he took out his phone to record the display.
In the video, a man can be seen on top of his partner, doing what amorous couples do in the privacy of their own home, or on a porno video. The man's face, however, was not shown thus so no one was recognised.
It seems TeamViewer was used to air the video. TeamViewer is a computer software application used for Internet-based remote access and support, as well as file transfer and desktop sharing. Those who use the software can connect to any computer or server from afar as if they were sitting right in front of it.
Sermonia told INQUIRER.net that he and his companions were laughing when they saw the video on the billboard.
"Natatawa na kami nang makita namin (We were laughing when we saw it)," said Sermonia. A lot of people witnessed the scene too, including the passers-by and drivers of other vehicles.
"Meron mga nakahintong naka-motor, yung ale napahinto at ibang mga driver ng van, L300 yata yun (Some who were riding motorbikes even stopped. A lady also stopped, and other drivers, including a driver of an L300 van, I think.)"
Thus far, it is unknown whether the airing of the pornographic video on the digital billboard was a prank or made out of malicious hacking. It may just also be a product of carelessness from those in charge of the billboard.
We'll go for the latter excuse as the most likely reason.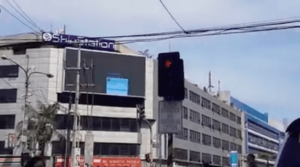 Keep in contact with The Thaiger by following our
Facebook page
.
LA's Thai Town hit by protesters and rioters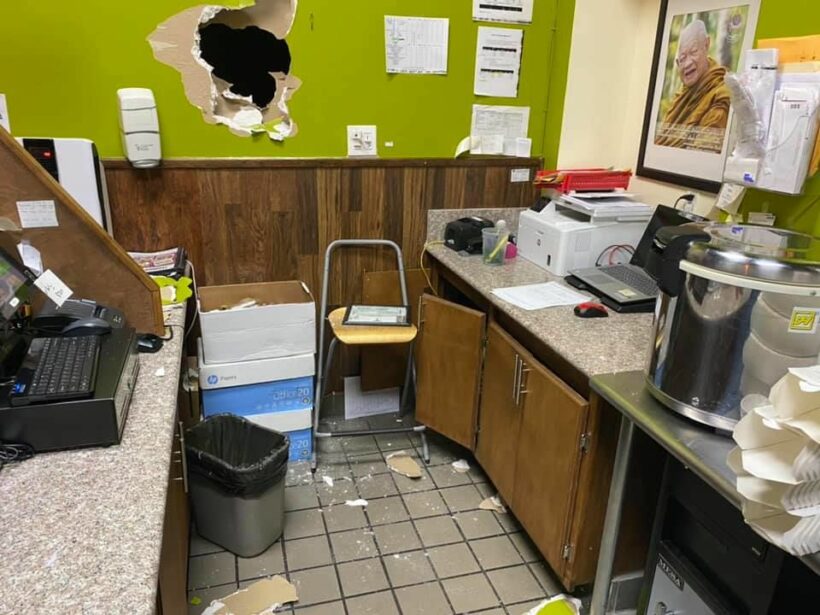 Thai Town businesses in Los Angeles were raided yesterday as rioters and looters across the US hit the streets, enraged over police brutality after a white police officer killed George Floyd, an African American, by pinning him to the ground, with his knee on Mr. Floyd's neck, restricting his breathing. Protesters in Minneapolis, where the officer patrolled, set the police station on fire, sparking riots across America.
SiamTown US, a Thai newspaper in Los Angeles, say looters broke into a Thai restaurant by busting in walls through the pharmacy next door. A jewellery store in Thai Town was broken into around midnight. SiamTown US posted video surveillance footage on their Facebook page.
"Police caught the bad guy, but everything is damaged," Sue Kiattisak Khamphanthong, the restaurant owner, said in a video posted on her Facebook page. Her video shows multiple holes in the walls where people broke in. Shelves, products and pots in her kitchen were knocked to the ground.
The unrest in Los Angeles has led the National Guard to monitor city hall, the Los Angeles Times reports. Nearly a dozen people were arrested for attempting to loot a mall in the area yesterday and a popular L.A. street was hit hard by looters, with glass shattered all over the sidewalks.
SOURCES: Khaosod | Los Angeles Times
ขโมยชัด ๆ แล้วมีหน้ามาบอกว่าต้องการความยุติธรรม. มาหาความ ยุติธรรมในครัวกูนี่น่ะ

Posted by Sue Kiattisak on Sunday, 31 May 2020
เตือนภัยธุรกิจไทยในอเมริกา!! อย่าทิ้งสิ่งของมีค่าไว้ในร้าน https://youtu.be/c6EC7XOwS7Uคลิปจากกล้องวงจรปิดเมื่อเทื่ยงคืนครึ่งเมื่อคืนนี้ โชว์ภาพกลุ่มวัยรุ่นประมาณ 5 คนเดินสำรวจร้านค้าในพลาซ่าถนนซันเซ็ท ไทยทาวน์ แคลิฟอร์เนีย อาศัยช่วงเคอร์ฟิวไม่มีคน ก่อนทุบร้านเครื่องประดับและนาฬิกาเสียหาย

Posted by SiamTownUS on Sunday, 31 May 2020
Keep in contact with The Thaiger by following our
Facebook page
.
25 arrested after police raid online gambling base in Mae Sot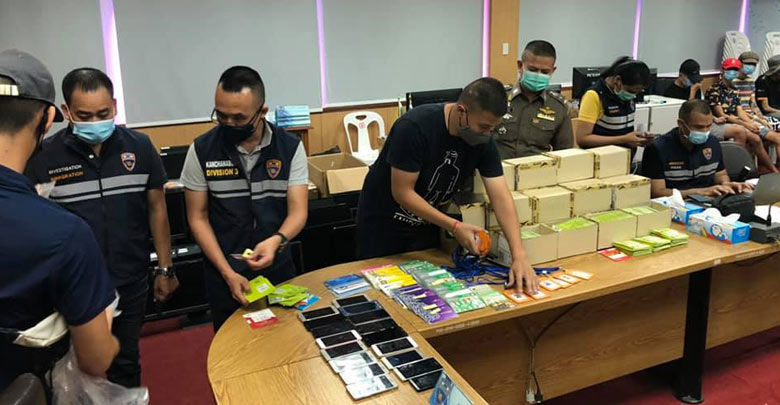 Police arrested 25 people involved in online gambling after a raid Saturday night at a house in Mae Sot, Northern Thailand, right on the Burmese border. Police also confiscated equipment used for the online gaming. Out of the 25 people arrested, 5 of them were Thai and the rest were foreigners, mostly from China.
Since people have been staying at home due to the coronavirus pandemic, many have been gambling online, the chief of the Immigration Police Bureau says. Police seized 7 computers, 14 smartphones and 2,000 to 2,500 SIM cards. The gambling operations also has 50 bank accounts with a total of around 100 million baht.
The illegal gambling business operated 24 hours a day with employees working in 3 shifts that were 8 hours each.
SOURCE: Bangkok Post
Keep in contact with The Thaiger by following our
Facebook page
.
Quality quarantine options for those who want some luxury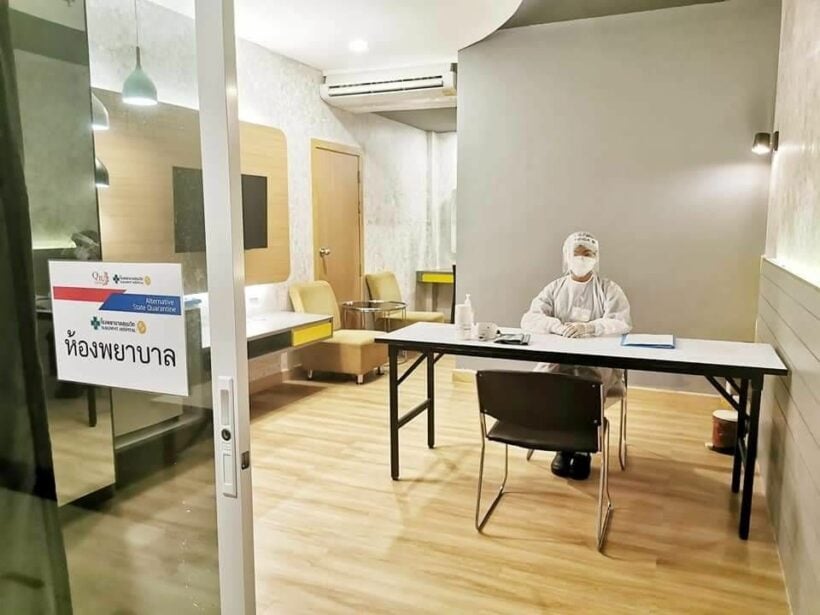 Private state quarantine options are available for those returning to Thailand and willing to pay a hefty price. The 14 day quarantine is required for everyone re-entering the country to prevent any possible spread of the coronavirus, but there are more luxurious options from hotels that have passed the test from the public health and defence ministries.
Around 90 guests so far have opted for the their mandatory quarantine at Qiu Hotel Sukhumvit. The hotel says they have received hundreds of enquiries about the alternative state quarantine service. The hotel is selling its quarantine package for 32,000 baht per person (for 14 days) which includes 3 meals a day. They are parenting with the Sukhumvit Hospital to provide, if needed, free ambulance service, coronavirus testing and a video call consolation with a doctor.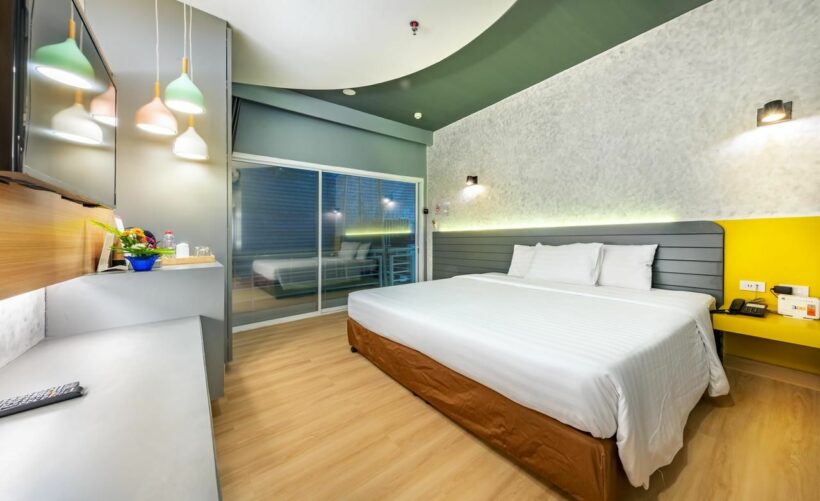 PHOTO: A room at the Qui Hotel, a step up from the state quarantine facilities
But Qiu Hotel is cheap compared to other alternative quarantine services. Other hotels include Movenpick Wellness BDMS Resort Hotel, Grand Richmond Hotel, Royal Benja Hotel and the Idle Residence. Prices at these venues range from 45,000 – 60,000 baht for a two week quarantine stay, according to hotels' Facebook pages.
Foreigners with work permits or permission from the labour ministry are allowed to enter the country, but they need health insurance, a health certificate and also need to be in quarantine for 2 weeks. They also need to be able to find flights to return to Thailand.
SOURCE: Nation Thailand
" Alternative State Quarantine "by Qiu Hotel and Sukumvit Hospitalท่านสามารถตรวจสอบรายชื่อโรงแรมทางเลือกสำหรับการกักตัวได้ทาง www.hsscovid.com หรือ https://www.naewna.com/local/490404

Posted by Qiu Hotel on Saturday, 2 May 2020
Keep in contact with The Thaiger by following our
Facebook page
.