Thailand's corruption fight improves world ranking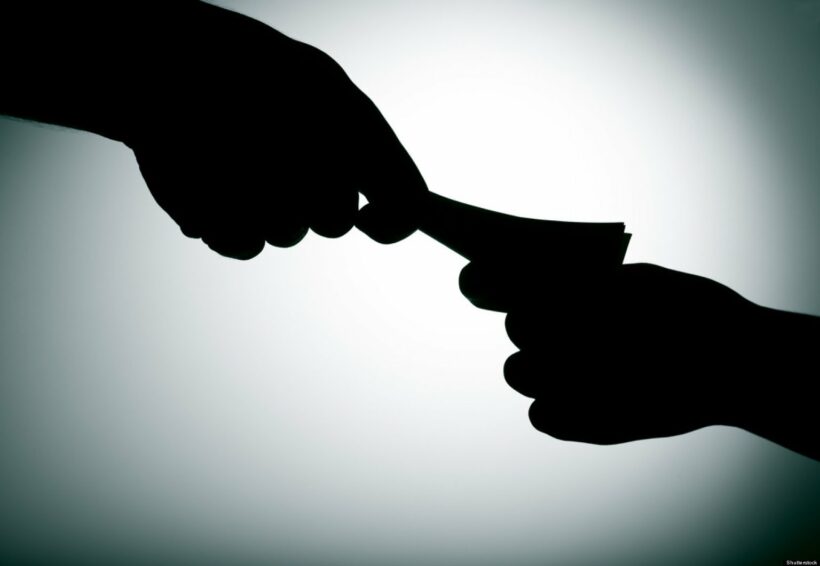 Efforts to curb corruption in Thailand are paying dividends, with the Kingdom's ranking in the latest global Corruption Perception Index rising to 96 from 101 last year.
The index, prepared by Transparency International, ranks 180 countries and territories by perceived levels of public-sector corruption. Nine key sources are used to compile the index, including the International Country Risk Guide, Economist Intelligence Unit, and the World Economic Forum's Executive Opinion Survey. On a scale of 0 to 100, in which 0 is "highly corrupt" and 100 is "very clean", Thailand scored 37 this year, up from 35 last year.
The National Anti-Corruption Commission (NACC) secretary-general Worawit Sukboon said Thailand's score had dropped in three areas involving politics and democracy. Its score rose slightly in three other areas and remained the same in two more, he said, while Thailand was not assessed in one area under scrutiny elsewhere.
The Bertelsmann Foundation Transformation Index gave Thailand a score of 37, three points lower than last year. It considers progress towards democracy and market freedom and particularly examines politics, the economy and administration. Worawit said this assessment likely reflected the perception that investigations of criminal cases close to the government, case disclosure, political participation and press freedom remain weak points. He pointed out, though, that the government restored and maintains peace and order.
The World Competitiveness Yearbook gave Thailand a score of 43, down one point from last year. Worawit said the organisation compiled data and conducted surveys on executives to measure the country's competitiveness, and the decreased score likely reflected ineffective law enforcement, despite many laws being amended and enacted.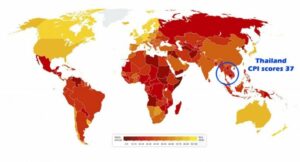 The Varieties of Democracy Project gave Thailand a score of 23, also down one point from last year. Worawit noted that V-DEM assessed the degree of democracy, and checks and balances of three pillars. The decreased score could reflect the ongoing undemocratic condition of the country, while the checks-and-balances system remained weak.
The Political and Economic Risk Consultancy (PERC), which addressed degrees of corruption based on surveys of local and foreign people doing business in the country, has not given a score to Thailand.
Meanwhile, the International Country Risk Guide's (ICRG) Political Risk services and the Economist Intelligence Unit's (EIU) Country Risk Rating repeated the same score as last year for Thailand, 32 and 37 respectively. Worawit said ICRG focuses on political corruption, particularly bribes, as well as patronage and close political relationships. That Thailand got the same score as last year could be the result of ongoing limitations in the checks-and-balances to regulate the government and administration, a point that the ICRG weights as particularly important.
The EIU's Country Risk Rating's assignment of the same score as last year could reflect the perception that abuses of the state budget are an ongoing problem, although budget transparency has improved, Worawit noted. The country has seen slightly improved scores in three sources of the World Economic Forum's Executive Opinion Survey, the World Justice Project's (WJP) Rule of Law Index, and Global Insight's Country Risk Rating (GI) with respective scores of 42 (a five-point increase), 40 (a three-point increase), and 35 (a 13-point increase).
Worawit said the World Economic Forum's Executive Opinion Survey has given Thailand a higher score than last year, probably the result of the restoration of relationship with the EC and of foreign investors having more positive views on the country's investment and business contacts with the government.
The World Justice Project's (WJP) Rule of Law Index might have recognised Thailand's official stance against corruption and recent efforts to suppress corruption via new mechanisms, including creation of a special corruption court, said Worawit.
The significant improvement in the score from Global Insight Country Risk Rating, appears to reflect a gain in business-sector confidence that public-sector corruption was being suppressed, along with progress in creating an investment-friendly climate, Worawit said.
Worldwide, this year's index found that the majority of countries are making little or no progress in ending corruption, while further analysis shows journalists and activists in corrupt countries are risking their lives in an effort to speak out. The index found that more than two-thirds of countries score below 50, with an average score of 43.
"Unfortunately, compared to recent years, this poor performance is nothing new," noted Transparency International in its Wednesday press release.
This year, New Zealand and Denmark ranked highest with scores of 89 and 88 respectively. In the Asia Pacific, this year's index results continued to show a high variance in public-sector corruption across the region.
From top scorers New Zealand and Singapore, to some of the worst scorers – Cambodia, North Korea and Afghanistan – more than half of the countries in the Asia Pacific scored below 50 on the index. In fact, on average, the region scored just 44, the organisation said. With a scale of 0 to 100, where 100 means very clean and 0 reflects a deep-rooted, systemic corruption problem, the Asia Pacific countries, on average, are failing, the organisation points.

Join the conversation and have your say on Thailand news published on The Thaiger.
Thaiger Talk is our new Thaiger Community where you can join the discussion on everything happening in Thailand right now.
Please note that articles are not posted to the forum instantly and can take up to 20 min before being visible. Click for more information and the Thaiger Talk Guidelines.