Thailand unfurls National Flag Day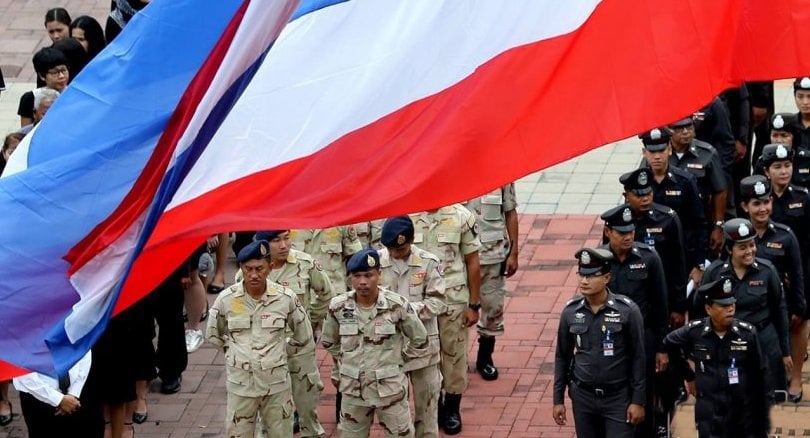 Citizens across the country united in singing the national anthem at 8am on Thursday to celebrate the centenary of the national flag.
At 7.45am at Government House in Bangkok, Prime Minister General Prayut Chan-o-cha formally presented the flag to a guard of honour to be flown in front of the Santi Maitree Building. He then led officials and members of the general public in singing the national anthem before proceeding to the Santi Maitree Building to open an exhibition on the history of the flag.
The Cabinet has designated September 28 as annual National Flag Day, though it is not a public holiday.
As the day is celebrated for the first time this year, the hope is that the flag will be flown throughout the country in honour of King Vajiravudh (Rama VI), who in 1917 replaced the historical Siamese flag showing a white elephant on red background with the flag in general use today, with its familiar red, blue and white stripes.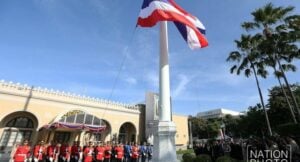 Prayut is urging citizens to learn about Thailand's history and remember what their forebears did to protect the homeland for future generations.
He said history must be taught in schools, noting that the past laid the foundation for both the present and the future.
"What we are doing today will be history in the future, so if we keep the country in order, the nation can move forward and develop with no obstacles," the premier said. "It is like we are creating a history for the children of the future."
He urges everyone to do good deeds and realise the importance of this day.
The Royal Thai Navy marked the flag's 100th anniversary at a ceremony at the Wang Nanthautthayan Club. Officers sang the national anthem while raising a specially designed flag on the same pole where the original flag was hoisted for the first time a century ago.
The Navy's flag superimposes the original elephant motif over the modern striped pattern.
Similar ceremonies were being held across the country, including in Songkhla, Nakhon Ratchasima and Ang Thong, with state officials and other citizens singing the national anthem and raising the flag at 8am.
Read more about Thailand's flag HERE
STORY: The Nation
- The Thaiger & The Nation
Singapore Airlines back on top. Thai Airways in 10th place.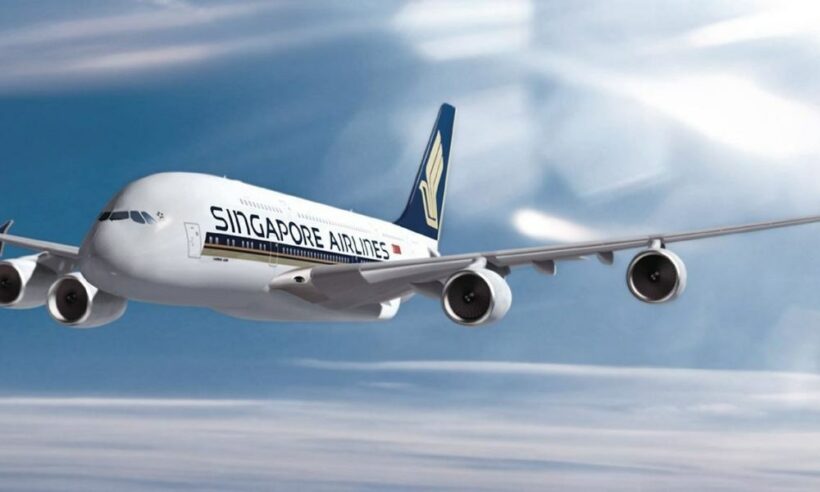 PHOTO: Flyer Talk
Singapore Airlines is back on top after a decade held out of the top airline position by middle-eastern competition. It's their fourth win since the Skytrax World Airline awards started back in 2001.
The island nation's national carrier was named Airline of the Year at the 2018 Skytrax World Airline awards. Singapore Airlines was last top of the list in 2008. This year it forced out last year's top honours winner, Qatar Airways, into second place.
Yeoh Phee Teik, Singapore Airlines's senior vice president of customer experience, said "We're very ecstatic."
The airline  also claimed best airline in Asia, best first class and best first class seat.
Asian airlines made a return to the winner's list this year with ANA All Nippon Airways receiving third place, Taiwan's EVA Air in 5th position, Cathay Pacific in 6th, Hainan Airlines in 7th, Garuda Airlines in 9th (an extraordinary achievement considering their reputation only a decade ago) and Thai Airways in 10th place.
Singapore's victory marked a resurgence in Asian carriers in the annual UK-based aviation industry review. Skytrax began its awards in 2001 and is recognised for its fairness due to passengers voting in all categories. Aside from a win by Hong Kong's Cathay Pacific back in 2014, all past seven years have all gone to middle east based airlines.
"We're glad that our work has been recognised and our customers have voted for us to be the world's best," said Yeoh.
Garuda Airlines, which has turned its service around since the early days of Skytrax, when it was banned from flying into European airspace, was presented with the prize for best cabin staff along with its 9th place overall.
Not one US airline picked up a single award.
Locally Air Asia picked up an award for Best low coast airline – Asia, Thai Airways won the award for best airline catering in Economy Class (The Thaiger thinks the voters weren't flying on the same flight when Thaiger experienced the economy class 'food') and Bangkok Ailines won Best Regional Airline – Asia.
The top 10 world's best airlines for 2018
1. Singapore Airlines
2. Qatar Airways
3. ANA All Nippon Airways
4. Emirates
5. EVA Air
6. Cathay Pacific
7. Lufthansa
8. Hainan Airlines
9. Garuda Indonesia
10. Thai Airways
Best airlines by global region
Northern Europe – Finnair
Western Europe – Lufthansa
Eastern Europe – Aeroflot Russian Airlines
Africa – Ethiopian Airlines
Australia / Pacific – Qantas Airlines
Central Asia / India – Air Astana
China – Hainan Airlines
Central America / Caribbean – Copa Airlines
South America – Avianca
North America– Air Canada
Asia – Singapore Airlines
Middle East – Qatar Airways
Europe – Lufthansa
Best low-cost airlines
Africa – Mango
Australia & Pacific – Jetstar Airways
Asia – AirAsia
Central Asia / India – Indigo
China – West Air
South America – Sky Airline
North America – WestJet
Middle East – Flynas
Europe – Norwegian
Best airline catering
Economy – Thai Airways
Premium economy – Aeroflot Russian Airlines
Business – Austrian Airlines
First class – Air France
Best airline seats
Economy – Japan Airlines
Premium economy – Air New Zealand
Business – Qatar Airways
First class – Singapore Airlines
Best regional airlines
Africa – Royal Air Maroc
Asia – Bangkok Airways
South America – Azul Brazilian Airlines
Central Asia / India – Azerbaijan Airlines
Europe – Aegean Airlines
Best airline lounges
First class – Qatar Airways
Airline alliance lounge – Star Alliance Los Angeles
Independent airport lounge – Plaza Premium Heathrow Terminal Two
First class lounge dining – Air France
Airline lounge spa facility – Thai Awards
Best airlines staff service by global region
Africa – South African Airways
Australia / Pacific – Qantas Airways
Central Asia / India – Vistara
China – Hainan Airlines
Central America / Caribbean – Copa Airlines
South America – Azul Brazilian Airlines
Asia – ANA All Nippon Airways
Middle East – Emirates
Europe – Austrian Airlines

Sangkhla Buri floods declared a disaster zone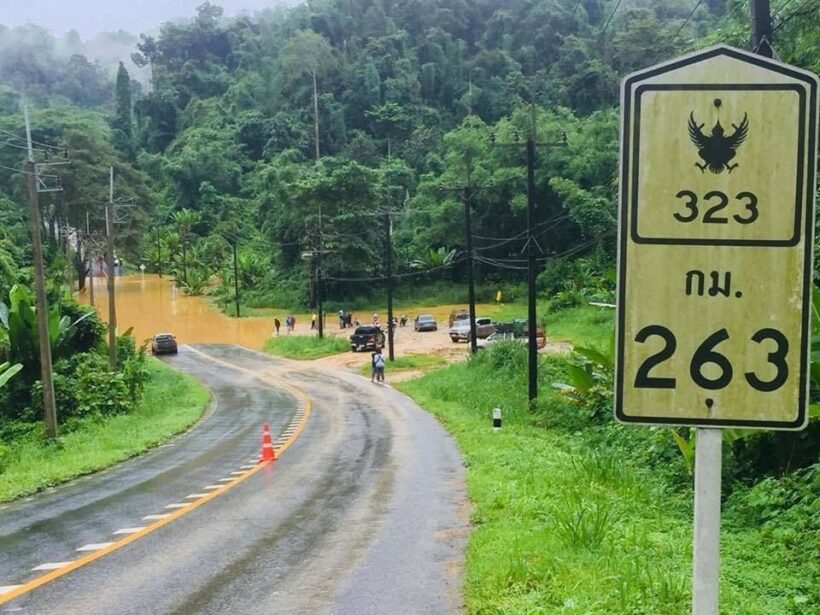 Kanchanaburi Governor Jirasak Phumsawat has declared Sangkhla Buri a flood disaster zone to speed up help to affected villagers.
The governor took the action after seven villages in Tambon Nong Lu and three villages in Tambon Laivo were hit by floods on Friday morning following heavy rains that hit 70 per cent of the district.The disaster-zone declaration allowed the provincial administration to bypass the bureaucratic process to send help and compensation directly to the affected villagers.

The 21st century's longest lunar eclipse next week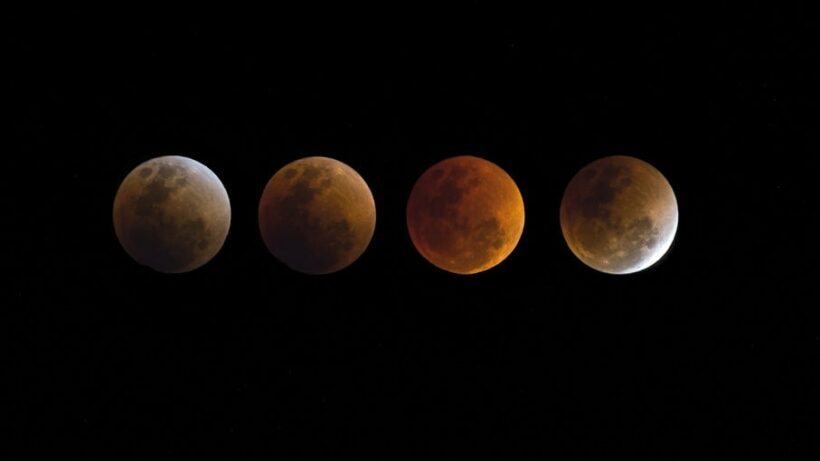 The moon is going to disappear for six hours next week in a mega lunar eclipse – the longest for the entire 21st century.
In fact it will be this century's longest lunar eclipse and will be able to be seen across Thailand on July 27-28 between 00.14-6.10 am.
Thai PBS reports that the total phase of the eclipse – called the totality, when the earth blocks out all light from the sun falling on the moon – will span 1 hour and 43 minutes.  The shortest total lunar eclipse of this century, which occurred on April 4, 2015 only lasted 4 minutes and 48 seconds.
Dr Sarun Posayachinda, director of the National Institute of Astronomical Research, says that three astronomical phenomena would take place on the night of Asalha Bucha Day, July 27.
"A partial eclipse precedes and follows the total phase of eclipse, each time lasting 1 hour and 6 minutes.  So, from start to finish, the moon spends nearly 4 hours crossing under Earth's dark shadow.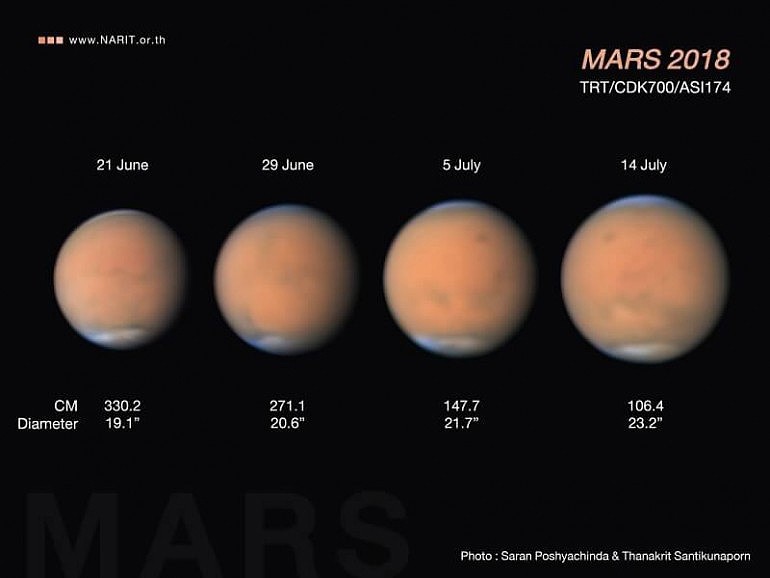 Mars is very bright and red throughout July and August this year, but the eclipse night will be a very special night.
"The eclipse will happen on the same night that Earth is passing between the sun and Mars, placing Mars at opposition in our sky. In one of the sky's wonderful coincidences, the Mars opposition happens on July 27 too.  It is not just any Mars opposition, but the best Mars opposition since 2003."
Although the longest eclipse, Dr Sarun said the red moon will be smaller than usual because it will be at the farthest point from the Earth this year – at 406,086 kilometre from the Earth. He notes that the eclipse night would be the best opportunity to observe Mars as Mars will move closer to the Earth until July 31 when it is about 57.6 million kilometres from Earth – the closest in 15 years – from normal average distance of 225 million kilometres.
Read more about the century's longest lunar eclipse HERE.
SOURCE: Thai PBS