SUNDAY HEADLINES – All your local news in 3 minutes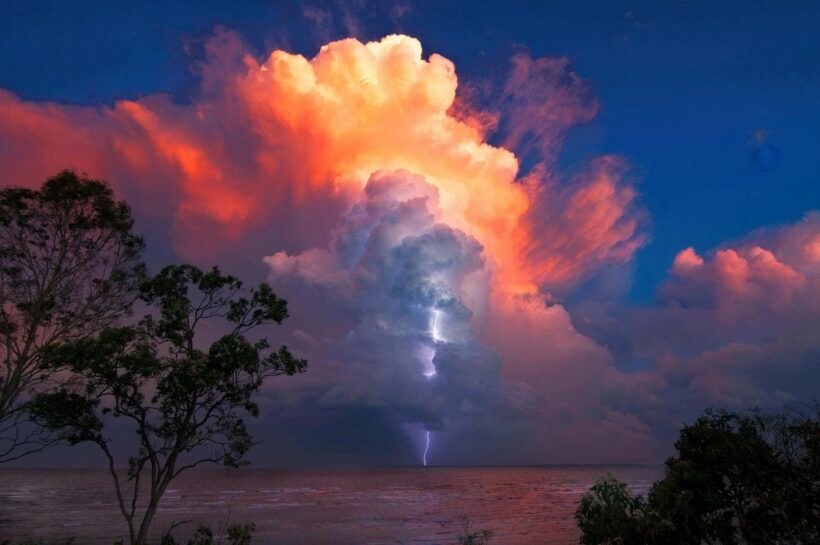 Some rain overnight around the island and more of the sun/cloud/light winds predicted over the next week. Just like last year, the 'usual' high-season weather isn't arriving in 2018.
Here are today's main news stories…
Four crew drown after shipping incident in the Gulf
Four crew from a Thai fishing boat have drowned after it was hit and sunk by a Pakistani cargo ship yesterday morning.
Navy officials allege that the ship, which was registered in Hyderabad, Pakistan, did not stop to help the crew of the sinking boat but instead continued to its destination off Koh Sichang.
A reconnaissance plane, a helicopter and a patrol ship were sent to the scene of the accident off Chon Buri as soon as they heard about the incident. The Thai fishing boat was identified as Choke Chuchai. The crew included five Cambodians and three Thais. Officials tracked down the Pakistani vessel and found clear traces that it had hit something at its bow.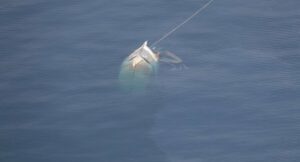 La Nina brings wet weather in 2018
Similar weather conditions to those that occurred during Thailand's severe flooding in 1995 is predicted for this year, according to weather experts. They are warning that an expected "La Nina" condition will bring more rain and storms than usual to Thailand, and that increasingly extreme and unpredictable weather should be expected as a result of climate change.
Prominent water and climate change experts have revealed that Thailand will receive larger amount of precipitation than usual due to the influence of the La Nina phase of the El Nino Southern Oscillation, which is expected during this year. They also agreed that this year's water situation was expected to resemble that of 1995. The year 1995 was one of the wettest years in recorded Thai history.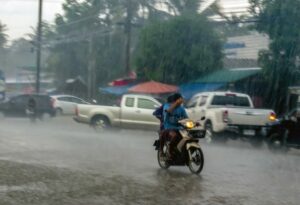 Another record breaking year for tourism
The Thai tourism industry hit yet another new record after the arrival of Thailand's 34 millionth visitor during 2017; this according to figures just out from the TaT.
Phuket international Airport also broke all records for tourist arrivals last year with an 11 percent increase. Data from c9hotelworks.com also revealed that the low-season was also the winner last year. In the case of Chinese and Australian visitors, more of them visited the island in the low season that in the high season. Hotels also recorded their highest occupancy ever although statistics show that the average price for a room in Phuket dropped slightly in 2017.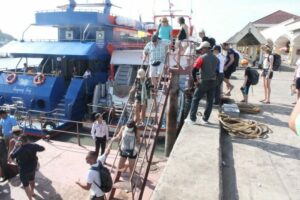 Yingluck 'getting special treatment in the UK'
Former prime minister Yingluck Shinawatra may have been given a provisional visa by the UK, based on humanitarian grounds, while her application for political asylum is still being considered. The UK law allows applicants to stay in the country for up to five years for those who are qualified and are approved by the UK's Interior Ministry, according to a senior Thai public prosecutor.
Responding to the recent sighting in public of Yingluck along with an unidentified Thai woman in London, a senior prosecutor at the Office of the Attorney-General, says the former premier could also seek a further five-year extension to stay in the UK after completing the first five years. Yingluck fled the country last year just before the Supreme Court was due to read its verdict in the case against her over her government's rice-pledging scheme.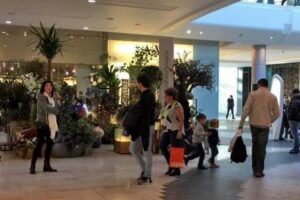 Four arrested over heroin smuggling
Police have arrested four residents of southern border provinces for allegedly trying to smuggle over 10 kilograms of heroin from Chiang Rai to Narathiwat and then to Malaysia.
The four suspects were arrested at a road checkpoint in Chumphon. The four suspects were aged from 16 – 40 years of age. Police say the heroin was in 26 plastic bags and hidden a secret chamber built under the back seat of their car. Police say the ring leader admitted that he transported the drugs from Chiang Rai's Mae Sai district with a plan to deliver it to a recipient across the Nararthiwat border in Malaysia. The group has admitted to smuggling heroin twice before and been paid 5 million and 10 million baht for the trips.
Yellow shirts told to pay up
The Attorney General Office's Legal Execution bureau has notified key figures of the now-defunct People's Alliance for Democracy, accused of illegally occupying Suvarnabhumi and Don Mueang Airports during the 2008 protests, to pay compensation of 522 million baht to the damaged company, Airports of Thailand.
A PAD lawyer, says the bureau sent the notice on December 25, enforcing legal execution on 13 leaders following the court's ruling. He says the accused do not have enough assets to cover the compensation in the demand, so it's up to the plaintiff to follow up the compensation demands. The People's Alliance for Democracy, better known as the Yellow Shirts, took over the two Bangkok Airports in 2008 in protest at the then, elected Pheu Thai Government.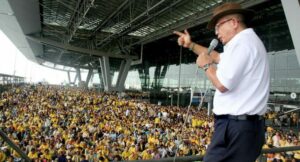 We need more Krabi trash heroes
A 67 year old woman, Mookda Janan, a local from Krabi, has volunteered to broom a kilometre of local streets twice everyday for the past 5 years.
She brooms the streets in the morning and evening and cleans the sala on the side road of Phetchakasem Road impressing the locals and setting a great example. She says she used to have a grocery shop and is now retired but was bored staying at home. Khun Mookda says she's inspired by the lifetime work of the late King Bhumibol Adulyadej. She says she'll keep sweeping the streets until she can't manage any more. She says she wants to donate her eyes and they're still working well.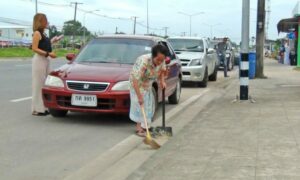 Keep in contact with The Thaiger by following our
Facebook page
.
Never miss out on future posts by
following The Thaiger
.
Anti-Corruption Commission official sentenced for pointing loaded gun at taxi driver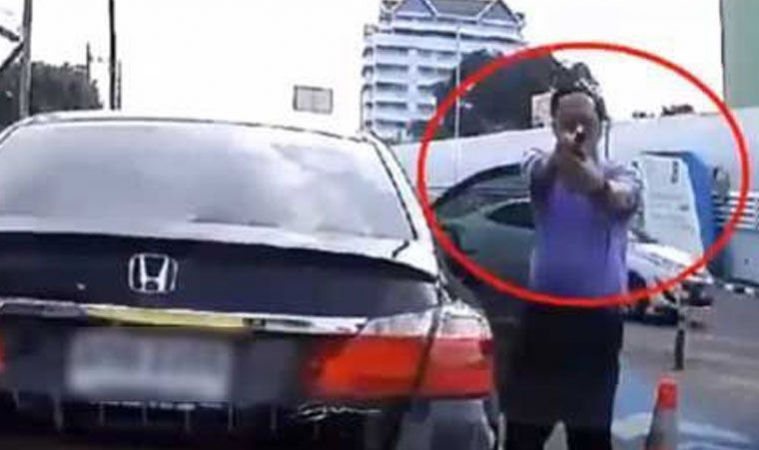 A National Anti-Corruption Commission senior official was sentenced by the Criminal Court to 1 year in jail with a 2 year suspension for pointing a loaded .38 Colt pistol, threatening a Bangkok taxi driver back in 2018. Nation Thailand called it a "very lenient" sentence.
The assistant secretary general of the commission, 54 year old Piset Nakapan, must also pay a fine of 31,000 baht. He was charged with weapon in violation of Section 309 of the Criminal Code, carrying a weapon in public, threatening others, and violating the Firearms Act.
Footage from the taxi's dashboard camera shows Piset getting out of his car and pointing the loaded gun at the taxi. He said to the driver, Pipat Seesa-on, "Why are you following me? Drive back and use another road."
At the trail, Piset confessed to the charges and gave Pipat 2,000 baht as compensation. Since he confessed, the court commuted his sentence in half, cutting down the 2 year jail term to just a year and a 62,000 baht fine down to 31,000 baht. His jail term is suspended for 2 years, with mandatory probation check-ins every 4 months.
SOURCES: Nation Thailand | Bangkok Post
Keep in contact with The Thaiger by following our
Facebook page
.
Never miss out on future posts by
following The Thaiger
.
Some tourism officials concerned with political climate, ask government to open dialogue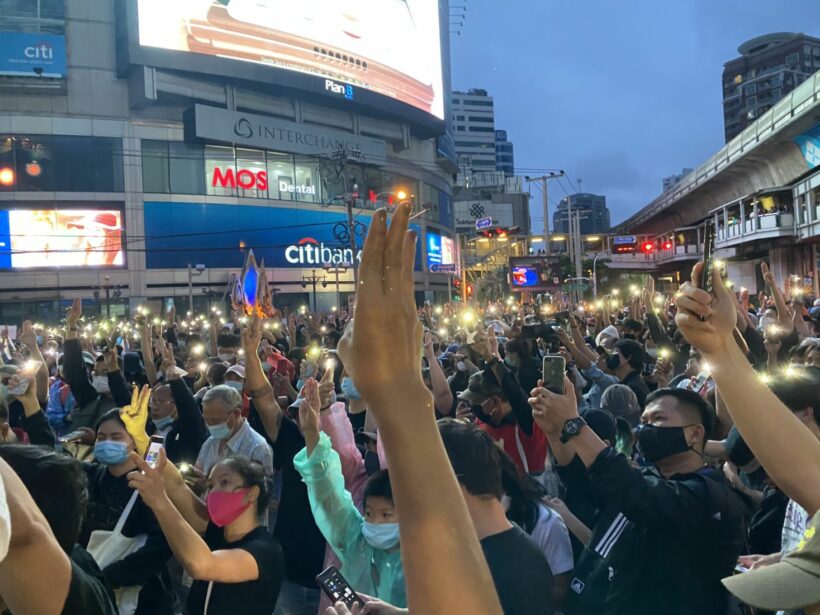 In the midst of Thailand reopening its borders to foreigners on the Special Tourist Visa, political protests have only grown in Bangkok and are now being held in cities across Thailand. Now tourism operators are worried and are asking the government to engage in dialogue with the protesters. President of the Tourism Council of Thailand Chairat Trirattanajarasporn says he's worried about another coup (Thailand's had 12 since 1932) being used to solve the problems rather than talking it out.
"If the situation's gone too far, I am concerned a coup will worsen the economy and affect the country's image on the global stage… A coup is not the ultimate solution to the problem."
Now that the protests are spreading across the country, Chairat says some tourist destinations could be impacted. In Bangkok, traffic has been blocked on busy intersections by thousands of protesters. BTS and MRT stations have also been shut down during some protests. He adds that people also tend to save their money during times of protest movements rather than spending it on trips.
"At this moment, the government has to show protesters and Thais the improvements they have brought about during the past 6 years, instead of harassing them for speaking up."
On the flip side, Tourism Authority of Thailand governor Yuthasak Supasorn says he's checked with TAT's 29 overseas offices that have been monitoring international feedback and no one has reported concerns with Thailand's political climate, adding that the visitors on the Special Tourist Visa are sticking with their plans to travel to Thailand.
"It is too early to assess the impact on tourism as mass gatherings have occurred recently and there has been no violence."
SOURCE: Bangkok Post
Keep in contact with The Thaiger by following our
Facebook page
.
Never miss out on future posts by
following The Thaiger
.
Thailand News Today | Media censorship, Thai parliament to meet, STV flight arrives | October 20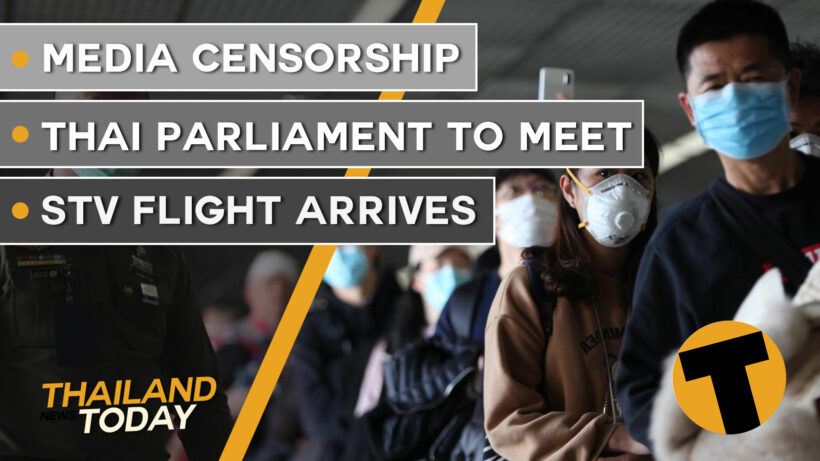 Thaiger News, posted daily around 5pm, Thai time, with all the latest updates, news and information.
Court orders suspension of Thai TV news channel during political protests
The Criminal Court has agreed to suspend the Thai media company Voice TV for allegedly violating the State of Emergency orders which prohibit media content "considered to be a threat to national security".
Talk about the Voice TV shut down has been circulating for a few days, along with threats to close down other media voices. It's not the first time Voice TV has come to the attention of the NCPO, in the past, and the current government.
The digital ministry spokesperson said this morning that "Voice TV will be suspended". The order applies to all of the company's online platforms, including social media accounts.
They've also instructed the closure of The Standard, The Reporters, Voice TV, Prachatai and the Free Youth movement Facebook page. But, for now, those media platforms still seem to be online.
House Speaker confirms agreement for special parliamentary session
The Speaker of the lower house of Parliament has confirmed that there is cross-party agreement for an extraordinary parliamentary session to be convened in the wake of the ongoing political unrest.
Chuan Leekpai has notified PM Prayut Chan-o-cha of the agreement to hold the special session in a bid to seek a political resolution to the conflict.
In his letter to the PM, Chuan calls on the cabinet to back the declaration of a special session. He proposes an initial general debate so MPs and senators can express their opinions and work towards a solution to the current impasse. The PM has already voiced his support for an extraordinary session of parliament.
Meanwhile, a number of opposition figures are calling for the state of emergency imposed on Bangkok to be lifted, declaring its implementation illegal and unnecessary.
Jailed Thai activists, protest leaders, pro-democracy doctor, released on bail
Thailand's Appeal Court has granted bail to a number of anti-government protesters and protest leaders, on condition there is no repeat of the offences they're accused of. Sort of doubt that's going to stick.
They must also report to the court every 2 weeks. Protesters have been charged with sedition, violating the Covid-19 emergency decree by holding an illegal gathering, using an amplifier without authority to do so, and breaking the Computer Crimes Act.
Yesterday's three "pop up" protests were held outside of central Bangkok and again surprised police. The protest gatherings all attracted up to 2,000 people each and were held, and then dispersed, peacefully, without police intervention.
Police threaten jail time for anyone taking selfies at protests
The State of Emergency recently imposed on Bangkok amid escalating political unrest carries some sweeping powers, some of them targeting the younger, connected mobile generation.
Police are warning that anyone taking a selfie at anti-government protests is risking 2 years in jail and a fine of up to 40,000 baht.
The emergency decree is being invoked in everything, from the arrests of protesters and their leaders, to the threat of restrictions being slapped on media outlets whose reporting is deemed unfavourable.
41 foreign tourists to arrive in Bangkok today on Special Tourist Visa after 7 month ban
Just 41 foreign tourists are expected to arrive in Bangkok today under the special tourist visa. A small, yet major step forward after a 7 month ban on international tourists which was put in place in late-March.
The visa allows a 90 day stay that can be renewed twice, adding up to about 9 months. But the tourists departing from Shanghai, China and arriving in Bangkok's Suvarnabhumi Airport at 5pm, allegedly, will only be in Thailand for 30 days, and that includes their 14 day quarantine.
The flight arriving today was first going to have 120 to 150 tourists, but now it's down to just 41. We'll soon know if they actually arrived. Never before has the arrival of so few tourists kicked up such interest.
Pickup truck crashes into elephant as herd runs across Chon Buri road
A herd of wild elephants running across a road in Chon Buri caused a driver to crash into one of the elephants, damaging his Isuzu pickup truck and injuring the passenger.
The man says he was heading to the province's Ban Ang Kraden district when a group of about 20 elephants ran out of the forest and cut in front of his truck. He says he couldn't stop in time and crashed into one of the elephants.
The injured animal didn't stop and continued to run across the road, following the rest of the herd into the forest. Local officials are tracking the elephant's footprints to find the injured elephant and provide medical treatment. The 20 year old passenger was rushed to hospital and is in a satisfactory condition.
Keep in contact with The Thaiger by following our
Facebook page
.
Never miss out on future posts by
following The Thaiger
.