Former prisoner arrested over rape of Norwegian tourist on Koh Pha Ngan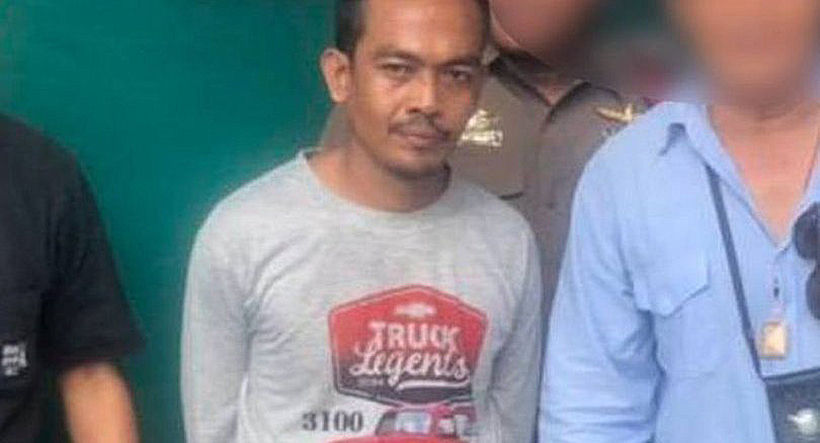 33 year old Rewat Harnsuwan, a resident of Nakhon Si Thammarat, has been arrested over the alleged rape of a Norwegian woman on Koh Pha Ngan off the coast of Surat Thani last Sunday.
He was arrested at a motorcycle repair shop in Tambon Koh Pha Ngan at 8pm last night. It has been revealed that he had been released from detention in Koh Samui on the Saturday.
Rewat has been charged with assaulting and raping the tourist at 2am on Sunday morning. The victim filed a complaint with the Koh Pha Ngan police station after she woke up on Sunday, prompting the national police chief to order that the perpetrator be located and arrested swiftly.
The Norwegian woman reported that she lost her wallet on the beach at the island's Half Moon Party and was heading back to the beach to search for it. A motorcyclist offered her a ride to look for the wallet but instead drove her to another location and raped her.
Police checked CCTV footage from the area were able to identify Rewat talking with the victim before picking her up. They also were able to confirm the man's motorbike was the same one he was riding on the Sunday morning when picking up the woman.
During questioning, Rewat told police that he was riding his motorcycle home from drinking at a karaoke bar at 2am and spotted the Norwegian woman walking on the roadside. Rewat said the tourist told him she lost the wallet so he offered to give her a ride to search for it.
He told police that the woman was drunk, hugged his waist and leaned on his bag and so he drove her to the repair shop hoping to have consensual sex. When she rejected his advances, according to the man, he says he drove her back towards her hotel. After she jumped off the bike about 100 metres before the hotel, he grabbed her, punched her in the stomach and raped her before leaving her there.
He told police he returned to his accommodation at the repair shop after the incident.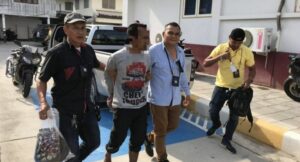 SOURCE: The Nation


Read more headlines, reports & breaking news in Koh Samui. Or catch up on your Thailand news.
Banyan Tree Samui goes 'retro' with the new Tuk-Tuk Bar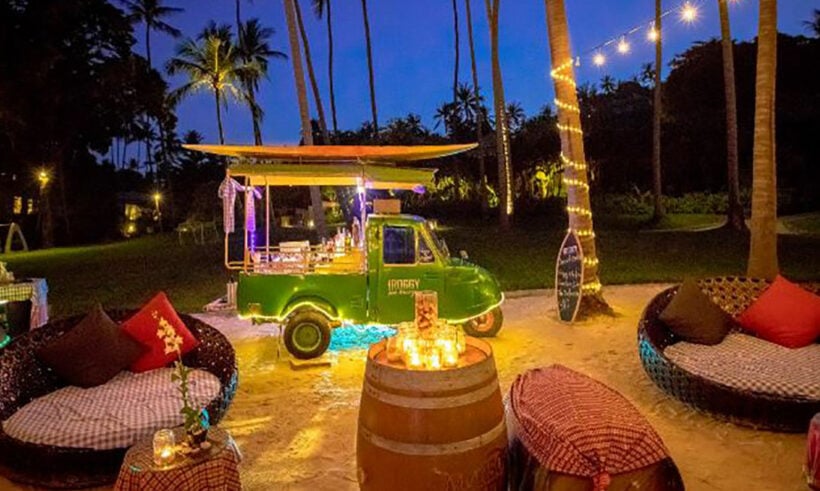 Banyan Tree Samui resort has opened what might be the quirkiest if not the cutest bar in Thailand,  a cocktail caravan remodelled from a classic 1960s tuk-tuk.
The MP4 Midget is virtually unseen on the streets of Thailand these days. But once upon a time, the "frogs", as they were commonly nicknamed, were everywhere. Thousands of these 12 HP 350cc three-wheelers were manufactured by Japan's Daihatsu company and exported to Thailand starting in 1959 to form a fleet of taxis nationwide.
This particular frog was discovered last year in the southern Thai port town of Trang by Banyan Tree Samui's head chef Rainer Roersch, who says he sensed immediately that a novelty tuk-tuk would make for an ideal art installation on the Koh Samui beachfront.
Revived from retirement, and now dubbed the Froggy Sea Breeze Beach Bar, the emerald-green van today serves up cocktails, beers and spirits to Banyan Tree guests and non-guests alike in a quiet cove in the southeast of the island between the popular beaches of Chaweng and Lamai.
The Froggy Sea Breeze Beach bar is open from 5pm till 11pm every evening. Highly recommended is the sweet n' sour Froggy Melon, garnished in mint leaves, or The Botanical, a gin and absinthe-infused cocktail guaranteed to kick-start any engine.
Tour Banyan Tree Samui HERE.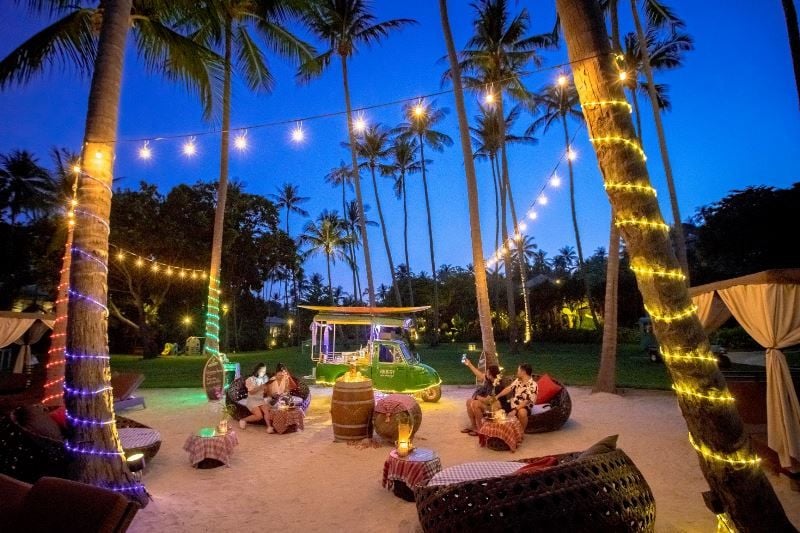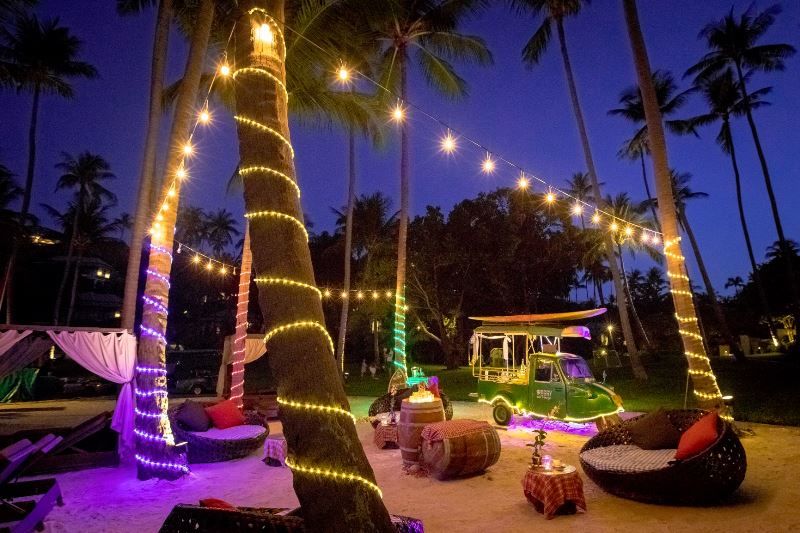 Samui Regatta welcomes Synergy Samui Resort as new home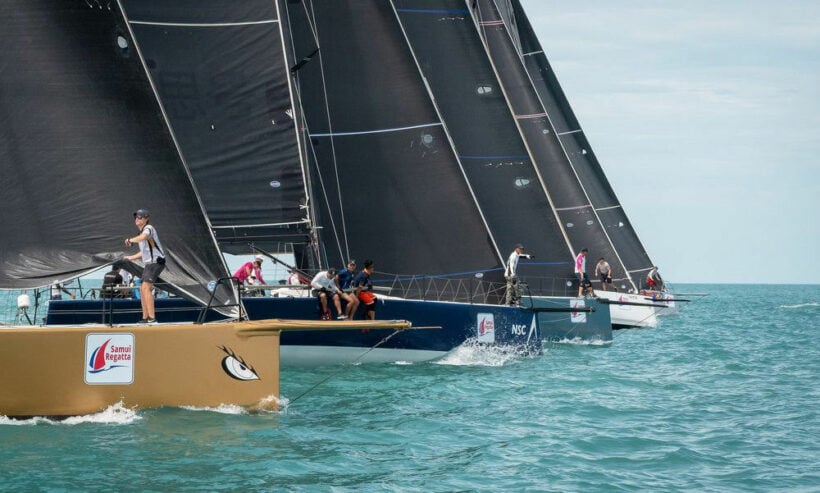 "Early entries are looking good with a strong line-up of boats and crew from Hong Kong, Singapore, Australia and Thailand."
The "Tropical Island Regatta" is set to return to Koh Samui's shores from May 25 to June 1 on Chaweng Beach and this year will be at a new venue, Synergy Samui Resort.
Samui Regatta is popular with sailors from around Austral-Asia and organisers expect to welcome competitors of more than 20 nationalities in what is also the season-ending event in the 2018/19 AsianYachting Grand Prix.
"The regatta has a new home this year. We will be headquartered at Synergy Samui Resort which has welcomed us with open arms and will be our base throughout the event, providing us with a beachfront hub from which to operate the regatta as well as hosting a number of daily prize givings," said Orawintanee Wattana, Regatta Director.
"The resort is just a few hundred metres along Chaweng Beach from our previous home so the popular anchorage remains unchanged, as does the stunning sailing area off the east and north coasts, and our many repeat sailors can continue to enjoy their favourite hangouts onshore."
Organisers are expecting a top draw line-up of some of the best IRC yachts and crews in the region. The ever-green Jelik (HKG), which has a new bulb configuration, intends to give the region's top TP52 crews a run for their money including Kevin and Tom Whitcraft's THA72 (defending champion), Team Hollywood (AUS) and Freefire (HKG), as well as WindSikher II (SIN) and Zannekin (HKG) in IRC Zero.
Returning to the regatta this year is the Premier Cruising Class with MoonBlue 2 (HKG), Bella Uno (HKG) and Lawana (THA) towing the startline.
Meanwhile in IRC 1, last year's regatta and 2017/18 AYGP winner, Nick Burns and Fred Kinmonth's Mandrake III (HKG), will be up against some tough competition from the likes of Fujin (AUS), Tenacious (AUS) and Over Here (THA).
Lead by Samui veteran Mick Grover, the 'new' MoonShadow2 will race all-comers in IRC Cruising, including a number of boats based around the Gulf of Thailand as well as the Pattaya-based SailQuest Hi Jinks (USA) which will be sailed by students from the SailQuest Sailing School, and Holding Patten (AUS), a newcomer to the regatta with a well known face at the helm, Michael Spies.
"Early entries are looking good with a strong line-up of boats and crew from Hong Kong, Singapore, Australia and Thailand. We also have interest from sailors in China and are working with Thailand-based cruising sailors to grow a fun and competitive cruising class," added Wattana.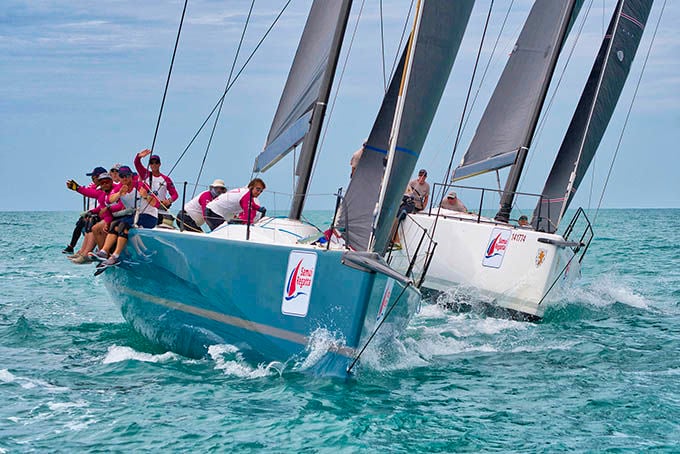 Koh Pha Ngan rapist participates in reenactment of rape of Norwegian tourist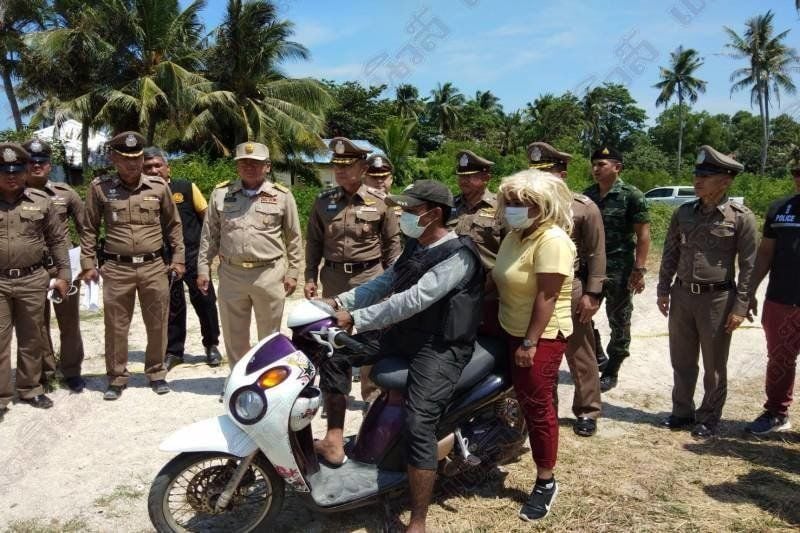 PHOTOS: ThaiRath
Police have held a bizarre reenactment of the rape of a 26 year old Norwegian tourist after a 33 year old Thai man was arrested for the crime soon after it was reported on Sunday night on Koh Pha Ngan.
Rewat "Moss" Hansuwan says had offered the victim to help her find her lost wallet but ended up raping her on the beach instead. The incident occurred after the Half Moon Party on Koh Pha Ngan on Saturday night.
The suspect has a list of priors including attempted murder and theft. He had been released from jail in the weeks before (not the day before the rape as had been previously reported), just before Singkran.
2006: Attempted murder
2011: Gun possession
2012: Theft
2015: Driving while under the influence of drugs
2016: Drug taking
2016: Drug possession.
Thai Rath reports that a video of the reenactment shows the suspect on a motorbike with a Thai woman in a blonde wig and surgical mask standing in as the Norwegian victim. The video shows him simulating the rape of the bewigged woman on the beach with local police and the Surat Thani governor looking on and taking photos.
Provincial governor Witchawut Jinto spoke of the damage to tourism, Koh Pha Ngan and Surat Thani. The Norwegian victim was never discussed during the media conference.
Meanwhile Daily News reports that Moss claimed he was egged on when the tourist allegedly put her hands round him on the bike. But she resisted when he groped her on the beach and then he punched and raped her.
SOURCES:  Thai Rath | Daily News