Samui Regatta kicks off May 26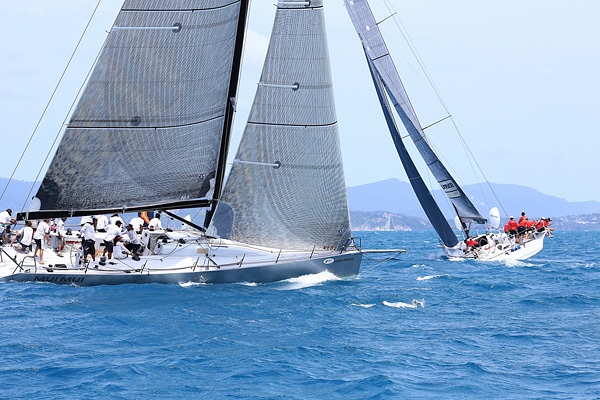 From May 26-June 2, the Samui Regatta is on at the Centara Grand Beach Resort Samui in the waters off the island's Chaweng Beach. It's the final event in the annual Asian Yachting Grand Prix Championship.
Now in its 17th year, the Samui Regatta has been hosted by Centara Grand Beach Resort Koh Samui since its inception. Each year, a fleet of yachts head to Koh Samui, arriving with crew to experience some world-class sailing and enjoy the island's social scene.
"We're proud to be the host of this international event as we welcome visitors from around the globe to enjoy our facilities and stunning island environment," says Voytek Klasicki, General Manager Centara Grand Samui Beach Resort.
"Koh Samui is Thailand's most popular boutique island with good reason and the Samui Regatta has become part of its modern heritage with people returning year after year to enjoy the fun on and off the water," he added.
In the last decade, the Samui Regatta has grown, attracting strong racing, cruising and multihull fleets with around 500 participants from over 20 countries taking part. In the final event in the Asian Yachting Grand Prix Championship, the event generates around 18 million baht for the local Koh Samui economy annually.
"It's great to see such a competitive line up again this year across all the sailing classes. There are some very evenly matched boats and crews so I'm sure everyone will enjoy the five days of racing we have planned for them," added Race Director, Simon James.
As well as action on the water, the Samui Regatta attracts spectators and vacationers for its onshore social scene.
Centara Hotels & Resorts have been welcoming visitors to Koh Samui for over 20 years and the Centara Grand Beach Resort Samui is the ideal regatta host venue. Sophisticated, and with a wonderfully nostalgic seaside air, the beachfront resort boasts chic bars and restaurants as well as stunning rooms and suites, including private-pool suites, as well as a spa; a timeless resort that is classic yet gloriously modern and reflects the contemporary culture of yachting tradition.

Stunning new Lux Neo project at Chaweng, Koh Samui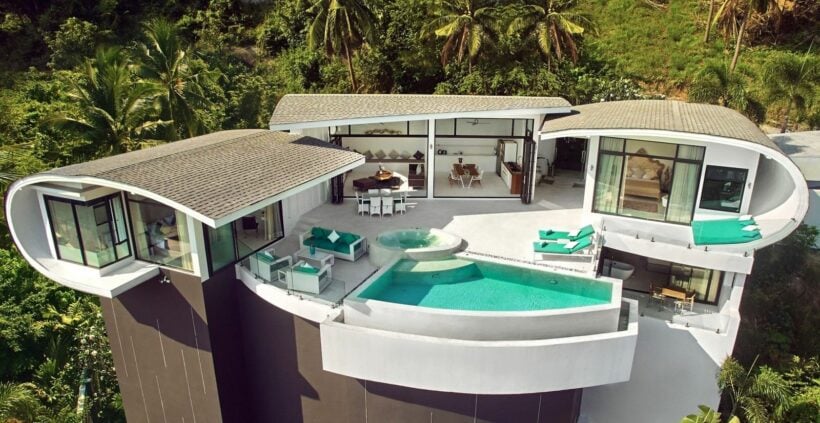 Sun, sea, new, views, pool villa, Samui. All the words you want to hear.
Lux Neo is now available, combining stunning sea views and outstanding modern design. Lux Neo is the newest award winning project by the "Neo" team with critiqued unique villa design and award winning styling. Click HERE to read more about the Neo design team and some of their other award-winning projects.

This magnificent site offers a unique combination for in Thailand – inspired design, value, astonishing views and quality. Designer two or three bedroom villas are now available with sea views to Chaweng Noi and just minutes to the main attractions, beaches, shops, airport and the main Chaweng shopping and beach areas.
The "Lux" location is 18 Rai of premium Chaweng Noi sea view land with "Neo" being a private 12 plot residential development featuring the uniquely inspired villa style. The highly desirable location of Chaweng Noi is just 1 kilometre away from some of Koh Samui's best beaches and restaurants.

These luxuriously designed spaces include vaulted double height ceilings, mezzanine floors, large open airy spaces, modern terrazzo bathrooms and mezzanine bedrooms – all with breathtaking views of Koh Samui offering unparalleled design with nothing else like it in South East Asia.
Prices start from 8.8 million baht for the 2 bedroom villas ranging up to 12.5 million baht for the 3 bedroom villas.
Read more about the details of this stunning Samui development or make enquiries HERE. You will be able to find out a lot more information as well as compare the new Lux Neo to other projects in the area.
Find out more about Samui HERE.

Go to property.thethaiger.com when you want to search for Thailand's largest selection of properties.
French trio admit to trying to scam their insurance company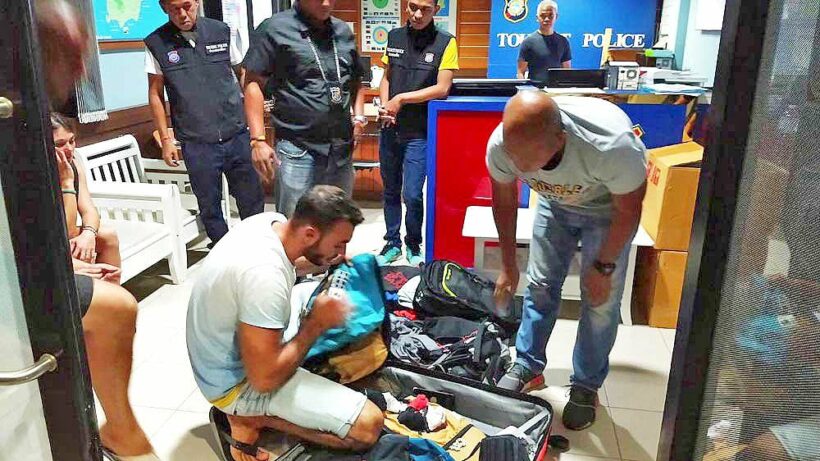 PHOTOS: New TV
Police on Koh Samui report that three French tourists claimed that they were robbed at knife point by five Thai men on three motorcycles after they become lost.
New TV reports that they claimed that everything was stolen from them and the thieves disappeared without a trace.
But they've since been shown to have been lying for the purposes of an insurance scam and now face three years in jail for their deception.
They are 31 year old Priscilla Monga, 25 year old Bryan Dubois and 32 year old Yan Chastel (all names transliterated from Thai language). They are in custody at the island's police station.
They originally told the police that on Wednesday of last week they had taken a song-thaew to a hotel in beachside Lamai and got off at the wrong spot by mistake. They couldn't be precise about where but said they walked down a street and were then robbed at knife point by the Thai men.
Police suspected they may be telling lies because they couldn't say where and exactly when it happened. Subsequent inquiries with song-thaew drivers and others indicated that no one else witnessed the robbery.
The trio were confronted at their hotel and eventually admitted to lying for insurance fraud.
All the missing possessions were found in a room in a hotel next to where they were staying. They could face three years in jail for filing a false report and are currently seeking consular assistance.
SOURCE: New TV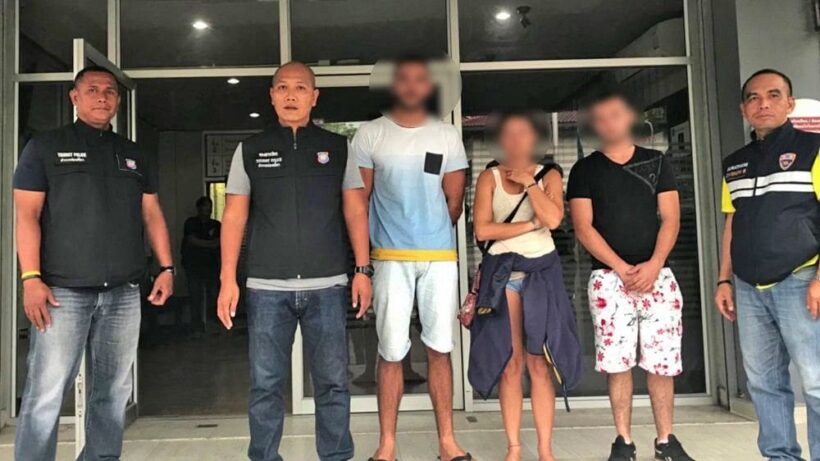 Koh Tao rape investigation team returns from UK tomorrow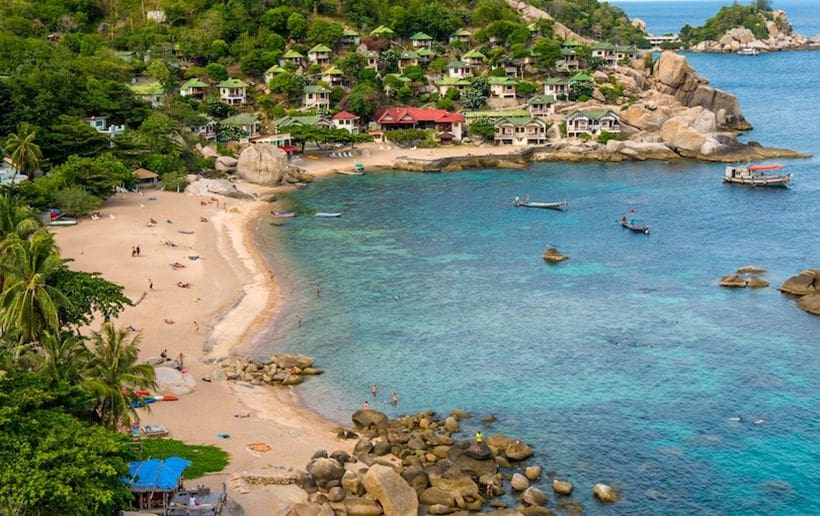 Thai police expect to finalise their investigations next week into the alleged rape of a British tourist on Koh Tao a few months ago. The immigration police chief Maj-Gen Surachate Hakparn has been leading the investigation.
Representatives of the Royal Thai Police team travelled to the UK last month to interview the 19 year old British woman who claimed to have been drugged, raped and robbed on the island in June.
The team is due to return to Thailand tomorrow with evidence provided by UK police, such as a sperm-stained shirt, according to Surachete.
"It will take a week following their return to conclude if the rape is proved to be real. If she tells the truth we will invite her to Thailand for further questions," Surachate said.
He told the press conference that he has not received any initial report from the team whether the alleged victim still stood by her previous statements.
He revealed that the investigating team received good cooperation from the alleged victim in the interview which involved both Thai and English interpreters as well as UK officers.
Surachate denied that the alleged British victim had been blacklisted by Thai authorities from entering the Kingdom and vowed to bring justice to all sides in the matter.
In August, Thai police went to the island to investigate and gather further evidence relating to the case.
They initially said they found no evidence to support the rape claim. The finding was criticised and prompted further investigations in London.
Thai Police have also arrested 12 Facebook users for sharing posts about the alleged crime and commenting on them at the "CSI LA" page on Facebook, allegedly violating the Computer Crime Act.
As well as the 12 suspects, two others are still at large; one is Pramuk Anantasin, administrator of "CSI LA" Facebook page and Suzanne Emery, British publisher of the online newspaper and Facebook page Samui Times.
Police have accused them of reporting false information concerning the rape claim.

STORY: The Nation