Lion Air plane damaged in minor ground collision – Jakarta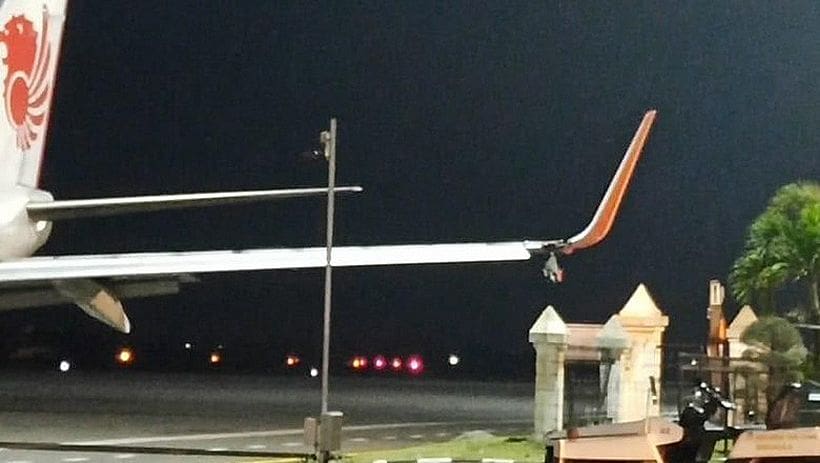 It's been a bad few weeks for the Indonesian Lion Air team with they another bad headline for the budget airline yesterday.
An Indonesian Lion Air plane was involved in another accident yesterday, even as the search continues for remains of victims of last week's plane crash.
Lion Air Flight 633, bound for Jakarta, was canceled last night, after a wing of the aircraft hit a pole outside a passenger terminal at Fatmawati Soekarno Airport in Bengkulu province. The plane was moving toward the runway in preparation for takeoff. It appears to be a Boeing 737-800 series aircraft but the actual model has not been confirmed by the airline or officials.
There were no reports of injuries, but the wing was visibly damaged, according to local media. Lion Air has not issued a statement, but an official at Indonesia's Transportation Ministry said the ministry was aware of the incident.
The latest incident involving privately owned Lion Air comes after U.S. aircraft manufacturer Boeing issued a safety bulletin for pilots related to the problems with a crucial sensor revealed on Wednesday by Indonesian authorities investigating the Oct. 29 crash of Flight 610.
Flight 610, a Boeing 737 Max 8 that entered service in August, experienced erroneous input from one of its angle of attack sensors before the plane carrying 189 people crashed into the sea off Jakarta, said investigators from the Indonesian National Transportation Safety Committee, or KNKT.
Read the rest of the story HERE…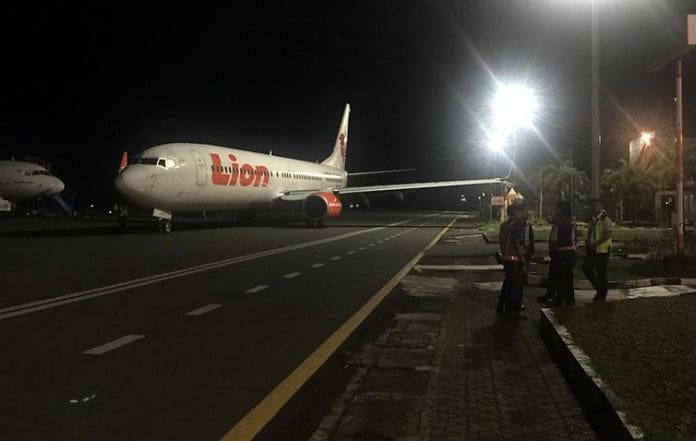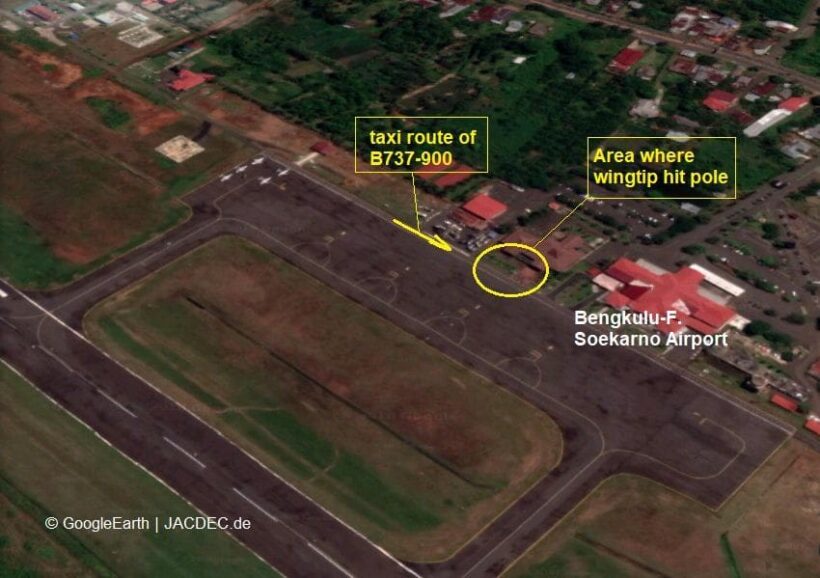 Enterprising young Cambodian impresses with multi-lingual skills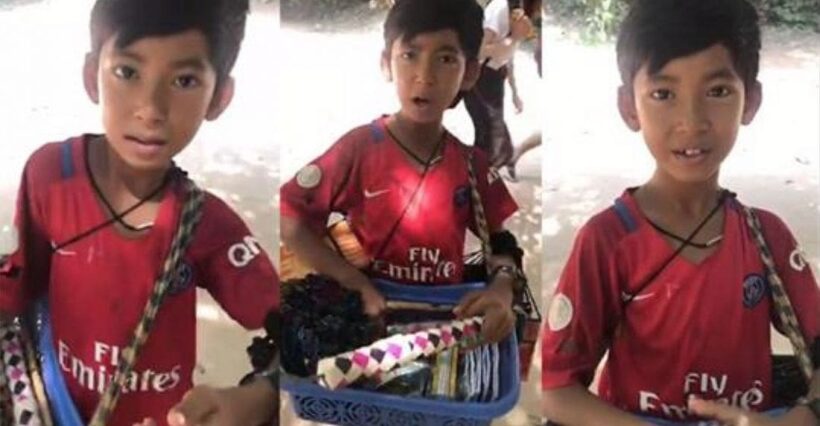 Young vendors become very resourceful at extracting money from tourists. All in the quest of making an honest living and bringing some money to their families. This young boy seems to have knowledge of at least seven languages, obviously representing the most popular languages spoken by the tourists he speaks to during his daily rounds.
Netizens are impressed by his talents but some are saying that the boy has to develop this skill in order to survive. A translation follows some of the many languages he is able to use in his daily work. Let's hope he gets the opportunity to use his skills in a prosperous career in the future.
We'll take five of whatever you're selling!
Two Khmer Rouge leaders sentenced to life in prison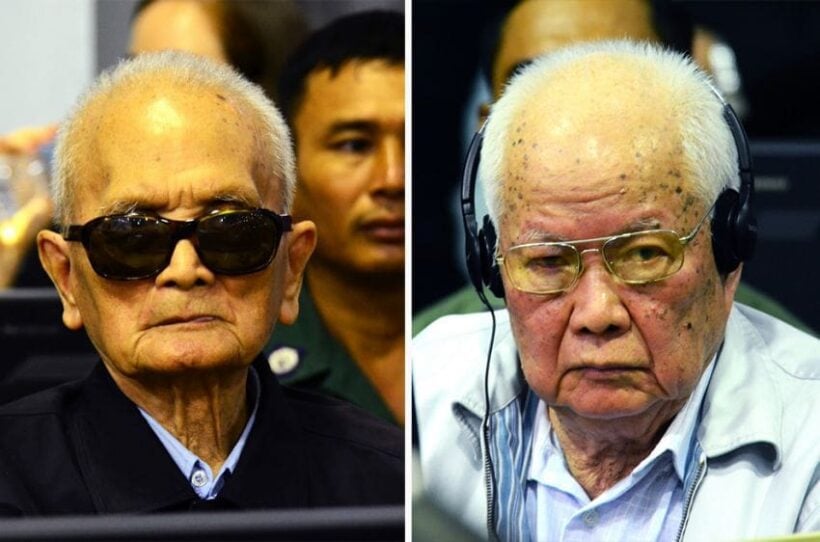 PHOTO: Pnomh Penh Post
A UN-backed court has found two leaders of Cambodia's murderous Khmer Rouge regime guilty of genocide. The judgement comes four decades after the regime which oversaw what became known as the Killing Fields, was overthrown.
Most of the victims of the 1975-79 regime died of starvation, torture, exhaustion or disease in labour camps. Others were simply bludgeoned to death during mass executions, many in areas just out of the Cambodian capital Phnom Penh.
Up to 2.2 million people, a quarter of Cambodia's population at the time, died during the four year rule of the Khmer Rouge.
The Extraordinary Chambers in the Courts of Cambodia (ECCC), said Khmer Rouge "Brother Number Two", 92 year old Nuon Chea and former President 87 year old Khieu Samphan were guilty of genocide against the Cham Muslim minority and Vietnamese people, and of crimes against humanity. The pair have been sentenced to life in prison.
They were already serving life sentences for 2014 convictions for crimes against humanity, in connection with the forced evacuation of Phnom Penh after the Khmer Rouge took power under their notorious leader Pol Pot in 1975.
There had been debate for years among legal experts at to whether the killings by the Khmer Rouge constituted genocide, as the vast majority of victims were fellow Cambodians.
The court found that during their rule, the Khmer Rouge's policy was to target Cham and Vietnamese people to create "an atheistic and homogenous society without class divisions", Judge Nil Nonn said in the verdict.
Hundreds of Vietnamese civilians and soldiers were also killed at the infamous S-21 interrogation centre, at a converted Phnom Penh school called Tuol Sleng, after being tortured to admit being spies. Tuol Sleng remains a gruesome tourist attraction and testament to the systematic torture and execution of those who ended up there during the brutal regime.
"The fate of all these prisoners was a foregone conclusion as they were all ultimately subject to execution."
Both Khieu Samphan and Nuon Chea appeared for the court session but Nuon Chea was excused after 40 minutes complaining of back pain. He continued to follow the proceedings from his cell.
Khieu Samphan, looking frail and gaunt. He stood in the dock with the help of prison guards when Nil Nonn read the verdict.
The court, a hybrid UN and Cambodian tribunal, was set up in 2005 to bring to justice "those most responsible" for the deaths under the Khmer Rouge. The court has convicted only three people.
Its first conviction was in 2010 when it sentenced Kaing Guek Eav, alias "Duch", head of S-21 where as many as 14,000 people were tortured and executed, to life in prison.
Two other Khmer Rouge leaders, Ta Mok and Ieng Sary, were facing charges but died before the case was concluded. Pol Pot died in 1998.
Rohingya refugee repatriation – FAIL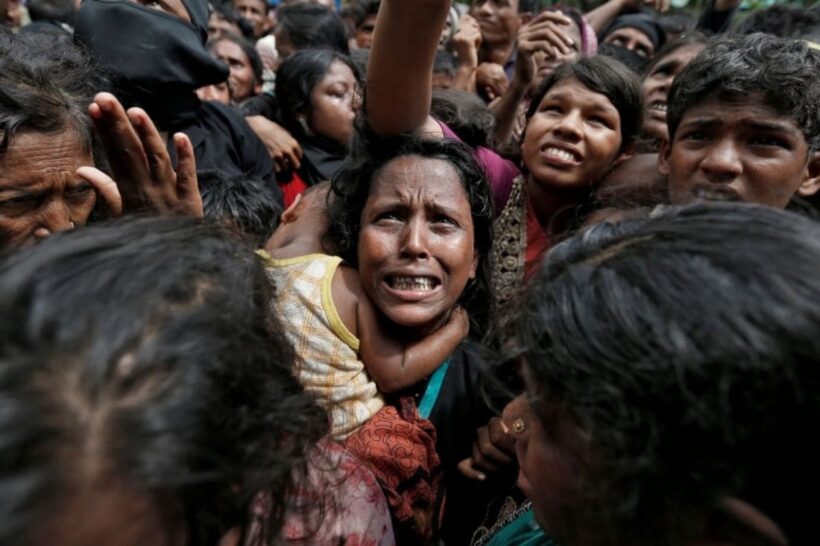 PHOTO: The Straits Times
"The refugees are not willing to return now."
This, from the Refugee Commissioner at the refugee camp in Cox's Bazar in Bangladesh as the first wave of Rohingya refugees refused to repatriate in a program that was meant to start on Thursday.
People, due to head back to their original homes in Rhakine State this week, disappeared in the sprawling refugee camps to avoid being sent back. Other joined a large demonstrations against the repatriation. They say they don't trust the Myanmar government or the Military.
700.000+ Rohingya Muslims fled into Bangladesh from the Rhakine state in Myanmar's western region in August last year after their villages were set alight and destroyed in a purge from the Myanmar Military and Buddhist vigilantes which has been condemned around the world. At the time NGOs, independent inspectors, aid agencies and the UN said the actions of the Myanmar military (Tatmadaw) were akin to 'genocide' as the Rohingya suffered killings and rape of women and children in the orchestrate purge.
UN human rights officials are urging Bangladesh to halt the repatriation process, even as it was UN refugee agency workers helping to facilitate it.
Bangladesh Foreign Minister A.H. Mahmood Ali has told reporters in Dhaka that there is no question of forcible repatriation.
"We gave them shelter so why should we send them back forcibly?"
Some refugees on the repatriation lists – which authorities say were drawn up with assistance from the UNHCR – say they don't want to go back for fear of reprisals from the Myanmar military.
Bangladesh had planned to send an initial group of 2,251 back from mid-November at a rate of 150 per day.