98 confirmed dead. Rescuers fear more as relief pours into Lombok.
International aid organisations are now seeking assistance some of the key groups get people onto the ground to start providing much-needed relief to the northern parts of the island. Following the 7.0-magnitude earthquake that hit Indonesia's Lombok Island on Sunday evening, rescue workers are actively searching the province to rescue and aid victims.
According to The Guardian, Katy Flay, who was on holiday with her partner, told her brother authorities were demanding money before they would allow tourists onto rescue boats.
"We have tried to get on many boats. Boats are leaving half empty as you need a ticket… no boats for everyone, just selected people," the 33 year old said in comments he later relayed to The Guardian. "People are punching and hitting each other."

PHOTO: The Guardian/AP
98 have been reported dead, with about 209 injured. But it's expected that the toll will rise significantly as debris is removed. Survivors have moved to shelters with little in their hands, as they fled from their homes after they were severely damaged or destroyed by the earthquake.
Although thousands have sought shelter and help, many are still in need of help of food supplies, clothes and comfort or entertainment items, such as toys and books. The emergency response period will remain in effect until at least August 11, according to a statement issued by the National Disaster Mitigation Agency (BNPB).
As stated by BNPB spokesman Sutopo Purwo Nugroho, among the basic necessities needed by the victims are instant food, drinking water, clean water, tents, blankets, tarpaulins, clothes and medicine. They are also in need of trauma and healthcare services.
Many humanitarian organisations have extended a helping hand by accepting donations, be it the form of funds, goods or even volunteer work. The following is a list of organizations through which you can donate.
Please note: The Thaiger doesn't endorse any particular aid organisation and presents the below information for those interested in donating to the efforts to provide relief to earthquake victims…
Indonesian Red Cross (PMI)
The Indonesian Red Cross is accepting donations for victims of the earthquake through Lombok Kita Bantu.
Donations are collected through local banks and via the Lombok Kita Bantu donation portal.
Below are a list of the local banks you can donate to:
Mandiri Bank – Account number: 070-00-0011601-7 on behalf of Palang Merah Indonesia
BCA Bank – Account number: 206-300668-8 on behalf of Kantor Pusat PMI
BRI Bank – Account number: 0390-01-000030-30-3 on behalf of Palang Merah Indonesia
For more information regarding this donation, you can contact the Indonesian Red Cross' fundraising division at +6221-799-2325 Ext.2 or email donasi@pmi.or.id.
The Indonesian Red Cross is also open for donations in the form of goods and volunteer work. Further information can be found on its official website donasi.pmi.or.id.
Read also: What you need to know about the Lombok earthquake
Aksi Cepat Tanggap (ACT)
Funds can be donated to Indonesian-based humanitarian organization Aksi Cepat Tanggap (ACT), which actively helps in natural disaster events from the emergency phase to the post-recovery phase.
Donations can be sent to the following:
BNI Syariah Bank – Account number: 66-00000-506 on behalf of Aksi Cepat Tanggap
Mandiri Bank – Account number: 127-000-7581-828 on behalf of Aksi Cepat Tanggap
A careline has also been set up at 021-2940-6565 for further help and information. Further information can also be reached via sms through phone number +62853-3000-6000 or WhatsApp number +62821-1711-8110. Visit ACT's official website act.id for more information.
Those who want to help directly at the scene can visit ACT's emergency posts, located at the following addresses in West Nusa Tenggara:
Bayan Post: House of Dasan Gerisak village chief, Anyar village, Bayan district, North Lombok regency, West Nusa Tenggara.
Sembalun Post: Jl. Raya Sembalun Lawang, Sembalun Lawang, Sembalun, East Lombok regency, West Nusa Tenggara.
Gempa Lombok Post: Jalan Sriwijaya number 80J, East Pagesangan subdistrict, Mataram regency, Mataram City, West Nusa Tenggara (west of Grand Legi Mataram hotel).
Dompet Dhuafa Republika
Donations to Dompet Dhuafa Republika will be used to rebuild houses for the victims of the Lombok earthquake.
Set up as "Bale (rumah) Untuk Lombok: Pulau Seribu Masjid", you can help build houses for victims by donating to the following:
BNI Syariah Bank – Account number: 340-350-666-5 on behalf of Yayasan Dompet Dhuafa Republika
BCA Bank – Account number: 237-304-7171 on behalf of Yayasan Dompet Dhuafa Republika
Mandiri Bank – Account number: 101-000-647-5733 on behalf of Yayasan Dompet Dhuafa Republika
Further information regarding the donations can be accessed through its official website dompetdhuafa.org.
Oxfam Australia
Another way to help is to support international charity organizations. Oxfam has about 8 to 10 local partners and three Oxfam staff members operating in Lombok. They are currently working with KONSEPSI, which has deployed a team and partnered with the Village Preparedness Team in Sembalun as well as the district's disaster management agency.
Oxfam media coordinator Dylan Quinnell tweeted that antipoverty group Oxfam Australia was using its Jakarta warehouse staff and partners to distribute tarpaulins and sarongs to the earthquake victims in Lombok. You can support their response to the rapid needs by fundraising for their cause or donating funds through their official websiteoxfam.org.au/donate/.
For more information, reach out to the following three contacts:
Read also: Lombok airport operates 24 hours following earthquake
World Vision International (Wahana Visi Indonesia)
Wahana Visi is a branch of humanitarian aid organization World Vision International. The WVI Disaster Response Team has been responding to this disaster on the field in Sembalun, East Lombok.
Donated funds are used to provide care and educational packages for children, home appliance packages for families, clean water and sanitation facilities. They are also used to set up a Sahabat Anak Room children's center in each evacuation post, with each center to be stocked with books and toys.
WVI is also working to educate families on the natural disaster they are currently facing, and what they can do to survive in the situation.
For those who can help, donations of Rp. 100.005 are encouraged; note the five as the last digit. Send proof of transfer to berbagi@wvi.or.id or +62-811-183-8496 on WhatsApp.
Transfer your donations through BCA 478-3019445, under the name Yayasan Visi Indonesia.
For more information, contact WVI on Facebook or visit its official website wahanavisi.org, or @wahanavisi_ID on Instagram and Twitter.
Peduli Anak Foundation
Lombok-based Sahabat Anak Foundation has been helping underprivileged children and their families by providing them with the necessary residential care, family care, education, medical care and legal aid, as written on their Facebook page.
In a one-minute YouTube video, a Peduli Anak Volunteer expresses his concerns and the urgent need for help as buildings were destroyed as a result of the earthquake.
"We have about 100 children, everybody is safe, none of the children got injured. Everybody was outside when this happened so we're really lucky that nobody got seriously injured here. But all of our buildings, our shelters, all the homes of the children are destroyed. […] We need help, we need a tent, at least, a big one we can sleep in. But we really need help soon, we think this is a really bad one," he said.
The foundation owns four dormitories for children, a school, a prayer room, office rooms and other supporting facilities. However, the earthquakes caused medium to critical damage to the majority of its buildings.
You can help in three ways:
For more information, Peduli Anak Foundation is rated as very responsive to Facebook messages. They may also be contacted through the number +62-370-617-1993.
It does not hurt to also do the little things. If you do not have the means to donate, use the power of your voice to raise awareness about the earthquake and about how to help donate.
Keep in contact with The Thaiger by following our Facebook page.
Never miss out on future posts by following The Thaiger.


Find more SE Asian News courtesy of The Thaiger.

Broke? Find employment in Southeast Asia with JobCute Thailand. Rich? Invest in real estate across Asia with FazWaz Property Group. Even book medical procedures worldwide with MyMediTravel, all powered by DB Ventures.

Cambodian dog slaughterhouse shut down, owner says he is "ashamed"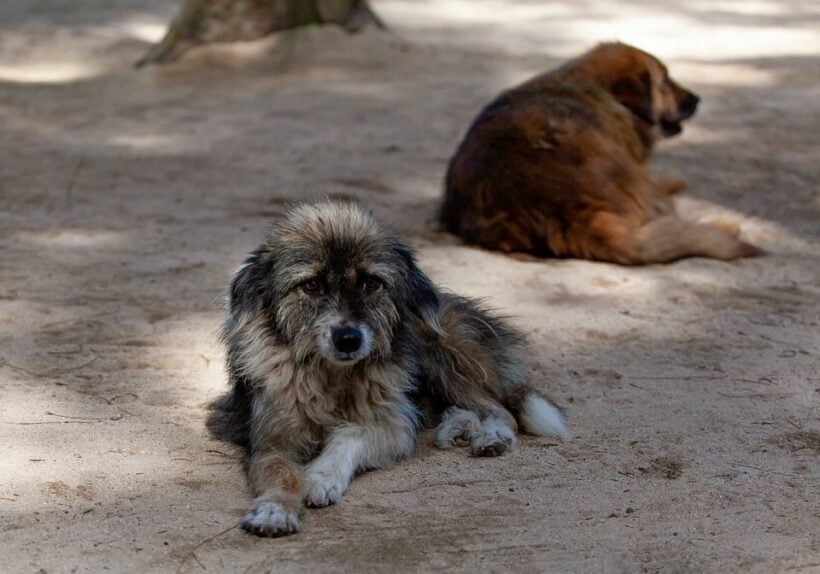 After increasing calls to end the dog meat trade, a Cambodian slaughterhouse is shutting down, with its owner saying he is "ashamed." Ouk Mol, the owner, says the dog slaughterhouse has killed more than a million dogs since opening in 1995.
According to Four Paws animal rights group, Cambodia slaughters between 2 to 3 million dogs per year, while offering the cheap meal of protein at more than 100 dog meat restaurants in Phnom Penh, its capital.
Mol's slaughterhouse is responsible for all the supply to Phnom Penh, but he says he will no longer be killing dogs, citing increasing pressure from animal rights groups and civilians alike. The 50 year old former soldier says he feels ashamed.
"But I want to quit the business because I am getting old and a lot of people have criticised me about the dog meat trade."
The operator was offered financial support from Four Paws to open a grocery store if they shut down their slaughterhouse with Ouk Mol's wife, Sao Phally, saying she is glad they have found a way out of the business.
"We were always worried about sin because of our killing. People looked at us in a bad way."
The slaughterhouse, which uses vats to drown the dogs, and blowtorches to remove their fur, slaughtered up to 200 dogs per day. Now, as of yesterday, the company has shut down, with the remainder of dogs being sent to animal charities for rehabilitation and placed for international adoption.
Phnom Penh is the 2nd city in Cambodia to follow increasing calls to close the dog meat trade, as Siem Reap banned the trade last year in a victory for animal rights groups. Until 2020, Siem Reap, Cambodia's largest tourist city, was known by rights groups as the "lynchpin" of the trade.
Despite Cambodia's efforts to begin closing down its dog meat trade, it is not the only Asian country that features dog meat as a cuisine. Consuming dog meat in Vietnam is more popular than in Cambodia, which shows the industry has a long way to go with regards to respecting animal rights.
SOURCE: Thai PBS World
Keep in contact with The Thaiger by following our Facebook page.
Never miss out on future posts by following The Thaiger.
38 people die "bloodiest day" since Myanmar coup – United Nations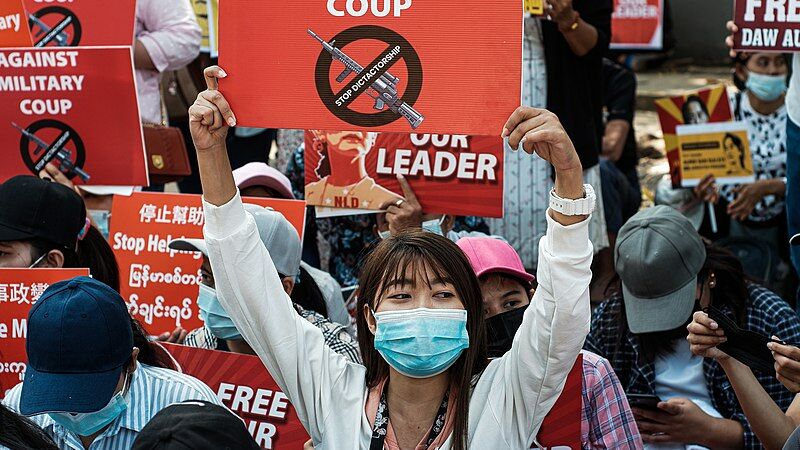 38 people died during Myanmar's anti-coup protests yesterday in what the United Nations is calling the "bloodiest day" in the country since the February 1 military takeover. UN special envoy for Myanmar Christine Schraner Burgener said the death toll is "shocking" and that the situation in the Southeast Asian country could lead to a "real war."
Since last month's coup, more than 50 people have died while many others have been wounded in protests against military rule. Witnesses say police and soldiers have opened fire with little warning. In a virtual briefing, the UN envoy said experts believe the Burmese police are using 9mm sub-machine guns to fire shots at civilians.
"I saw today very disturbing video clips. One was police beating a volunteer medical crew. They were not armed… Another video clip showed a protester was taken away from police and they shot him from very near, maybe one metre. He didn't resist his arrest and it seems he died on the street."
Burmese troops seized power of the civilian government last month, citing what they say was a fraudulent election, although the election commission said the vote was fair. A number of civilian politicians were arrested including democratic leader Aung San Suu Kyi, who had won the November election for state counsellor in a landslide.
Christine says more than 1,200 people are now under detention and many do not know where their loved ones are.
Keep in contact with The Thaiger by following our Facebook page.
Never miss out on future posts by following The Thaiger.
UN condemns violence in Myanmar as at least 18 killed in clashes with authorities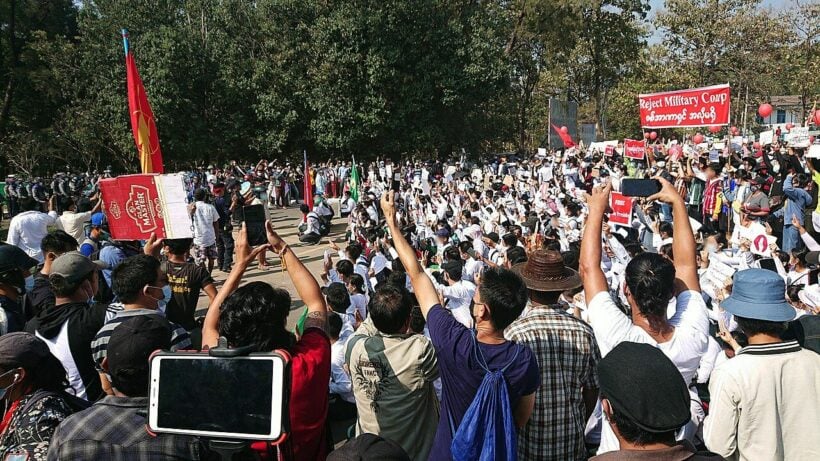 The UN human rights office (OHCHR) has called for an immediate end to the use of force in Myanmar, after at least 18 people were killed in violent clashes yesterday. Those opposed to the February 1 military coup have been taking to the streets, with police and military forces opening fire in what was the deadliest day so far.
A spokesperson for UN Secretary-General António Guterres says he condemned the use of force against protesters, which resulted in at least 30 people being injured and 18 killed.
"He is deeply disturbed by the increase in deaths and serious injuries. The use of lethal force against peaceful protestors and arbitrary arrests are unacceptable."
The Burmese army claims that the parliamentary elections, in which State Counsellor Aung San Suu Kyi was elected, were fraudulent. She was arrested on February 1, along with several members of her administration. According to media reports, she is due to appear in court today.
The UN Ambassador to Myanmar also condemned the military coup in a General Assembly address in New York and called on the international community to act. He has since been fired.
OHCHR spokesperson Ravina Shamdasani has also condemned the violence, saying the Burmese people have the right to peacefully protest in the name of democracy.
"The people of Myanmar have the right to assemble peacefully and demand the restoration of democracy. These fundamental rights must be respected by the military and police, not met with violent and bloody repression."
After clashes between protesters and the military and police, deaths have been reported in Yangon, Dawei, Mandalay, Myiek, Bago and Pokokku, with Shamdasani claiming tear gas and stun grenades were used against protesters. She has slammed the use of force and condemned the arrest and detention of activists.
"Use of lethal force against non-violent demonstrators is never justifiable under international human rights norms. Since the beginning of the coup d'état, the police and security forces have targeted an ever-increasing number of opposition voices and demonstrators by arresting political officials, activists, civil society members, journalists, and medical professionals.
"Today alone, police have detained at least 85 medical professionals and students, as well as 7 journalists, who were present at the demonstrations. Over 1,000 individuals have been arbitrarily arrested and detained in the last month – some of whom remain unaccounted for – mostly without any form of due process, simply for exercising their human rights to freedom of opinion, expression and peaceful assembly."
The military coup of February 1 came as Myanmar was edging towards democracy after years of army rule. It has been condemned by countries around the world and brought hundreds of thousands of Burmese onto the streets to demand an end to military rule and the restoration of democracy.
SOURCE: UN News
Keep in contact with The Thaiger by following our Facebook page.
Never miss out on future posts by following The Thaiger.