98 confirmed dead. Rescuers fear more as relief pours into Lombok.
International aid organisations are now seeking assistance some of the key groups get people onto the ground to start providing much-needed relief to the northern parts of the island. Following the 7.0-magnitude earthquake that hit Indonesia's Lombok Island on Sunday evening, rescue workers are actively searching the province to rescue and aid victims.
According to The Guardian, Katy Flay, who was on holiday with her partner, told her brother authorities were demanding money before they would allow tourists onto rescue boats.
"We have tried to get on many boats. Boats are leaving half empty as you need a ticket… no boats for everyone, just selected people," the 33 year old said in comments he later relayed to The Guardian. "People are punching and hitting each other."

PHOTO: The Guardian/AP
98 have been reported dead, with about 209 injured. But it's expected that the toll will rise significantly as debris is removed. Survivors have moved to shelters with little in their hands, as they fled from their homes after they were severely damaged or destroyed by the earthquake.
Although thousands have sought shelter and help, many are still in need of help of food supplies, clothes and comfort or entertainment items, such as toys and books. The emergency response period will remain in effect until at least August 11, according to a statement issued by the National Disaster Mitigation Agency (BNPB).
As stated by BNPB spokesman Sutopo Purwo Nugroho, among the basic necessities needed by the victims are instant food, drinking water, clean water, tents, blankets, tarpaulins, clothes and medicine. They are also in need of trauma and healthcare services.
Many humanitarian organisations have extended a helping hand by accepting donations, be it the form of funds, goods or even volunteer work. The following is a list of organizations through which you can donate.
Please note: The Thaiger doesn't endorse any particular aid organisation and presents the below information for those interested in donating to the efforts to provide relief to earthquake victims…
Indonesian Red Cross (PMI)
The Indonesian Red Cross is accepting donations for victims of the earthquake through Lombok Kita Bantu.
Donations are collected through local banks and via the Lombok Kita Bantu donation portal.
Below are a list of the local banks you can donate to:
Mandiri Bank – Account number: 070-00-0011601-7 on behalf of Palang Merah Indonesia
BCA Bank – Account number: 206-300668-8 on behalf of Kantor Pusat PMI
BRI Bank – Account number: 0390-01-000030-30-3 on behalf of Palang Merah Indonesia
For more information regarding this donation, you can contact the Indonesian Red Cross' fundraising division at +6221-799-2325 Ext.2 or email donasi@pmi.or.id.
The Indonesian Red Cross is also open for donations in the form of goods and volunteer work. Further information can be found on its official website donasi.pmi.or.id.
Read also: What you need to know about the Lombok earthquake
Aksi Cepat Tanggap (ACT)
Funds can be donated to Indonesian-based humanitarian organization Aksi Cepat Tanggap (ACT), which actively helps in natural disaster events from the emergency phase to the post-recovery phase.
Donations can be sent to the following:
BNI Syariah Bank – Account number: 66-00000-506 on behalf of Aksi Cepat Tanggap
Mandiri Bank – Account number: 127-000-7581-828 on behalf of Aksi Cepat Tanggap
A careline has also been set up at 021-2940-6565 for further help and information. Further information can also be reached via sms through phone number +62853-3000-6000 or WhatsApp number +62821-1711-8110. Visit ACT's official website act.id for more information.
Those who want to help directly at the scene can visit ACT's emergency posts, located at the following addresses in West Nusa Tenggara:
Bayan Post: House of Dasan Gerisak village chief, Anyar village, Bayan district, North Lombok regency, West Nusa Tenggara.
Sembalun Post: Jl. Raya Sembalun Lawang, Sembalun Lawang, Sembalun, East Lombok regency, West Nusa Tenggara.
Gempa Lombok Post: Jalan Sriwijaya number 80J, East Pagesangan subdistrict, Mataram regency, Mataram City, West Nusa Tenggara (west of Grand Legi Mataram hotel).
Dompet Dhuafa Republika
Donations to Dompet Dhuafa Republika will be used to rebuild houses for the victims of the Lombok earthquake.
Set up as "Bale (rumah) Untuk Lombok: Pulau Seribu Masjid", you can help build houses for victims by donating to the following:
BNI Syariah Bank – Account number: 340-350-666-5 on behalf of Yayasan Dompet Dhuafa Republika
BCA Bank – Account number: 237-304-7171 on behalf of Yayasan Dompet Dhuafa Republika
Mandiri Bank – Account number: 101-000-647-5733 on behalf of Yayasan Dompet Dhuafa Republika
Further information regarding the donations can be accessed through its official website dompetdhuafa.org.
Oxfam Australia
Another way to help is to support international charity organizations. Oxfam has about 8 to 10 local partners and three Oxfam staff members operating in Lombok. They are currently working with KONSEPSI, which has deployed a team and partnered with the Village Preparedness Team in Sembalun as well as the district's disaster management agency.
Oxfam media coordinator Dylan Quinnell tweeted that antipoverty group Oxfam Australia was using its Jakarta warehouse staff and partners to distribute tarpaulins and sarongs to the earthquake victims in Lombok. You can support their response to the rapid needs by fundraising for their cause or donating funds through their official websiteoxfam.org.au/donate/.
For more information, reach out to the following three contacts:
Read also: Lombok airport operates 24 hours following earthquake
World Vision International (Wahana Visi Indonesia)
Wahana Visi is a branch of humanitarian aid organization World Vision International. The WVI Disaster Response Team has been responding to this disaster on the field in Sembalun, East Lombok.
Donated funds are used to provide care and educational packages for children, home appliance packages for families, clean water and sanitation facilities. They are also used to set up a Sahabat Anak Room children's center in each evacuation post, with each center to be stocked with books and toys.
WVI is also working to educate families on the natural disaster they are currently facing, and what they can do to survive in the situation.
For those who can help, donations of Rp. 100.005 are encouraged; note the five as the last digit. Send proof of transfer to berbagi@wvi.or.id or +62-811-183-8496 on WhatsApp.
Transfer your donations through BCA 478-3019445, under the name Yayasan Visi Indonesia.
For more information, contact WVI on Facebook or visit its official website wahanavisi.org, or @wahanavisi_ID on Instagram and Twitter.
Peduli Anak Foundation
Lombok-based Sahabat Anak Foundation has been helping underprivileged children and their families by providing them with the necessary residential care, family care, education, medical care and legal aid, as written on their Facebook page.
In a one-minute YouTube video, a Peduli Anak Volunteer expresses his concerns and the urgent need for help as buildings were destroyed as a result of the earthquake.
"We have about 100 children, everybody is safe, none of the children got injured. Everybody was outside when this happened so we're really lucky that nobody got seriously injured here. But all of our buildings, our shelters, all the homes of the children are destroyed. […] We need help, we need a tent, at least, a big one we can sleep in. But we really need help soon, we think this is a really bad one," he said.
The foundation owns four dormitories for children, a school, a prayer room, office rooms and other supporting facilities. However, the earthquakes caused medium to critical damage to the majority of its buildings.
You can help in three ways:
For more information, Peduli Anak Foundation is rated as very responsive to Facebook messages. They may also be contacted through the number +62-370-617-1993.
It does not hurt to also do the little things. If you do not have the means to donate, use the power of your voice to raise awareness about the earthquake and about how to help donate.
Keep in contact with The Thaiger by following our
Facebook page
.


Find more SE Asian News courtesy of The Thaiger.

Broke? Find employment in Southeast Asia with JobCute Thailand and SmartJob Indonesia. Rich? Invest in real estate across Asia with FazWaz Property Group or get out on a yacht anywhere with Boatcrowd. Even book medical procedures worldwide with MyMediTravel, all powered by DB Ventures.

China has the most atheists, Indonesia and Philippines the most believers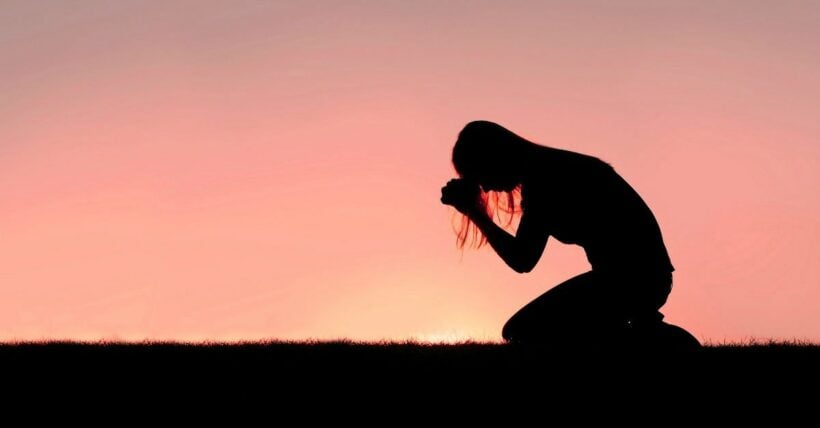 "According to the survey there is a connection between religiosity, beliefs and socio-demographic characteristics like age, income and education level."
China is the least believing country in the world but belief in a God gets 100% mention in countries like Indonesia, Bangladesh and Philippines, according to the survey by Gallup International.
According to the survey exploring religious tendencies of 66,000 people in 68 countries across the world, 62 per cent of people in the world define themselves as religious, 74% of people globally believe we have a 'soul' and 71% believe in a God. Another 56% believe in heaven, 54% in life after death and 49% in hell.
China has the highest percentage of atheists in the world with 67% not believing in any religion. Every seven out ten people are atheists, more than double than any other country. 23% consider themselves as non-religious. Less than 10% identify themselves as religious in China.
China's atheist percentage is followed by Japan, a long way behind in second place at 29%, Slovenia (28%) and Chech Republic (25%). Despite rapid industrialisation and urbanisation religion has stayed relevant in the South Korean region with only 23% identifying as atheist.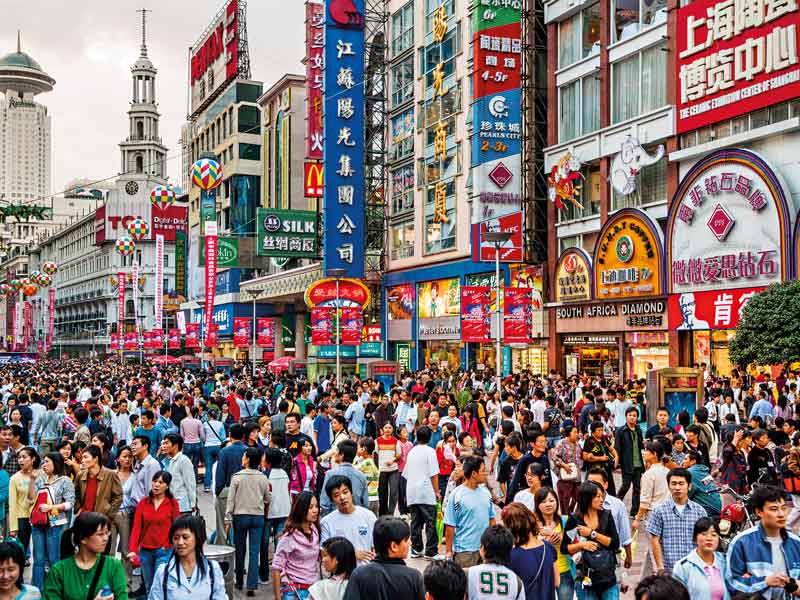 European countries like Belgium (21 %), France (21%) , Sweden (18%) and Iceland (17%) also have a large percentage of believing population.
Bangladesh, Indonesia and Philippines are the most believing countries with entire population claiming to believe in God, soul, hell and heaven. Thailand and Pakistan have 99% believing population, followed by India, Vietnam and Mongolia.
The survey shows that the levels of religiosity diminish as income and education levels increase. While 66% of people with low income affirm to be religious, this percentage drops to 50% among people with higher incomes. The same trend is verified in relation to education levels: 83% of people with lower education level are religious against 49% of higher level.
According to the survey there is a connection between religiosity, beliefs and socio-demographic characteristics like age, income and education level. As education and income levels grow higher, religiosity levels tend to go down. Also, the expression of different beliefs is higher among young people.
The level of education has a considerable influence on the perception of religion by the society. Women and young children show higher percentage for spiritual forces.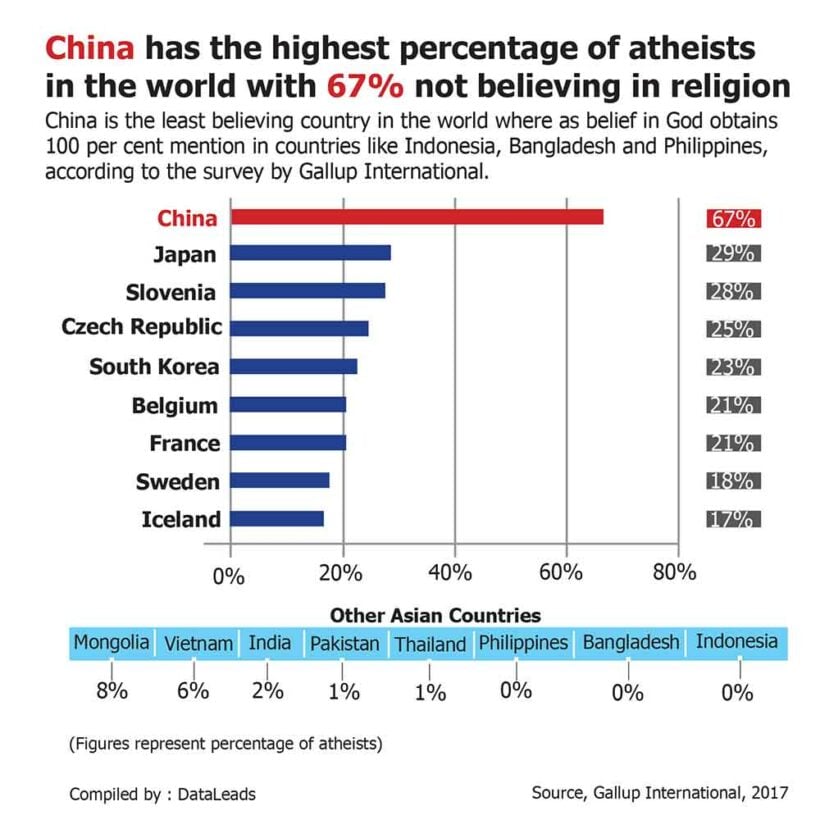 SOURCE: Data Leads
Keep in contact with The Thaiger by following our
Facebook page
.
Powerful 6.4 earthquake kills five in the Philippines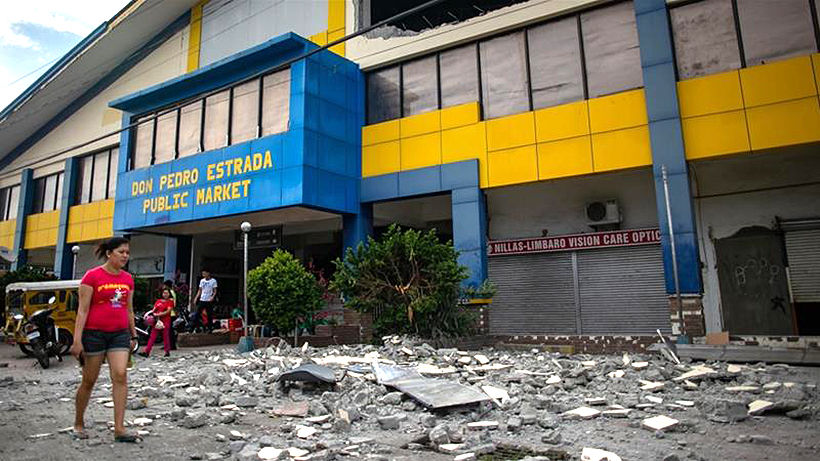 PHOTO: AFP
A strong 6.4 magnitude earthquake has struck the southern Philippines, killing five, including one child, destroying property and disrupting power supply. The death toll is expected to rise.
The powerful quake was felt across the Mindanao region, even causing a 3-storey shopping mall to burst into flames. Residents were evacuated and a child was killed when a house collapsed in the town of Datu Paglas.
AFP reports that the quake was 14 kilometres deep and followed by two aftershocks. The Philippines is part of the "Ring of Fire", a zone of constant seismic activity that stretches from Japan through Southeast Asia and across the Pacific.
Several injuries have been reported as a result of falling debris. The shopping mall that caught fire was evacuated when the quake struck, but it's not yet known if there were still people inside as the fire took hold.
The mall was still on fire three hours later as nearly 100 firemen battled to put it out.
Residents on the coast in Davao fled to higher ground fearing a tsunami, even though a government seismologist reassured people there was no tsunami risk as the quake had occurred inland.
It's understood that prisoners in the municipal jail in the town of Bansalan were also let out, but placed in handcuffs and held outside for the duration of the evacuation.
SOURCE: AFP
Keep in contact with The Thaiger by following our
Facebook page
.
Burmese surfing team head to SEAsia Games, a first for Myanmar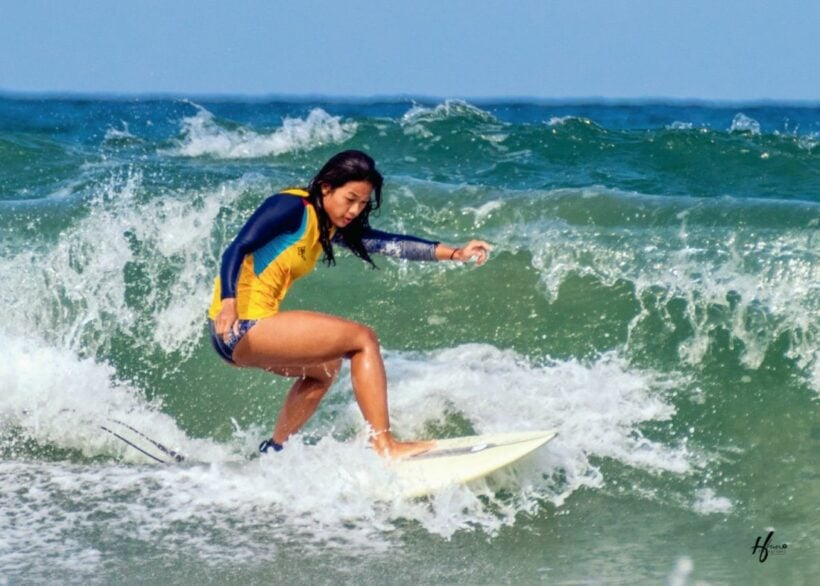 PHOTO: Burmese surfer Thwe Thwe Soe practicing off the coast of Ngwe Saung – Myanmore
Paddling hard and smiling, Thwe Thwe Soe flung herself up on the board just as a wave was breaking, spreading her arms out for balance before getting knocked off.
"I can't live without surfing. I did not expect to be chosen for the national team but I'm thrilled at the opportunity."
Thwe Thwe Soe was speaking after a day in the blue waters off the small coastal resort town of Ngwe Saung. Competitive surfing was barely known in Myanmar a few years ago but one local beach town is riding a wave of enthusiasm to the Southeast Asia Games for the first time ever.
The Southeast Asian country is flanked by surf-ready coasts to the west and south, but decades of military rule, lack of equipment and poverty kept aspiring athletes from testing the waters. The 25 year old encountered the sport while studying in southern California and has been hooked since, saying she "always feels happy" on the water.
Now she is going up against the region's giants at the December games in the Philippines. Thwe Thwe Soe has one of the best chances to medal among the handful of surfers going, but all are training hard.
"We surf for at least four to six hours a day," said American coach Robert Brickell, a 26 year old originally from New York.
The mild waves at Ngwe Saung present a paradox for competitive surfers – they are good to learn on but much tamer than the conditions in surfing hotspots. The team went to Bali in Indonesia for two months to get used to some "big wave surfing" and have made enormous strides in a short amount of time, Brickell said.
"My hope is that we can show everybody that people from Myanmar, we know how to surf, we know how to respect the ocean. And of course our hope is to win some meets."
The Surf Association of Myanmar was established only this year. The sport is slowly gaining prominence thanks to the impassioned surfers, most from a village near the beach and newcomers themselves. Ngwe Saung is the heartland of the growing craze and has now hosted several competitions.
"We hadn't heard of surfing before 2017. It will be a difficult competition but we will do our best for sure." said 19 year old Aung Min Naing.
SOURCE: Agence France-Presse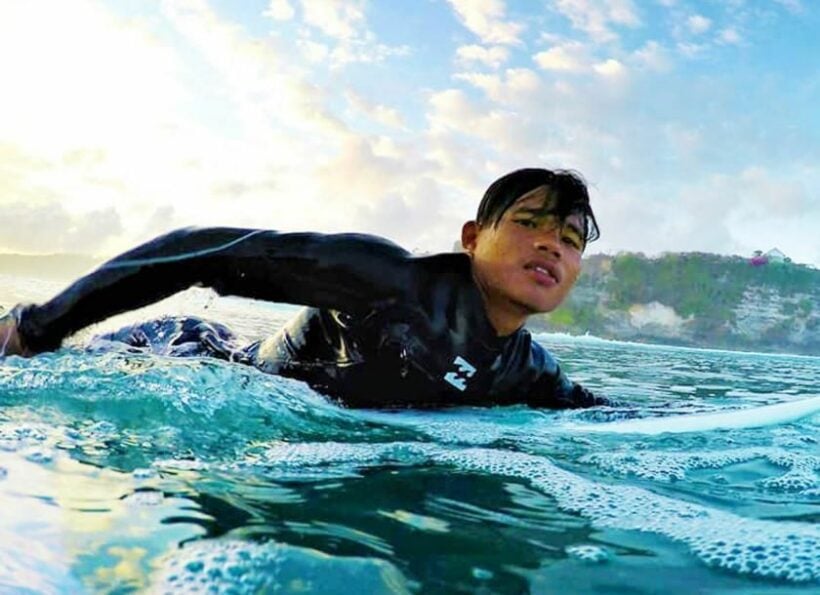 PHOTO: Aspiring new Burmese surfer, Aung Min Naing – MMTimes.com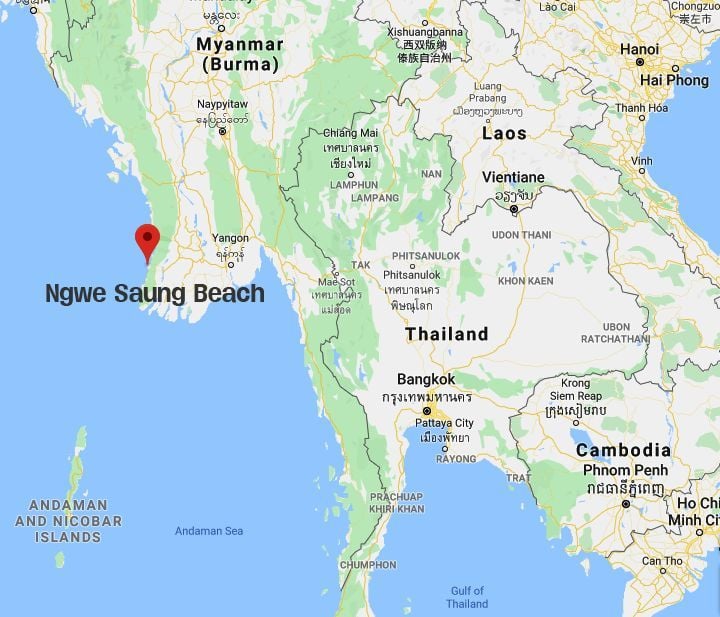 Keep in contact with The Thaiger by following our
Facebook page
.