Sit still Singapore – Live Wire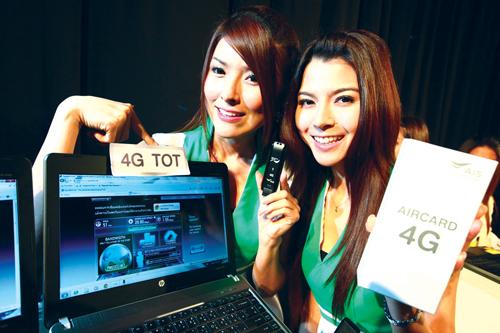 PHUKET: I was in Singapore last weekend, and frankly am surprised by the way "4G" technology is being marketed in all sorts of places: the tops of taxis, television ads, magazine and newspaper ads, radio and TV.
Everybody, it seems, wants to know more about 4G, and how to can get it.
It's not just Singapore. All over the world, companies that can build their 4G (more accurately, LTE) networks faster than their competitors are seeing not only a huge influx of new business, but also increased stock prices.
Conversely, the companies that are having trouble building out 4G – or the ones that are simply stalling – have lost an enormous amount of money. Some even face bankruptcy because they haven't yet locked down 4G frequencies or started building the antennas and associated infrastructure.
Of course, Thailand doesn't have 4G, although there are some experimental networks going up now. Phuket wouldn't know 4G from a dead cow.
The reasons for 4G's explosive growth are only partly technical. LTE (4G), if set up correctly, really can run two or four or six times faster than "3G" HSPA+. But if those fast new towers are hooked into the same old, tired wired networks – if the "backhaul" hasn't been upgraded (in communications-speak) – real-world 4G speeds aren't considerably faster than 3G.
Technology's nice, but I'm convinced that the reason why demand for 4G is growing through the roof in Africa, in particular, depends primarily on a simple bit of marketing: People who use 3G tend to be a bit, shall we say, self-impressed with the technology they're using (present company included, of course).
4G, simply because of the name, sounds infinitely better and more in tune with the world than that old, tired 3G. People who can afford 3G will, in general, shell out a few more shekels for 4G, if only to see and be seen with the latest and greatest.
In other words, 4G is a surefire marketing miracle, if Thailand's government manages to get its act together and auction off the frequencies needed to make a 4G network happen. Hey, the 3G auction only took about a decade. Maybe this next auction will turn around faster.
More surprises from Singapore: the newspaper ads for StarHub home broadband fiber optic in Singapore compares the company's "Fibre Broadband International (US) Average Peak Download Speed" with comparable speeds from M1 and SingTel, the other two large fiber optic companies in Singapore. Imagine that. The newspaper ads talk about real-world international download speeds to the US, instead of fabricated speedtest.net runs to the local switch. What a refreshing change!
Speaking of which, StarHub says its average peak download speed to the US is 45 Mbps. The best speeds we're seeing in Phuket run about 2 Mbps, on a good day with a strong tailwind.
SingTel's charges for a new fiber optic line are quite reasonable: 1,200 baht/month gets you a 150 Mbps line. Bump that up to 1,900 baht/month and you will get their 200 Mbps (no, that's not a typo) fiber broadband line. And as a bit of lagniappe, they also toss in an Acer Aspire V5 Touch tablet, a Windows 8 tablet that's been
relatively well received.
While in Singapore I had a chance to spend some time at Sim Lim Square – and I was more than a little bit disappointed with what I saw. Sim Lim used to have row after row of computer vendors: monitors over here, peripherals over there, desktops and laptops galore.
While I wouldn't go so far as to say that Sim Lim's turned into a pale version of its former self, I would note that the aisles aren't so busy, the selection isn't as good, and in general there aren't nearly as many people as there used to be.
Of course, that's a problem everywhere, with traditional desktop/laptop/Ultrabook computer sales way down in practically every city in the world. Panthip Plaza in Bangkok isn't immune. There's so little business in Panthip that most of the shops are wide-open and anxious to see paying customers.
PC sales have been declining for the past couple of years, and I see no indication that trend is going to change any time soon. Tablets and phone sales are way up. So, as you might imagine, the number of shops in Sim Lim that carry traditional PCs has declined sharply, while business in the shops that carry tablets has gone up.
I guess what worries me most about Windows 8 is the lack of remarkable hardware to run it. If you really want to run Windows 8 on a PC, you need a touch screen. The vast majority of PCs available in Sim Lim are Windows 7-era (but new!) laptops and Ultrabooks, with no touch screen, and Windows 8 pre-installed. That's the worst of all possible worlds, and likely the reason why places like Sim Lim and Panthip just aren't as busy as they once were.
Let's see if the Thai regulators are capable of rolling out 4G. Who knows, we might start catching up with Singapore. At least, if they would sit still for a few years.
Our regular weekly computer clinic roundtables continue every Sunday morning, 10am at the Sandwich Shoppe, Chalong. If you have a Windows problem that needs to be solved, or a question about internet service in Phuket, drop by and ask one of the assembled gurus. It's always free. Sponsored by the Phuket Gazette and Khun Woody's Sandwich Shoppes.

We're moving the Sandwich Shoppe – Patong to Kathu in the next few weeks, and starting a new Sandwich Shoppe Express in Kata in the coming months. Stay tuned for more info about our new locations, and computer gatherings, as events unfold.
Live Wire is Woody Leonhard's weekly snapshot of all things Internet in Phuket.
Follow him on Twitter, @PhuketLiveWire, and "like" the pages at facebook.com/SandwichShoppe, facebook.com/phuketgazette and now Google+, or send him mail at Woody@KhunWoody.com.
— Woody Leonhard

Join the conversation and have your say on Thailand news published on The Thaiger.
Thaiger Talk is our new Thaiger Community where you can join the discussion on everything happening in Thailand right now.
Please note that articles are not posted to the forum instantly and can take up to 20 min before being visible. Click for more information and the Thaiger Talk Guidelines.