Phuket Sports: May the tread be with you – F1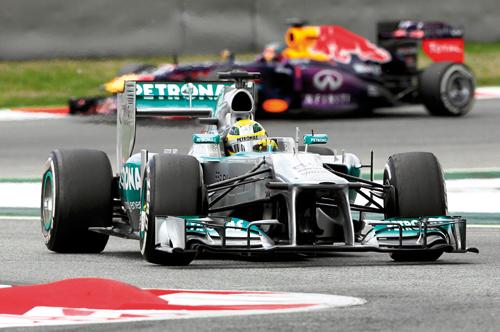 PHUKET: Last week, the world's press was attacking Pirelli for its tyres. This column supported Pirelli, and received grumpy responses from those who supported the Red Bull tirade (click here for article).
When Pirelli agreed to change their tyres from the Canadian GP, Ferrari and Lotus felt Red Bull had pressured Pirelli into conforming to their demands. The 'Tyre Wars' heated up and Ferrari accused Red Bull of having a selective memory and Pirelli of bowing to pressure.
Ferrari said "maybe the brain cells that control memory only operate selectively, depending on the results achieved on track by their owners …. It's a shame that these worthy souls kept quiet two years ago when, at the very same Catalunya Circuit and on the Istanbul track, five of the six drivers who got to those two podiums made exactly the same number of pit stops as did Alonso and Massa last Sunday in the Spanish Grand Prix."
Force India and McLaren also seem to be with Pirelli.
Following the Ferrari blast, in a further volte-face, Pirelli then announced they will now make only minimal changes to the tyres for Canada and beyond.
Even Mercedes, which has suffered badly from tyre wear, said there was no case for Pirelli to change. It seems Mercedes is essentially focusing on the 2014 car and, as if to prove that, Lewis Hamilton is taking every opportunity to get non-racing press space. Tales of arguments with his dad, his sense of freedom after leaving McLaren, and his confidence in potentially teaming with Alonso or Vettel, compete with photo opportunities with his British Bulldog.
It was finally announced that Paddy Lowe is to join Mercedes on June 3rd with the title of 'Executive Director (Technical)'. Lowe stood down as Technical Director at McLaren at the beginning of the year. It is unclear how he will fit in at Mercedes, which says he will 'work closely with Ross Brawn [who] will retain overall responsibility for technical and sporting matters'.
McLaren will have Mercedes engines for the critical 2014 season, but have selected a return to Honda for 2015, so the team may be playing an even longer game than Mercedes. BMW has hotly denied that it is returning, and may be telling the truth.
Bernie Ecclestone, never shy of controversy, lined up with Red Bull in the 'Tyre Wars'. But Bernie's future was the discussion after news that German public prosecutors were preparing to start a court action against him on bribery charges. Bernie said "The [F1] board agrees I should stay unless I'm convicted"; bad news for those who think Bernie is past his 'sell by' date. Speculation over a successor spiked, with Sainsbury's Chief Executive Justin King a leading candidate. Bernie was contemptuous. "I've never met him and there's no way I'm going to. I'll work till I drop and then they can bury me in my bus."
I mentioned in a previous article that Catalunya allows a fully charged KERS (kinetic energy recovery system) to be deployed twice per lap, and that a double KERS release stresses the KERS cooling system.
Responding to questions, KERS recovers a moving vehicle's kinetic energy under braking. The recovered energy is stored in a reservoir – typically a flywheel connected to a battery for later use under acceleration. Keeping the flywheel spinning uses a very high amperage power system, like that in an MRI. High power flows through a wire which creates heat, and wastes energy. Worse, the hotter a wire gets, the higher its resistance becomes, so temperatures escalate.
The answer could be superconductors. These provide zero resistance to electrical current. The good news is that 70% of metals can be superconductors.The bad news is that this is only true at very low temperatures. In fact temperatures of near absolute zero are required (-273oC), usually involving liquid helium. But there are now ceramic superconductors that can operate at a balmy -183 oC. I know that F1 teams are actively looking at this. And KERS will not be an add-on next year, but an integral part of engine design. A Heat Energy Recovery System will be the add-on.
Back in 2013, it's on to Monaco this Sunday – a highlight of the year.
Expect two pit stop strategies with very low tyre degradation. Cars that are good on soft tyres should do well. Qualifying is everything – and nothing so far this season has prepared us for that.
The set-up will be the same as at Catalunya, but using the fastest tyre choices in qualifying will be critical to winning. Red Bull might fancy their chances at pole, and Webber might be the one to do it. But every driver in F1 will fancy himself. Mercedes, Ferarri and Lotus drivers must all be feeling papabile. What chance for Force India, McLaren, Sauber or Williams?
Expect anything.
Join me by the big screen for a fascinating qualifying session at Phuket's The Green Man, Chalong (click here for map) on Saturday at 7pm and on Sunday at 7pm for the race.
Keep checking our online Phuket Sports pages, join our Facebook fan page or follow us on Twitter for the latest local, national and international sporting news.
— The Digby
Phuket News

Join the conversation and have your say on Thailand news published on The Thaiger.
Thaiger Talk is our new Thaiger Community where you can join the discussion on everything happening in Thailand right now.
Please note that articles are not posted to the forum instantly and can take up to 20 min before being visible. Click for more information and the Thaiger Talk Guidelines.