Phuket Sports: F1 – A triumph of errors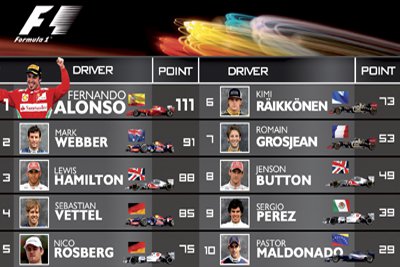 PHUKET: The Valencia GP since its birth has been F1's answer to Valium. Suddenly it has hosted one of the greatest races any of us has seen. There were pre-race fans opting for the two-snooze strategy. Hah! "And gentlemen in England now-a-bed shall think themselves accurs'd they were not here."
No-one has been able overtake in Valencia. But this year there was overtaking a-plenty, there was the Pirelli Factor, there were surprises. But most of all there were 'errors'. And in the supercharged testosterone-soaked 2012 season the errors were fatal.
The race looked predictable. Sebastian Vettel was in pole position and he would run as fast as possible to be able to undercut on his inevitable early pit-stop, Lewis Hamilton would drive more steadily and take the lead when Vettel pitted, and Romain Grosjean would out-wait them both and possibly win on a one-stopper.
Vettel certainly played his part, scorching away and gaining a second per lap over Hamilton who held back the rest of the field, although constantly tested by Grosjean who had already gained a place on the first corner.
But a revolution was starting behind the leaders. Almost unseen, Fernando Alonso was making ground. He started 11th and was 8th after the first lap. Pastor Maldonado who has started third, had many scrapes, and started to slow with debris in his radiator.
Fernando passed him, and with a great pit stop passed Kimi Räikkönen in the pits, passing Kamui Kobayashi on the exit, making him effectively fourth (allowing for those who had not yet pitted). The Valencia crowd felt something was happening, and the atmosphere changed even on our television sets.
Most cars pitted without incident, and the race was settling down again.
Then came 'the big one'.
It started innocuously enough. Red Bull Junior Jean-Eric Vergne passing Heikki Kovalainen unaccountably clashed with the Caterham. The damage gave Kovalainen a puncture and damaged wheel. But Vergne's fatally injured Torro Rosso kept going, scattering debris over the track for miles.
The safety car was summoned while the debris was removed. Lapped cars were waved past before the restart, keeping the safety car on-track for an extra two laps.
Vettel managed to keep his lead despite pitting a lap after Grosjean, Hamilton and Alonso. But his hard earned 20 second lead was gone. Hamilton's pit stop was another tragedy and promoted Alonso to third. Daniel Ricciardo did not stop and took fourth ahead of Räikkönen, with Hamilton down to sixth. Grosjean was fighting Alonso, but it was still Vettel's race.
Then Vettel's Red Bull simply died, with alternator problems; soon afterwards so did Grosjean's Lotus.
Vergne is looking at serious career counseling. He has received a 10 place grid penalty for Silverstone and a €25,000 fine, but I suspect he is more concerned about his team's reaction.
Renault's alternator engineers are looking at hard questions too.
Alonso had a comfortable three-second margin over Hamilton and Räikkönen. And it was Hamilton's tyres that started to degrade. He slipped back in the order, until at turn 12 an on the penultimate lap an over- aggressive Maldonado swung back onto the track into the side of the McLaren, crushing Hamilton into the barrier. Game over for Hamilton.
Maldonado's wounded Williams briefly held third place behind Räikkönen's Lotus, but was passed by a string of cars led, surprisingly, by Michael Schumacher followed by Mark Webber.
Where did they come from?
Schumie was as amazed as anyone to be there, but he held on to take his first podium since China in 2006. They all fought to the finish, but this game of dodgems ended this way. It was Alonso's triumph. He stopped short of the Parc Fermé and he and a Spanish Flag had an emotional bonding with the stewards and grandstands.
Maldonado finished 10th but later received a penalty, so Williams points were from Senna who was promoted by Maldonaldo's penalty. Cold comfort for Hamilton.
So all in all, as the leaders fell like flies, those with the strength to endure inherited the race. For Alonso, to win a Home GP particularly under such circumstances must be as close to magic as a human can hope for.
So it's Silverstone next, where Hamilton and Button will hope for the same magic.
All F1 races are shown at the Greenman, Chalong. Click here for more information.
— The Digby
Phuket News

Join the conversation and have your say on Thailand news published on The Thaiger.
Thaiger Talk is our new Thaiger Community where you can join the discussion on everything happening in Thailand right now.
Please note that articles are not posted to the forum instantly and can take up to 20 min before being visible. Click for more information and the Thaiger Talk Guidelines.