Phuket Live Wire: Finding your "True' internet speed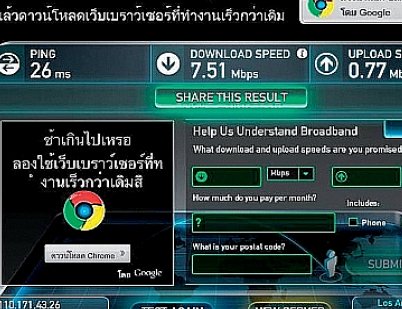 PHUKET: I've received email from all over the world as a result of the 'Bang for the Baht' chart that Khun Roger and I put together for the August 27 Live Wire in the Phuket Gazette.
The emails I received fall into three broad categories.
Some people expect to be in Phuket shortly – either moving here or taking an extended holiday – and they desperately want to know if they'll be able to get good Internet connections here.
Some people live in Phuket and they're fed up with their current Internet Service Provider (ISP). They want to know if they can get a better, faster, more reliable line – that's cheaper, if possible.
The third group calls into question the whole method of measuring and reporting on internet speeds, often citing other speed tests that show their line is blazing fast. Let me address their questions first.
All of the ISPs in Phuket want you to trust the speeds measured by either (1) speedtest.net or (2) any site that uses technology from a company called OOKLA. There's a reason why.
Reader DB wrote to me: "I was consistently getting low speeds on my True 6 Mb line. I called True and had their engineer come to my house to check. As he couldn't explain the discrepancy between what they use as their reference (speedtest.net) and the internet speed test you use on PhuketInternetSpeed.com, he referred me to their Bangkok support center. In the end their support looked at both and their advice was: "Please check on speedtest.net only, as our connection speeds appear to be normal on that one."
DB sent me the screen shot you see on this page to illustrate the following point: while the PhuketInternetSpeed.com test showed downloads from Los Angeles at about 1.6 or 1.7 Mbps, the True-favored speedtest.net shows 7.5 Mbps from LA – four or five times as fast.
There's a reason why True likes Speedtest.net: it is cached by all of the ISPs in Phuket. The speeds reported are not international speeds – they're domestic. Even if the speedtest.net site says it's testing to Los Angeles, in fact it's pulling data from Bangkok.
Let me show you how I know that the speed reported is domestic. In the screen shot here, the Ping Time to Los Angeles comes in at 26 ms. Ping Time is the time for a single, small packet of information to travel from a computer in Phuket to a computer in Los Angeles and back.
The distance from Phuket to Los Angeles is approximately 8,300 miles. A round trip is 16,600 miles. Divide by 26 milliseconds and the packet must have traveled at 2,300,000,000 miles per hour. The speed of light is 186,000,000 miles per hour.
So either (1) True is caching the speedtest.net site, or (2) True engineers have found a way to make an electrical signal travel 12 times faster than the speed of light. Somehow, I find the second option a bit hard to swallow.
I wrote about caching in the June 3 Live Wire, which you can read at is.gd/xEQg6R. There's nothing wrong with caching. It isn't cheating. It's a way for ISPs to give you good international service, without paying for bigger data pipes. However, it distorts internet speed reports.
That's why PhuketInternetSpeed.com uses the DSLReports speed test. As I explain in that Live Wire article, DSLReports can't be cached.
Be careful when comparing internet speeds. Make sure you choose the right site: choose one that doesn't support caching if you want valid test results.
Next week I'll show you how to zero in on an ISP that will work for you.
If you haven't reported your speeds on PhuketInternetSpeed.com, drop by and sign up! It's free, it only takes a few seconds, and the results help everybody figure out what's working and what's not worth the bother.
Remember, all of the data – more than 21,000 reported sightings – is immediately available to anybody who wants to download, look at, or fiddle with the results.
Also remember that the ISPs are watching the reports. We need your help.
Live Wire is Phuket Gazette columnist Woody Leonhard's weekly snapshot of all things internet in Phuket. Follow him on Twitter: @PhuketPC or visit his free computer clinics at Woody's Sandwich Shoppes.
To see what Woody's up to in the international press, and to keep on top of the latest patches and problems with Windows and Office, drop by AskWoody.com.
— Woody Leonhard
Phuket News

Join the conversation and have your say on Thailand news published on The Thaiger.
Thaiger Talk is our new Thaiger Community where you can join the discussion on everything happening in Thailand right now.
Please note that articles are not posted to the forum instantly and can take up to 20 min before being visible. Click for more information and the Thaiger Talk Guidelines.