Phuket ATM scams: Even professionals get caught out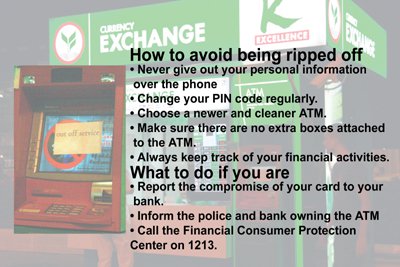 Special Report:
Patong
Police
report at least four people recently being ripped off by gangs scanning their ATM cards and stealing money from their accounts. The
Phuket Gazette
reports.
PHUKET: Alan Robinson, 71, has been living in Phuket for 17 years. As he is a former vice-president of a Swiss bank's national branch in Japan, one can only imagine his surprise when he discovered that his ATM card had been scanned and thieves were stealing money hand-over-fist from his account.
Mr Robinson reported to Patong Police on January 6 that 140,000 baht had been taken from his Kasikorn Bank account. Thieves had apparently stolen the card's information while he used it at an ATM on Rat-U-Thit 200 Pi Road on December 30.
On that day, Mr Robinson had withdrawn cash from the ATM opposite the Holiday Inn in Patong.
"I had withdrawn 20,000 baht but the machine wouldn't return my card. Suddenly on my left appeared a Middle Eastern-looking man, smartly dressed, who in very good English said that it was always happening with ATMs here.
"He leaned over me, explaining I had to push some buttons to get my card back, and pushed the cancel button. I told him to go away," he said.
"My card was returned and the man just walked off. I thought it a little strange at the time but really didn't think any more of it," he added.
It wasn't until the evening of January 5 that Mr Robinson checked his account and discovered that the money was missing. On checking the details he found that 50,000 baht had been withdrawn on January 3 and a further 90,000 baht the next day.
"I tried to phone Kasikorn's number in Bangkok, but it was all in Thai. Luckily a friend's Thai girlfriend was able to speak to the bank in Bangkok and got all the details," he said.
But Kasikorn Bank had more bad news. The January 3 theft of 50,000 baht had occurred at an ATM in Bangkok, and the January 4 theft of 90,000 was accomplished through ATMs in Pattaya.
The bank was able to provide Mr Robinson with complete details concerning which ATMs had been used to steal from his account.
"I immediately went out and canceled my PIN. They'd actually tried again after the bank had put a stop on my card and PIN. It was lucky I'd canceled it. I went to the police in Patong and the bank the next day," he said.
The police showed Mr Robinson reports from three banks showing details of which ATMs the criminals used to steal his money. They were Bangkok Bank, Siam Commercial Bank and Kasikorn Bank.
"A captain in Patong Police, he was brilliant," said Mr Robinson. "He was really helpful and told me that the day before I reported the theft from my account, four tourists reported exactly the same thing. A friend of mine had had the same thing happen to him in Jungceylon a while back, and he had 170,000 stolen," he said.
"The captain told me not to worry and Kasikorn Bank have been very helpful. They've confirmed the money would be returned to my account after the police have completed their investigations."
Mr Robinson, who has worked in banking all his life, had, until a few years ago, checked his account regularly. However, after having encountered no problems in Phuket over the years he relaxed his guard.
"I've banked with Kasikorn for over 10 years and have never had a problem. Nobody else knew my PIN and I have never written it down," he said.
"The hotels should put a warning out as many tourists don't read the newspapers," he added.

Ian Laferme: "People need to know."
Fellow long-term expat Ian Laferme, who has been living on Phuket so long that decades ago he was actually issued Work Permit Number One by the local Labor Office, had a hard road to travel to get his money back.
Through the assistance of a tenacious friend, it took a year of hounding police, banking authorities and consumer protection agencies to be reimbursed for his losses.
Finally, last week he received the good news. The bank holding the account that was pillaged by ATM scammers will refund the money.
More than 240,000 baht was withdrawn from Mr Laferme's account through ATMs in Bangkok and Pattaya. "And I have have many, many witnesses to prove that I was in Phuket the whole time, and my card was with me," he said.
"Some people in the bank have been very helpful," he added, despite the fact that many of his initial attempts to even get a reply from top bank officials were ignored.
In the end it was the Office of the Consumer Protection Board (OCPB) in Bangkok that provided the final impetus for the money to be returned.
"They reviewed the case several times before deciding that Ian's case was worth pursing legally. But once they [the OCPB] started moving forward with the case [legal action], that seemed to do the trick," Mr Laferme's friend said.
Like Mr Robinson, Mr Laferme was happy his money was returned, but was more concerned for the unsuspecting victims still out there, prime targets for ATM scammers.
"The most important thing is that people know this can happen to them and that there are ways for them to get their money back," he said.
Kasikorn Bank's Patcharee Fongcharoen at Patong Beach branch told the Gazette that: "ATM theft is on the rise, with all banks reporting similar incidents.
"Our head office in Bangkok is currently working on defensive measures.
"In the meantime I advise people to use ATMs either inside or at the front of the banks. We recommend that our customers use Kasikorn ATMs only as they are all fitted with an anti-tamper system to prevent unauthorized modification," she added.
Lt Col Songserm Preecha told the Gazette that as of January 5, six ATM scam cases had already been reported to Patong Police this year. He is dealing with two of them.
"Unless someone knows them, it's not easy to identify the criminals even if we have their faces on camera – especially in Pattaya or Patong," he said.
"I have suggested that banks [in Patong] have their workers routinely check each ATM.
"To prevent their customers from falling prey to the scammers we will also suggest this to other banks in Phuket," said Col Songserm.
Phuket News

Join the conversation and have your say on Thailand news published on The Thaiger.
Thaiger Talk is our new Thaiger Community where you can join the discussion on everything happening in Thailand right now.
Please note that articles are not posted to the forum instantly and can take up to 20 min before being visible. Click for more information and the Thaiger Talk Guidelines.