Phuket
Navy tears down Phuket beach restaurants at Nai Yang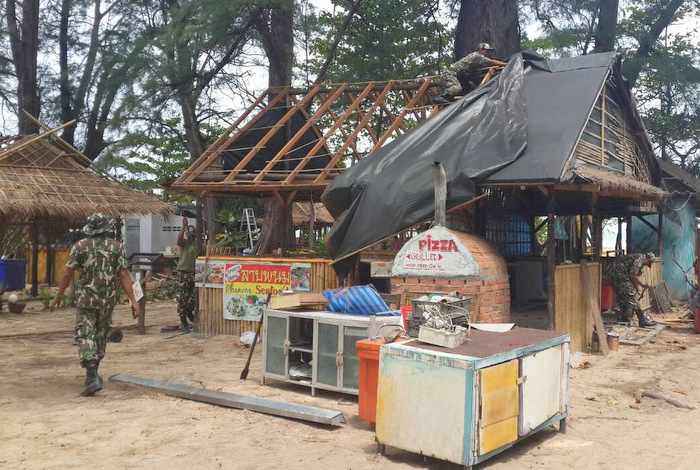 PHUKET: About 100 Navy personnel and national park officers are this morning continuing their "mop up" operation after tearing down 11 restaurants and bars at Phuket's Nai Yang Beach yesterday.
"We notified these vendors that they were encroaching on national park land and ordered them many times to remove their buildings, but they ignored us," Sirinath National Park Chief Kitiphat Taraphiban told the Phuket Gazette.
"Royal Thai Navy Commander Narong Pipathanasai visited us and sternly reminded us to move all illegal beach vendors immediately, in accordance with the order issued by the National Council for Peace and Order [NCPO]."
Chief Kitiphat said that the battle to clear private vendors from national park land had been ongoing for years.
"It was very difficult to move them out, and each previous attempt failed," he said. "Every time the previous park chiefs ordered them out, they protested or sent high-ranking officers to negotiate.
"But this is the right time. Under the NCPO order, we can evict them immediately."
The operation to clear Nai Yang Beach is expected to conclude today.
"We set only two days to clear the beach. The officers pulled down most of the structures on the first day, and the second day we will use a backhoe to demolish any remaining structures and to clear the debris," Chief Kitiphat said.
— Saran Mitrarat