Live Wire: Is Windows 8 right for your Phuket PC?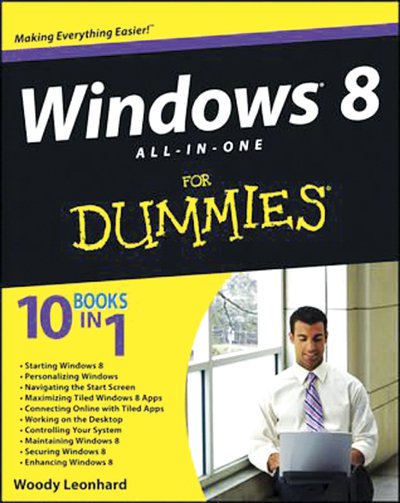 PHUKET: I'm very happy to announce that my latest book, Windows 8 All-In-One For Dummies, arrived on store shelves around the world just before Windows 8 launched on October 26.
At 1,080 pages, it's not only the longest book I've ever written, it's also the most complex. While Windows 8 itself isn't considerably more convoluted than Windows 7, it has a second persona that makes it look and act like two completely different programs. On the one hand, you have the Mr Hyde "Metro" interface, which consists of flashy tiles, much like a mobile phone. On the other hand, the old-fashioned Dr Jekyll desktop looks just like the Windows 7 desktop, and acts almost the same.
A lot of people think that I hate Windows 8, but I don't really. My review for InfoWorld wasn't particularly positive – "The Info World Windows 8 Review – Yes, it's that bad" drew howls of protest from Microsoft – but I think it made a number of fair points.
Yes, I'm painfully aware of the fact that telling people all about Windows 8's foibles is a sure-fire way to lessen demand for my book – but so be it. Win8 isn't for everybody.
If you're working with Windows 7 on a desktop or laptop, and you're accustomed to working with a keyboard and mouse and don't particularly want to try anything new, there's no really compelling reason to pick up Windows 8. In my opinion. On the other hand, if you're working with tablets or smartphones, and the process of interacting with a computer directly with your fingers doesn't put you off, Windows 8 is worth a look.
For people like me, who work all day every day with a keyboard and mouse, Windows 8 has some quirks that seem inimical to getting my work done. On the other hand, there's no doubt that direct interaction with a computer is the way of the future, both with touch interfaces and with voice, so Windows 8 holds some attraction.
Which is all by way of saying… don't shoot me, but I actually switched over to Windows 8 on my main machine last week. After years of testing Win8, pounding and prodding, I've finally made the jump to using it in the real world. And I'll have to admit it's not as off-putting as I thought it would be. There are a number of tricks, specifically ways to rig out the old-fashioned desktop so you aren't thrown into the Metro tiled world willy-nilly, and I'm finding that those tricks work pretty well. I rarely find myself in the Metro side of things unless I intentionally go there, and there are just enough new tweaks for the old desktop that the upgrade's worthwhile, even for a diehard Windows 7 user like me.
If you're thinking about dipping your toes in the Windows 8 pool, a few admonitions are in order.
As of today, I've found precisely zero new Windows 8 machines in Phuket. The retailers aren't stocking Win8 PCs, although they'll be glad to sell you two-year-old-technology notebooks with horrendously inflated price tags. Caveat emptor has never been more appropriate.
That will change over time – retailers will have to get with the new operating system sooner or later – and when it does, you're going to find that your friendly local sales clerk doesn't know squat about Windows 8. I spent the better part of a month driving around the western US, dropping by dozens of computer stores, and discovered that with rare exception the clerks in all of the stores, including big-name computer places, didn't have a clue about Win8 – and they were steering their customers in the wrong direction.
Here's the most important fact you need to know about the new Windows: It isn't just one operating system, it's two. On the one hand, you have Windows 8, which includes both the old-fashioned
Windows 7 desktop and the new, tiled Metro Start screen. On the other hand, you have Windows RT, which looks a lot like Windows 8, but doesn't run Windows programs.
Yes, you read that correctly. With a few highly qualified exceptions, Windows RT doesn't run any traditional Windows programs. No Photoshop. No Firefox. No CSS. No Chrome. No Adobe PDF Reader. No VLC Media Player. No SpyBot. No Quicken or QuickBooks. No Windows Media Player.
The only traditional Windows programs that will run on a Windows RT machine are a touch-enhanced version of Office Home & Student 2013 (Word, Excel, PowerPoint and OneNote), Windows Explorer (renamed File Explorer), Paint and Notepad. Windows RT can't run Outlook, no way, no how.
Microsoft has done a terrible job of explaining to its potential customers that there's a huge rift separating Windows 8 and Windows RT.
There's nothing inherently wrong with Windows RT. It's built to take on the iPad, pure and simple, and it only runs programs from the Windows Store (Microsoft's analog to the Apple AppStore). It runs on much simpler, lighter and power-miserly hardware. But if you go to a store and buy a Windows RT machine, you need to know in no uncertain terms that it won't run any Windows programs – at all.
The key to Apple's success, both with the iPad and the iPhone (and now the iPad Mini) has been the array of apps available online for just a few dollars. That's where Windows RT fares poorly. There isn't a single Windows RT app I've found that comes close to its Apple counterpart. Windows RT apps for Mail, Photos, Movies and Music, for example, don't compare to iPad apps in the same areas.
Over the coming months, I'll introduce you to pieces of Windows 8 that are of particular interest here in Phuket. For now, if you want to take the plunge and you spend most of your time with a keyboard and mouse, I suggest that you follow the steps in my InfoWorld article on minimizing Metro's intrusiveness. See goo.gl/B92tG. You may find that, with the right incantations, Windows 8 ain't half bad.
And I'll let you know when the book is available in Phuket.
Woody's Sandwich Shoppes hold computer sessions under the tutelage of Seth Bareiss every other Wednesday afternoon, from 1 to 3pm. If you have a Windows problem that needs to be solved, drop by one of Seth's free afternoon sessions. Details in the Phuket Gazette Events Calendar.
Live Wire is Woody Leonhard's weekly snapshot of all things Internet in Phuket.
Follow him on Twitter, @PhuketLiveWire, and "like" the pages at facebook.com/SandwichShoppe, facebook.com/phuketgazette.net and now Google+, or send him mail at Woody@KhunWoody.com.
— Woody Leonhard
Phuket News

Join the conversation and have your say on Thailand news published on The Thaiger.
Thaiger Talk is our new Thaiger Community where you can join the discussion on everything happening in Thailand right now.
Please note that articles are not posted to the forum instantly and can take up to 20 min before being visible. Click for more information and the Thaiger Talk Guidelines.