Phuket
Kill squad arrested after sour Phuket land deal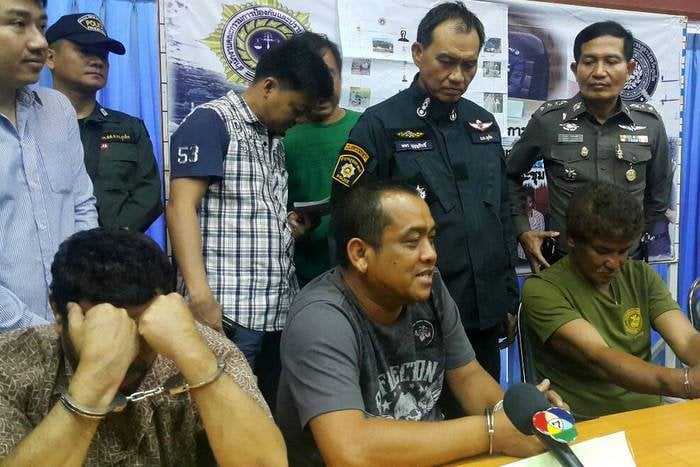 PHUKET: A failed attempt to kill a man over a Phuket land deal gone sour resulted in a team of hitmen being arrested in synchronized raids in Phuket and Krabi on Tuesday.
All five of the men accused for their roles in the attempted slaying of Songwit Vinyupradit were presented to the press by Phuket Provincial Police Commander Patchara Boonyasit yesterday.
"Mr Songwit, 49, was gunned down in a drive-by on the Baan Ya-Baan Don Road in Thalang at about 7am on January 19 after dropping his daughter off at school [story here]," Gen Patchara explained.
"The person who hired them has a construction project and a part of the project is on Mr Songwit's land near Phuket International Airport. The two failed to reach an agreement about the land, so the person hired Halim Rakmit, 52, to have Mr Songwit killed."
The price agreed on for Mr Songwit's life was 300,000 baht, with 35,000 baht paid as the down payment, Gen Patchara said.
Mr Halim, who confessed to assembling the kill squad, was arrested in Phuket. Hit squad leader Adisak Pleekarn, 48, is accused of planning the assassination and was also arrested in Phuket, while Kriengkrai Yimkaew, 49, the alleged gunman, was arrested in Krabi. Imran Lannui, 24, the driver, and Voravut Pewdam, 25, the lookout, were both also arrested in Krabi.
"They studied Mr Songwit's activities and his routine to find the best time and place to carry out the assassination," Gen Patchara said.
After Mr Adisak learned that Mr Songwit had been shot only in the hip and the leg, and was alive, he informed Mr Halim, Gen Patchara explained.
"Mr Halim paid them only half of the money for the job and then ordered the team to go immediately into hiding," he said.
Police are still looking for the contractor who hired Mr Halim to carry out the killing, Gen Patchara said, declining to name the suspect.
"In the meantime, all the suspects arrested so far are being held at Thalang Police Station while awaiting trial," Gen Patchara said.
Mr Halim was charged with conspiracy to murder, while Adisak, Kriengkrai, Imran and Voravut were all charged with attempted murder by gang, gang possession of firearms and ammunition and gang carrying of firearms and ammunition in public.
Mr Kriengkrai was already wanted by police for gang murder in Krabi in 2012 and illegal possession of a firearm and ammunition, Gen Patchara noted.
— Woranut Pechdee