"I thought I saw MH370 on fire,' says Phuket yachtie

PHUKET: A British sailor crossing the Indian Ocean en route to Phuket in March has stepped forward to file a report that she may have seen the missing Malaysian Airlines Flight MH370.
Katherine Tee, 41, was sailing from Cochin, India to Phuket with her husband Marc Horn, 50, when she saw what looked like a plane on fire crossing the night sky, with a plume of black smoke trailing behind it.
Katherine, from Liverpool, was alone on deck at the time.
"I was on a night watch. My husband was asleep below deck and our one other crew member was asleep on deck," she told the Phuket Gazette.

"I saw something that looked like a plane on fire. That's what I thought it was. Then, I thought I must be mad… It caught my attention because I had never seen a plane with orange lights before, so I wondered what they were.
"I could see the outline of the plane, it looked longer than planes usually do. There was what appeared to be black smoke streaming from behind it."
At least two other aircraft were visible in the night sky.
"There were two other planes passing well above it – moving the other way – at that time. They had normal navigation lights. I remember thinking that if it was a plane on fire that I was seeing, the other aircraft would report it," Katherine said.
"And then, I wondered again why it had such bright orange lights. They reminded me of sodium lights. I thought it could be some anomaly or just a meteor."
Katherine noted that when she first saw the object, "It was approaching to cross behind our stern from the north. When I checked again later, it had moved across the stern and was moving away to the south."
SILENCE
Katherine kept her experience to herself. She and her husband had been at sea for about 13 months at that time, she explained, and long voyages can take their toll on relationships.
"We hadn't spoken for about a week," Katherine noted.
When the trio arrived in Phuket on March 10, however, they heard of the MH370 tragedy. Katherine told local yachties what she thought she saw while en route to Phuket.
"Some suggested I should say something, that [what I saw] might have been it. Most said that the flight was heading toward Vietnam. I wasn't sure of the date or time [of the sighting]. I am still not," she told the Gazette.
"I did think that what I saw would add little, and be dismissed with the thousands of other sightings that I assumed were being reported. I thought that the authorities would be able to track [the plane's] GPS log, which I assumed was automatically transmitted, or something like that.
"Most of all, I wasn't sure of what I saw. I couldn't believe it myself, and didn't think anyone would believe me when I was having trouble believing my own eyes.
"I didn't even consider putting out a Mayday at the time. Imagine what an idiot I would have looked like if I was mistaken, and I believed I was. So I dismissed it, and got on with the business of fixing myself and my marriage."
DISCOVERY
However, after hearing a news report last Saturday explaining that a survey ship involved in the search for MH370 was returning to port due to technical problems, Katherine began reviewing her yacht's log.
"The first time I told him [Marc] was after hearing the radio report. That is when we checked our GPS log and realized that perhaps I really did see it," she said.
After Marc posted data maps of the yacht's route across the ocean on yachting website Cruisers Forum (click here), the couple discovered that their 40-foot sloop was in the vicinity of one of the projected flight paths for MH370.
The flight path was estimated during the initial search period, after experts realized that Malaysian defense forces had ascertained a "ping" that could have been the ill-fated aircraft.
Cruisers Forum member "europaflyer" recreated a map by using Google Earth, showing the yacht's position compared with the projected flightpath for MH370. The map showed the aircraft would have passed the yacht astern from port to starboard, just as Katherine remembered it.
"This is what convinced me… to file a report with the full track data for our voyage to the relevant authorities," Katherine said.
Katherine and Marc on Saturday filed the report with the Joint Agency Coordination Centre (JACC), the Australian organization tasked with co-ordinating the search for MH370 in the southern Indian Ocean, and followed up with a second email to the JACC yesterday.
The Gazette has yet to receive confirmation from the JACC that the agency has received the report or any indication as to whether or not the search body will investigate any of its claims.
"Will this help the authorities of the families get closure? I have no idea. All I can confirm is that I have since learnt that we were in the right place at the right time, so it seems possible, but I chose to sweep it under the carpet and now I feel really bad.
"Maybe I should have had a little more confidence in myself. I am sorry I didn't take action sooner."
— Chris Husted


Read more headlines, reports & breaking news in Phuket. Or catch up on your Thailand news.

Motorcyclist crushed by truck in Thalang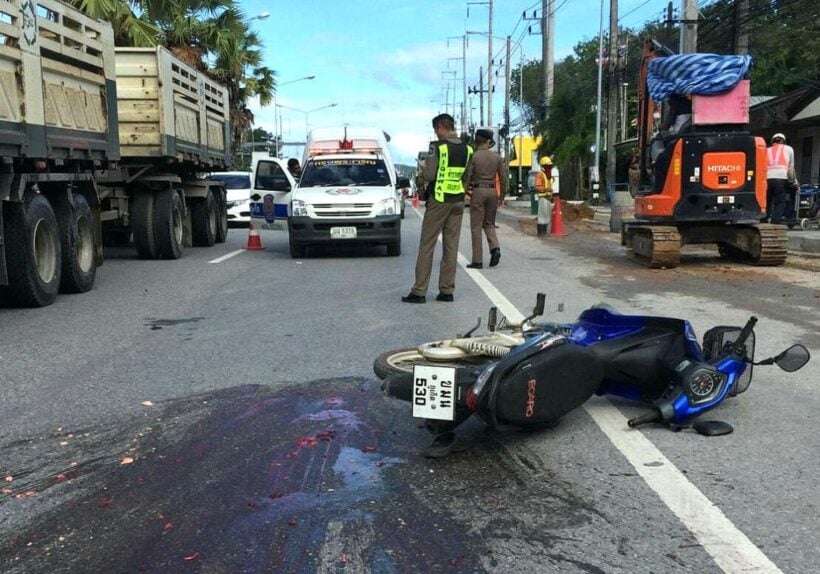 PHOTO: Kusoldharm Foundation
A motorbike passenger has died following an incident with a truck in Thalang this morning.
Thalang Police were notified of the accident on Thepkasattri Road southbound in Mueang Mai, Thalang.
Police and rescue workers arrived to find the body of a woman, identified by police as Boonnam Thepnui from Pattalung.  Her body was taken to the Thalang Hospital.
A motorbike on the road and a truck waiting were found at the scene.
Thalang Police report that the truck, whose driver was Nikorn Pakpoe from Surat Thani, was heading from Thalang towards Phuket Town. The motorbike, whose driver was Kamron Tampueak from Krabi with Ms Boonnam, were heading from the same way. Kamron sustained only minor injuries in the incident.
The truck slightly tapped the motorbike and the motorbike fell down on the road. Ms Boonnam was crushed under the truck and died at the scene.
Police are further investigating the incident.
Phuket beach back to normal after oil-spill clean-up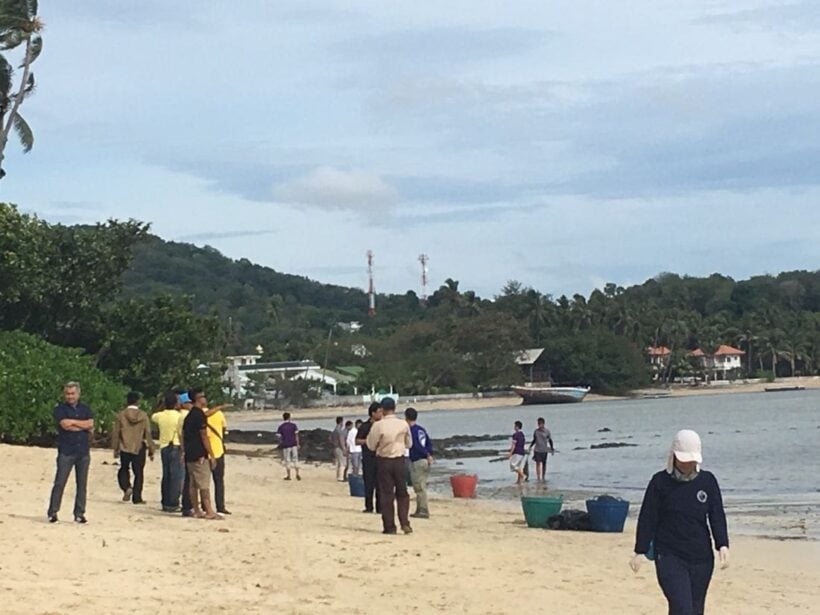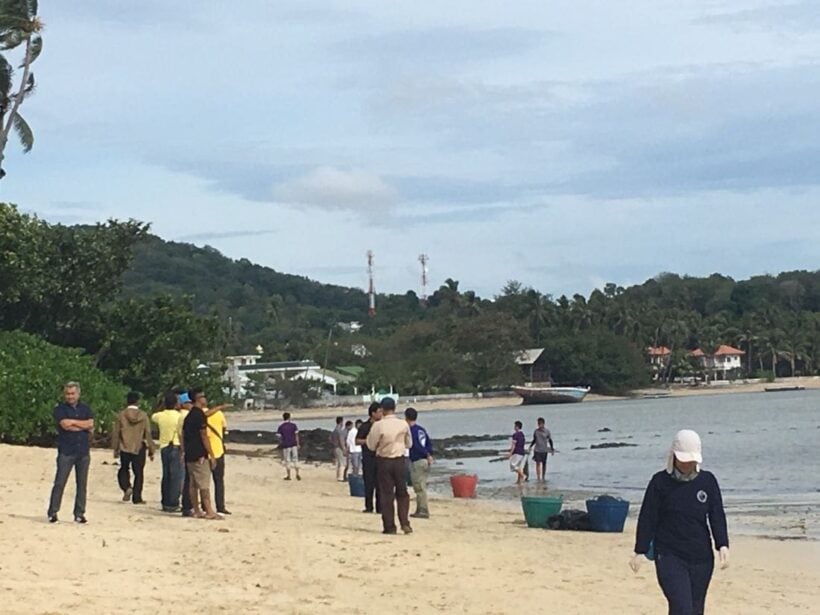 PHOTOS: The Phuket PR Office
A beach in Ao Makham is almost back to normal following a big cleanup was launched to clear a black oil spill that had polluted 300 metres of shoreline yesterday.
The oil spill was located along a beach at Ao Makham in Wichit over the weekend. It is believed to be from a big ship.
Read more about the discovery and clean-up HERE.
Navy officers along with hotel staff in the area were helping to clean the beach and remove oil-stained sand.  Beachgoers and tourists were still enjoying the beach during the clean-up operations, despite a strong smell coming from the oil.
The Phuket PR Office is reporting that the Phuket Marine Office has already filed a report to police in order to identify suspects who may have released the oil. They say they will face full legal action when identified as this oil affects the marine environment and tourism.
More efforts on fishing and tour boats management are also being considered in order to prevent any waste or oil releasing into the sea.

240 million baht in assets seized in Patong and Chiang Mai counterfeit raids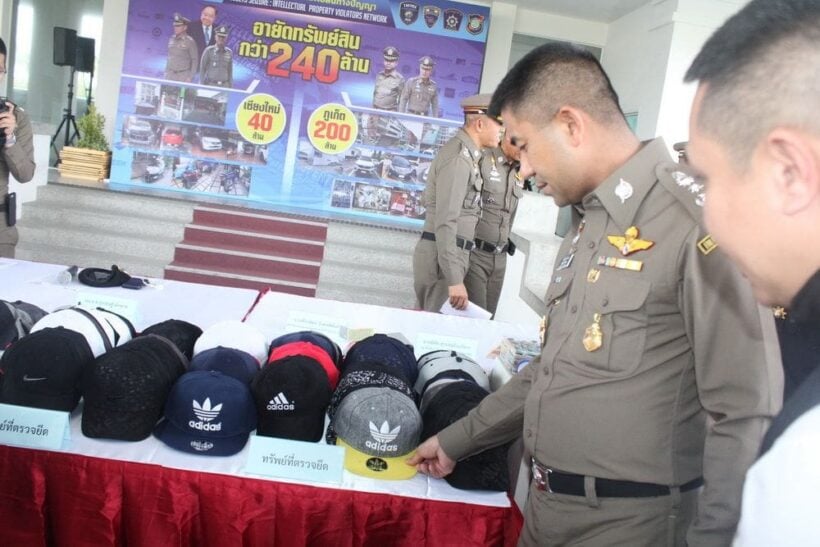 Lt Gen Surachate Hakparn is continuing his counterfeit goods crackdown in Patong and Chiang Mai where 240 million baht of assets have been seized over the past month.
At a media scrum held at the Police Region 8 headquarter in Mai Khao yesterday Surachate said, "We have raided four targeted areas in Patong and four targeted areas at the Chiang Mai night Bazar in our counterfeit goods crackdowns. More than 240 million baht of assets such as houses, land and cars have been seized."
The crackdown follows an investigation that found that many counterfeit goods are being sold online. Patong and Chiang Mai Night Bazar are also favorite places for tourists where fake brand-name items are popular.
"Officers have raided shops near Patong Beach on December 14. Officers seized counterfeit goods and arrested suspects yesterday as well."
Read more the recent counterfeit sting in Patong HERE.
"Two wanted suspects have now been arrested. 240 million baht of assets have been seized from the raids."