Phuket
Gov vows to maintain Phuket beach rules, despite protests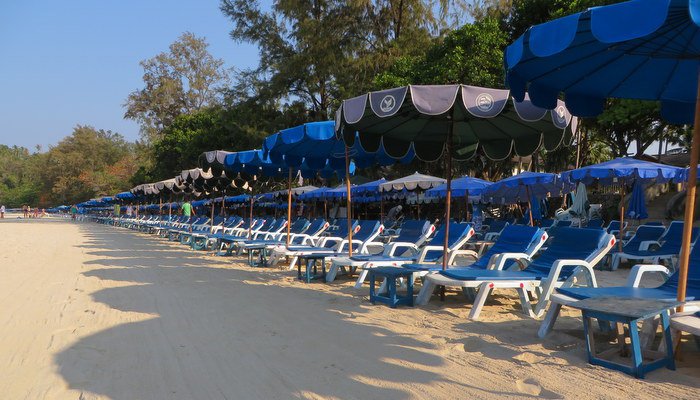 PHUKET: Governor Nisit Jansomwong vowed today to keep the Phuket beach-management system in place, despite beach vendors overstepping the provincial government and filing a complaint in Bangkok.
About 150 beach vendors arrived at the Prime Minister's Office in Bangkok on March 3 and submitted a letter of complaint to be given to Prime Minister Gen Prayut Chan-o-cha, alleging that the governor was creating rules to help only a select few business operators, as well as not looking after the best interests of the province (story here).
The new rules set in place allow vendors to operate limited services in designated areas that comprise no more than 10 per cent of any given Phuket beach.
"The vendors have the right to file the complaint. However, the 10 per cent rule will not change," Gov Nisit told the Phuket Gazette this morning. "We cannot let the chairs back on the beaches and occupy them like they once did. We have come this far, we can not start to relax and allow the vendors to return to their old ways."
The provincial policy on beach management is based on balancing the needs of all stakeholders in the island's beach businesses, Gov Nisit explained.
"We listened to all parties before announcing the 10-per-cent rule," he said. "I want to make Phuket beaches beautiful and clean."
Gov Nisit pointed out that following the beach cleanup last year, nothing was allowed back on the beaches.
"Now we are combining the need of vendors to support their families with the need to keep our beaches uncluttered and beautiful," Gov Nisit said. "However, the vendors can't have everything they want – some people don't want umbrellas and chairs all over the beaches."
Gov Nisit is confident that the beach management plan will succeed in creating a fair middle ground for everyone involved.
"Many tourists have told me that they are fine with following the rules, as long as they are clear. We cannot compare Phuket with other places. We have our own rules, and we must live together and follow them," he said.
— Chutharat Plerin