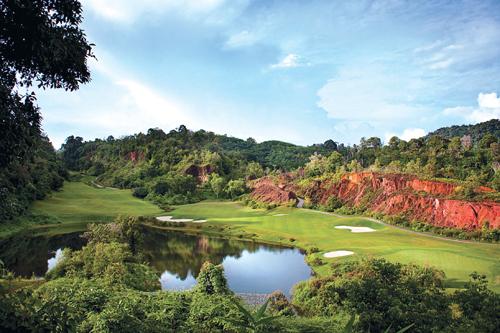 PHUKET: Golf is a sport that has surrounded Michael Brasier all his life. His father, Brett, is a PGA professional and growing up, Michael would watch him teach golf at various clubs around the world, including the Vines in Australia.
It was only natural that Michael would follow his father into the sport: playing on the PGA tour, teaching golf and managing golf courses.
The Phuket Gazette spoke to Michael recently at the Red Mountain Golf Club, where he now works as the sales and marketing manager/head PGA professional.
Phuket Gazette: Why choose to move into golf as a career?
Michael Brasier: Initially, I didn't. I was playing tournaments once I turned professional, trying to earn a living that way and it wasn't easy. You really have to be able to shoot a 69 with your eyes closed and that should really be a bad day.
After about two years of trying to make it on the tour I turned to teaching. I did a one year teaching course in Lithuania. Then I came back to manage a golf course in Bangkok called Lotus Valley when I was 22. It was an old course that was being redesigned and I was involved during the construction stage, training the staff, which gave me an insight into golf management.
I came to Phuket about five years ago with my father on a golfing holiday. Red Mountain was not officially open at that time, but we were able to play it and that was how I came to know Red Mountain.
What's your proudest accomplishment in golf to date?
About two weeks ago, I was on the third hole at Red Mountain. I had my eight iron, the wind was softly coming in from the east and the ball landed three feet behind the hole and rolled straight in. It was my first hole in one, so I was very happy.

Which is your favorite club in your bag and why?
Probably my five iron. It's normally a very easy 190 or a strong 200 yard shot and I feel very confident with that club. I wish I felt that comfortable with a wedge because I would probably finish a round with a much lower score.

What's a typical day for you and how much does your job change from day-to-day?
Basically, the hospitality business changes. One day I might be on the golf course with the superintendent dealing with problems on the turf such as drainage issues; the next day I could be preparing for a big tournament, sorting out the caddies and arranging the F&B.
In terms of the day-to-day operations, it changes based on the volume of golfers we have. My job as sales and marketing manager is looking for new clients and we tend to target corporate groups from Singapore, Hong Kong, Malaysia and Australia.
What's the hardest part of your job?
Managing staff and keeping everyone happy. It is the most difficult and time consuming part of the job, but it is also the most rewarding if you can do it correctly.
If you could change one aspect or rule about golf what would it be and why?
I would say the ruling on mismarking your score. There have been a few cases where professional golfers have submitted their score cards, and not because they wanted to, but mistakenly wrote an incorrect score and therefore a penalty was given.
I feel that is a bit harsh. With the scoring officials on the course and TV, technology pretty much takes care of scoring now. The aspect of having to physically write down your score should not be binding to your final score.
What's golf's greatest asset?
Integrity. The game definitely has some great traits: respect, being gracious whether you win or lose. But I would say integrity.
If you only had one round of golf to play in your life, which course would you play and why?
St Andrews, just because of the history.
What do you enjoy doing outside of golf?
I love wake boarding. I love being out on the water on a boat or surfing.

How would you classify your golf teaching style?
A lot of professionals try to correct the mistakes of their students straight away and try to make them look like Tiger Woods, with the help of a video camera and computer. That's definitely not my style. No one's swing as an amateur is going to be perfect. Build on their strengths and try to minimize their faults.
If you look at some golfers, Jim Furyk for example, does not have a picture perfect swing, but he can still hit the ball and have a great round of golf. Drills and exercises are a good way to see the motion a persons swing takes. Muscle memory and putting the student into a certain position and trying to get them to feel the movement also helps.
What's your favorite hole at Red Mountain? Why?
Hole 17, which is Red Mountain's signature hole. It's about 150 yards and has a 150- foot elevation from green to tee box. Golfers hit down the valley to the green and it's quite spectacular.
Why choose to work in Phuket and at Red Mountain?
Why Not? I feel very privileged to have been here since the beginning of Red Mountain. Phuket itself is a great place to live: great beaches, great people, the traffic is getting worse but it's not nearly as bad as Bangkok. The air quality is great.
Who's your favorite golfer at the moment and why?
Rory McIlroy. His swing looks unbeatable. It's the Tiger-Rory rivalry which everyone is talking about.
I personally feel that Tiger still has a lot of great golf left and we will see that sooner or later but Rory is up for the fight and he won't roll over.
Who's your favorite all time golfer and why?
My father Brett Brasier. He taught me everything I know about golf so it would have to be him.

What do you hope for the future of Red Mountain?
Building on the brand. It's been very successful since 2008. More golfers come every year.
The next step is to build on that and maybe improve our current hotel facilities. We are adding on a swimming pool, fitness center and bar to create more of a resort feeling, along with developing residential properties which has been something that we have put on hold.
Over the last two years, we have added an on-course hotel. It's a 47-room hotel located on the first hole at Loch Palm. We are pushing to market it as Phuket's best golfing hotel.
https://www.redmountainphuket.com/
— Andrew Scott

Join the conversation and have your say on Thailand news published on The Thaiger.
Thaiger Talk is our new Thaiger Community where you can join the discussion on everything happening in Thailand right now.
Please note that articles are not posted to the forum instantly and can take up to 20 min before being visible. Click for more information and the Thaiger Talk Guidelines.