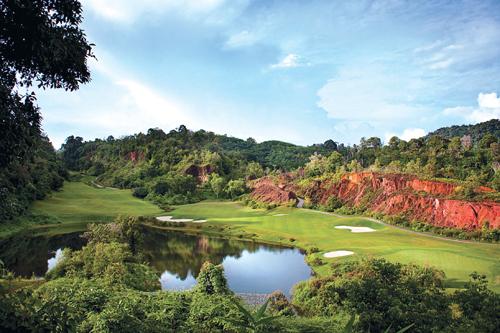 PHUKET: Golf is a sport that has surrounded Michael Brasier all his life. His father, Brett, is a PGA professional and growing up, Michael would watch him teach golf at various clubs around the world, including the Vines in Australia.
It was only natural that Michael would follow his father into the sport: playing on the PGA tour, teaching golf and managing golf courses.
The Phuket Gazette spoke to Michael recently at the Red Mountain Golf Club, where he now works as the sales and marketing manager/head PGA professional.
Phuket Gazette: Why choose to move into golf as a career?
Michael Brasier: Initially, I didn't. I was playing tournaments once I turned professional, trying to earn a living that way and it wasn't easy. You really have to be able to shoot a 69 with your eyes closed and that should really be a bad day.
After about two years of trying to make it on the tour I turned to teaching. I did a one year teaching course in Lithuania. Then I came back to manage a golf course in Bangkok called Lotus Valley when I was 22. It was an old course that was being redesigned and I was involved during the construction stage, training the staff, which gave me an insight into golf management.
I came to Phuket about five years ago with my father on a golfing holiday. Red Mountain was not officially open at that time, but we were able to play it and that was how I came to know Red Mountain.
What's your proudest accomplishment in golf to date?
About two weeks ago, I was on the third hole at Red Mountain. I had my eight iron, the wind was softly coming in from the east and the ball landed three feet behind the hole and rolled straight in. It was my first hole in one, so I was very happy.

Which is your favorite club in your bag and why?
Probably my five iron. It's normally a very easy 190 or a strong 200 yard shot and I feel very confident with that club. I wish I felt that comfortable with a wedge because I would probably finish a round with a much lower score.

What's a typical day for you and how much does your job change from day-to-day?
Basically, the hospitality business changes. One day I might be on the golf course with the superintendent dealing with problems on the turf such as drainage issues; the next day I could be preparing for a big tournament, sorting out the caddies and arranging the F&B.
In terms of the day-to-day operations, it changes based on the volume of golfers we have. My job as sales and marketing manager is looking for new clients and we tend to target corporate groups from Singapore, Hong Kong, Malaysia and Australia.
What's the hardest part of your job?
Managing staff and keeping everyone happy. It is the most difficult and time consuming part of the job, but it is also the most rewarding if you can do it correctly.
If you could change one aspect or rule about golf what would it be and why?
I would say the ruling on mismarking your score. There have been a few cases where professional golfers have submitted their score cards, and not because they wanted to, but mistakenly wrote an incorrect score and therefore a penalty was given.
I feel that is a bit harsh. With the scoring officials on the course and TV, technology pretty much takes care of scoring now. The aspect of having to physically write down your score should not be binding to your final score.
What's golf's greatest asset?
Integrity. The game definitely has some great traits: respect, being gracious whether you win or lose. But I would say integrity.
If you only had one round of golf to play in your life, which course would you play and why?
St Andrews, just because of the history.
What do you enjoy doing outside of golf?
I love wake boarding. I love being out on the water on a boat or surfing.

How would you classify your golf teaching style?
A lot of professionals try to correct the mistakes of their students straight away and try to make them look like Tiger Woods, with the help of a video camera and computer. That's definitely not my style. No one's swing as an amateur is going to be perfect. Build on their strengths and try to minimize their faults.
If you look at some golfers, Jim Furyk for example, does not have a picture perfect swing, but he can still hit the ball and have a great round of golf. Drills and exercises are a good way to see the motion a persons swing takes. Muscle memory and putting the student into a certain position and trying to get them to feel the movement also helps.
What's your favorite hole at Red Mountain? Why?
Hole 17, which is Red Mountain's signature hole. It's about 150 yards and has a 150- foot elevation from green to tee box. Golfers hit down the valley to the green and it's quite spectacular.
Why choose to work in Phuket and at Red Mountain?
Why Not? I feel very privileged to have been here since the beginning of Red Mountain. Phuket itself is a great place to live: great beaches, great people, the traffic is getting worse but it's not nearly as bad as Bangkok. The air quality is great.
Who's your favorite golfer at the moment and why?
Rory McIlroy. His swing looks unbeatable. It's the Tiger-Rory rivalry which everyone is talking about.
I personally feel that Tiger still has a lot of great golf left and we will see that sooner or later but Rory is up for the fight and he won't roll over.
Who's your favorite all time golfer and why?
My father Brett Brasier. He taught me everything I know about golf so it would have to be him.

What do you hope for the future of Red Mountain?
Building on the brand. It's been very successful since 2008. More golfers come every year.
The next step is to build on that and maybe improve our current hotel facilities. We are adding on a swimming pool, fitness center and bar to create more of a resort feeling, along with developing residential properties which has been something that we have put on hold.
Over the last two years, we have added an on-course hotel. It's a 47-room hotel located on the first hole at Loch Palm. We are pushing to market it as Phuket's best golfing hotel.
https://www.redmountainphuket.com/
— Andrew Scott
Keep in contact with The Thaiger by following our Facebook page.
Never miss out on future posts by following The Thaiger.
Phuket holds vaccine administration rehearsal as it waits for green light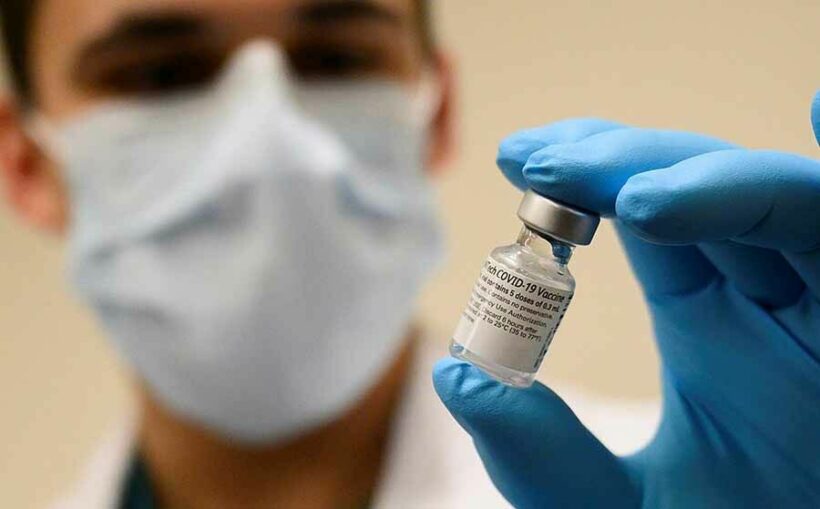 Phuket is rehearsing procedures to ready themselves for the Covid‐19 vaccine administration green light. A rehearsal at Vachira Hospital's Lan Muang Khao open area was held late yesterday to iron out any kinks in the administration process. Phuket Vice Governor Pichet Panapong watched over the procedures along with other health officials.
Pichet says the first vaccine round of 4,000 doses should arrive early in March, with the 2nd and 3rd set of doses, 16,000 and 48,000 respectively, to arrive in April and May.
"The government recognises the importance of the affected areas of the economy where the epidemic situation of COVID-19 must be stopped and has allocated the COVID-19 vaccine to Phuket Province to build herd immunity, restore the economy, return a smile to Thailand."
"We are preparing to COVID-19 mass vaccination to build confidence among the people that they will receive a quality, safe vaccine and to receive follow-up care after it has been administered."
Pichet says Phuket's first target groups to receive the vaccine include medical and public health personnel, with others on the frontlines to come next.
Then, workers aged 18-59 years old, people with underlying diseases including chronic respiratory disease, cardiovascular disease, chronic kidney disease, cerebrovascular disease, cancer, diabetes and obesity will follow.
"People with severe neurological conditions and pregnant women should be wary of taking the vaccine, as well as women who are breastfeeding and people with immunodeficiency."
The procedure to get vaccinated starts by recipients undergoing screening by having their temperatures taken, and then sanitising their hands before entering the administration area. Then, they will move their way through a series of steps, detailed below:
Step 1: Register
Step 2: Record weight and blood pressure
Step 3: Pass the screening process by have their medical history and risk assessment recorded and then signing a consent to receive the vaccine
Step 4: Wait for vaccination
Step 5: Vaccination
Step 6: Rest for 30 minutes, while being observed for symptoms. Then scan the official Line account "หมอพร้อม" ("Doctor Ready")
Step 7: Pass a final check before receiving a document confirming vaccination
Pichet says health workers will follow up with vaccine recipients after 1,7, and 30 days from being vaccinated to monitor any adverse reactions.
Those who are set to receive their second jab will have appointments made for them. Those who receive the Sinovac vaccine will be scheduled to have their second doses 2 to 4 weeks after the first. AstraZeneca vaccine receivers will be scheduled for their second doses 10 to 12 weeks after the first.
SOURCE: The Phuket News
Keep in contact with The Thaiger by following our Facebook page.
Never miss out on future posts by following The Thaiger.
Phuket police officer charged with attempted murder for shooting and critically injuring a noodle vendor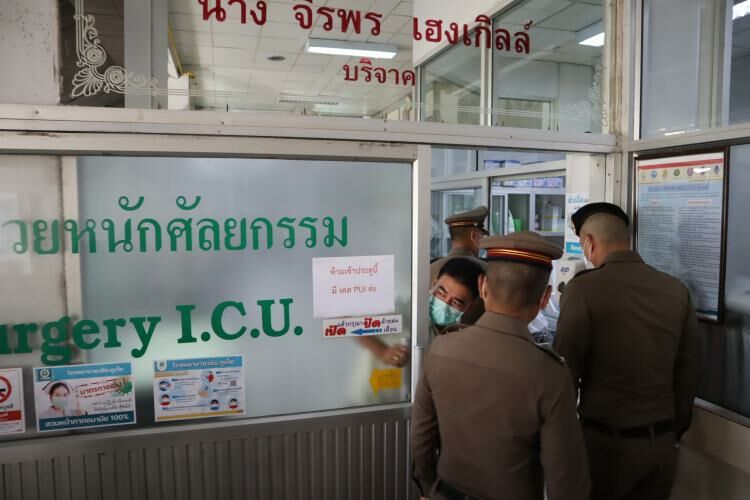 The drunk, off-duty police officer in Phuket who has caught on camera shooting and beating a noodle vendor on Bangla Road is now facing attempted murder charges as well as charges of carrying a firearm in public without a necessary reason and firing a weapon in a public area. The commander of the Phuket police station said he ordered investigators to prosecute the officer Pornthep Channarong with every criminal charge that can be applied.
The officer had gotten into an altercation just before dawn yesterday and shot a young vendor who was walking by. Surveillance camera footage show the 25 year old suddenly falling to the ground after being shot. The officer walks up and shoots the vendor at a close range, but it appears the second shot did not hit the vendor. The officer also slapped the vendor in the face, picked him up and shoved him over, and then kicked him as he lay on the ground.
The vendor has a 4 year old daughter and 3 month old son. His wife says normally he works as a motorbike driver, but he was helping his mother selling noodles. He was shot while he was walking back from collecting a noodle bowl, she says. The vendor is in critical condition and being cared for at Vachira Phuket Hospital's intensive care unit. He's in need of Type B blood.
"For his condition, the doctor told me that the bullet went through his lung. He lost a lot of blood. We need a lot of Type B blood for him."
A disciplinary investigation into the incident was launched by police and Pornthep was officially dismissed from the Royal Thai Police force. Region 8 Police Commander Kitrat Panpetch says the incident does not reflect the police force in Phuket.
"The incident was caused by an officer who did something wrong that our organisation does not want. We are a big organisation with more than 200,000 officers under our control. Our officers are not all bad like this."
Phuket Provincial Police Commander Pornsak Nuannu says he has reminded the police chiefs across the island to discuss reasons for carrying firearms in public.
"Carrying firearms is to prevent any type of crime that may happen, not to commit a crime by themselves like this incident. If I see any police doing such a thing, I will decisively proceed in terms of both officer discipline and criminal charges."
SOURCE: Phuket News
Keep in contact with The Thaiger by following our Facebook page.
Never miss out on future posts by following The Thaiger.
Thai Vietjet resumes Phuket-Chiang Rai flights, launches promotion on air fare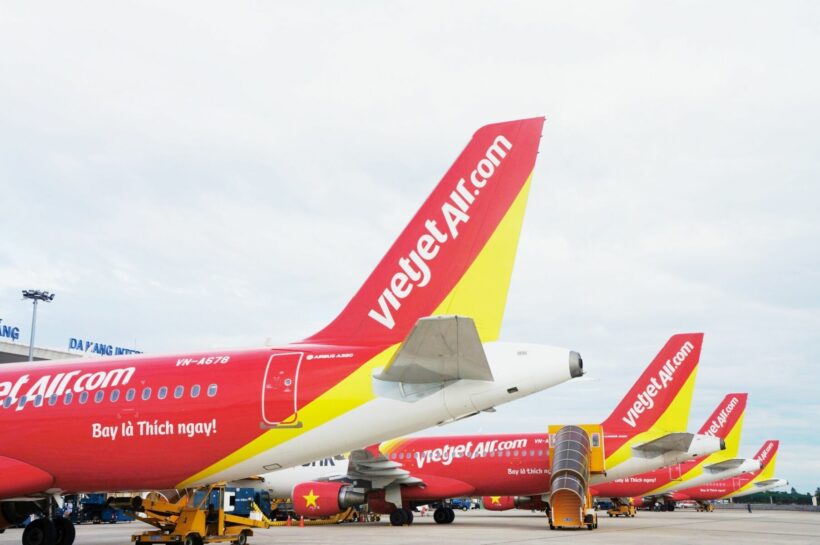 The following is a press release from Thai Vietjet on its new promotion "Welcome Back to the Sky" and the resumption of Phuket-Chiang Rai flights.
Thai Vietjet today announced the flight resumption of its domestic cross-regional service between Phuket – Chiang Rai, in response to the increasing travel demand after the government began relaxing travel measures in each province. The airline will resume the service for four (04) round-trip flights a week on Monday, Wednesday, Friday and Sunday, with the flight duration around 2 hours and 5 minutes, starting from 26 February 2021 onwards. The flight details are as follows:
| | | | | | |
| --- | --- | --- | --- | --- | --- |
| Flight No. | Departure from Phuket | Arrival at Chiang Rai | Flight No. | Departure from Chiang Rai | Arrival in Phuket |
| VZ400 | 8:15am | 10:20am | VZ401 | 10:50am | 12:55pm |
In addition, the airline also announced the resumption of other domestic cross-regional services including the flight between Hat Yai – Chiang Rai and Chiang Mai – Nakhon Si Thammarat from 19 March 2021 onwards.
Following the service resumption announcement, the airline launched special promotion "Welcome Back to the Sky", offering special fares from just THB 99 (not inclusive of taxes, fees, surcharges, and add-ons) for Thai Vietjet's flights between Phuket – Chiang Rai and the flights to/from Bangkok (Suvarnabhumi). The special fares are available for booking from 24 – 28 February 2021, with travel period between 8 March – 30 June 2021 on SkyFUN.vietjetair.com
As the COVID-19 situation is under control, Thai Vietjet has been adding flight frequency in line with the increasing demand for travel. The airline has also recently introduced its new product on SkyFUN, the 'TRIP EASY PLUS' – travel insurance with coverage of COVID-19 starting from THB 180, which provides further convenience and travel confidence to passengers to travel with the highest level of safety during the pandemic. For more information, please visit https://skyfun.vietjetair.com/insurance.
The promotional fares are available on SkyFUN.vietjetair.com, applied to Thai Vietjet's domestic flights in Thailand from Bangkok (Suvarnabhumi) to Chiang Mai, Chiang Rai, Phuket, Krabi, Udon Thani, Hat Yai , Khon Kaen, Nakhon Si Thammarat, Ubon Ratchathani and the domestic cross-regional flight Phuket – Chiang Rai. The tickets are also available on all other distribution channels including www.vietjetair.com, mobile app "Vietjet Air", via Facebook at facebook.com/VietJetThailand by clicking "Booking" tab, as well as travel agencies and booking offices. Payment can be easily made with 'True Money Wallet' and international debit/credit cards.
Thai Vietjet is committed to providing on time scheduled flights with the highest safety complied with the standards and regulations of the relevant authorities. Thai Vietjet was named the fastest growing low-cost airline in Thailand 2020 by The Global Business Outlook Award. The airline also owns one of the world's newest and most modern fleet with an average age of only 2.7 years and was awarded the highest ranking for safety with 7 stars by the world's only safety and product rating website airlineratings.com. The carrier has been strictly performing aircraft disinfection dailythroughout its fleet in compliance with Thai Ministry of Public Health.
Keep in contact with The Thaiger by following our Facebook page.
Never miss out on future posts by following The Thaiger.