Phuket
Fluky Phuket winds test sailors in ACYC Race 6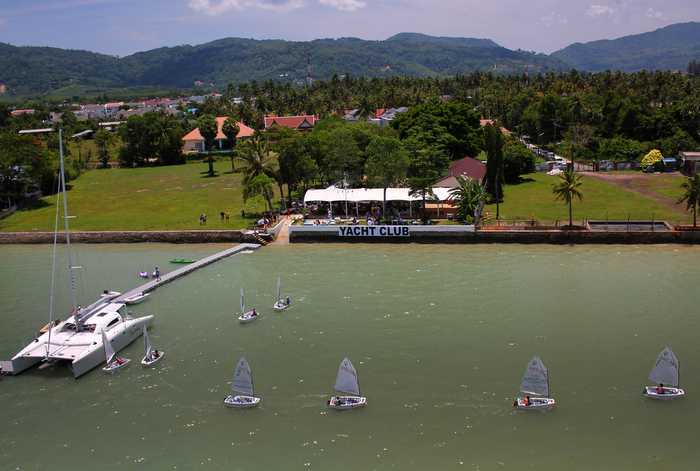 PHUKET: Splendid weather greeted sailors yesterday, but as glorious as the day was, there was little wind for Ao Chalong Yacht Club's Race 6, Series 2. A slow downwind start with a four-knot tailwind got the boats on their way, popping spinnakers as they crossed the start line.
Fluky winds tested the group as they sailed around Koh Lon and onwards toward Koh Bon for a portside rounding. Hurricane and Adrenaline were doing their usual battle, while Galeforce and Nina had their own competition for 3rd place on the water.
Wind shifts continued to test the fleet and some found themselves virtually parked with back runners closed-in, the breeze filling in from behind or spinnakers flying. Galeforce nearly ran down Adrenaline from behind until she joined the group parking herself.
Nina was not affected by that particular wind shadow due to a smart decision by skipper Grenville Fordham to favor the other side of the bay and ignore the effects of the outgoing tide. This paid dividends with a sixty-degree run toward the finish line under spinnaker, sometimes sailing at eight knots boat speed, which was somewhat of an achievement considering the conditions.
In the monohull division, Sansiri, after a late start, exchanged positions with Aqua a number of times around the course. However, both suffered from the light winds and were not able to complete the full course.
In the ever-changing conditions, no one was guaranteed a position on the podium. Light winds, wind shifts, tidal flow and a big slice of luck played their parts – especially the latter.
The final "lottery" results saw Galeforce slip into 1st with a 10-second gap to Nina in 2nd place after handicaps were applied, with a more substantial gap to 3rd placed Hurricane. In the monohull divisions, skippers on Sansiri and Aqua had a phone conference to discuss finishing early, observed and confirmed by the clubs regular race officer Chandren.
If anyone is interested in trying their hand on one of the boats racing, meet at Ao Chalong Yacht Club at 10:30am for the briefing for race seven on the October 26 and meet the skippers. The club has a special interest in more dinghy sailing, as well as training children in the sport. For non-sailors who are interested in giving it a try, it's worth it just for the views on the way around the course. As usual, the club's restaurant will be in full swing with the usual Sunday Roast special on the menu (more info here).
— Bob Mott