Dutch ambassador guides reform
PHUKET: Speaking at the PhuketGazette offices recently, Ambassador Boer explained about his efforts to galvanize the international diplomatic community to jointly deliberate with authorities in Bangkok to bring an end to the various scams that have done so much damage to the tourism industry in Phuket and other destinations in Thailand.
Amb Boer, now in the second year of a four-year posting in Thailand, told the Gazette that it was not long after his arrival in Thailand that he began receiving complaints from Dutch tourists in Phuket.
"I first came here one and a half years ago to discuss with then Gov Tri Augkaradacha the future of tourism, the social climate for [expat] residents, et cetera. That was after a couple of incidents of scamming… people who rented jet-skis and then got back and were [unjustly] charged for damages, or people who rented a motorbike and left it at their hotel and then found it gone. But even more seriously, we also had a couple of incidents where people were beaten with iron bars [following disputes over] just 200 or 300 baht. That's when it really gets nasty," he said.
He asked Gov Tri in September 2010 what he was doing on these issues and asked him what he could do as an ambassador to support his efforts.
"The Governor said, 'You know I am here as Governor under circumstances that are too strong for me. I need support from central authorities in Bangkok. Can you help me?'"
"When you get a question like that, then it is on your shoulders. I can't tell my taxpayers that… 'it is his problem, not my problem'."
Amb Boer took it upon himself to try to initiate such change.
"At that point I began coordinating with ambassadors from ten different countries that were experiencing similar problems. We made an overview of the issues and agreed that we wanted this both to be a multilateral effort and not just pointing the finger at the Thai authorities."
Since that time, Amb Boer and his fellow diplomats have held three high-level meetings with Ministry of Tourism and Sports officials and other authorities in Bangkok.
The Ministry recently issued a number of conclusions based on various concerns the diplomats had presented them with.
One of the important conclusions is that jet-ski and motorbike rental operators would henceforth face prosecution if caught in possession of a foreigner's passport.
Operators have long demanded that tourists hand over passports as surety when renting out vehicles. In the future, the operators would have to accept a copy of the renter's passport, because the document is the property of the issuing country, he explained.
Asked about the likelihood of enforcement, Amb Boer said the group of countries would carefully monitor events on the ground in tourist destinations like Pattaya, Hua Hin – and especially Phuket.
While the scamming phenomena in Pattaya rivals that of Phuket, "intransparencies" in the transport sector in Phuket make public transport here the most expensive in Thailand – and a common cause of conflict between drivers and visiting tourists, he said.
"Labor costs are the same here as in Bangkok, as are petrol and vehicle purchase costs, so I don't know why taxi costs have to be three times as much here. We have to look at the system behind it, why one has to bargain so hard for each meter – and why if you don't reach an agreement, people can get very aggressive. I can't accept people from my country getting beaten up over 200 baht, and if I were to accept it my government should withdraw me from the post," he said.
Amb Boer said high-profile cases like rapes and murders tended to be resolved in a few days. However, the sheer volume of less-publicized cases of scamming and price-gouging in the transport sector, and the authority's inability to deal with them satisfactorily, indicated these problems were systemic.
Only about two per cent of Dutch tourists return from Thailand dissatisfied with their experiences here, but he stressed that in the "brave new age" of social media just one of these people could do immense harm to a country's tourism image.
In terms of the way information is propagated, he said the emergence of the social media was as revolutionary a change as the invention by Gutenberg of the printing press in the early stages of the Renaissance.
"One person with a PC or a blog can seriously affect a destination's reputation. Like it or not, I now have a case on my hands with over 500,000 YouTube hits [The Evil Man From Krabi video]. That's new to me; I have not been trained for it, but it's the new world we have to face. I understand the [alleged victim's] father. I also understand some of the concerns elsewhere. I do not want to mingle in the justice process, but I do want a justice system that is transparent and can be explained," he said.
Amb Boer stressed that the alleged rape that inspired the video was an isolated case and that he still encouraged Dutch people to holiday in the Kingdom.
Many Dutch tourists who get into trouble here do so because they are naive and fail to heed the many warnings about scamming and other potential problems that are clearly stated on the foreign ministry's website, he conceded.
"I don't know how it happens. As soon as they get off the plane… they seem to lose some of their normal reflexes. I have been out with the Tourist Police in Patong and seen a lot of behavior of the kind that invites scamming. So it's a double-edged sword and we have a role in educating our own people," he said.
Among the irresponsible behavior displayed by about 30 per cent of Dutch tourists is failing to get travel insurance before traveling to the Kingdom, even though packages are available for the equivalent of about 80 baht per day. Advertisements for such even pop up on their computer screens when they are researching trips, he noted.
"Thirty per cent uninsured is irresponsible behavior. That's what I tell my tourists: 'You are irresponsible if you go without insurance for the cost of a beer'," he said.
The jet-ski insurance program was a "good start", but it has also revealed a good deal of "creativity" on the part of renters, who now demand compensation of two days for a jet-ski being out of service following an "accident". This compensation is not covered under the current insurance package, but should be in the future, he said.
"Regulators are always one train late. I understand that we are not ahead of the scammers, but we should be closely behind them, not off over the horizon," he said.
He described his work as the "start of a process", one that acknowledges a set of facts and figures that weren't available a year ago.
"So we can now enter into a conversation where, on both sides of the line, we take our responsibilities and try to move forward. Again, I am not a player in this process in the sense that I am not at the wheel or in a position to change the tourism industry in Thailand. Together with colleagues I am trying to set things in motion.
"If people don't feel secure there is no progress. In the tourism sector, the sense of security is extremely important, because if people do not feel safe they will not return to a destination," he said.
Keep in contact with The Thaiger by following our Facebook page.
Never miss out on future posts by following The Thaiger.
Police say Phuket school won't be charged for employing foreign teachers without a work permit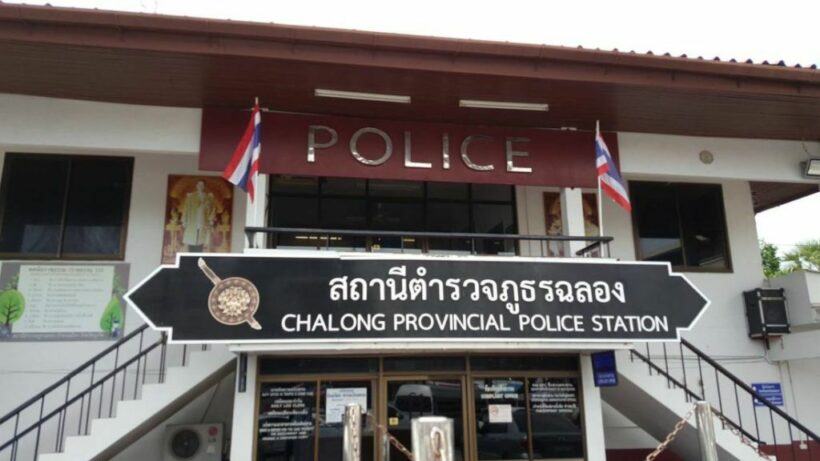 An international school in Phuket is not facing charges for employing foreign teachers without a work permit, police told the Phuket News. Back in November, 2 British nationals were arrested at the Palm House International School in Rawai in a raid by Phuket Immigration officers, acting on a tip that teachers were working at the school without a work permit.
The case was handed over to the Chalong Police. The department was also requested to investigate the school for suspected illegal hiring practices. When pressed by Phuket News reporters, the Chalong Police Chief Sarawut Chuprasit said the school officials are not facing any charges for employing the teachers illegally, without a work permit, and referred reporters to the provincial prosecutor.
"I have no reason to press any charge against the school at all. It is not right to accuse the school."
Many schools in Thailand, especially international schools, obtain work permits for foreign teachers and even pay the fees. It's also fairly common for foreign teachers to work without the proper documents, especially during the pandemic where travel restrictions make border runs nearly impossible.
Phuket News say police will not release the names of the 2 British teachers and will not give any additional information. They add that the provincial prosecutor's office will also not release information without a police case number or suspects' names. In a previous report, Phuket Immigration Deputy Chief also declined to identify the British nationals by name or age.
"Their visa status does not allow them to work or perform any form of business. They were arrested as they are suspected of working without a work permit."
SOURCE: Phuket News
Catch up with the latest daily "Thailand News Today" here on The Thaiger.
Keep in contact with The Thaiger by following our Facebook page.
Never miss out on future posts by following The Thaiger.
Phuket health chief urges "red zone" travellers to abide by quarantine measures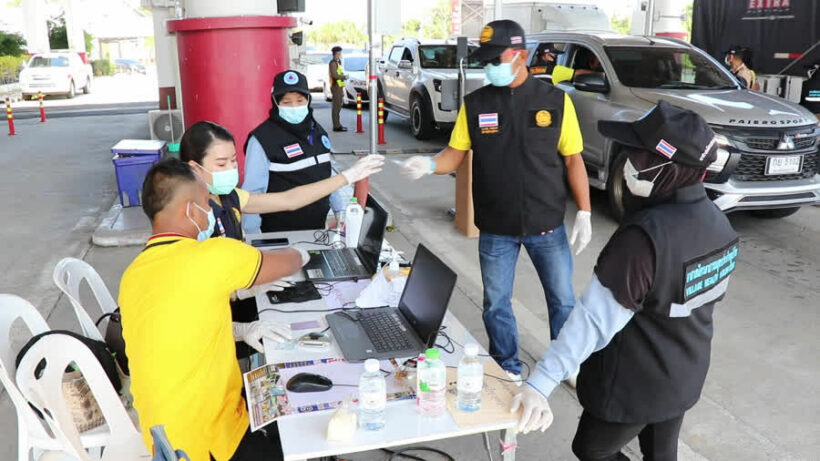 With Phuket's new disease control measures requiring those travelling from high risk areas to quarantine, the province's public health chief is now saying those at alternative state quarantine hotels won't be locked up in their rooms throughout their 14 day stay in isolation. He says guests can wander through certain areas of the hotel to have meals and do other activities.
Those travelling from "red zone" provinces are required to self-quarantine at a hotel or at their home for 14 days. People from areas classified as the "highest risk," including Samut Sakhon, Chonburi, Rayong, Chanthaburi and Trat, must quarantine and undergo a Covid-19 swab test.
The public health chief Thanit Sermkaew says there will be harsh penalties for anyone who violates the new measures and urges travellers to stay at their quarantine location, home or hotel, for 14 days. People who violate the order can be punished under the Disease Control Act, either under Section 51, which carries a fine up to 20,000 baht, or under Section 52, which carries up to a year in jail and a fine up to 100,000 baht.
"It would be great if visitors from the 'red zone' areas stay in their hotels, so we are asking for their cooperation. They do not need to stay only in their room. They are able to do activities within the hotel, such as having meals, swimming, yoga and other activities… Please do not go outside the hotel. That would be a good preventative measure in Phuket province."
Phuket Vice Governor Pichet Panaphong says hotels should "request" that their guests stay inside the hotel.
"Phuket officials have asked for the cooperation from operators to record the travel moments of guests before they arrived at the hotel and to request that their guests stay within the hotel area only, not to go outside of the hotel area."
People who completed quarantine in Bangkok and tested negative for Covid-19 do not need to quarantine in Phuket as long as they travel directly to the island immediately after being released.
SOURCE: Phuket News
Keep in contact with The Thaiger by following our Facebook page.
Never miss out on future posts by following The Thaiger.
Screening measures to enter Phuket, travellers from "red zone" provinces to self-quarantine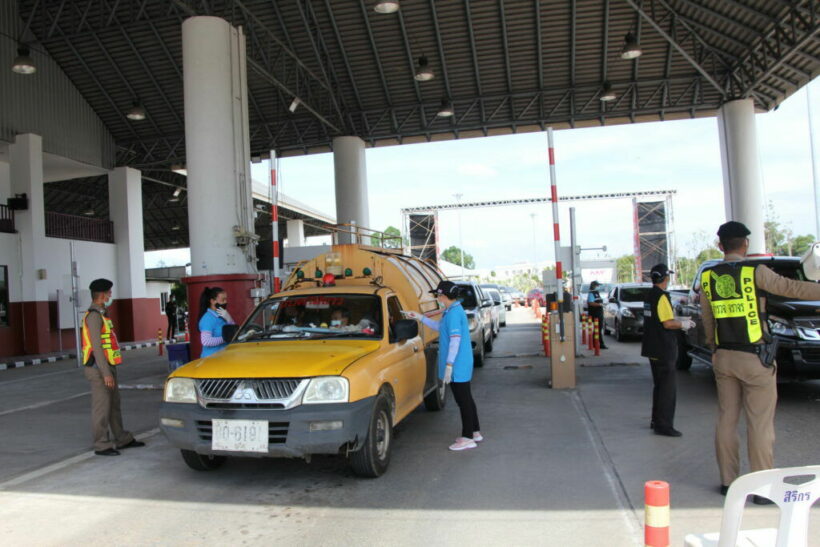 Phuket authorities have announced screening measures for those entering the island province, which includes requiring those travelling from 20 "red zone" provinces to self-quarantine for 14 days. Those travelling from "hotspot" and "high risk" areas are required to do a swab test. While measures were put into effect over the weekend, some people say nothing has changed.
The "required" self-quarantine, which is apparently monitored by the Mor Chana tracking app, might be more of a guideline than a requirement. Arrivees on flights from Bangkok to Phuket Sunday morning, just 24 hours after the new screening measures were imposed, were not required to self-quarantine.
The minimum required for all individuals travelling to Phuket is to 1) download the "Mor Chana" app on their smartphones and display them when the officer calls for inspection, and 2) register online through the website www.gophuget.com to inform officials of the travel details to Phuket.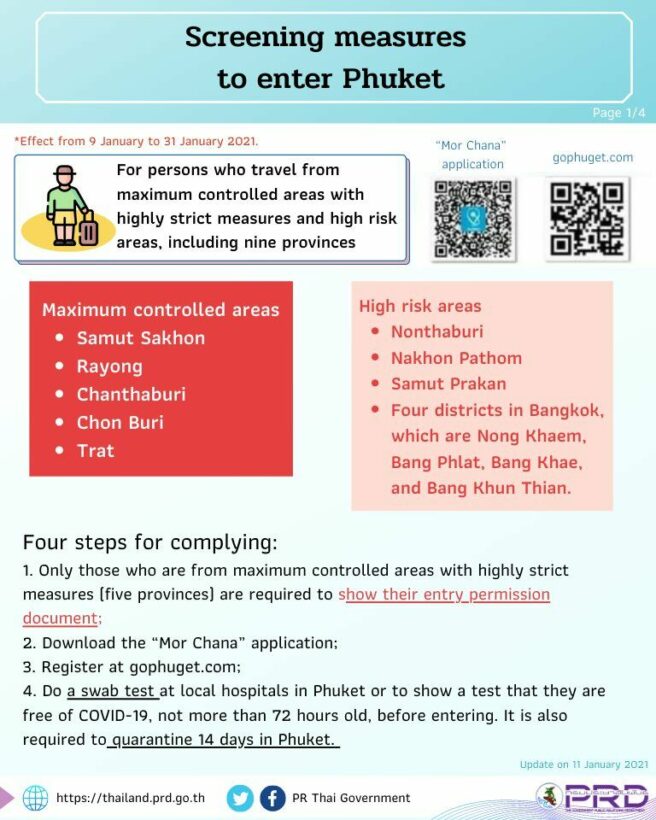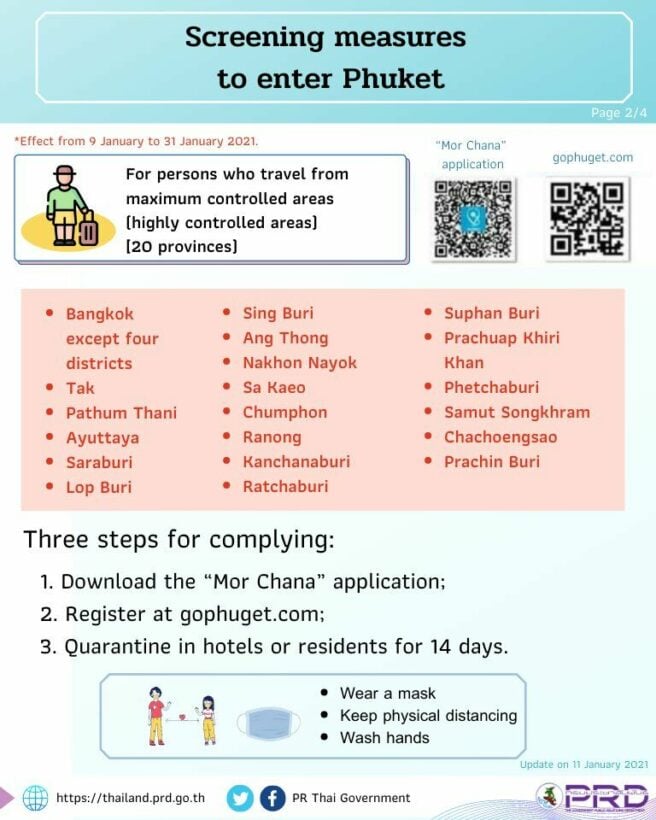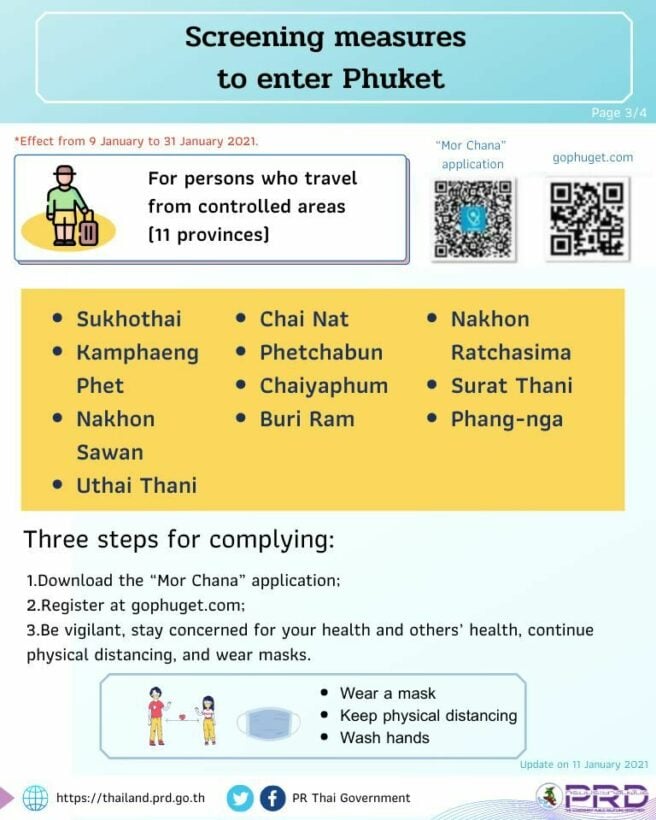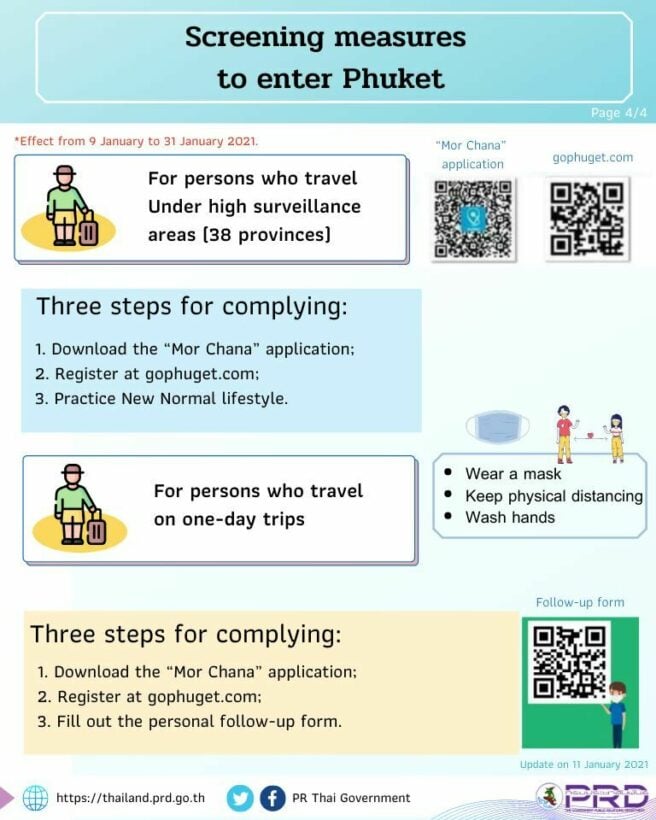 Catch up with the latest daily "Thailand News Today" here on The Thaiger.
Keep in contact with The Thaiger by following our Facebook page.
Never miss out on future posts by following The Thaiger.