Donations sought for Phuket road project completion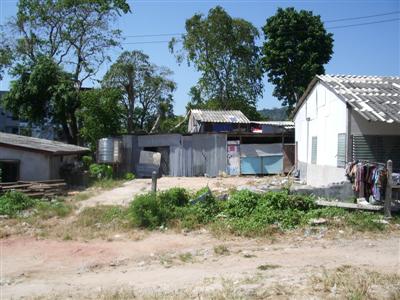 PHUKET TOWN: Wichit Municipality is seeking donations to help build a new house for a family of squatters who are holding up completion of a new road running behind Darasamuth School.
Wichit Mayor Kreetar Saetan told the Gazette the municipality currently lacks the funds to build a new home for Chamnan Rungklin and his family, even though they already have a nearby plot of land earmarked for the project.
When he settled in the area over 20 years ago, Mr Chamnan signed a contract with Muang District Office agreeing to vacate the land without complaint if it were ever needed for the public good.
But now that the time has come, he and his family have no place to go and their continued presence near the school's back parking lot is holding up completion of a 550-meter road that would allow direct access to the school from the bypass road.
Mayor Kreetar said Wichit Municipality is now accepting donations to help to build a new home for the family.
"We have requested a budget, but the approval process will take time and we would like to begin work right away. We would appreciate donations of concrete blocks and other building materials so we can get started," he said.
The new house would be built on another plot of Wichit Municipality land just 20 meters away from the existing home. This would allow the family to remain in the same neighborhood, which is located off Ekwahnit Rd behind Surakul Stadium.
"The municipality found a site in the same area that is currently being used as a tool shed and storage area. The owner just stores his things there and doesn't live in the area, so we negotiated with him to move his things out," Mayor Kreetar said.
Kumron Lilern, a civil engineer with the Wichit Municipality construction division, said the town plans to build two small houses for the family on the 100-square-meter plot at a cost of about 200,000 baht. Each will comprise one main room and a bathroom, large enough for all five family members, he said.
Mr Chamnan, speaking from Bangkok where he is currently on vacation, told the Gazette he hadn't spoken to municipal officials since December.
"If they can build a new house for me in a way that doesn't create problems with other people, then I will have no problems with it," he said.
"But they should consider that I have a van too and I will need a place to park it," he said.
Anyone wishing to donate money to help fund construction can contact Wichit Municipality at 076-525100.
— Sitthipong Nongkaew


Read more headlines, reports & breaking news in Phuket. Or catch up on your Thailand news.
The 5th Annual Stargazer talent contest returns to CC's Hideaway

This year the winner will receive 35,000 baht in prize money!
CC's Hideaway, located in Kata, proudly presents its fifth 'Stargazer Talent Contest' which will take place on April 27 between 6 pm and 11 pm. 
The goal of Stargazer is to create an opportunity for new individuals and groups to perform and promote their special talents and, with media and hundreds of guests in attendance, maybe even get their big break.
Stargazer is open to the Thai and expat communities alike. In previous years, the contest has attracted contestants from around the world, including Thailand, the US, Russia, Australia, Singapore, the UK, Italy, Canada, Kyrgyzstan and The Philippines.
Stargazer brings together a wide range of singers, bands, dancers, acrobats and actors who are scored by spectators and professional judges.
This year, the winner will receive 35,000 baht and a the Stargazer trophy, second place will receive 20,000 baht and third place will receive 10,000 baht. There is also the 'People's Choice' award, as chosen by the audience.

Past winners include Same Size Crew, Bboys dance team (2015), Khun Maatam Rapter from Chiang Mai who sing's like an lady (2016), Spectrum dance team (2017) and Daisy & Alvin, popular local Phuket performers (2018).
In line with CC's Hideaway commitment to give back to the Thai community, the resort will donate a portion of the revenue generated by Stargazer to the Life Home Project Foundation whose mission is to offer children who are affected or infected with HIV/AIDS a more dignified life, prevent the spread of this disease in Phuket and fight against the stigmatisation of people living with it. 
To apply, email [email protected] with a short biography, a photo and a link to a video of your performance. Contestants must be aged 13 or over.
Entry is free for the first 25 people who come before 7 pm and is 250 baht thereafter, including a drink. Guests and contestants are encouraged to dress in neon colours.
For more details, visit HERE, call 076 333 222 or email [email protected]
https://web.facebook.com/thethaigernews/videos/1688011211276700/
Tim Newton speaks to last year's winners, Daisy and Alvin Tumulak
Legality of Seastead likely to be tested in an international court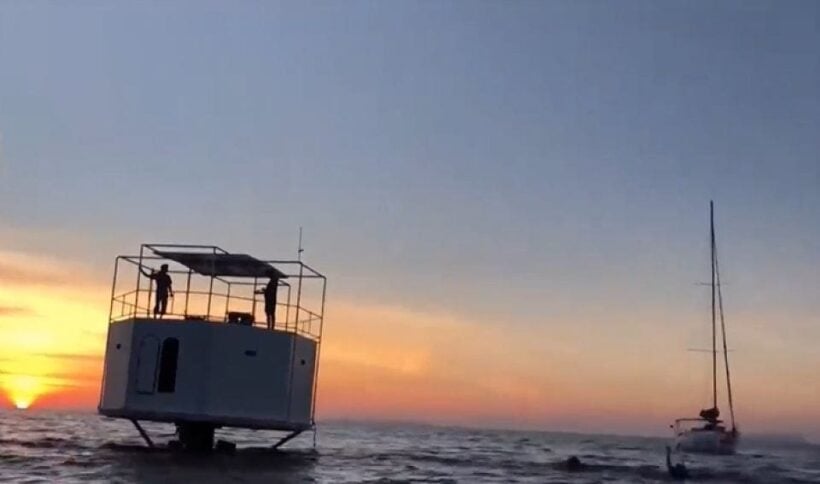 The perceived naiveté of the team surrounding the seastead structure off Phuket's south-east coast are about to be tested as the matter is likely to end up in an international court.
Deputy PM Wissanu Krea-ngam says that the Thai government has the right to demolish the floating sea home and welcomed the threat of a lawsuit by its builder, Ocean Builders. Ocean Builders is a well-funded group backed by Peter Theil.
"Peter Andreas Thiel is an American entrepreneur, venture capitalist, philanthropist, political activist, and author. He is a co-founder of PayPal, Palantir Technologies and Founders Fund."
The media narrative has been of a naive couple who wandered into the offshore lifestyle project and then went into hiding when questions started to be asked and the Navy came knocking at their offshore front door.
At the same time the Thai Government has rolled up its sleeves and showed its angry face claiming that the project was a threat to national sovereignty and security.
Some enthusiast local media included the threat of 'death penalty' in its reportage (covered in the Act relating to treasonous acts against the sovereignty of Thailand)  providing sensational headlines for international tabloids.
Speaking at a press conference at the King Prajadhipok's Institute yesterday, Wissanu said Thai officials could remove the floating structure, which is located to the southeast of Koh Racha Yai, approximately 22 kilometres  from the Thai mainland, because its presence clearly violated Article 119 of Thailand's Criminal Code as threatening the Kingdom's security and sovereignty.
(These claims continue to be made by Thai officials without any explanation or evidence on how the 6 metre aluminium and steel structure threatens the country's security.)
Wissanu says the structure would also be an obstacle to marine navigation as it is located near a sea drilling site.
But the company behind the project, Ocean Builders, has announced it will sue Thailand in an international court if the government removes the seastead. This legal test in a court, predicted by The Thaiger, will force the Thai Government to measure its hard-line position on the seastead in an international court of law.
But Wissanu kept pouring on the local rhetoric yesterday…
"The Thai government would be glad if a lawsuit is filed. We want a lawsuit to be filed so that we will have a chance to explain the truth."
"Attempts have been made to build seasteads in several nations but no government had allowed them and builders were always arrested and legal action taken against them," according to Wissanu.
From the Ocean Builder website…
"We are just beyond 12 nautical miles from shore. Under International law this puts us just outside of the territorial waters of Thailand but within their 200 nautical mile excusive economic zone. This means that we are not subject to Thailand laws other than those that deal with their natural resources (drilling for oil, mining, etc.) and no interfering with their customs (can't act as a way to get goods and people into Thailand to get around their import and visa laws). As well as following the law of the sea which prevents "egrevious acts" such as murder, slave trade, etc."
Phuket seastead will be removed today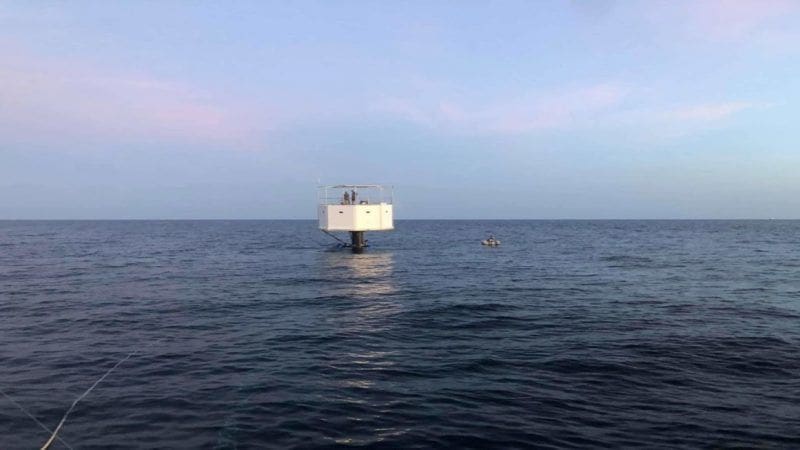 The Third Naval Area Command will remove the seastead stationed off Phuket south-east coast today, belonging to an American bitcoin investor and seasteading innovators Ocean Builders.
Thai authorities plan to seize the structure as evidence in a criminal case. They fear the structure will continue to be a navigation hazard if left there.
US national Chad Elwartowski and his Thai girlfriend, Supranee Thepdet (aka Nadia Summergirl), are facing charges of threatening the Kingdom's sovereignty. Last Sunday officials from the Royal Thai Navy and Phuket Maritime boarded the structure saying it violated Article 119 of the Criminal Code and also posed a navigational hazard.
The couple launched the 'Ocean Builders' seastead on February 2 off the coast of Phuket. The structure is located to the southeast of Koh Racha Yai, approximately 12 nautical miles (22.2 kilometres) from the mainland.
Elwartowski has claimed that his seastead is outside Thailand's territorial waters, but Thai authorities insist that it violates Article 119 and challenges Thailand's territorial rights.
"The Royal Thai Navy has full authority and duty to protect national interest and marine sovereignty in the area," according to a Navy spokesperson.
Regarding the couple's claim that they feared for their lives, Vice Admiral Sitthiporn Maskasem, commander of the Third Naval Area, said that authorities had followed the legal procedures.
"We are neither hunting them down nor threatening them," said the commander.