Call for Phuket Vegetarian Festival "gods' to carry ID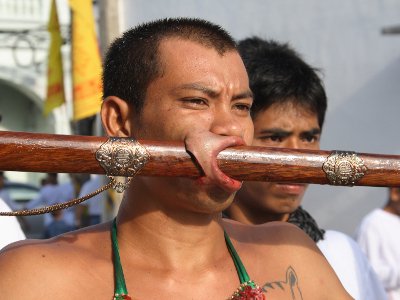 PHUKET: The organizers of the upcoming Phuket Vegetarian Festival are calling for Chinese shrines taking part in the annual rituals to issue identity cards to their spirit mediums.
The move to issue the ID cards to the mediums, called mah song (literally "Horses of the Gods"), is to preserve the integrity of the spirit-medium community and to stop "fakes" from taking part in the festival, Prasert Fakthongphol, president of Phuket Shrine Association, explained yesterday.
"I am the organizing president at Bang Niaw Shrine, where we have issued identity cards for every mah song – a total of 350 mah song – since last year.
"We started here first. We would like to set an example for others to follow," he said.
Each identity card will state the mah song's name, which god possess that particular mah song, a unique ID number and a head-shot photograph of the mah song clearly showing his or her face.
"This will be useful for the mah song as well because they can use the card to prove that they are real mah song. It is convenient for officials too, so they can differentiate which mah song are real and which ones are fakes simply by asking for the card," Mr Prasert added.
There are about 2,000 to 3,000 mah song in Phuket, he said.
"We need identity cards to control them. We want to have information of each mah song recorded on the registration document.
"We are concerned that other people may misunderstand spirit mediums. They might have the wrong perception that spirit mediums are just a joke – or worse. We don't want our long heritage to be destroyed by fakes," he added.
Mr Prasert called for help from the public in identifying imposters by taking photographs of any mah song joining the festival pierced with unusual objects.
Piercings must use weapons stated in the legends only, such as swords and bladed staffs. Examples of unusual piercings were guns and umbrellas, Mr Prasert said.
"Younger mah song might do this without thinking. In years past, we took photos of them [with unusual weapons] and called them up so we could explain the legends to them so they would understand the significance of what they were doing," he said.
"We do not have enough time to keep an eye on all mah song joining the festival, so we would like to ask anybody with cameras or mobile phones with cameras to take photographs of mah song with unusual weapons and let us know which shrine the mah song was representing," said Mr Prasert.
Mr Prasert cited the example of Paitoon Khopwej, who joined a temple parade as a medium in the 2006 festival but skewered a pig's tongue placed in his mouth instead of his own.
Mr Paitoon was beaten and arrested and then jailed for 15 days for 'deceiving the public'.
"I have no idea what he wanted [from doing that]. Maybe he intended to destroy our culture," he said.
"People can report mah song with inappropriate piercings to shrine committee members. We will then report them to the police," Mr Prasert said.
See Phuket Gazette archived stories 'Fake mah song beaten, arrested' and 'Fake mah song jailed 15 days'.
The annual Phuket Vegetarian Festival will be held this year from September 27 through October 5.
— Janpen Upatising
Want more from the Thaiger family?
📱 Download our app on Android or iOS for instant updates on your mobile
📧 Subscribe to our daily email newsletter
👍 Like/Follow us on Facebook
🔔 Subscribe to or Join our YouTube channel for daily video updates
Phuket tightens restrictions: No parties, no visits from friends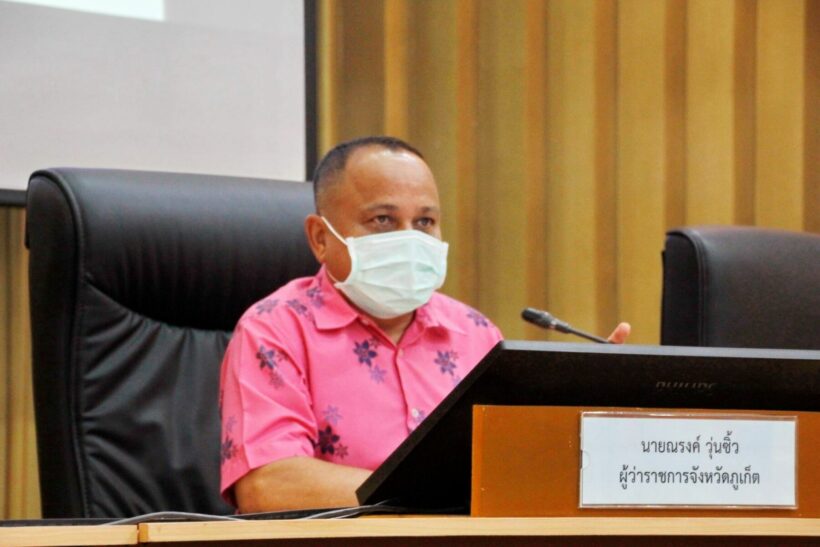 No, your friends can't come over. No parties. No drinking with friends. No large gatherings. As part of Phuket's efforts to stop the spread of Covid-19, local authorities have tightened restrictions and say friends are not allowed to gather at private homes.
"No parties of any kind allowed… No house party, no friends gathering in the residence."
Along with temporary closures of some businesses and venues, the order says, parties involving alcohol are banned and gatherings of more than 30 people are banned. The only gatherings allowed are religious ceremonies like weddings and funerals.
Foreigners who violate any of Phuket's disease control measures could be deported and lose their permission to stay in Thailand. On Sunday, 2 British men in Phuket were each fined 6,000 baht for having a "party." Only 6 people were gathered at the home. Police from the Cherng Talay station came by the home after a call from a neighbour.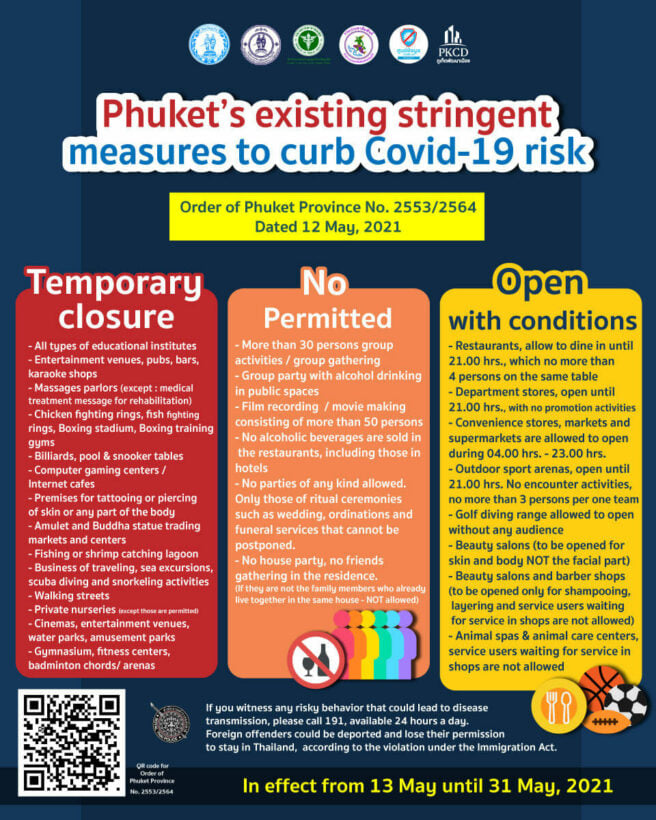 Want more from the Thaiger family?
📱 Download our app on Android or iOS for instant updates on your mobile
📧 Subscribe to our daily email newsletter
👍 Like/Follow us on Facebook
🔔 Subscribe to or Join our YouTube channel for daily video updates
3 organisers of Phuket's Kolour superspreader event charged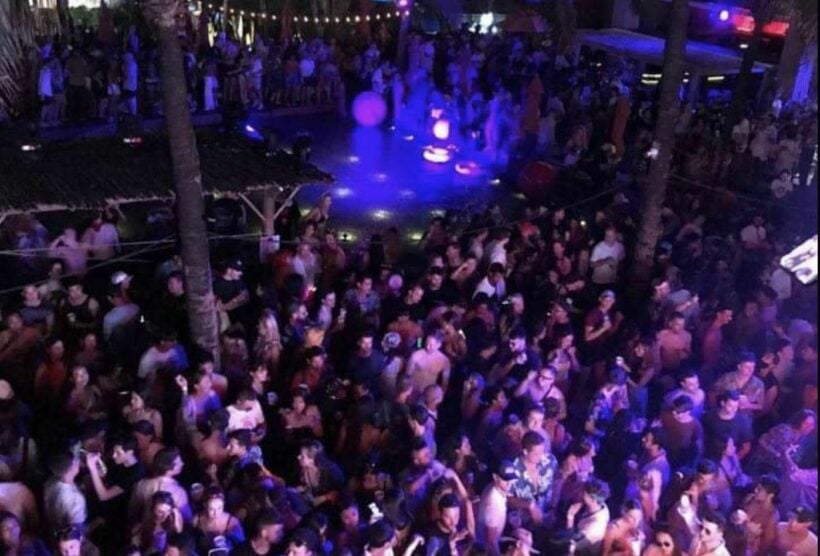 As Thailand still wrestles to control the third wave of Covid-19, much of which stems from entertainment venues in Bangkok and a massive party in Phuket, Patong police announced that the managers of the Phuket venues that hosted the Kolour superspreader event will be charged under the Emergency Decree. The case report was filed with the public prosecutor yesterday according to the Patong police chief, confirming that 3 people will be prosecuted for the event.
The Kolour Beachside Festival was held April 2 and 3 with events at Café Del Mar Phuket in Kamala, and Shelter Phuket Dance and Night Club and Illuzion Nightclub, both in Patong. Before the festival, Phuket had gone more than a hundred days without any new Covid-19 infections, but by April 7 the Phuket provincial Public Health office announced 8 new infections, half of which had been at the Kolour parties. In the following weeks, officials plead for attendees to be tested as infections spread.
Charges were delayed in being filed to the Phuket Public Prosecutor's office as a special investigation committee was ordered to be created to oversee the investigation at the request of Region 8's Police Commander. That committee brought together officials from various law enforcement in the area including the Patong Police, Kamala Police, Phuket Provincial Police, and the Region 8 Police to investigate the Kolour event before anyone was charged.
The manager of Café Del Mar, along with the managing director and the manager of Shelter and Illuzion, which are under the same management team, will be charged for the Kolour festival violating Thailand's Emergency Decree that was declared to help protect the country from Covid-19 outbreaks. A breach of the Emergency Decree can be held liable for up to 40,000 Baht and 2 years in jail under Section 9 of the Decree.
The latter 2 are also facing charges of operating an unlicensed entertainment venue. This carries the possibility of another year in prison and a fine of up to 60,000 baht, in accordance with Thai Law under Section 26 of the Entertainment Place Act.
SOURCE: The Phuket News
Want more from the Thaiger family?
📱 Download our app on Android or iOS for instant updates on your mobile
📧 Subscribe to our daily email newsletter
👍 Like/Follow us on Facebook
🔔 Subscribe to or Join our YouTube channel for daily video updates
Phuket woman impaled by steel rod in motorbike accident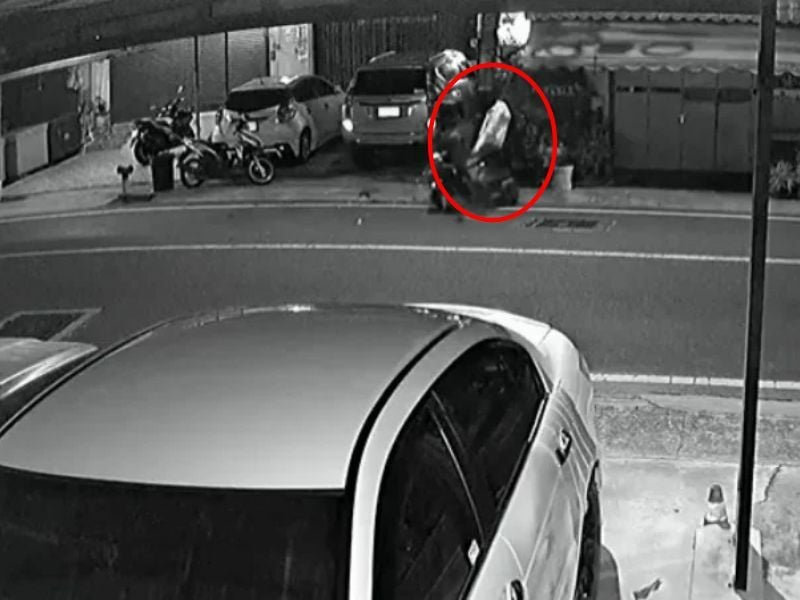 Police were called to the scene of a gruesome motorbike accident just after midnight in the Kathu area of Phuket, where a woman was impaled by a steel rod. The 34 year old woman crashed her motorbike into a concrete power pole on Wichit Songkram Rd between the Kathu Shrine and Kathu Municipality. rescue workers responded, and together with police, they arrived to find the woman still hanging from the power pole.
Khanuengnit Onoaun was driving a black and pink Honda Click motorbike and may have been speeding just before being impaled by the rod on the electric pole. Her motorbike was lying nearby the pole with significant damage to the front of the bike and the front wheel.
CCTV footage recovered from the scene suggest that the woman may have fallen asleep and crashed into the power pole. The pole had steel rods protruding from its side that utility workers use to climb when service or repairs are needed to the electrical lines, which is what impaled her when her motorbike hit the pole.
The metal rod pierced the woman's upper chest and went all the way through her body with about 2 inches exposed on the other side of her as she hung from the pole. Rescue workers could not remove her from the steel rod at the scene of the accident safely and instead chose to cut the rod to take her off the electric pole and into an ambulance. Cutting through the steel took about 5 minutes for the rescuers.
She arrived and was admitted into Vachira Phuket Hospital with the metal rod still impaled through her chest. The hospital had no updates about the woman's condition after her motorbike crash other than that she is alive and receiving treatment currently. The police plan on questioning her once she has had time to recover and investigating the incident further if necessary.
SOURCE: The Phuket News
Want more from the Thaiger family?
📱 Download our app on Android or iOS for instant updates on your mobile
📧 Subscribe to our daily email newsletter
👍 Like/Follow us on Facebook
🔔 Subscribe to or Join our YouTube channel for daily video updates