Black Eyed Peas rapper highlights Filipino plight with Phuket show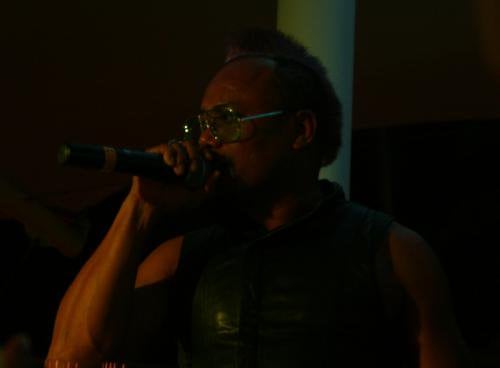 PHUKET: Over 400 people gathered to watch Grammy-award-winning international pop star and rapper from Black Eyed Peas apl.de.ap drop beats at Xana Beach Club to raise funds for the victims of Super Typhoon Haiyan, which devastated the central Philippines over a week ago.
"I thought we [Filipinos] were tough, until this happened. Like I've never seen this magnitude of people really starving for days, [waiting] to get help," apl.de.ap told the Phuket Gazette after the almost-two-hour set. "So we are strong, but… we aren't superhuman. People need food. In a matter of hours… not days."
"We are partying, but at the same time we're helping," apl.de.ap called out to the crowd about an hour earlier that night.
Despite the beach party vibe and colorful strobe lights, some of Black Eyed Peas' lyrics seemed to resonate more deeply, as members of Phuket's large Filipino population joined other islanders on the dance floor.
"People killin', people dyin'; Children hurt and you hear them cryin'; Can you practice what you preach; And would you turn the other cheek; Father, Father, Father help us; Send some guidance from above; 'cause people got me, got me questionin'; Where is the love?" the crowd sang from the Black Eyed Peas' global chart topper Where is the love?
This disaster has shown apl.de.ap where the love is.
"It's so weird that it takes a disaster… to catch everyone's attention, but thank God… everyone is trying to help. And you know what? I love it. It shows you that people really care. When this kind of magnitude of disaster happens, that they truly, truly really care," he said.
"Some people are catching up, some people are moving forward, but at least everyone is catching everyone's intention, and are willing to help."
Apl.de.ap was born and raised in the Philippians until the age of 14, so rapping in his mother tongue earlier that night, he brought the house down with the Black Eyed Peas' promotional single Bebot.
All funds raised for the event went to Give2Asia (click here), a charity chosen by apl.de.ap.
"I like to go with organizations that I feel are hands-on. I feel like when I give, it's not lost in the system," apl.de.ap said. "I've been working with Give2Asia for a while now with the Apl.de.Ap Foundation.
"I like to do hands-on personally… because [with] everything we've done, I've always been there: from groundbreaking to building the classrooms.
"So I see what's happening, so I don't feel lost. I feel like something is going on," apl.de.ap said.
Apl.de.ap explained that he plans to be on site in the Philippines in about two weeks.
However, the rapper made it clear that immediacy in providing care for those suffering was of utmost importance. Nonetheless, it was also important to think long-term, about rebuilding.
"We need to act faster, all the help should be there sooner. But it's so huge that it takes a while even for outside help to get there. But we need to act faster… people are starving, they [also] need water," he said.
Apl.de.ap encouraged everyone to continue to give to the Philippines, either through Give2Asia, or other organizations.
"You know, any organization right now, just give back," he said.
But for him, seeing exactly where that money goes is important.
"I don't want things slipping through the cracks, not getting there, pork barrel. I'm like, 'Yo, get that there man.' If you're a good person, you [get that to] those in need of help now."
The pork barrel scandal in the Philippines saw Janet Lim-Napoles accused of siphoning millions of US dollars of public funds into ghost non-governmental organizations through the Priority Development Assistance Fund allocations, popularly known as "pork barrel" allocations.
"You shouldn't forget about that, don't forget about what's going on. And right now, unfortunately, we need to focus on what's needing to be done, but we don't want to forget what's going on in the Philippines at the same time," apl.de.ap said.
"I think the pork barrel is definitely on the side… [it] shouldn't get in the way, 'cause you know why? Because those are individuals that decided to do that, but not every Filipino is those type of people."
Half of the earnings from apl.de.ap's current tour are now being redirected to charity efforts. However, 100 per cent of the proceeds from the nearly spontaneous event on Sunnday night, not part of apl.de.ap's tour, are being donated to Give2Asia.
Apl.de.ap with his Give2Asia fund is also thinking about the rebuilding process.
"Right now, it's kind of difficult to deliver [supplies], but when it comes to rebuilding, that's where I come in," he said. "So far we've built 50 schools. So now we need to build more, 'cause all the schools have been destroyed."
Apl.de.ap thanked Xana Beach Club for organizing and hosting the show. He also gave a shout out to Inspired Event Phuket, who helped organize the necessary equipment that ensured high-quality sound for his set.
"Thank God for all the people that are concerned, that made this happen," apl.de.ap said. "We called a couple of people that were coming and decided to do this: I was like, 'All right, let's do it. It's about raising funds and helping people out.'"
"We were absolutely thrilled with the energy that apl.de.ap put into his set at Xana," said Annabell Fox from Xana. "It was one of the best events we've ever had, and is it was for a great cause, and there was a fantastic atmosphere in the club… it's great to see the people of Phuket pull together here, and right across the island, to help those in the Philippines."
— Isaac Stone Simonelli

Join the conversation and have your say on Thailand news published on The Thaiger.
Thaiger Talk is our new Thaiger Community where you can join the discussion on everything happening in Thailand right now.
Please note that articles are not posted to the forum instantly and can take up to 20 min before being visible. Click for more information and the Thaiger Talk Guidelines.