A Decade Ago: Crowne Plaza, work permits and Chinese tourists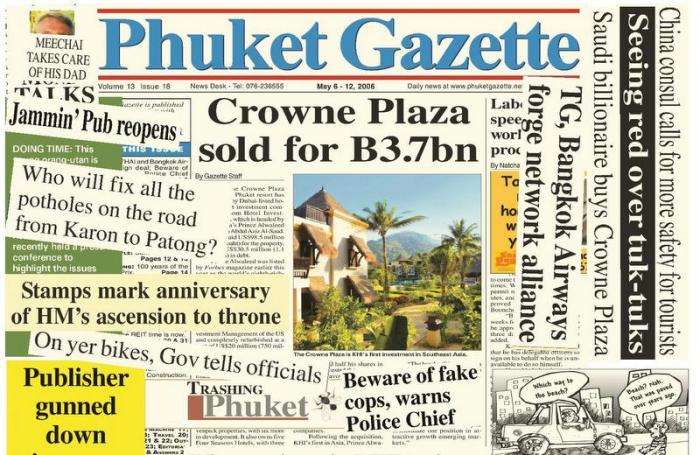 PHUKET: If you weren't in Phuket ten years ago, you might not even know what the Crown Plaza was.
Nonetheless, it stole page one of the Phuket Gazette in the May 6-11, 2006 issue when it was bought by Kingdom Hotel Investment, which was headed by Saudi Arabian billionaire Prince Alwaleed Bin Talal Bin Abdul Aziz Al-Saud – the 8th richest man in the world at the time.
Originally the Karon Villa Resort, the hotel complex was built in 1984 and then rebranded as the Crowne Plaza in 2003. Despite the unfamiliar name, the property itself is one that many socialites and tourists on the island will recognize, as it is now Movenpick Spa Resort Karon Beach.
Though Prince Alwaleed praised the opportunity to get his hands on a fully refurbished hotel in a pristine site on Phuket's west coast, the big news for most readers was a little sidebar story on page one: Labor Chief speeds up work permit procedures.
It's hard to imagine that the sometimes painful process of getting a work permit in Thailand was once even more torturous.
"Now, people do not need to come to our office two or three times. We will have their work permit renewed in just 15 minutes, and new work permits approved in just one week," said the Phuket Provincial Employment Office (PPEO) chief at the time. Though optimistic time frames for receiving a work permit might not have endured over the last 10 years, as the number of foreigners and migrant labors has continued to rise, the system put in place by the chief definitely has helped with clarity. Instead of details being handwritten into work permits, they are now printed by a computer to make them more legible – to those who can read Thai.
It is not hard to imagine the doors for corruption and confusion that slammed closed with this change – not saying there aren't other doors still cracked open. Nonetheless, clarity in work permits continues to be an issue in Phuket, especially within the diving industry. This New Year's Eve, seven dive instructors based in Phuket were arrested and jailed for several days for working in Krabi province, apparently something not covered in their work permits. Unfortunately, the current PPEO chief is dead set against further clarifications inside work permits – shooting down the idea of providing English translations that would allow those who hold them to accurately understand what exactly they are permitted to do when it comes to work.
Worse than a couple of nights in jail for a work permit infraction, however, are underestimating the dangers of a sunny day in a tropical paradise, which prompted lifeguards to queue up 'please-don't-ignore-red-flags' loop tape to warn locals and tourists about the dangers of Phuket's west coast rip currents, which have already claimed the life of at least one young woman this year.
Ten years ago, the rips and other dangers on the island that killed three Chinese tourists in Phuket between January and May 2006 prompted China's consul-general in Songkhla to call for help in protecting what has since become the island's number one source market.
"The Chinese government recognizes that the most important thing for tourism development is safety, and so we urge Chinese tour operators to take very good care of their tourists. We also want the Thai government to help prevent Chinese tourists from getting into unsafe situations," the consul-general said.
Despite safety being a priority for tourism development, neither the deaths of those three Chinese nationals – two by drowning – nor the dozens who have died in the following ten years seems to have hampered the explosive growth of the Chinese market.
Though Chinese regularly drown on snorkeling trips in our waters, it seems that etiquette has come to the front lines for Chinese-tourism management. In March this year, tour guides working with Chinese and Chinese tour company employees were invited to join an etiquette course. The course came in the wake of a video clip that went viral of Chinese tourists in a disgusting, wasteful feeding frenzy at a prawn buffet in Chiang Mai.
Of course, Thailand isn't the only country trying to school Chinese tourists: a tourism guide imploring Chinese visitors in Japan to stop belching and passing gas in public has had to be republished in multiple languages – not just Chinese – so as to lay the blame for uncouth behavior on 'foreign' tourists generally, rather than guests from China alone.
Given the stink being raised, perhaps other tourists will just have to move or pick a different part of Phuket to explore if they are worried about being swarmed by those arriving by tour buses. May I suggest the Crowne Plaza? There weren't nearly as many tourists on the island ten years ago – though the dangers in the waters and the roads were just as real.
— Isaac Stone Simonelli
Keep in contact with The Thaiger by following our Facebook page.
Never miss out on future posts by following The Thaiger.
Phuket Monopoly game creators need your help with token designs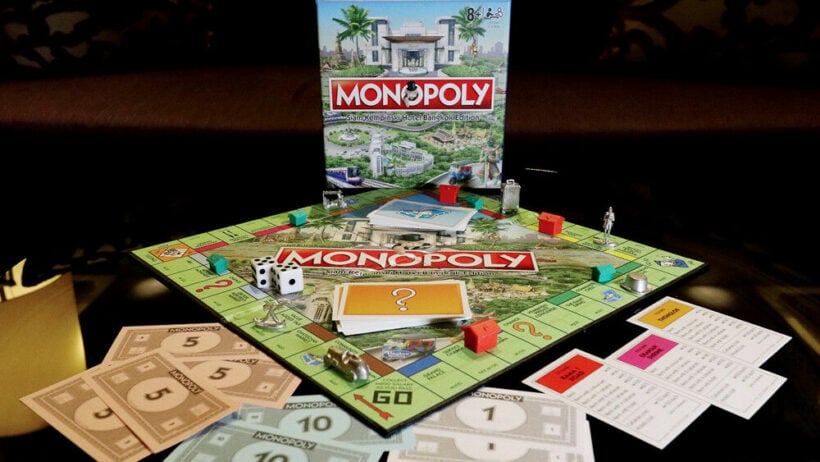 Phuket is set to get its own version of the popular game MONOPOLY and its creators want your help with ideas for the specialised tokens. 'MONOPOLY: Phuket Edition' was announced last month which will see the street art on the board game replaced with that of famous places around Thailand's famous tourist destination. Such art will include beaches, hotels, shops, markets and other popular attractions.
Jennifer Lau from Winning Moves UK, is producing the game under official license from Monopoly brand owners, Hasbro. Lau says the tokens will feature a holiday theme. The token's departure from the original theme of wheelbarrows, boots, iron, and thimbles as well as popular sports cars and hats.
"We have had a wealth of emails and suggestions coming in for Phuket, so thank you for each and every single one of them! We are taking them all into consideration whilst putting together the design of the game."
"We wanted to change the tokens so that they would be more suitable for an island like Phuket, where so many people like to go on holiday to."
"There will be six themed tokens that replace the original and we want to hear your suggestions for what these tokens should be!"
Bangkok has already been featured in the Monopoly game as it came out for purchase back in 2018.
SOURCE: The Phuket News
Keep in contact with The Thaiger by following our Facebook page.
Never miss out on future posts by following The Thaiger.
Phuket holds vaccine administration rehearsal as it waits for green light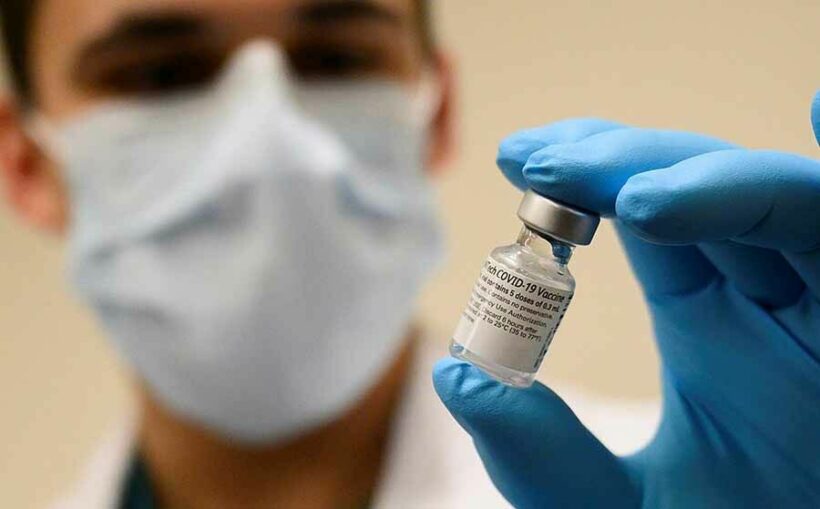 Phuket is rehearsing procedures to ready themselves for the Covid‐19 vaccine administration green light. A rehearsal at Vachira Hospital's Lan Muang Khao open area was held late yesterday to iron out any kinks in the administration process. Phuket Vice Governor Pichet Panapong watched over the procedures along with other health officials.
Pichet says the first vaccine round of 4,000 doses should arrive early in March, with the 2nd and 3rd set of doses, 16,000 and 48,000 respectively, to arrive in April and May.
"The government recognises the importance of the affected areas of the economy where the epidemic situation of COVID-19 must be stopped and has allocated the COVID-19 vaccine to Phuket Province to build herd immunity, restore the economy, return a smile to Thailand."
"We are preparing to COVID-19 mass vaccination to build confidence among the people that they will receive a quality, safe vaccine and to receive follow-up care after it has been administered."
Pichet says Phuket's first target groups to receive the vaccine include medical and public health personnel, with others on the frontlines to come next.
Then, workers aged 18-59 years old, people with underlying diseases including chronic respiratory disease, cardiovascular disease, chronic kidney disease, cerebrovascular disease, cancer, diabetes and obesity will follow.
"People with severe neurological conditions and pregnant women should be wary of taking the vaccine, as well as women who are breastfeeding and people with immunodeficiency."
The procedure to get vaccinated starts by recipients undergoing screening by having their temperatures taken, and then sanitising their hands before entering the administration area. Then, they will move their way through a series of steps, detailed below:
Step 1: Register
Step 2: Record weight and blood pressure
Step 3: Pass the screening process by have their medical history and risk assessment recorded and then signing a consent to receive the vaccine
Step 4: Wait for vaccination
Step 5: Vaccination
Step 6: Rest for 30 minutes, while being observed for symptoms. Then scan the official Line account "หมอพร้อม" ("Doctor Ready")
Step 7: Pass a final check before receiving a document confirming vaccination
Pichet says health workers will follow up with vaccine recipients after 1,7, and 30 days from being vaccinated to monitor any adverse reactions.
Those who are set to receive their second jab will have appointments made for them. Those who receive the Sinovac vaccine will be scheduled to have their second doses 2 to 4 weeks after the first. AstraZeneca vaccine receivers will be scheduled for their second doses 10 to 12 weeks after the first.
SOURCE: The Phuket News
Keep in contact with The Thaiger by following our Facebook page.
Never miss out on future posts by following The Thaiger.
Phuket police officer charged with attempted murder for shooting and critically injuring a noodle vendor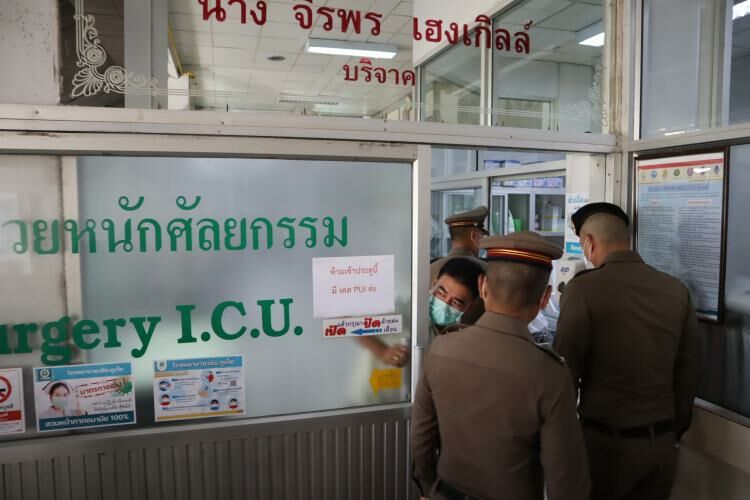 The drunk, off-duty police officer in Phuket who has caught on camera shooting and beating a noodle vendor on Bangla Road is now facing attempted murder charges as well as charges of carrying a firearm in public without a necessary reason and firing a weapon in a public area. The commander of the Phuket police station said he ordered investigators to prosecute the officer Pornthep Channarong with every criminal charge that can be applied.
The officer had gotten into an altercation just before dawn yesterday and shot a young vendor who was walking by. Surveillance camera footage show the 25 year old suddenly falling to the ground after being shot. The officer walks up and shoots the vendor at a close range, but it appears the second shot did not hit the vendor. The officer also slapped the vendor in the face, picked him up and shoved him over, and then kicked him as he lay on the ground.
The vendor has a 4 year old daughter and 3 month old son. His wife says normally he works as a motorbike driver, but he was helping his mother selling noodles. He was shot while he was walking back from collecting a noodle bowl, she says. The vendor is in critical condition and being cared for at Vachira Phuket Hospital's intensive care unit. He's in need of Type B blood.
"For his condition, the doctor told me that the bullet went through his lung. He lost a lot of blood. We need a lot of Type B blood for him."
A disciplinary investigation into the incident was launched by police and Pornthep was officially dismissed from the Royal Thai Police force. Region 8 Police Commander Kitrat Panpetch says the incident does not reflect the police force in Phuket.
"The incident was caused by an officer who did something wrong that our organisation does not want. We are a big organisation with more than 200,000 officers under our control. Our officers are not all bad like this."
Phuket Provincial Police Commander Pornsak Nuannu says he has reminded the police chiefs across the island to discuss reasons for carrying firearms in public.
"Carrying firearms is to prevent any type of crime that may happen, not to commit a crime by themselves like this incident. If I see any police doing such a thing, I will decisively proceed in terms of both officer discipline and criminal charges."
SOURCE: Phuket News
Keep in contact with The Thaiger by following our Facebook page.
Never miss out on future posts by following The Thaiger.