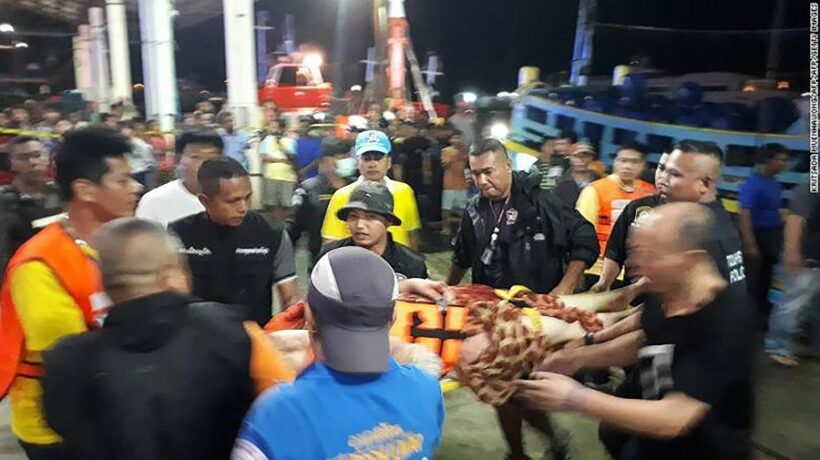 Some of the fallout from the Phuket boat disaster is now starting to hit home, with more to come as cancellations bite into tourist arrivals, principally Chinese tourists.
Thailand's Ministry of Tourism and Sports has officially revised down its forecast for July to December by nearly 670,000, to 5.1 million Chinese tourists.
The South China Morning Post reports that Thailand will lose more than half a million Chinese tourists as a result of the boating incident that killed 47 people last month, 16 of them children.
Most analysts consider that Phuket dodged a tourism 'bullet' when the tragedy occurred because of the mass coverage of the Tham Luang cave rescue which was underway at the same time. The media preferred heroic shots of cave divers and rescued football players to pictures of children and their parents being hauled out of the water after being found floating, face down, around the Andaman.
Photos of the Thai PM trying to console weeping and devastated Chinese who had flown to Phuket to recover the bodies of their loved ones, made way for the photos from Chiang Rai.
The 'Phoenix' was carrying 105 people, mostly Chinese day tourists, when it sank off Phuket's south west coast in rough seas on July 5. The boat was among at least three tour boats which ignored weather warning on the day.
Royal Thai Navy officers and local Phuket divers spent more than a week retrieving bodies, some from inside the boat. The captain and crew all got off the boat safely and made their way into the life rafts.
Now the Phoenix's captain, engineer and the Thai owner (of a nominee company set up to run the business and 'own' the boat) have been arrested and remain in detention as the investigation drags on.
Tourists from China accounted for nearly 25% of Thailand's 35 million visitors last year with number forecast to increase in 2018, until this bump in the rising numbers.
The country's Minister of Sports and Tourism remains confident that Chinese arrivals will continue their steady rise, despite the loss of confidence about Thai marine safety, amongst many other safety failures in buses and zero-dollar tour scams.