Phuket hosts Andaman marine rescue 'brainstorm'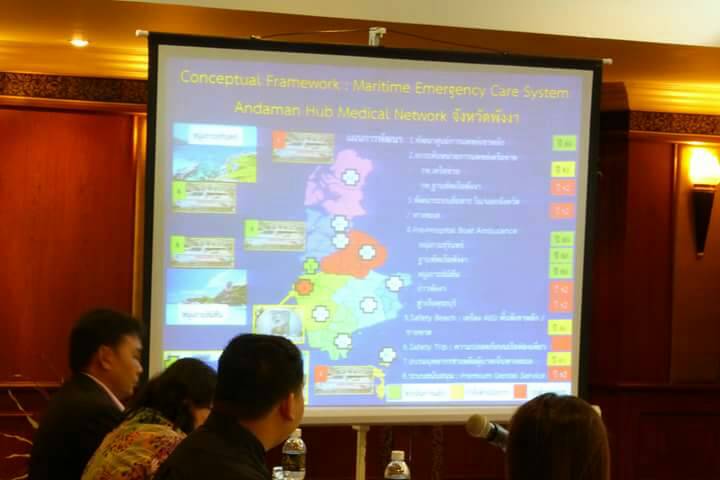 This morning (May 17) Phuket Governor Norraphat Plodthong joined in a brainstorming meeting at Pavillion Queen's Bay Ao Nang in Krabi whilst working on a marine rescue centre project for the Andaman provinces. Joining him were officials from Krabi, Phuket, Phang Nga, Ranong and Trang.
Deputy Prime Minister Gen Chatchai Salikanlaya was present to suggest ideas and to hear from local officials from other provinces who are access points for tourists seeking marine experiences in Thailand along the Andaman coast. He had quite a few ideas to support the project from the Government level. Marine accidents in the Andaman sea from 2016-2017 indicate that there were 226 injured and 159 people died. Most incident are related to drowning, boats sinking and boat crashes.
The considerations involve deciding the location of marine rescue centres for Andaman provinces, budgets, rescue teams, equipment, patrolling boats, ambulance boats, drones, CCTV camera, helicopters and communication devices.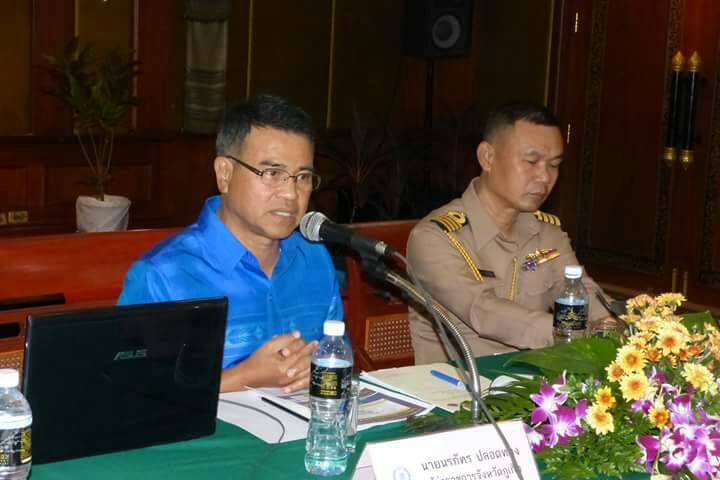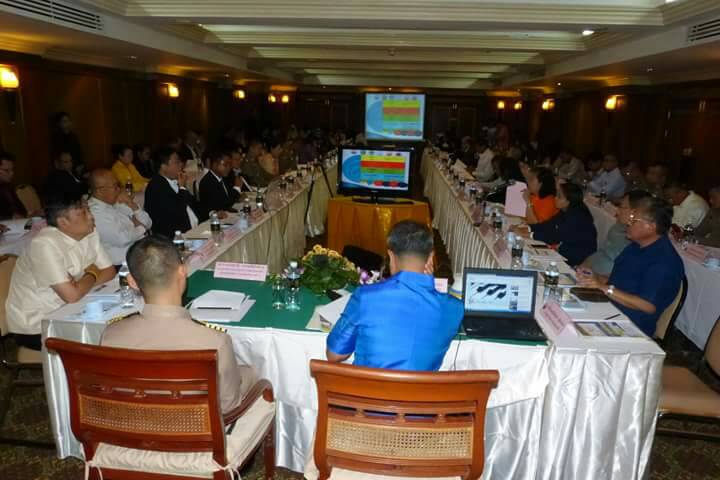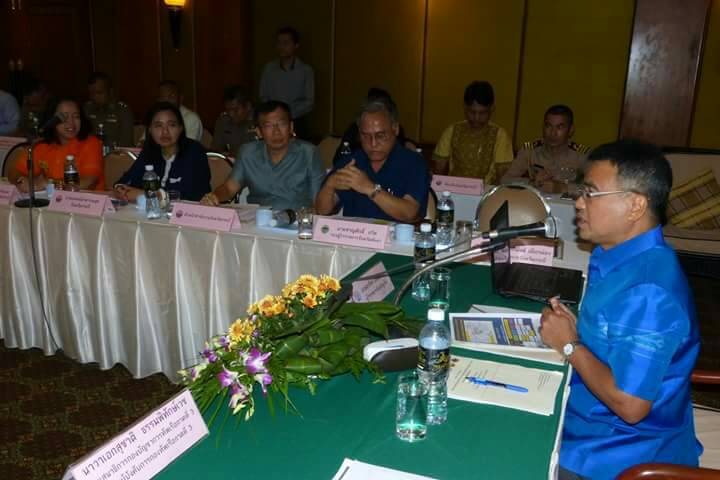 Keep in contact with The Thaiger by following our
Facebook page
.
Never miss out on future posts by
following The Thaiger
.
Pattaya men allegedly posed as police officers, extorted $50,000 from a woman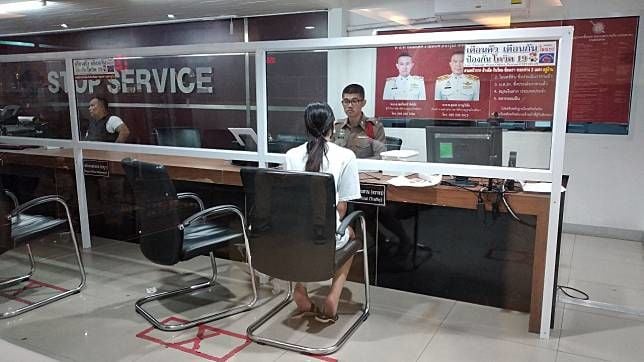 A group of 4 men in Pattaya allegedly posed as police officers and extorted 50,000 baht from a woman. The 20 year old woman says the men claiming to be police officers raided her condominium and a friend visiting had drugs in his possession.
In the report filed with Pattaya City Police, the woman says the men asked both her and her friend for a bribe of 25,000 baht each. If they didn't pay up, the men said they would arrest them on drug charges, according to the complaint. The woman says she gave the men 50,000 baht.
The men who allegedly posed as police officers were not in uniform and did not show any identification or badges, the woman says. After giving it some thought, the woman became suspicious and decided to file a complaint with police. Police are still investigating.
SOURCE: Pattaya News
Catch up with the latest daily "Thailand News Today" here on The Thaiger.
Keep in contact with The Thaiger by following our
Facebook page
.
Never miss out on future posts by
following The Thaiger
.
Facebook, Twitter may face charges for allegedly allowing lèse majesté content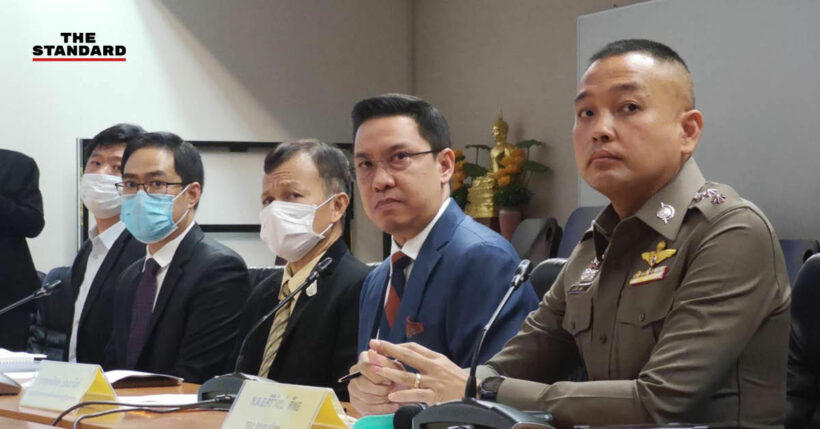 Facebook and Twitter could face charges for failing to block so called lèse majesté posts that allegedly violate Thailand's Computer Crime Act. The Ministry of Digital Economy and Society says the social media platforms were warned about Thailand's laws regarding content that insults the Thai Monarchy or threatens national security and peace, but failed to remove all the illegal posts.
Letters were sent out to the operators of Facebook, Twitter and YouTube giving them 15 days to take down the illegal posts or charges would be pressed, according to Minister of Digital Economy and Society Buddhipongse Punnakanta. Since not all the posts were removed, the ministry has asked the Technology Crime Suppression Police to step in and prosecute the social media platforms.
The Thai government has been using the blunt tool of "shooting the messenger" in its battle against content deemed disrespectful of the Thai Monarchy under its lèse majesté laws.
"It is the first time in Thailand that the (computer crime) law is exercised to prosecute the service providers. Charges will go to the parent company of all the organisations. The police will use Thai laws because the offences happened in Thailand. I believe the police can do it."
The minister says Facebook was told to take down 661 posts, but they only removed 225. Twitter was told to remove 69 posts, he says, but only took down 5. YouTube was told to remove 289 posts and all of them were blocked. Social media platforms that violate the Computer Crime Act could face an up to 200,000 baht fine per illegal post and a daily fine of up to 5,000 until the content is removed.
Buddhipongse filed the complaint which also cited nearly 1,000 social media posts that allegedly violate the act. They say the posts offending the Thai Monarchy were made during the pro-democracy protest in Bangkok last weekend.
SOURCE: Bangkok Post
Catch up with the latest daily "Thailand News Today" here on The Thaiger.
Keep in contact with The Thaiger by following our
Facebook page
.
Never miss out on future posts by
following The Thaiger
.
Thailand News Today | Visa amnesty, sealing Burmese border, Thai airways creditors | September 24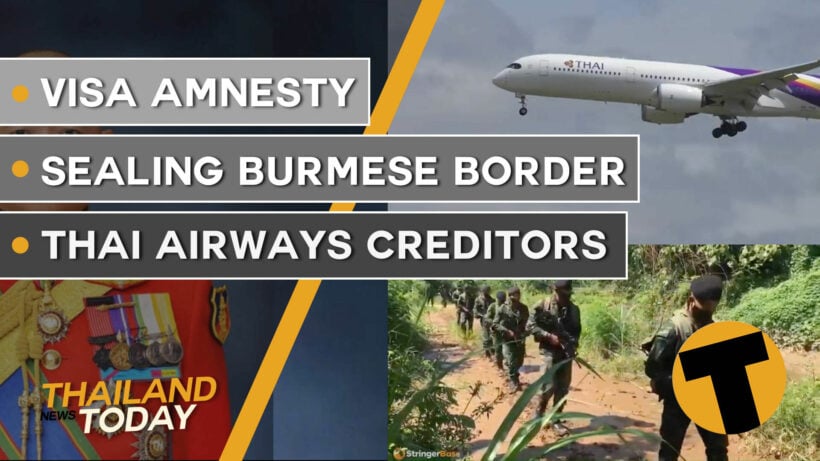 Latest update for September 26 deadline of visa amnesty.
Deadline set for THAI creditors
A date has now been set for creditors to recover their money from Thai Airways. Applications for debt repayment through corporate bonds started yesterday. Applications filed by private individuals are being received at the Securities and Exchange Commission office in Bangkok. The deadline for applications is November 2. It's ben reported that there are some 10 million creditors. The airline's total debt stands at 352.4 billion baht.
Thailand seals its 2,000 kilometre border with Myanmar
Thailand's Department of Disease Control remains on alert, and patrols increased along the Thai/Myanmar border, as Thailand's western neighbour continues to register a spike in new Covid 19 cases. Between 430 and 670 people each day, over the past 4 days, have tested positive for Covid-19. The DDC's director-general says that Thai "business operators should stop hiring foreign workers, especially Burmese people, to help prevent a second wave of Covid-19 infections in Thailand." Myanmar's number of confirmed cases has now reached 7,177 with 129 Burmese succumbing to the virus at this stage. Yesterday the four national papers suspended circulation, waiting out the sudden surge of cases. In some border districts, police have placed barbed wire along the leaky jungle border to deter people from crossing the 2,000 kilometre-long border illegally.
Deputy PM says "Big Joke" transfer not necessarily unlawful
Deputy PM Wissanu Krea-ngam says former immigration chief, Surachate Hakparn, shouldn't assume his transfer to an inactive post in the PM's Office was unlawful. Surachate, known by the nickname "Big Joke" headed up Thailand's Immigration Bureau until he was unceremoniously side-lined by the PM, Prayut Chan-o-cha early last year. It's understood he is now planning to sue the PM, claiming that the lack of any investigation against him shows there were no grounds for the transfer. For his part, Deputy PM Wissanu says Surachate has the right to sue the PM if he so wishes but shouldn't assume his transfer is similar to that of the former National Security Council chief, who was transferred under former PM Yingluck Shinawatra in 2011. That transfer was subsequently deemed unlawful by the Supreme Administrative Court. Wissanu doesn't rule out the possibility of Surachate being re-instated. For his part, Surachate claims his petitions to the PM have fallen on deaf ears.
New army chief declares he'll protect Thailand's monarchy and restore peace
Thailand's new army chief says he pledges to restore peace and protect the country's monarchy. In a ceremony formerly saying farewell to retiring generals, incoming army chief Narongphan Jitkaewtae (jit-gow-tear) said he would restore peace and be loyal to the Thai Monarchy. His statement comes at a time when many people are speaking out against Thailand's military-run government, and calling for changes to the constitution (voted for by referendum in 2017). He said… "Protecting the monarchy with absolute loyalty and supporting the government to resolve national problems and working to advance the country are tasks for which the generals deserve the honour."
Thailand's Social Security Office forced to explain investment in Sri Panwa Phuket Resort trust fund
The Social Security Office, a department under the direction of Thailand's Ministry of Labour, is being asked to explain its investment in the trust fund of Phuket's Sri Panwa Phuket Resort. The demand comes as members of the opposition and political activists call for an investigation into the property's ownership of the land. The owner of Sri Panwa Phuket, Vorasit Issara, has faced flak online recently, with his property attracting multiple negative reviews as a consequence, after he criticised one of the student anti-government protest leaders. Thai PBS World reports that the Civil Society for State Welfare is calling on the SSO to clarify its investment in the Sri Panwa Hospitality Real Estate Investment Trust, thought to be worth around 500 million baht. Meanwhile, review site Tripadvisor has had to suspend reviews for the Sri Panwa resort, as the travel review website has been flooded with negative reviews.
Bangkok officials issue advice to motorists to avoid parliament area due to protest
Bangkok motorists have been told avoid the roads around Thailand's new parliament building today, with a political rally taking place there as we speak. The rally was announced by anti-government protesters at the end of their weekend demonstration. The Metropolitan Police Bureau advise drivers to avoid Kiak Kai Road, in front of the parliament building, as well as a number of other roads in the vicinity. The Thaiger will bring you some of the latest vision from the protest this afternoon which you can watch on our Facebook page with a full report on tomorrow's Thailand News Today.
Keep in contact with The Thaiger by following our
Facebook page
.
Never miss out on future posts by
following The Thaiger
.