UPDATE: Total 4 deaths in Phang Nga Chinese tour bus crash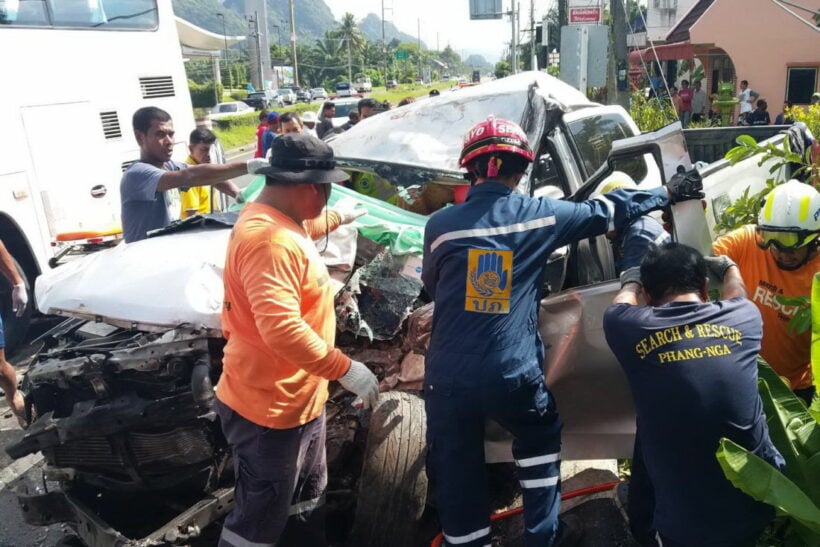 One person died at the scene yesterday while another three have since died in hospital. Nine other people sustained injuries in yesterday's incident in Phang Nga when a pick-up, careering out of control, crossed the median strip, took out a motorbike, and then crashed head-on into a tour bus.
Newshawk Phuket reports that emergency responders were notified of the incident yesterday morning on Phet Kasem Road, southbound, in Borsane, Thapput in Phang Nga.
Read more about the crash HERE.
The Department of Disaster Prevention and Mitigation Phang Nga Office reports that the pickup driver lost controlled of his vehicle after a tyre exploded. The pickup truck collided with the motorbike and the tour bus after crossing over the median strip, at high speed.
The tour bus was carrying 13 Chinese tourists, two tour guides and a driver heading from Krabi to Phuket. No passengers on the bus died but several were slightly shaken by the incident. The motorbike passenger and three pickup truck passengers have died. The driver of the pick up survived the crash.
Total fatalities: 4 dead (one motorbike passenger, three pickup truck passengers), 9 injuries (one motorbike driver, one pickup truck driver and 7 pickup truck passengers), according to the Department of Disaster Prevention and Mitigation Phang Nga Office.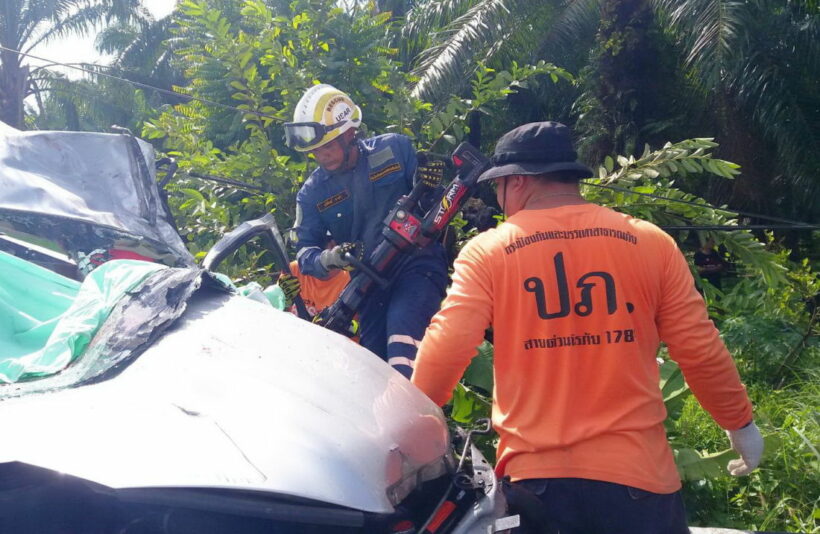 #พังงา 20 พค. 62 07.48 น. กระบะบินข้ามเกาะชน จยย.ประสานงารถทัวร์ ตาย 1 สาหัส 3 เจ็บเพียบVIDEO – accident between pickup truck, motorbike and bus on Phet Kasem Road southbound at 7.48am this morning in Thapput Phang Nga. One was found dead at the scene while three people have sustained serious injuires. Reports and translated by Newshawk Phuket … แปลโดย เหยี่ยวข่าว ภูเก็ต #NewshawkPhuket #PhangNga #accident #bus #buscrash #newsกล้องวงจรปิดกำนันพงษ์ ร้านทีสแกน จับภาพนาทีชีวิต เหตุรถกระบะ กลับจากตะกั่วป่า เดินทางกลับบ้านที่มะรุ่ย ทับปุด ผู้โดยสารเต็มคัน พุ่งตรงขึ้นเกาะกลาง ชนรถจักรยนยนต์ ลุงรอดตายหวุดหวิด แต่ขาหัก ก่อนจะไปตามแบริเอ่อ พุ่งชนประสานงารถทัวร์ที่วิ่งสวนทางมา สภาพเนียน ส่งผลให้มีผู้เสียชีวิตทันที ชาย 1 ราย นั้งในแคปด้านหลังคนนั้งหน้า ส่วนคนนั้งข้างคนขับบาดเจ็บสาหัสไม่รู้สึกตัว ติดภายในรถ จนท.ปภ.ใช้ตัดถ่างนำออกจากรถ อีกรายหญิง บาดเจ็บหญิงสาหัสไม่รู้สึกตัวอยู่ท้ายรถกระบะ อีกรายเจ็บหญิง สาหัสไม่รุ้สึกตัวโดนเหวี่ยงตกจากกระบะไปอยู่ใต้ต้นไม้ข้างทางไม่รู้สึกตัว ส่วนผู้ได้รับบาดเจ็บอีกรายขาหัก นั้งอยู่บนท้ายกระบะ อีกรายปวดหลัง นั้งอยู่ท้ายกระบะ คนขับชาย แผลฉีกขาดใบหน้าศรีษะหลายจุด รู้สึกตัวดี ที่เหลือบาดเจ็บเล็กน้อย จนท.พยาบาล รพสต.บางเตย เร่งช่วยเหลือ ร่วมทีมกำนันพงษ์และชาวบ้าน กู้ภัยมัสยิดบ้านนา #หน่วยกู้ภัยวัดเก่าเจริญธรรม กู้ชีพภูงา ให้การช่วยเหลือตามลำดับอาการ นำส่งโรงพยาบาลพังงา และโรงพยาบาลทับปุดขอให้ทุกคนปลอดภัยครับผม งานนี้ได้แผลมาอีก 1 แผล ขอบคุณคลิปร้านทีสแกน กำนันพงษ์ บางเตย#โค้งบางเสียด ต.บางเตย อ.เมืองขอบคุณถนนใหม่ ทำให้รถไม่เกิดอุบัติเหตุเลยช่วงฝนตก แต่.. ผมยังรอแบริเอ่อเกาะกลางอยู่นะครับแขวงทางหลวงพังงา ส่วนพวกว่าตำรวจหาเงิน จับความเร็ว ก็ดูอันนี้ไว้นะครับ ว่าขาแรงมันอันตราย ขับมาดีๆกะใช้ว่าจะปลอดภัย เค้าตรวจจับความเร็วทำถูกแล้ว #ทำอะไรก็ผิดไปหมด ตัวเองถูกตลอด จ่ายไปเถอะค่าปรับถ้าขับเร็ว อย่าบ่นแรงรวมยอดเจ็บ 13 ราย มีสาหัส 3 ราย คาที่ 1 รายCr. บีคุงก์ พสกนิกร ราษฏรพังงา / กำนันพงษ์

Posted by เหยี่ยวข่าว ภูเก็ต on Sunday, May 19, 2019


Read more headlines, reports & breaking news in Phang Nga. Or catch up on your Thailand news.
'Fast and Furious 9' to be partly filmed in southern Thailand, including Phuket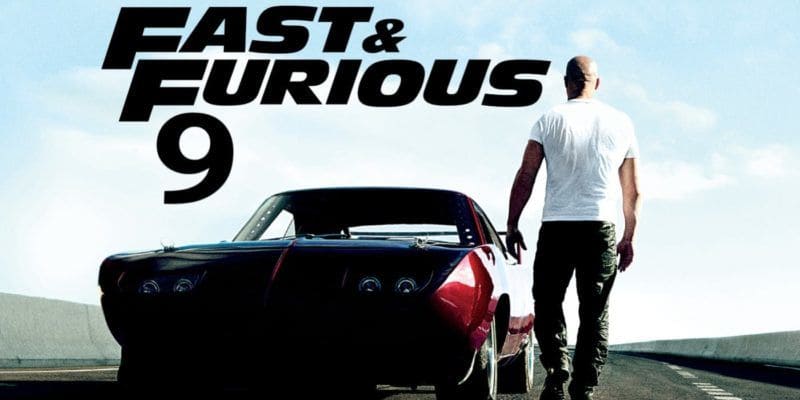 The latest sequel of the 'Fast and Furious' movie franchise will partly be filmed in Phuket, Phang Nga, Krabi and Surat Thani next month.
Yesterday Piya Petonji, the film's production manager, met with Krabi Governor M.L. Kitibadee Prawit at the Krabi City Hall before the cast arrives and filming begins.
The filming will be from July 1-27 in locations around Phuket, Phang Nga, Krabi and Surat Thani. It is estimated the production will bring a 340 million baht benefit to Thailand and the local film industry.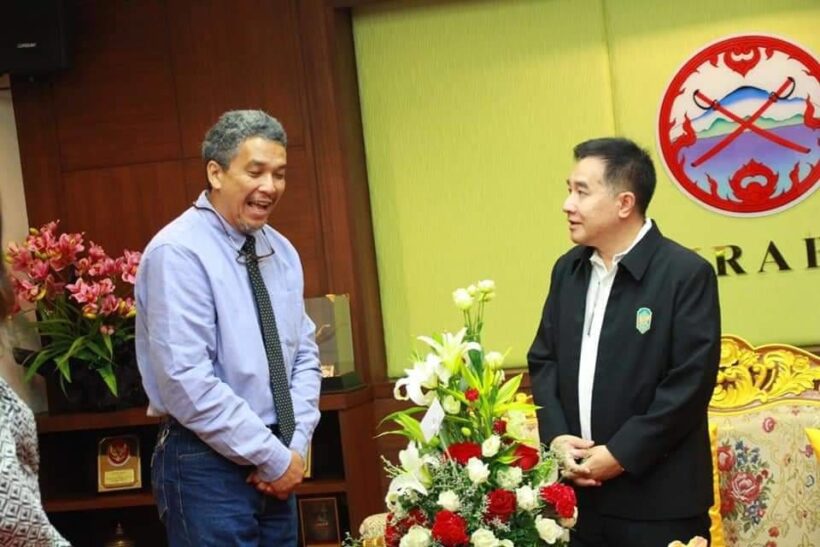 The Krabi Governor says this is a good opportunity for Thailand to present its beautiful nature, culture and history to the world through the film. There has been no announcement of when filming may be taking place around Phuket's roads.
The Thaiger recommends the plot of the film as a race between a visa-run passenger van and a Chinese Tour Bus to the Malaysian border, with a feature muay thai face-off on Maya Bay beach between Vin Diesel and Leonardo DiCaprio (though the 45 year old might have to get some training in before returning to 'The Beach').
Here's our Top Ten movies made around Phuket and Thailand.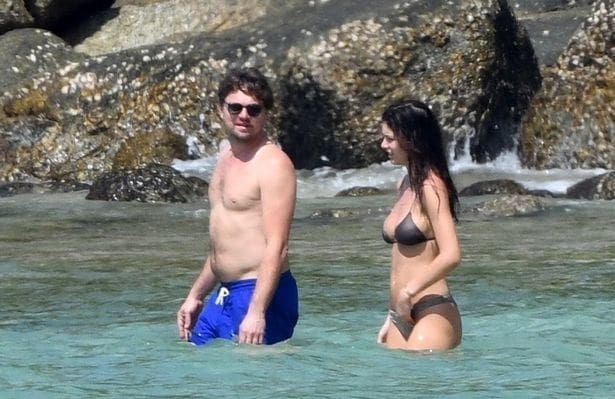 Leonardo in Phuket last year during a quick break
Injured dolphin rescued off Phang Nga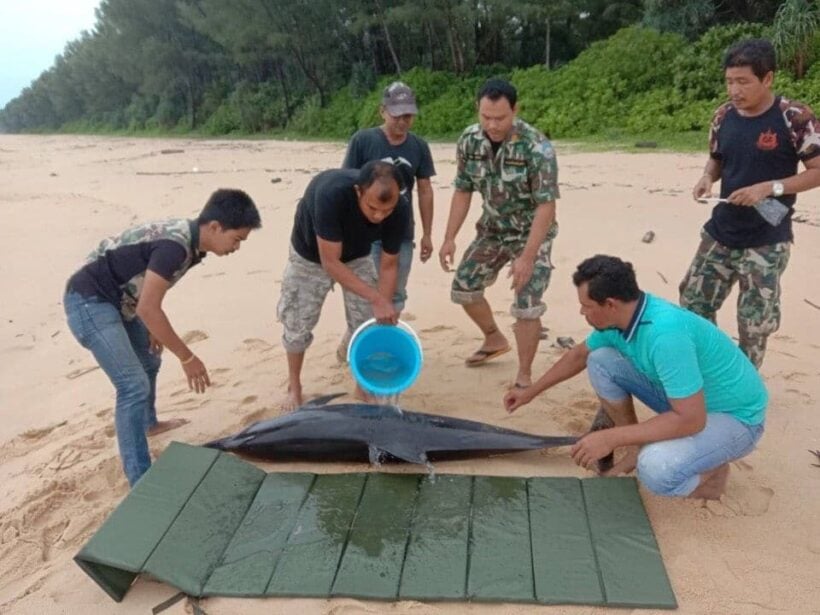 An injured dolphin is being cared for after being rescued along Tai Mueang beach in Phang Nga, southern Thailand.
National park and marine officials were notified from locals that the dolphin was found on the Tai Mueang beach.
Scratches were found on the bottlenose dolphin. The dolphin measured 10 centimetres wide and 180 centimetres long.
The dolphin was unable to go flop back into the sea because of strong winds and onshore waves, and it became too weak. The dolphin is now being cared for at the Phang Nga Aquaculture Research and Development Centre for some love and treatment before being released back to the Andaman Sea.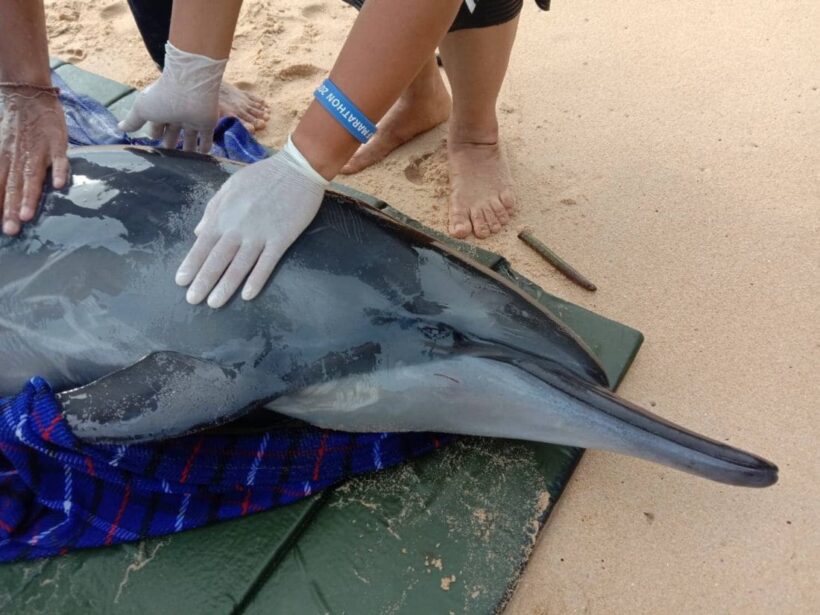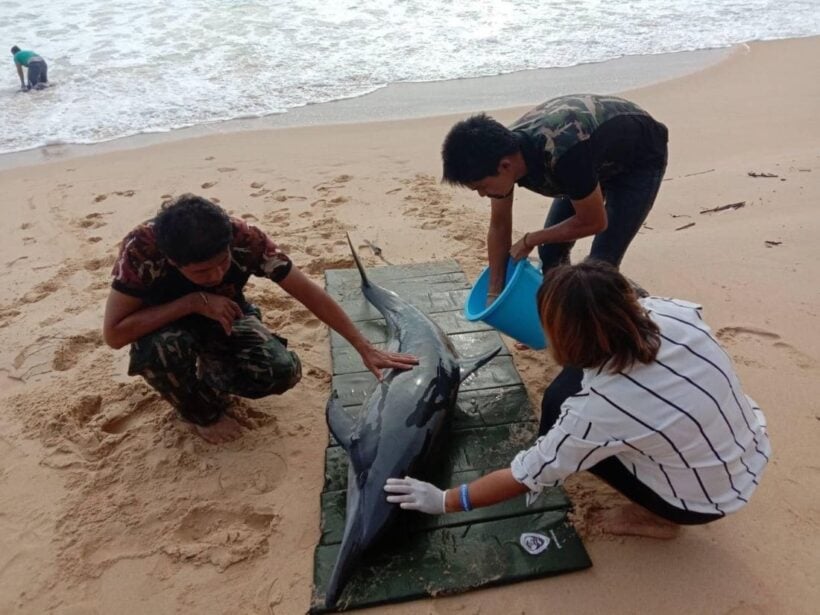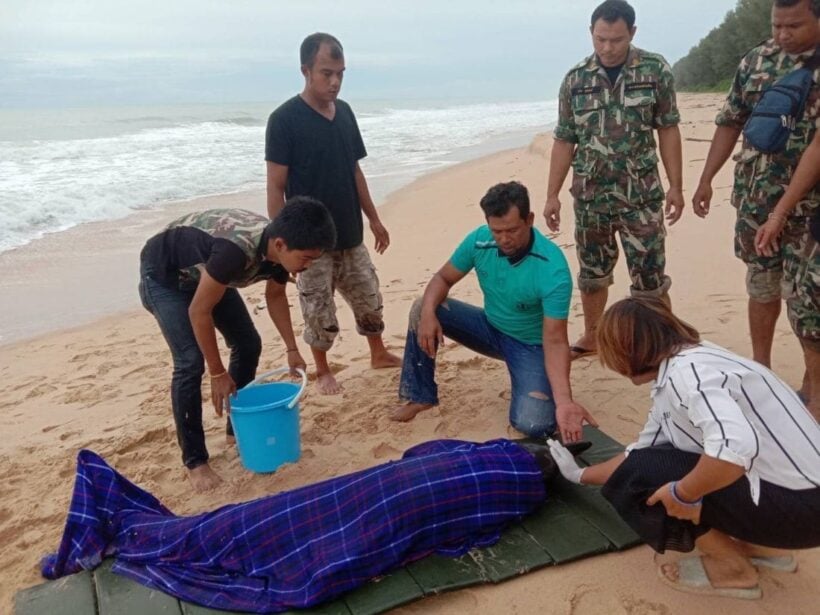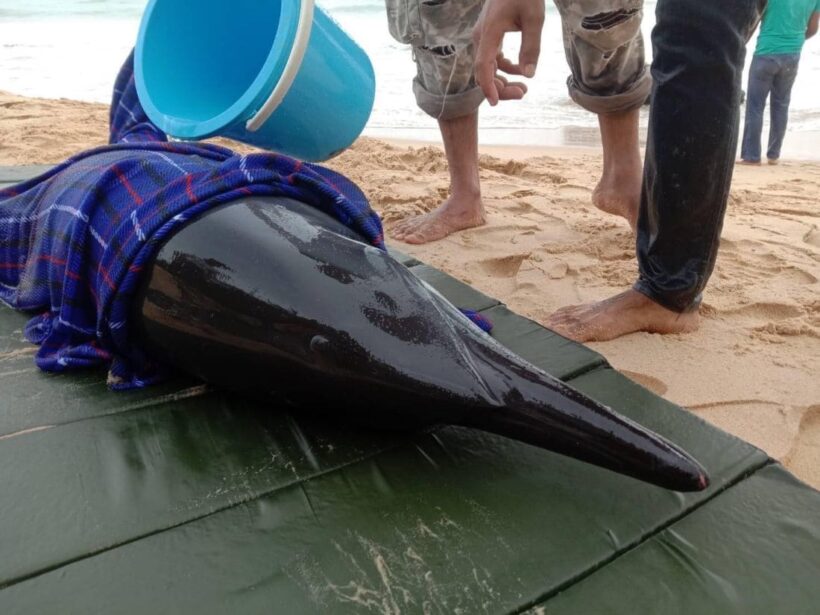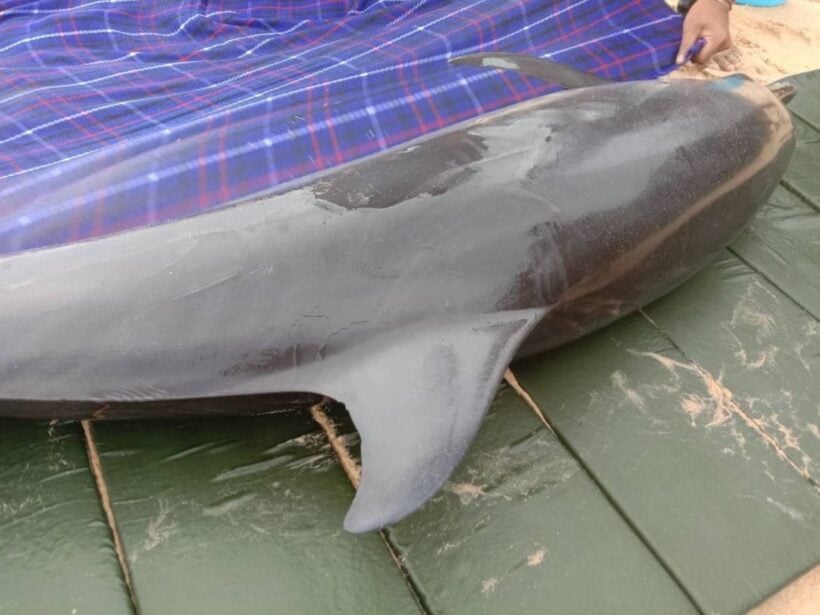 Fishing trawler capsizes off Phang Nga in local storm cell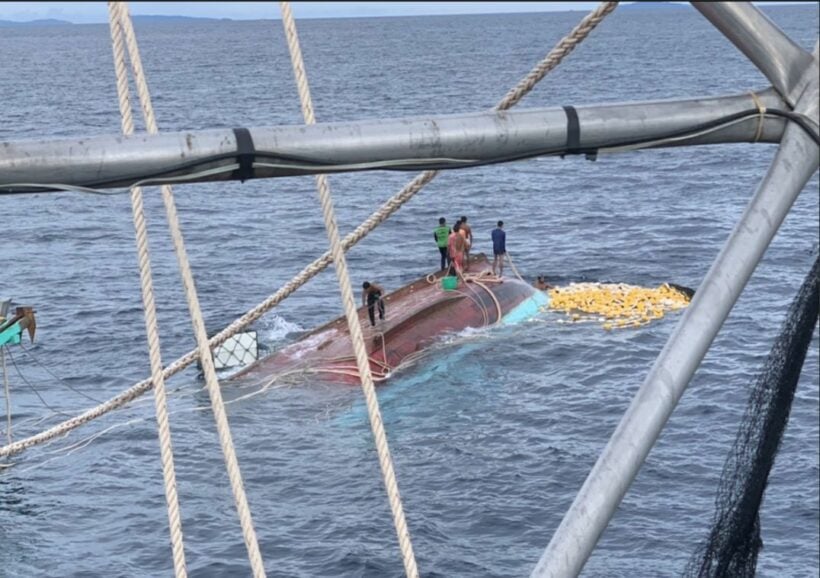 An isolated Saturday night storm cell off Phang Nga capsized a fishing trawler. The entire crew, about 30 or so people, were rescued soon after.
The kamnan of Lam Kaen tambon in Tai Muang district, Umakorn Phaeyai, said this morning the mishap occurred 20 nautical miles offshore.
She said the crew of the 53 tonne Thanakorn 1 waited for rescue in the water or atop the partially submerged hull.
A disaster-mitigation team from Phang Nga Navy Base and the crews of other fishing vessels came to the rescue.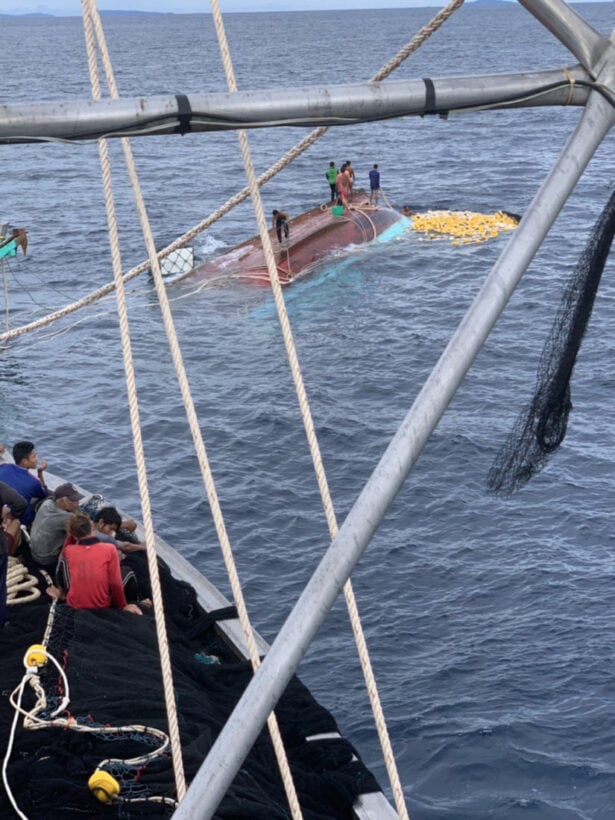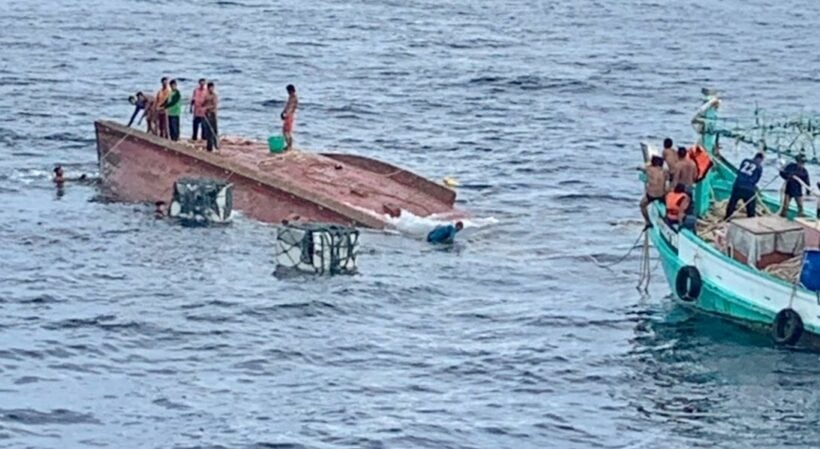 SOURCE: The Nation