Iranian man falls to his death in Pattaya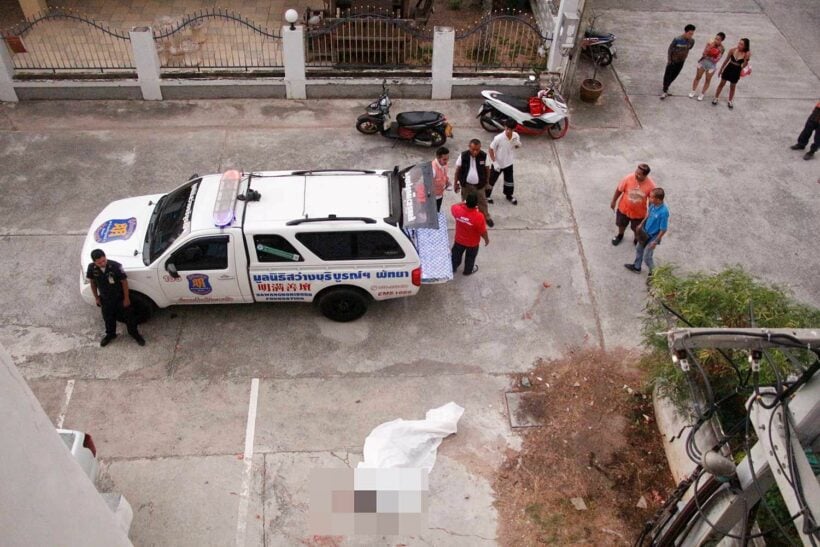 An Iranian man is dead after falling from an eight-storey building at a housing state in Pattaya's Bang Lamung district this morning. The body of the 55 year old man, whose name is being withheld until relatives are notified, was found face down on the ground behind the building at the Ekmongkhol housing estate in tambon Nong Prue. Pattaya police were notified at around 6:30am.
A security guard at the housing estate told police he had never seen the man. While patrolling the estate, he heard a thud behind the building. The building was new and not yet open for tenants. He rushed to check and found the body.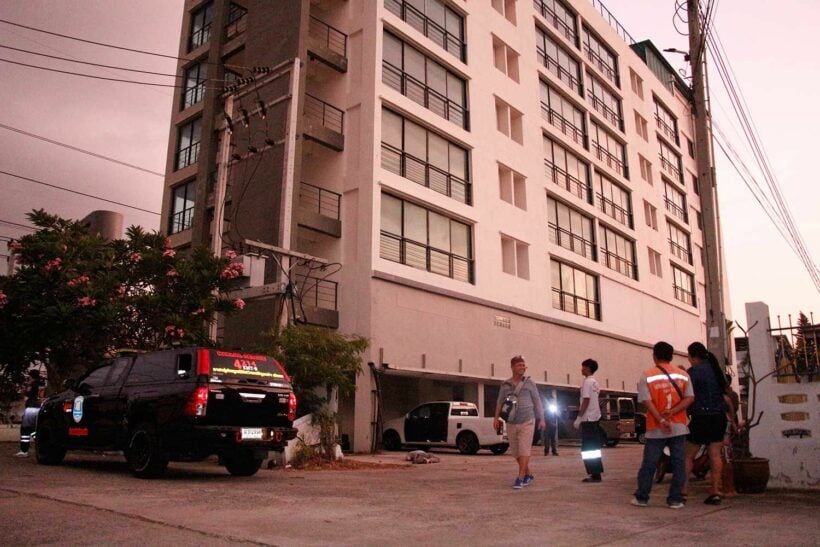 Police have yet to find out which floor the man fell from or the circumstances leading to his death. They are examining CCTV footage and calling those close to the man for questioning.
SOURCE: The Bangkok Post
Keep in contact with The Thaiger by following our
Facebook page
.
Chinese man found bound, dead in suitcase in northern Thailand had visited Pattaya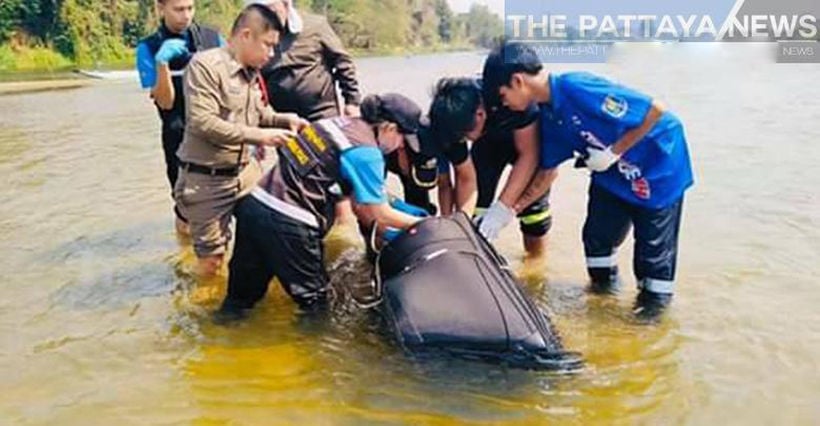 The body of a Chinese man, with arms and legs bound, stuffed into a suitcase, has washed up on a sandbank in the Ping River in northern Thailand's Kamphaeng Phet province. The body was doubled over and the ankles were tied with plastic cable ties. Red rope encircled the arms and legs.
Police believe the man was 30 year old Jun Wang, who had arrived on February 12 with a group of fifteen other Chinese nationals who visited Pattaya. The remainder of the group left the country on February 14, but Jun stayed on.
Police are investigating the connections the man had with the group and his reported residence in Pattaya.
A one kilometre stretch of the river was searched for an hour for additional clues.
An autopsy is being carried out at a forensics center in a hospital in Phitsanulok province and the cause of death is expected to be announced soon.
SOURCES: The Pattaya News | Thai Rath
Keep in contact with The Thaiger by following our
Facebook page
.
Expansion of airport to make Hua Hin an international tourist destination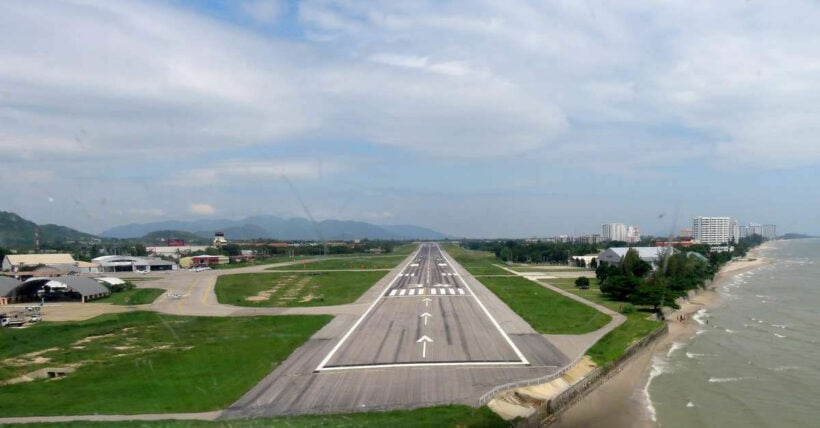 Hua Hin, long considered a bucolic backwater compared with other resort destinations in Thailand, may be about to morph into something quite different; local media reported on Saturday that the Thai government has approved a major expansion of Hua Hin's Airport, which could turn the sleepy resort town into a genuine international tourist destination rivalling other more established destinations in Thailand like Pattaya, Phuket or Chiang Mai.
The 350 million baht expansion comprises two projects, with 250 million baht being spent to extend the runway in order bring it up to the standards required for larger aircraft, and another 100 million to be spent extending the passenger terminal.
The project is expected to take 2-3 years, and when complete will enable Hua Hin to welcome not only more domestic flights but also international flights from destinations like mainland China, South Korea, India and Hong Kong, as well as other locations across Southeast Asia. Officials say a fully operational international airport will be a huge boost for Hua Hin's economy and neighbouring Phetchaburi province.
Under the new plans, Hua Hin Airport's runway will be expanded by up to 45 metres to accommodate larger aircraft, and the parking area for planes will also be expanded. Currently the airport has capacity for two B737s, but when the improvements are complete it will have capacity for up to five B737s at any one time.
The airport terminal will also be expanded three times its current capacity. The present structure can handle only 300 passengers an hour: this will be trebled to 900 passengers per hour.
The expansion of the airport is a major part of measures to develop the Thai coast from Hat Chao Sam Ran in Phetchaburi south to Chumphon.
The initiative to transform the coast has been dubbed "Thai Riviera" project – with the aim to the coastline becoming an alternative to more established tourist areas like Phuket in the south and Pattaya on the Eastern Seaboard.
SOURCE: Thaivisa
Keep in contact with The Thaiger by following our
Facebook page
.
Pattaya police arrest prolific home and hotel catburglar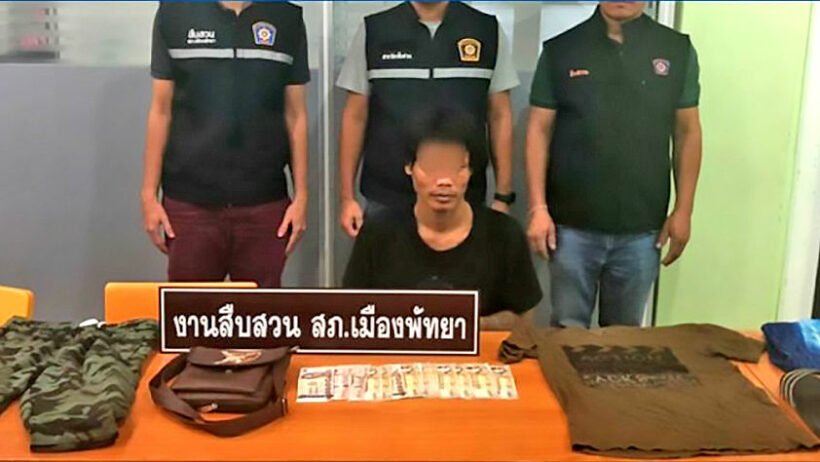 Police in Pattaya yesterday arrested a suspect yesterday who they say has admitted to at least ten burglaries of homes and hotels over the last several months. Pattaya City Police reported the arrest of a 37 year old Thai man, identified only as 'Phet' yesterday morning.
He allegedly broke into rooms in apartments and hotels through unlocked windows, when victims were not in rooms or when they were asleep. He quickly gathered what valuables he could and quietly exited the without being detected.
Police investigated Phet for several months before finally to tracking him down with the help of CCTV. He was arrested in Central Pattaya.
Police stated on social media that Phet robbed homes and hotel rooms more than 10 times. He faces multiple charges of theft.
SOURCE: The Pattaya News
Keep in contact with The Thaiger by following our
Facebook page
.