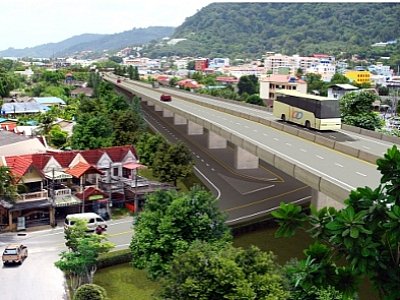 Looks like the island's long-awaited tunnel through Patong Hill might actually be becoming a reality. Authorities say it will be the first of its kind in Thailand.
The Daily News is reporting on the progress of the Patong tunnel project which, it is hoped, will eliminate much of the carnage and delays experienced by drivers on the hill everyday. Sutthisak Watthanawinit, the Acting President of the Expressway Authority of Thailand, says "the Kathu to Patong road is soon expected to be opened to bidding."
An Environmental Impact Study is currently being conducted. The report says that if the Patong Tunnel project passes the EIA, it will be subject to Government approval before being tendered out for contract bidders.
The report says that the contractor will be selected by the end of 2017 and the works begin sometime around April/May next year.
"The environmental study was key as the project would include a substantial tunnel that he said was a first of its kind in Thailand. The tunnel would help solve the accident problems associated with the hill and act as a gateway to the provinces many tourist beaches," said Sutthisak.
The report in Daily News also outlines a new ring-road in Bangkok plus major arterials in Chiang Mai and Khon Kaen too.
ORIGINAL STORY: Daily News