Weird World News: Time for change as Samoa ditches a day; book 123 years overdue found in Britain; and Chinese opt for year-end pillow fights
PHUKET: New Year is always a time of reflection. To cast out the old and usher in the new. This week's Weird World News features a trio of time-related happenings from around the world.
Samoa skips forward a day … so long Friday, December 30
THE South Pacific island nation of Samoa has scrapped its time-zone alliance with the United States and jumped 24 hours into the future.
This means Friday, December 30, will not exist this year for Samoans; it has been struck from the calender, deleted from history, gone, gone … never happened.
By moving a full day ahead in time, Samoa will now share a time-zone alliance with Asia, New Zealand and Australia.
On New Year's Eve, Samoa will have side-stepped the international longitude dateline, which runs through the Pacific, in a move that the country's Prime Minter reportedly said would have trade benefits for Samoa.
"It will remove the enormous amount of confusion in our travel times for the Samoans and especially for the tourists who come to Samoa, who keep thinking of the New Zealand and Australian time zones," he told Reuters.
Church bells will ring and carol services will be held to signal the changeover.
Samoa, with a population of 180,000 people, formerly used the same time zone as New Zealand and Australia, but skipped back a day in time in 1892, siding with the US time-zone alliance.
Resolutions 2012: Time to return that overdue book … after 123 years
THE book Good Words has been on loan for 123 years and has racked up more than 238,000 baht in fines.
The book, by Donald Macleod, was discovered by the side of a fireplace at mansion in the Lake District Village of Troutbeck.
It was borrowed from the local library by owner of Townend House, George Browne and his family.
The house is now owned by the National Trust and is where the book was discovered, sitting alongside the Browne family's extensive 1,500 book collection.
But Good Words was not the Browne's property and should have instead had its place in the local library.
Staff at the library said the book could stay with the National Trust, although it was a "bit naughty" of the late Mr Browne not to have returned the book.
The Mirror reported that a 10,152 baht fine was due on two books borrowed by US first president George Washington from a New York library in 1789 and found 210 years later.
Chinese use pillow fights to relax
IF YOUR boss is getting on your nerves, then why not try writing their name on a pillow and then hitting it repeatedly. That's what Shanghai locals are doing.
A massive pillow battle was staged earlier this week, with the sole purpose of letting participants unwind by pummeling strangers and friends with pillows.
The fifth-annual event received a huge turnout from stressed-out office workers this year, intent on spending two nights getting to grips with some raw emotion and fighting, with soft pillows.
Founder of the event, Eleven Wang, told Reuters news agency: "Nowadays there are many white collar workers and students that are facing huge pressures at work and at school, so we hope to give them an outlet to release their stress before the end of the year.
"After releasing the stress, we can once again face our daily life with joy."
Remember to tune in next week for more of the Phuket Gazette's new Weird World News round-up.
Keep in contact with The Thaiger by following our
Facebook page
.
Man stung by scorpion hiding in bag of fruit
PHOTO: Wikiwand
A Bangkok man has taken to social media to warn fruit lovers to check fruit thoroughly before eating it, after he was stung by a baby scorpion hiding in a bag of langsat fruit.
Pennung Chaiyachit says he put his hand in the bag, which contained about 2 kilos of the fruit, when he felt a sharp pain as if his thumb had been cut.
Mr Pennung washed his thumb and poured some rubbing alcohol on it but, despite there being no visible wound or any bleeding, his pain began to get worse and he decided to drive to hospital.
While waiting to see a doctor, Mr Pennung did an internet search which revealed a breed of tiny scorpion that can live on langsat fruit and has particularly powerful venom.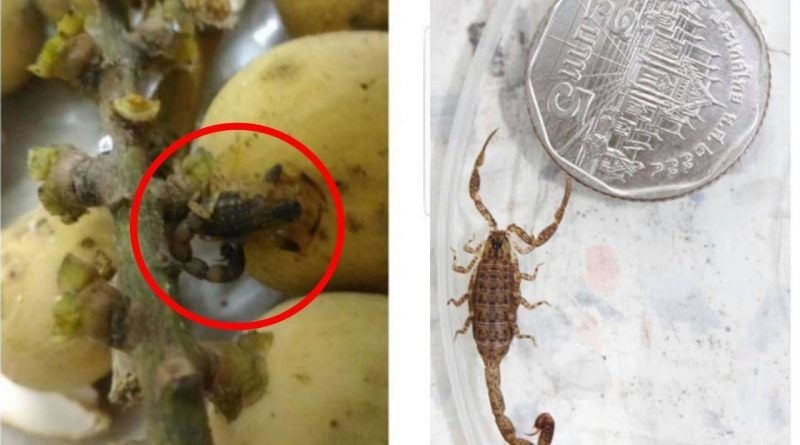 The doctor decided to keep Mr Pennung in overnight as a precaution, giving him antibiotics and administering pain relief through IV.
Mr Pennung documented his experience on Facebook as a warning to others, advising them to always check bags of fruit thoroughly and always wash fruit before peeling.
SOURCE: Thai Residents
Keep in contact with The Thaiger by following our
Facebook page
.
Pet leopard not a hit with neighbours in Chonburi, Thailand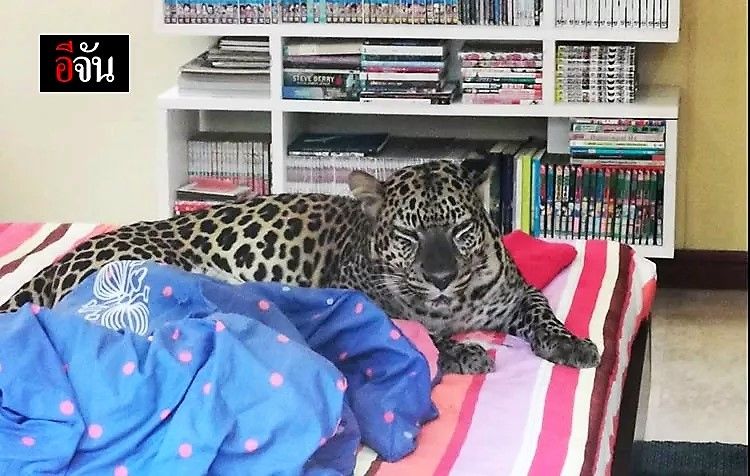 A couple in Chonburi, eastern Thailand, have not ingratiated themselves with neighbours after it was revealed they're keeping a pet leopard in their home.
It's understood that a Thai woman known as Nittiya, and her foreign husband, nationality unconfirmed, have just recently moved to the area from Chiang Mai, and news of their unusual pet has put neighbours very much on edge.
The couple have just had a visit from the Thailand Wildlife Enforcement Network (Thailand-WEN) after anxious villagers notified officials, saying they believed the leopard had been acquired illegally.
They added that the leopard was living in the couple's home and being treated as a pet, expressing concern that it could escape and attack people.
Yesterday, officials visited the home, which is surrounded by a 3-metre-high wall. Nittaya explained that the couple have had the leopard – named Typhoon – since it was born 4 years ago, producing the required documentation for inspection.
Officials agreed that the couple have the right to keep the leopard, but will need to apply for a new licence to keep it in its new location.
SOURCE: Thai Residents
Keep in contact with The Thaiger by following our
Facebook page
.
JetSki crashes into shop in Kamala, Phuket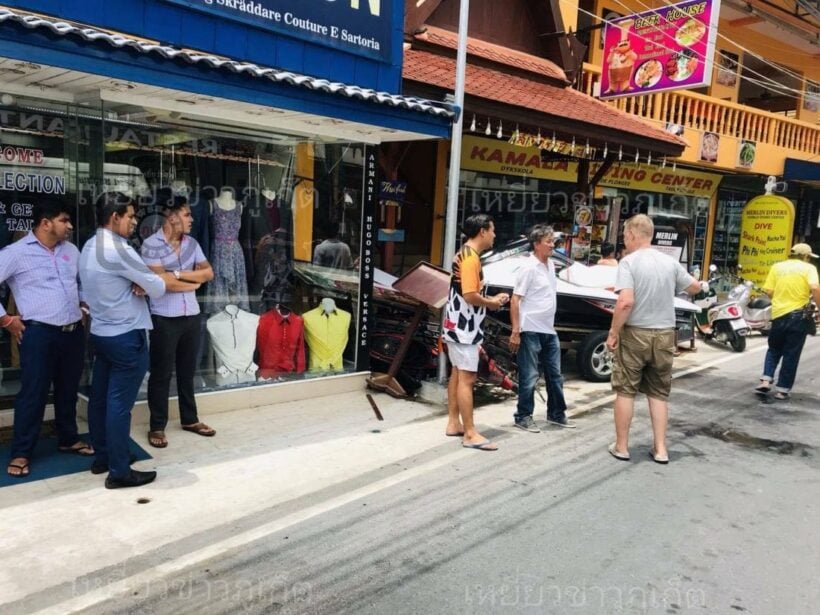 PHOTOS: Newshawk Phuket
Not often we get to write this headline… "JetSki crashes into shop in Kamala".
The jetski was being towed by a Saleng (motorcycle and side-car) through the streets of Kamala this afternoon when, for reasons we don't yet (probably brake failure), the whole shebang went AWOL and ended up running into the front window of some tourist shops.
The jetskis are a common sight going through the backroads of the various west-coast shopping areas at the start and end of each day, on their way to the beach to hire to tourists, usually in a convoy with the jetski staff riding shotgun on top.
This time it was a lone JetSki, being towed by a saleng, that somehow veered off the street and into the roadside Kamala shops.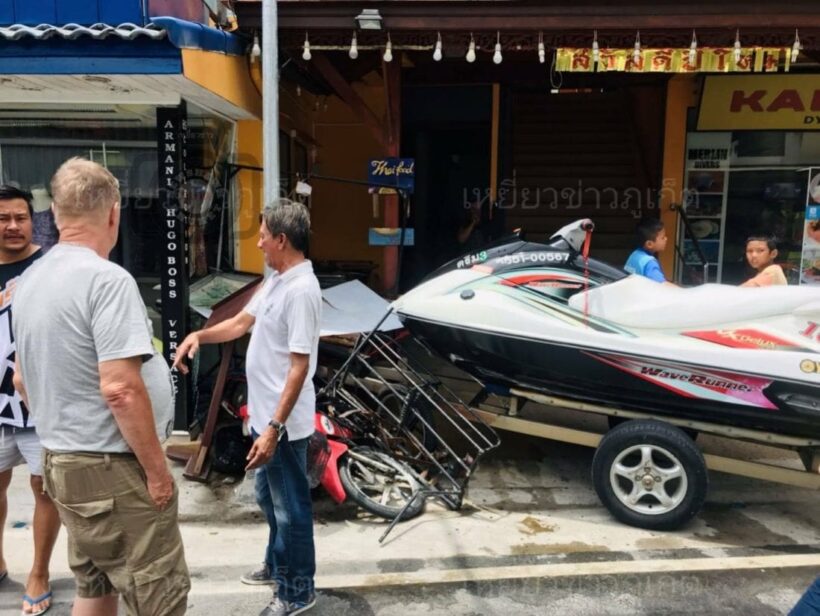 Keep in contact with The Thaiger by following our
Facebook page
.