Phuket Weird World News: The littlest, the biggest and the not quite deadest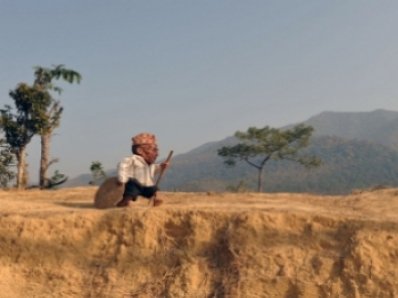 PHUKET: In this week's Weird World News round-up we take a "peak" at a couple of neighbors, Nepal and China, as they dispute how big the mount really is, though there is no contest when it comes to who has the littlest wee man. Then China just gets strange as a gran comes back from the dead to do a little cooking.

From base to tip – how big is it?

HOW big it really is, is a question man has been asking since time before history, because everyone wants to know how big is the biggest, which has led Nepal to call for international donations in order to once and for all settle its dispute with China about how tall Mount Everest really is.

Sir Edmund Hillary and Tenzing Norgay in1953 were the first of over 4,000 climbers to have scaled Everest, which straddles the Nepal-China border.

But the exact height of the mountain has become a point of contention between the two neighbors.

Kathmandu, the capital of Nepal, sets the peak at 8,848 meters, including the snow packed on top, as it was measured in 1954 by the Survey of India.

But in May 2005 China sent its own mountaineers and researchers to the summit and found that the rock height of the mammoth mountain was about 3.7 meters shorter than estimates made in 1954, coming in at 8,844.43 meters.

"We are doing the work of precise leveling for the height up to Namche bazaar [the gateway to Mount Everest] but we don't have enough technical and scientific expertise or funds to measure the peak on our own," Krishna Raj B.C., Director General of Nepal's Department of Survey told Reuters.

Raj went on to explain that they were in the process of preparing a proposal to be submitted to potential donors in order to get the necessary international support for equipment and qualified researchers.

"We need the support and involvement of internationally known scientists so the findings are acceptable to the global community," he said.

In 1999, an expedition by the National Geographic Society and Boston's Museum of Science determined the mountain to be 8,850 meters tall, however that included the densely packed snow of the peak. They said they were unsure about the height of the rock peak.

Reports from some mountaineers who have recently scaled Mount Everest said the mountain's glaciers are shrinking and portions of the trail leading to the summit are transforming from snowy to rocky.

Nepal: Shortest man never heard of tallest mountain

THOUGH Nepal and China might not agree on exactly how tall the tallest mountain in the world is, the Guinness World Record team has concluded that Nepal is again home to the world's shortest man.

The previous record holder, a Filipino man aged 18 with a boastful stature of 59.69 centimeters took the title from Nepal last year, but has been undercut this week as 72-year-old Nepalese man, Chandra Bahadur Dangi, stepped up to the measure stick at 54.6 centimeters.

"The good news is that Chandra Bahadur Dangi is the world's shortest living man," Guinness Records Editor-in-Chief Craig Glenday told reporters after measurements were taken.

"If he is really 72 years old he is the oldest person to be awarded the shortest-man record," Glenday said, adding Dangi was also the shortest person ever measured by Guinness World Records.

From a remote part of Nepal, Dangi said he had never heard of the towering Mount Everest and was unaware of the world's shortest-man record title, before a timber merchant visited his village and measured him up, Reuters reported.

The littlest man in the world has become a celebrity in Nepal and had the opportunity to take his first ride in an airplane as he headed to Rimkholi to meet the Guinness World Records officials.

"I am good. I feel happy," Dangi said holding two framed certificates. "I want to travel around the world and spread the name of my country."

Dangi, who said he had no desire to marry, is unsure when he stopped growing, and despite being the runt in a family of seven average-sized siblings, he had never been to a doctor.

Dangi mostly stays at home, needing assistance to move around, preparing head straps used by villagers to carry loads, Reuters reported.

Zombie grandma still has fire

SIX days after being found "dead", a 95-year-old grandmother climbed out of her coffin in the village of Liulou China this week to make a little food.

Li Xiufeng was found motionless and not breathing in her bed by her neighbor Chen Qingwang when he brought her breakfast on February 17, reported The Mirror.

"No matter how hard I pushed her and called her name, she had no reactions," Qingwang said.

"I felt something was wrong, so I tried her breath, and she has gone, but her body is still not cold," he explained.

In accordance to custom, Xiufeng's coffin was kept in her house for several days, so friends and relatives could pay their last respects.

The body of Xiufeng was placed in her coffin on February 19 by Qingwang and his son. However, they chose not to nail the coffin shut before the burial.

Just one day before the funeral, Qingwang arrived at Xiufeng's house only to discover an empty coffin and Xiufeng's body missing.

After searching for the corpse, the villagers were stunned to find Xiufeng sitting on a stool in her kitchen cooking.

"I slept for a long time. After waking up, I felt so hungry, and wanted to cook something to eat," she told villagers.

"I pushed the lid for a long time to climb out," she said.

It is believed that Xiufeng suffered an "artificial death", during which a person has no breath, but their body remains warm.

"Thanks to the local tradition of parking the coffin in the house for several days, she could be saved," The Mirror quoted a doctor at the county hospital as saying.

Despite getting to pass go and keep playing, Xiufeng did not get to collect 200 dollars, or any of her other belongings. In accordance with tradition, while she was considered a deceased person all of her possessions were destroyed by fire.

Remember to tune in next week for more of the Phuket Gazette's Weird World News round-up.
— Isaac Stone Simonelli

Join the conversation and have your say on Thailand news published on The Thaiger.
Thaiger Talk is our new Thaiger Community where you can join the discussion on everything happening in Thailand right now.
Please note that articles are not posted to the forum instantly and can take up to 20 min before being visible. Click for more information and the Thaiger Talk Guidelines.