Phuket Opinion: Expats in need – who you gonna call?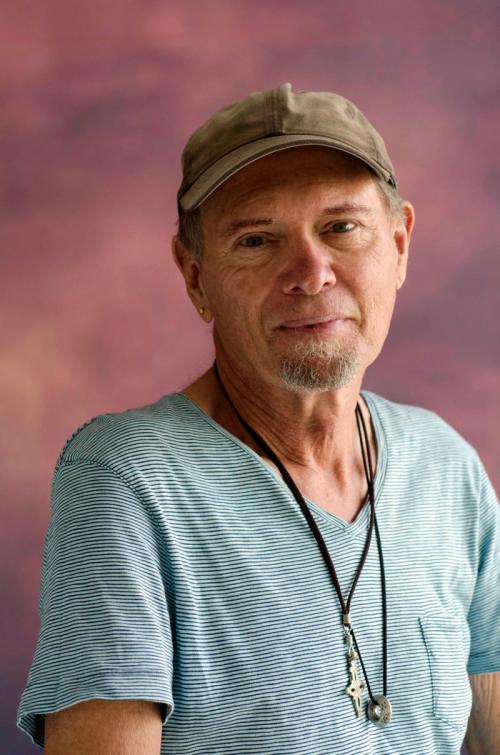 Bruce Stanley is an American who has been helping foreigners in Phuket for over 20 years. For the past 10 years he has been a warden with the American Embassy, fulfilling a similar function. Here, he talks about resources available to expats in need of assistance.
PHUKET: For most foreigners who live on Phuket or those who choose a visit to this holiday island, it's a taste of paradise where almost all of earth's pleasures can be found and enjoyed. But for others who have come to join the happy-go-lucky chaos for which Phuket is now internationally famous, it is the end of the road. Like an elephant graveyard, the place where life ends, either by chance or by choice.
I recall one Sunday morning, back in the 1990s, answering a knock at the door where a fellow stood wearing nothing more than a towel.
"The police told me you could help me," he began. He then recounted the familiar story of the bar hostess that had come back to his room. By morning, she was gone and so were all his possessions, including his passport, wallet, clothes and even his shoes. I was able to get him on a bus to his embassy in Bangkok.
There are now far more international visitors to Phuket and the expat population has grown immensely. This has meant the problems have increased in complexity.
The response in part has been to create Honorary Consuls who provide consular services and often help their citizens when they have a problem.
Those who find themselves in distress should first contact their local honorary consul and see what is recommended. There are solutions to most problems. The American Embassy has an exemplary service through their American Citizen Services (ACS) section.
It sometimes happens that an American citizen loses his livelihood while in Thailand and needs to be repatriated back to the States. ACS will contact family members and arrange to have funds sent to cover immediate costs.
Often there is a road accident or injuries from a confrontation. Many foreigners have no medical insurance which usually means they will be admitted to the government hospital in Phuket Town where they will be placed in a ward with a lot of other people.
No one should visit a foreign country without medical insurance. A brief tour through the head trauma unit at this hospital is a very graphic lesson.
The number of incidents of foreigners needing consular services is growing. Recently we dealt with an elderly fellow who arrived in Phuket and then couldn't recall how he got here or where he was staying.
Another fellow is reported to have been kidnapped by ladyboys. And then there are the destitute who cannot afford the rising costs of life on Phuket. The exchange rate of many currencies has fallen against the dynamic Thai baht, leaving these seniors who depend solely on their pensions in a sore place.
When I moved to Phuket over 20 years ago, there were a lot of retiring men also arriving to live the good life. Now many are near 80 with declining health in a place where medical care is expensive.
I always tell people to have a back-up plan in case it becomes necessary to leave.
Election: The problems ahead, Tuesday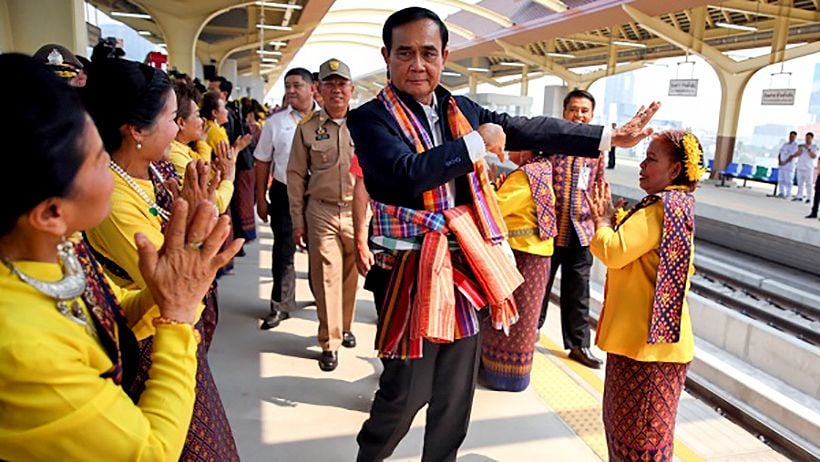 PHOTO: The political dance of horse-trading begins. Prayut Chan-o-cha in campaign mode
And so we awake on the second day since the election. With 95% of votes counted we're in firm territory now as far as voting trends are concerned . So we can start guessing which way the new parliament might be formed. Here are the main issues for Tuesday.
The missing NZ ballots
The Election Commission will meet today to decide what to do with the 'invalid' ballots delivered late to polling booths. In one example, the Thai Embassy in New Zealand and Thai Airways have both defended their situation saying they did everything correctly by getting the votes sorted and delivered in time. Whether the votes are included or not will come down to decision from the Election Commission. The bottomline, the votes won't change the big picture although we are sure the expats voting in New Zealand would like their votes to be counted.
The Election Commission
The body tasked with running the election, counting and collating the votes have come under attack from all sides. From minor lapses in security, a few poorly handled situations in booths to some more major accusations that are currently being investigated by police. The overseas observers have not been particularly impressed by the EC's performance either citing a number of small issues at booths around the country.
But the EC's biggest battles are yet to come as they will be forced to adjudicate on who has the right to form a coalition. Both Pheu Thai and Palang Pracharat maintain they have the 'right' to form a lower house government. Just imagine all the late night phone calls criss-crossing the country at the moment?!
We won't even get started on the petition to oust the Election Commission which has already gained over 600,000 signatures.
The coalition
No one party will have an outright majority to form a government. Both Palang Pracharat and Pheu Thai will have to do deal with 'hostiles' in order to make up the numbers to form a lower house government. There are very few combinations of parties coming together where a LOT of distance will have to be covered to merge their competing policy differences.
Future Forward, the party with the third highest total seats, has little common ground with Pheu Thai, apart from wanting to rid the country of the military government. They're even further, terminally separated really, from Palang Pracharat.
Future Forward has laid down three conditions for a coalition, based on its campaign pledges – to rewrite the constitution, eliminate the legacy of military coups and push for military reform so coups won't happen again. Their 80+ votes would push Pheu Thai into an extremely strong position to form a government.
But the Democrats and BumJaiThai are likely more accommodating to negotiation, although seeing the Democrats side with Pheu Thai, once mortal political enemies, would be a long-shot. It's more likely the Democrats would, if pushed, side with Palang Pracharat with their 53 lower house seats.
BumJaiThai is more complex to predict which way they will side. Their 51 or so seats will be a powerful swing, whichever way they go.
The other smaller parties, together, add up to a crucial buffer for one party or the other.
Most likely scenario
Casting our eyes into the political crystal ball (always dangerous in Thai politics), The Thaiger thinks that the Pheu Thai party is the more likely to be able to form a government – either with a decent majority (with BumJaiThai giving them their votes) or with the merest of slim majorities if BJT side with Palang Pracharat. Either way Pheu Thai are going to have to let some of their power slip to accommodate the other parties. And you can be assured that Thaksin is sitting comfortably, still in exile, crunching numbers and overseeing the discussions.
Even if this happens, the pro-military Senators may ignore the lower house mandate (if Pheu Thai pull it together) and side with Palang Pracharat to install Prayut as the PM of a new minority Government.
This would be highly unstable with almost all legislation being voted down in the lower house and needing both houses to sit to pass any new legislation. It wouldn't be pretty.
The Thai elephant in the room
The Election Commission announced yesterday that they wouldn't announce the official results of the election until… are you ready… May 9! That's after the coronation of HM The King.
Whether parties can legally negotiate until the official results of the March 24 have been announced is a moot point – they already have.
The Coronation will therefore take place with a caretaker government and that point hasn't even come up for discussion yet.
Thai elephant in the room II
Thaksin Shinawatra would be disappointed that his Pheu Thai government didn't poll better but he's already stated the bleeding obvious; that the system was specifically rigged to lessen the chances of yet another Pheu Thai victory. Despite living in exile, his political cunning will be felt in the coming weeks as he cobbles together a Pheu Thai coalition with other parties.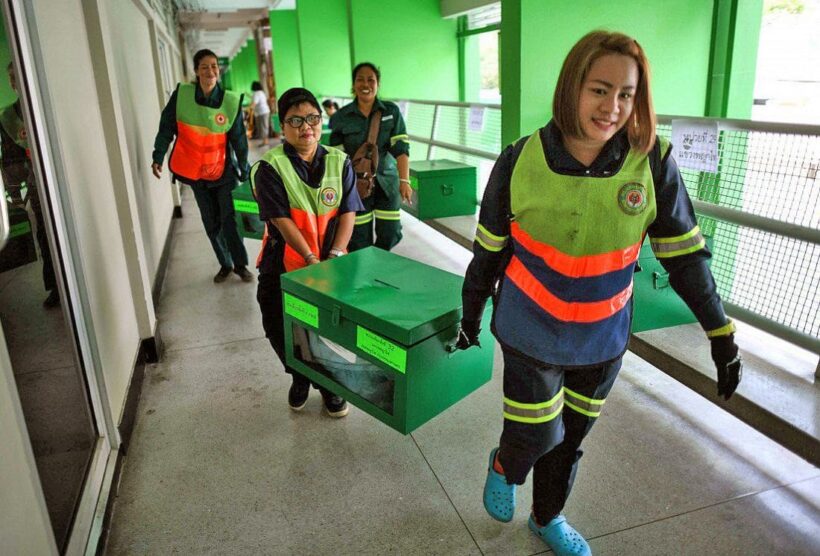 It's been 2,821 days between July 3, 2011 until today, March 24, 2019.
July 3, 2011 was the last time Thais voted in a general election.
That time Pheu Thai, led by Yingluck Shinawatra, won 265 seats in the 500 seat parliament.
It was only the second time in Thai history that a single party won more than half of the seats in the lower house parliament; the first time was in 2005 with Thaksin Shinawatra's Thai Rak Thai Party.
On May 22, 2014 the elected government was swept from power by the National Council for Peace and Order (NCPO), the country's 12th military coup since 1932 when the Kingdom of Siam became the Constitutional Monarchy of Thailand and elected a Parliament.
Now, here we are, 2,821 days later, on a hot, steamy 'summer' day around Thailand when Thais again get the chance to vote. But this time it is a very different political landscape with a result much more difficult to predict than in the past.
1. There are now seven million new voters, all between the age of 18 and 27. They are eligible to vote for the first time and appear to be motivated to have a say in the shape of the new government.
2. In early and absentee voting, along with polls asking the question, up to 90% of Thais will turn out to vote in this election (some voted last week as 'absentees', voting in another province from that which they are registered). In the last election in 2011 the turnout was around 75%.
3. There is a new Charter (constitution) which introduced a new proportional voting system which is thought to favor minor parties.
4. Apart from the 'old' Pheu Thai (pro-democracy, anti-military) and Democrat (pro-loyalist, anti-Thaksin) parties (and a few other proxies), there is now the Palang Pracharath Party, set up to continue the work of the NCPO and has the current PM Prayut Chan-o-cha as their prime ministerial candidate. There is also the youth-focussed and 'progressive' party Future Forward led by 40 year old auto-parts billionaire Thanathorn Jungrungreangkit.
All these separate issues make today's election difficult to predict.
Today's polls close at 5pm and the Election Commission says some votes at smaller booths will be out by 6pm, with a large chunk of votes counted by 8pm tonight.
Polls suggest, and maths proves, that no single party is likely to get a majority to form a new government. Although Pheu Thai is expected to win the highest amount of votes, it will fall short of a majority of seats to form a government or control the election of the next Prime Minister.
An actual result, as parties negotiate with minority parties to form a coalition, and the election (by both houses of Parliament) of the next Thai Prime Minister, could take a few weeks before an official result is announced by the Election Commission.
Today's election, 2,821 days since the last one, will just be a new beginning for a country that struggles with democracy. Whatever the result, it is unlikely to be the end of the two decades of polarised politics and tampering from the country's military.
Happy polling day Thailand.
No sign of concrete policies for conflict in the far South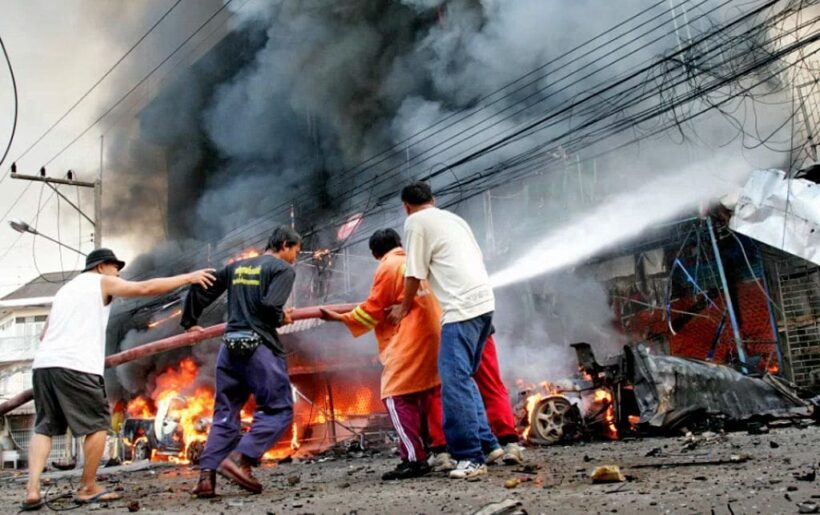 Parties offer few if any answers for a 15 year old deadly insurgency that successive governments have failed to quell.

Peace and conflict have never been significant parts of any political party platform in Thailand. This is because a sustainable solution calls for long-term commitment to a policy that could prove to be politically costly.

Lasting peace requires self-reflection on the part of both the state and society. Policymakers have to rethink the policy of assimilation that has so far been rejected by the Malay Muslim populace of the southern border provinces because it comes at the expense of their cultural and religious identity.

Full-fledged armed insurgency erupted in the far South in the 1960s, some 50 years after the signing of the Anglo-Siam Treaty that defined our current political borders.

There was a brief calm in the 1990s, but the absence of violence did not mean peace. A new generation of militants was being groomed by the Barisan Revolusi Nasional (BRN) and this time the separatists did not look to Arab countries for financial support and training, but developed their own resources at the grassroots level.

BRN fighters surfaced in 2001, only to be dismissed by then-prime minister Thaksin Shinawatra as "sparrow bandits". That characterisation changed on January 4, 2004, when scores of armed insurgents raided an Army battalion in Narathiwat and stole more than 350 military weapons.

Successive governments have been dabbling in peace initiatives, but none succeeded in getting the BRN – which gives all of the armed combatants their orders – to participate in talks.

At a recent public forum in Bangkok organised by Amnesty International, Pauline Ngarmpring, the Mahachon Party's transgender candidate for PM, spoke in terms noticeably absent from the Democrat and Pheu Thai speeches – mutual respect, peaceful coexistence and cultural diversity.

The Future Forward Party's representative blamed the 15 years of discord in the South on government mishandling and mistreatment of citizens. There is some truth to this, but it overlooks the fact that the Malays of Patani – the three border provinces – see themselves as having a unique identity that defies full assimilation.

The parties contesting Sunday's election have generally been careful about the issue as they seek to impress both Muslim and Buddhist voters.

Future Forward has risked campaigning for a reduced military presence in the South and insisted that the diplomacy of give and take be the guide in peace talks.

Canvassing for votes

Political canvassers can earn a lot of money in the far South. From shady warlords and influential figures to Muslim clerics and community leaders, the canvassers have particular attributes or profile in common. All they need to do to succeed is connect with the voters.

Future Forward has scorned the deployment of canvassers, though, dismissing it as part of the patronage system they vow to curtail.

In the 2011 election campaign, all parties but one promised to give the Malay-speaking region "special administrative status". The Democrats made no such pledge and still won 11 of the 12 available seats.

In this campaign, no one is repeating the promise.

The Pheu Thai Party promised special status in 2011 and won the national election, but then reneged on it once in government. It only served to convince the southerners that promises given them can be broken at no political cost to the one making the pledge.

Seeking cultural identity

Despite the obvious religious connotations, the conflict is still largely ethno-nationalistic in nature, though the authorities have often tried to get Muslim clerics to condemn the violence on religious grounds. The clerics who do so then face the wrath of the combatants. (There are, of course, also religious leaders who say the BRN is justified in taking up arms against the state.)

Prachachat, the so-called "Muslim party" led by Wan Muhammed Noor Matha, a wily politician and close ally of |Thaksin, has had both Islam and multiculturalism prominent in its campaigning. So far, though, there has been no elaboration on context or intent.

Nor has any party broached last year's hijab row at Anuban Pattani Elementary School, in which 20 Buddhist teachers walked off the job because Muslim girls came to class wearing headscarves.

About 85 per cent of the region's two million residents identify themselves as Malay Muslim, not Thai. The teachers seemed to wish to remind the Malays of Patani that they're a defeated people and must abandon traditions and assimilate as citizens of Thailand.

Thus espousing the common denominator remains the safest track to electoral victory. Politicians know that most voters respond to patriotic evocations of "Thainess".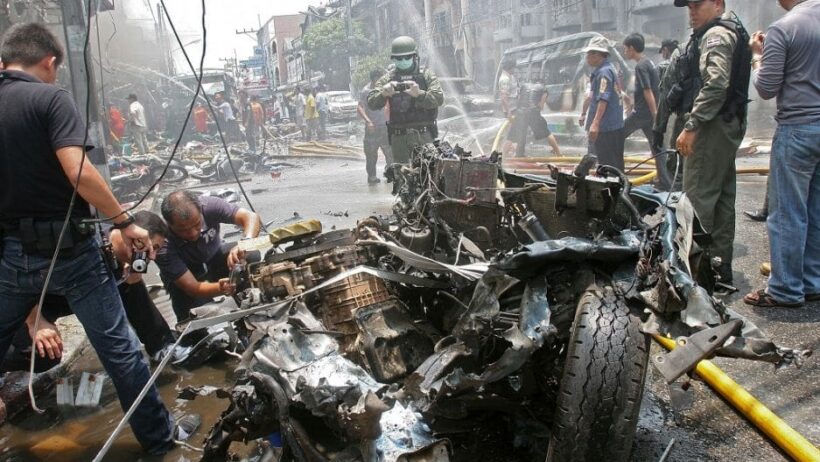 SOURCE: The Nation